Best Types of Businesses to Start in California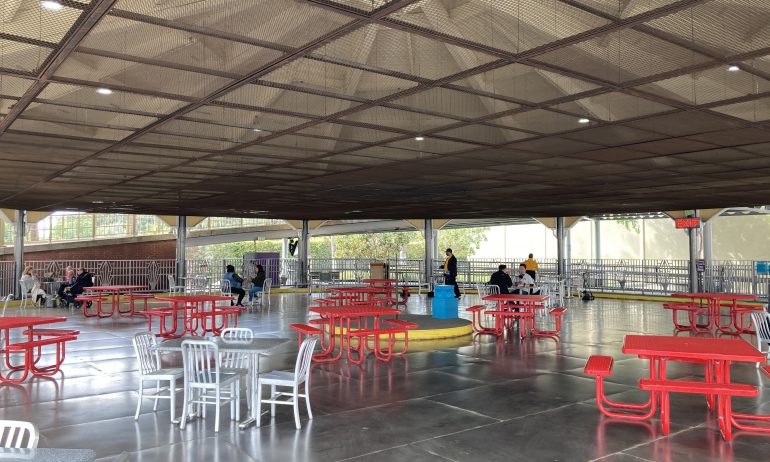 Many or all of the products featured here are from our partners who compensate us. This may influence which products we write about and where and how the product appears on a page. However, this does not influence our evaluations. Our opinions are our own. Here is a list of our partners and here's how we make money.
At its best, the California business environment is as sunny as its climate, a place where big corporations, longtime family businesses and upstart entrepreneurs thrive. There are millions of small businesses in this state to meet the needs of the biggest population in the nation.
NerdWallet analyzed the data to find the industries where individual businesses perform the best in the Golden State. The best types of businesses to start in California include retail shops, salons and spas, educational businesses and e-commerce, which is flourishing.
NerdWallet examined 186 industries categorized by the North American Industry Classification System in this study. We measured workforce growth, payroll, revenue growth and the regulatory burden to find the top 10 types of businesses to start in California. For more details, see the methodology section at the end of this article.
with Fundera by NerdWallet
They're small. By number of employees, each of the top 10 industries on our list is smaller in size than the statewide median of 17.8 employees per company. Real estate companies, with 4.5 employees per firm, and personal care services, at 5.4 employees per business, had the fewest employees.
High revenue per employee. In many of the top 10 industries, revenue gains have outpaced labor costs. For example, from 2007 to 2012, revenues for e-commerce companies grew over three times as fast as additional workers were hired.
The best business has high revenue and low payroll. Most businesses have a tough time driving high revenue while keeping payroll expenses in check. Those with larger revenue tend to have high-cost labor. The one exception is top-ranked gas stations, which have been able to pump out revenue with relatively cheap labor.
They're safe. The top 10 industries carry some of the lowest safety risks for workers. All 10 industries received citations from the Occupational Safety and Health Administration at a rate well below the statewide median of 1.67 citations per 100 businesses in a year, and eight on our list had OSHA penalties per citation below the statewide median of $1,247.
Best types of businesses to start in California
Car culture is deeply ingrained in the Golden State, so it's no wonder gas stations top the list of best businesses to start. The state has about 8,000 gas stations, which employ 54,500 people. Revenue for the gas station industry increased nearly 25% from 2007 to 2012, when gas prices reached all-time highs. However, since gasoline is commoditized — meaning prices are mostly uniform — and individual gas stations face plenty of competition, profit margins are likely low in this industry. California is taking steps to encourage zero-emission and alternative-fuel vehicles, including a recent executive order establishing a greenhouse gas reduction target of 40% below 1990 levels by 2030. Still, about 96% of the state's transportation needs depend on petroleum-based fuels, according to the California Energy Commission. This reliance, plus an aging mass-transit system, means the demand for gas stations should continue to rise. By far, the highest retail gas sales are in Los Angeles County, according to the California Energy Commission. Other areas with high sales include Orange, San Diego and Riverside counties. Gas stations are highly regulated, especially when it comes to taxes and fees, but the state provides resources for operators. The California Independent Oil Marketers Association is a trade association representing wholesale and retail fuel marketers.
E-commerce, more formally known as electronic shopping and mail-order houses, includes retail companies that use print only or print and online catalogs to sell merchandise. An online shopping business is easier, faster and cheaper to set up than a brick-and-mortar counterpart. There are about 5,000 companies with 55,000 workers in this industry in California. Revenue is high — each employee brings in an average of $958,300 — for total industry revenue of $52.66 billion in 2012. The size of the workforce jumped 27% from 2007 to 2012. The booming tech industry in Silicon Valley and the San Francisco Bay Area has helped further the reach of e-commerce companies through new platforms, apps and software. The California Retailers Association, which represents all segments of the retail industry, is a major trade organization for business owners in e-commerce.
3. Supplementary educational businesses
Educational businesses are usually privately owned companies that provide instruction in areas such as fine arts, athletics, languages and tutoring — and include dance studios, driving instruction and exam preparation centers. In California, there's strong demand for supplementary education after school, on weekends and during school breaks. There are 6,150 of these kinds of businesses in the state, employing 67,255 people. The industry brought in over $3 billion in revenue in 2012, and the workforce grew over 33% from 2007 to 2012. Tutoring schools became popular with the No Child Left Behind Act, and that demand has held up with the implementation of Common Core, along with ever-present fervor over SAT and ACT preparation. Successful supplementary educational businesses headquartered in California include PresenceLearning, Ruby Makeup Academy, Ducerus and ArborBridge Group.
4. Wholesale electronic trade
Businesses within wholesale electronic markets arrange to purchase or sell goods on behalf of other companies. In California, one of these companies, Pajono Woodworks, supplies building materials to cities and the military. Automotive aftermarket companies also fall under this umbrella and they are represented by the California Automotive Wholesalers Association. This industry falls under the wider category of wholesale trade, which is the buying and selling of large quantities of goods and merchandise to companies that resell those goods to consumers. Agents and brokers in wholesale electronic markets make trades remotely, as opposed to handling goods — a crucial intermediate step for California's retailers. There are about 4,800 wholesale electronic market firms in the state employing 35,400 people. As an $80.5 billion industry, it's the most lucrative type of business in the top 10.
California loves shoes. Some of the most successful footwear companies in the world are based in the state, including Toms, Vans and DC Shoes. The shoe stores category includes retailers selling all kinds of footwear — sandals, boots, sneakers and pumps — as well as shoe-care products. There are over 3,000 shoe stores in California employing 25,400 people. And the shoe business is big — it's a $3.7 billion industry in the Golden State.
California keeps thousands of stylists, barbers and manicurists hopping. The California cosmetology industry has the largest professional licensee population in the nation, according to the state Board of Barbering and Cosmetology. The personal care services industry includes hair salons, barbershops, esthetician services, ear piercing, nail salons, massage services, tattoo parlors, hair-replacement and scalp-treatment services, saunas or bathhouses and diet counseling. There are nearly 12,500 businesses of this kind in the state, the second-biggest industry on the top 10 list. It's a $3.3 billion industry that employs 66,790 people. Revenue grew 14% from 2007 to 2012. Personal care services, however, are highly regulated by the state. The California Board of Barbering and Cosmetology provides detailed information on regulations. Other businesses in the industry, such as those that provide tanning services and tattoos, have their own regulations. There are several California associations that represent businesses that fall within this large industry, such as the California Massage Therapy Council, the Association of Professional Piercers and the Professional Beauty Federation of California.
California businesses that specialize in leasing properties are in demand. The state is the most populated in the nation and is expected to grow to 44,085,600 people by 2030, according to the state Department of Finance. After the housing bubble burst, the demand for rentals increased for housing, storage and business needs. Trulia found in areas such as San Jose, San Francisco, Ventura, Los Angeles and Modesto, it may make more financial sense to rent a home than to buy. In the most tax-burdened places such as San Mateo, Santa Clara and Marin counties, short-term renting can be the more-affordable option. Lessors of real estate are the owners of a building or lot that is rented out. In this industry, lessors can also include firms that rent real estate and sublease to others. There are nearly 17,500 lessors of real estate in California — the highest number of businesses within an industry on the top 10 list. It's a $32.5 billion industry employing over 79,000 people. Lessors may rent out a mix of real estate including residential buildings, mini warehouses and self-storage units, mobile-home sites, vacant lots, as well as offices and other buildings. Lessors can find information, services, data, legal requirements and insight into legislative issues from real estate agent associations. The California Association of Realtors is the largest in the state, but depending on a lessor's property location, there may also be more local associations such as the Orange County Association of Realtors, the California Desert Association of Realtors, the Central Valley Association of Realtors and the Northern California Commercial Association of Realtors.
8. Non-instructional educational support
Educational support includes all non-instructional services that help education systems operate — such as educational counseling, testing services, student exchange programs, vocational counseling and curriculum development. In California, there are over 1,000 of these kinds of businesses, which include Total Education Solutions in South Pasadena and Inside Track in San Francisco. The educational support services workforce has increased almost 45% from 2007 to 2012 to over 13,500 employees — the highest growth of any industry in the top 10. Industry revenue was nearly $1.5 billion in 2012, an increase of 71% over 2007. As schools add new technology, adopt curriculum changes and state and federal mandates, they require help with teacher training, testing and curriculum development.
9. Electronics and appliance stores
Retailers in this industry sell new household appliances and electronics — refrigerators, stoves, TVs, computers, etc. They also might sell replacement parts and provide repair services. There's always demand for basic household appliances and certain electronics, but innovations tend to amp up the desire for these products as well. When the iPhone 6 was released, hordes of people lined up and camped out at Apple stores to get their hands on the new device. This $14 billion industry in California includes 5,645 businesses that employ 57,405 people. Fast-growing electronics and appliance retailers based in California include Apple, MobileOne and Outdoor Tech. The California Retailers Association represents businesses in this industry with information about government regulations, legislation and more.
This category is made up of thrift and consignment stores that sell secondhand items such as antiques, used appliances, used and rare books, LPs and secondhand furniture. It doesn't include used cars or pawnshops. In many cases, consignment shops have lower overhead than other secondhand retailers because they don't have to purchase inventory. There are nearly 1,900 secondhand retailers, which employ about 17,200 people in California. It's a $1.7 billion industry that saw revenues grow almost 32% from 2007 to 2012. Secondhand shops have benefited from greater public awareness of recycling, as well as demand for inexpensive merchandise during the recession. The Antiques Dealers Association of California represents the interests of secondhand-retail business owners. On a national level, the biggest group for secondhand retailers is NARTS, the Association of Resale Professionals.
NerdWallet analyzed data from the U.S. Census Bureau's Economic Census and the Occupational Safety and Health Administration from 2007 to 2012 to determine which industries offer the best opportunities for entrepreneurs in California.
Average number of employees per company (16% of the score). The smaller the company, the easier it is to start a business.
Revenue per employee (16% of the score). This measures industries that can scale, or drive more revenue per employee, which can mean higher profits.
Payroll cost per employee (16% of the score). This is a measure of how expensive it is to hire in an industry.
Cost-per-employee growth (10% of the score). This looks at if wages are rising in an industry. Faster-growing wages likely put pressure on margins.
Industry-size growth (10% of the score). This measures growth by comparing the number of employees in an industry from 2007 to 2012. Faster-growing industries present more opportunity.
Revenue growth (10% of the score). Like industry-size growth, revenue growth indicates more opportunity. Both factors, however, might also mean that there is more competition within the industry.
OSHA citations per 100 businesses (10% of the score). The number of safety and health citations issued in an industry in California from October 2013 to September 2014. This measurement includes data across businesses of all sizes.
OSHA penalty per citation (10% of the score). The average penalty assessed per citation by the agency.
NerdWallet writer Anna Helhoski contributed to this article.