20 Best Seasonal Business Ideas for Warm Weather
If warm weather makes you feel enterprising, consider a seasonal business.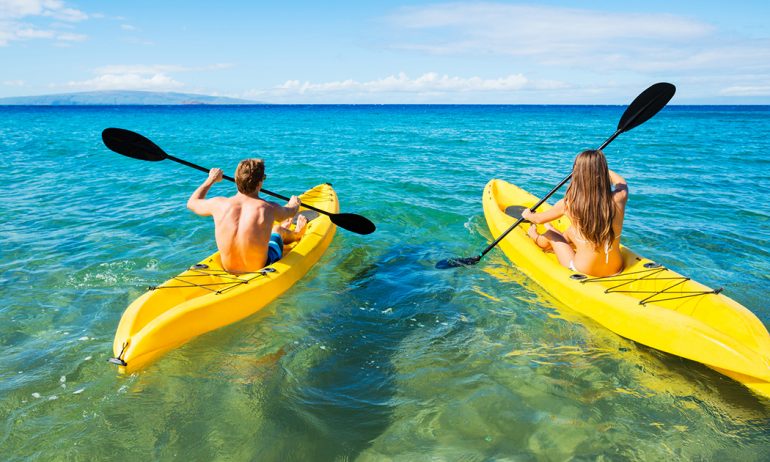 Many or all of the products featured here are from our partners who compensate us. This influences which products we write about and where and how the product appears on a page. However, this does not influence our evaluations. Our opinions are our own. Here is a list of our partners and here's how we make money.
When the cold weather breaks and the sun begins to stay out later, many enterprising people ask themselves the same question: What are the best seasonal business ideas? After all, higher temperatures mean customers are out and about, looking for a bit of sunshine in their lives after a long and dreary winter.
Here are some of the best seasonal business ideas for warm weather, as well as some banking and loan considerations you'll need to make if you want to set your seasonal business up the right way.
20 best seasonal business ideas
Starting a seasonal business requires a combination of inspiration and know-how. Here are some ideas to help you get started:
1. Lawn care and landscaping
Lawn care, landscaping and gardening is a great seasonal business idea for anyone who loves to get their hands dirty and put in a good day's work. The barrier to entry is low, and depending on your state, you may not need additional certification or licensure.
Although you may need to buy specialized equipment, many homeowners have their own tools that you can use on-site, too.
What you need to get started
Consider registering your lawn care or landscaping business as a limited liability company to protect your personal assets against any legal action — say, if you accidentally spill fertilizer all over someone's patch of authentic major-league ballpark grass, and they come looking for restitution.
For larger purchases, consider applying for a business credit card. A cash-back business credit card is a great option for most businesses since you can reinvest those funds into your business.
Whether you're starting out fresh or expanding your existing restaurant empire, starting a food truck is a great seasonal business idea to take on before the summer gets in full swing.
By opening a food truck, you avail yourselves to customers where they already are — at the beach, a park or near great summertime activities like beer festivals and concerts.
What you need to get started
Before you gas up your truck and turn on the griddle, make sure you have all of the required vendor permits, licenses and official government sign-offs. The permitting process can take some time, so be sure to factor this in while you determine your strategy.
Next, you're going to need equipment. If you need to purchase or lease a food truck, consider an equipment financing loan. These loans are self-collateralized, which makes them easier to qualify for.
Once you've got your truck, you're going to have to make sure you're fully stocked with ingredients. A business line of credit can go a long way toward helping food truck owners buy basic goods and materials, while only borrowing the money they need at any given time.
3. Personal training and sports coaching
If you're an exercise buff or sports fanatic who wants to turn a passion into a job, then this is the season to get cracking.
What you need to get started
You may need a personal training certification, so start there. Note that this won't necessarily be the case if you're looking for seasonal work as a sports coach.
If you're in the market for new equipment, then consider an equipment loan. If approved, your lender will front you 80% to 100% of the cash you need to buy those kettlebells and resistance bands (or any other gear you need), and you'll repay them in regular installments.
Spring and summer months bring out the shopper in all of us, especially as outdoor markets and garage sales abound. If you know your way around a toolbox and a paintbrush, you can get started on restoring, reclaiming and reselling all that secondhand furniture.
What you need to get started
If you already have a garage, backyard or studio space in or around your home, your biggest expense isn't going to be rent. Rather, you'll need a way to purchase all the tools and materials necessary for refurbishing, reupholstering, and generally beautifying all that old furniture.
If you anticipate stocking up on extra-large purchases when you first get your card, consider a 0% intro APR business credit card. These business credit cards basically act as interest-free loans for as long as that 0% intro APR period lasts, so you can take your time paying down your new toolkit without worrying about exorbitant extra costs. Just make sure you can pay off your balance before the introductory offer ends and a variable APR sets in.
Summer is prime time for home improvement, and one of the best ways to improve a home is with a fresh coat of paint.
What you need to get started
Painting requires a fair amount of material costs, and you may as well find a solid, steady way to pay for gallons of paint every month. But it can be tough to secure a small business loan right off the bat, especially without that long financial history and great credit score most lenders want to see.
Start boosting your credit score and establishing your credit history by using a business credit card for building credit, which will also cover your basic material expenses for now.
Just because school's out doesn't mean that kids need to stop learning. If you're a teacher who's looking to make the most of your summer vacation or a college student who would love to make a few extra bucks, tutoring can be a lucrative side hustle during the off-season.
What you need to get started
Registering your business as an LLC makes you look more professional, and can help protect you against any legal issues that may arise (say, if a parent tries to sue you because their child didn't get into an Ivy League school).
But best of all, establishing a business entity means you can open a business checking account. Having a business checking account means you can keep cash in the bank specifically for tutoring expenses like test prep books and learning aids. This way, you'll know which account is being used to pay for which items, and you can track your business's profits and losses much easier.
If you love spending warm-weather months outside and sharing the beauty of nature with others, then you may as well get paid to do both. Being an outdoor adventure guide is one of the best seasonal business ideas for anyone who has hiking and camping experience, first aid training, and loves to meet new people.
What you need to get started
If you're just starting out as an outdoor guide, make sure you're certified in first aid and CPR. And if you're looking to open up your own shop, you'll definitely want to file as a business entity in your state and get insurance for your company in case anyone gets hurt while on one of your tours.
As an outdoor guide, your biggest expenses will probably be marketing, equipment and supplies. You'll need to buy camping and hiking gear for you and your clients, purchase food supplies if you intend to offer cooking on your excursions and potentially spend some money to get the word out about your services.
So long as it's legal to sell fireworks in your state, operating a seasonal shop is a great way to capitalize on a hot commodity during warm-weather months.
What you need to get started
Register as a legal entity in your state, scope out real estate, open up a business bank account and be sure you can cover your inventory and operating costs.
Chances are, demand for fireworks will increase a ton around July 4. And you may find yourself without the capital you need to fulfill all those orders in time.
In that case, you may want to consider securing a short-term loan from an online lender. These loans have the quickest turnaround from application to approval to funding, so they're a great option if you need cash fast. Repayment periods are short, too, so they're the best option if you need funds for a one-time project with a specific end date—as most seasonal businesses do.
Do be aware, though, that short-term loans are one of the more expensive loan options out there, so be absolutely sure that your business has the financial bandwidth to repay your short-term loan before seeking one out.
Summer is peak vacation season, but not every family trip can include pets. This is where you come in.
What you need to get started
Thankfully, it's pretty straightforward to begin your petsitting side hustle. You'll likely want liability insurance (in case something goes wrong with a client's beloved pet) and a little bit of operating capital to buy treats and other sundries while you're on the job.
Especially in the early months of the business, most seasonal pet sitters can get by with just a business credit card, since expenses tend to be fairly low. And since you'll often be driving to clients' homes, it makes sense to find a card that earns you cash back on gas and other expenses.
Summer is one of the busiest months in the real estate market, which means that there are plenty of folks who need help moving into a new house or apartment. If you've got a keen eye for packing and the strength to move bulky furniture, then starting a seasonal moving service could be one of the best seasonal business ideas for you.
What you need to get started
You'll need a moving van or truck, hand trucks and other kinds of moving equipment, and smaller items like tape and moving blankets. There are plenty of loan options for each of these items—be it an equipment loan for a moving truck, a business line of credit for larger moving equipment or a business credit card to pay for day-to-day expenses.
If you hire a team to help you with your moves, you should always leave room in your budget to cover payroll. But if times are tight, you can consider taking out a flexible loan, like a business line of credit, so you can always pay your staff.
Everyone loves having a pool in the summertime, but very few pool owners want to deal with the upkeep. With a bit of know-how and the right tools for the job, you can open up your own pool maintenance company in a few simple steps.
What you need to get started
Licensing to start a pool cleaning business depends on your state. Some states only require you to have a business license and the right tools for the job. Others, like California and Florida, have stricter requirements that mandate a certain number of years' experience. Either way, you'll need to begin by registering a business entity and getting your local permits in order.
Riding bikes is a great warm-weather activity, especially in areas where there is a lot to do or see. If you know your way around a bike, this may be the best seasonal business idea for you.
What you need to get started
You'll probably want to invest in business insurance, just in case someone decides to sue you after falling off their bike. The cost of establishing your location and buying your bikes varies depending on your market, but you may want to look into a term loan or equipment financing.
13. Canoe and kayak rental business
Lots of people like to get out on the water during the summer months — and they need a vehicle to help them get there. If you enjoy water sports, opening your own canoe and kayak shop is one of the best seasonal business ideas for you.
What you need to get started
Knowledge of local waterways and small craft safety are certainly helpful in this kind of role. Like a bike rental business, you'll also have to acquire the necessary permits and licenses to operate in your state — and buy business insurance. The costs associated with launching your business include buying watercraft and establishing a location.
14. Miniature golf course
Are you an enthusiastic golfer, someone who is creative or someone who just loves to be around other people having fun? If so, operating a miniature golf course might be the best seasonal business idea for you.
What you need to get started
Knowledge of the game of golf can help but isn't required to start a miniature golf course. It is actually much more important to be handy, as the structure and design of your miniature golf course (e.g., the large wooden windmill blocking the hole) will require upkeep.
In terms of startup costs, a miniature golf course can actually be quite an expensive venture. You'll need a fairly large plot of land to fit 18 holes on, plus funds to build and decorate your course and purchase equipment.
A pedicab is a small pedal-operated vehicle that can take customers to their desired location. If you're interested in getting in a workout, chatting with some customers and making a few extra bucks, this could be a great side hustle for you.
What you need to get started
Cyclists are probably the ones most suited to be pedicab operators, as they already have experience riding long distances, which is the main requirement for operating a pedicab. Buying a pedicab costs several thousand dollars, and you'll also need to get business insurance and a license to be a pedicab operator in your state.
If you love serving your community with fresh fruits and vegetables in a friendly outdoor environment, operating a farmers market may be the best seasonal business idea for you.
What you need to get started
To operate a farmers market, you'll first need to find a location. This means dealing with your local government and acquiring the proper licenses and permitting. Typically, farmers markets are hosted on municipal land or on the property of a local business.
The costs associated with setting up a farmers market include rent for the location, licensing and liability insurance and marketing costs. Your revenue will be derived from the fee you charge vendors to sell at your market. Note that many farmers markets operate as nonprofits.
Do you have a passion for working with kids, teaching, the outdoors or all of the above? Why not start a summer camp? You could enrich the lives of children by providing them with a summer experience they will never forget.
What you need to get started
The differences between operating a day camp and a sleep-away camp are vast. But both require you to abide by some strict federal, state and local regulations. For example, any staff member who works with children must undergo a thorough background check. There are also requirements for liability and medical insurance.
Costs include rent for the facility you operate out of (for day camps) or rent for the campsite (for sleep-away camps). Then there is equipment: cabins, watercraft, arts and craft materials, sports equipment and more. There are also costs for food, transportation and staff salaries. Note that some camps are eligible for business grants or low-income loans.
For those that love the open water and catching the perfect wave, a surf school could be the best seasonal business idea.
What you need to get started
For starters, you need to be an excellent surfer. You also need to live in an area where surfing is incredibly popular, like a coastal city. Since you're going to be a teacher, it helps to have good people skills. In terms of logistics, the International Surf Association provides guidelines on how to run a certified surf school.
The costs associated with running a surf school are actually quite minimal. You don't actually need a physical location to operate out of. Instead, try setting up a stand on a public beach and buying some extra surfboards and a stocked first aid kit. You will want to invest in business insurance in case a customer gets injured under your watch.
19. Horseback riding lessons
Similar to a surf school, those who love horses have an opportunity to share that love with others during the summer months by offering horseback riding lessons.
What you need to get started
A great horseback rider is key in this role. You also need to be a good teacher and know how to care for a horse. There are also licenses and permits required to offer horseback riding lessons, plus liability insurance. Additionally, there's the cost of the horses, which can be several thousand dollars.
Other costs to consider include fencing, a barn, stables, hay and watering troughs.
With the advent of programs like "American Ninja Warrior," challenge courses have become an increasingly popular business. A challenge course is an outdoor venue featuring a series of obstacles that individuals have to travel across, such as a rock-climbing wall, ropes course and zip line.
What you need to get started
There are permits, licenses and insurance requirements for operating a challenge course. Then there is the cost of purchasing or renting a facility and stocking it with obstacles. Obstacles vary in price, but you can expect to shell out several thousand for any one type of obstacle. A challenge course is also dangerous, meaning you'll need to hire well-trained staff.
Finally, you need to market your business. Challenge courses are often located in out-of-the-way places. Therefore, you'll need to get the word out in order to get customers to come try out your challenge course.
This article originally appeared on JustBusiness, a subsidiary of NerdWallet.