Best E-commerce Fulfillment Centers for Small Business
Compare major e-commerce fulfillment centers based on costs, services, minimum requirements and account management.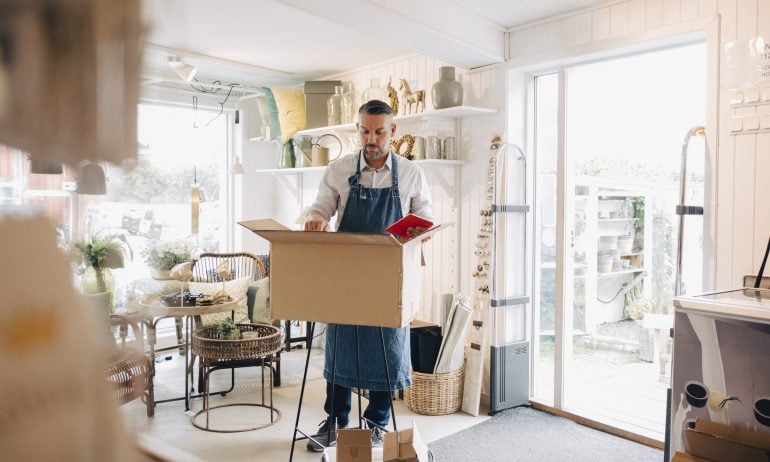 Many or all of the products featured here are from our partners who compensate us. This influences which products we write about and where and how the product appears on a page. However, this does not influence our evaluations. Our opinions are our own. Here is a list of our partners and here's how we make money.
The e-commerce fulfillment industry is booming and fulfillment centers are springing up around the globe. With so many options, picking the best fulfillment center for your e-commerce business can be a challenging task. Costs, services, minimum requirements and account management all vary greatly among providers, so finding the perfect partner takes some serious homework.
7 best e-commerce fulfillment centers
Whether you're looking for specialty fulfillment, the most economical solution, or the fastest possible shipping, this guide to the best e-commerce fulfillment centers will help kick-start your search.
Fulfillment by Amazon (FBA): Best fulfillment solution for Amazon sellers and multichannel sellers with a major focus on the Amazon marketplace.

Shopify Fulfillment: Caters to startups and sellers with Shopify e-commerce websites and Shopify-based multichannel businesses.

RedStag Fulfillment: Focuses on sellers needing specialty fulfillment services for high-value goods, bulky and heavy items and kitted products.

Whiplash: Great for small and growing e-commerce sellers looking for fast shipping within the U.S., Canada and the U.K.

Fulfillify: Top-rated e-commerce fulfillment center that also offers exceptional kitting services for subscription boxes and branded packaging.

Ships-a-Lot: A small business fulfillment partner offering round-the-clock fulfillment services and fast delivery for high-volume and batch shippers.

ShipBob: E-commerce fulfillment center with a nationwide warehouse network for fast delivery at the lowest shipping cost.
Top e-commerce fulfillment centers for small business
Below we'll run through the seven best e-commerce fulfillment centers for small business, including the services they provide, who they work with, pricing and more. Let's get started.
1. E-commerce Fulfillment by Amazon (FBA)
FBA lets any seller tap into Amazon's vast fulfillment network for inventory storage, order pick-pack-and-ship and returns management. You don't have to sell on Amazon to use FBA, but it's mainly geared for Amazon-focused sellers and multichannel sellers with a presence on Amazon.
With FBA, you ship goods into Amazon's warehouse network and Amazon takes it from there. Amazon stores your products, packs and ships your orders, and handles returns for you, just like any other standard fulfillment service. However, there are several sales-driving perks that you enjoy as an FBA user, including:
Your products are Prime-eligible: FBA products are fulfilled by Amazon, so they're eligible for the free shipping services that Prime members look for when shopping on Amazon.

Amazon's reputation: Amazon is a trusted name, so shoppers can purchase with confidence when they see "fulfilled by Amazon" on FBA items.

Fast and inexpensive shipping: Amazon's vast warehouse network puts products close to customers across the globe, plus Amazon's shipping fees are far lower than what most independent shippers pay.
FBA is very transparent when it comes to its pricing and fee details, so you can easily estimate your fulfillment costs for the items you sell. FBA charges you two fees—storage and fulfillment—and both are based on the size and weight of the items you sell.
The monthly FBA storage fee is based on the average space, measured in cubic feet, that your products occupy in Amazon's warehouses. FBA's current per-cubic-foot pricing is shown below.
FBA storage fees are based on item sizes. Storage costs increase during the busy holiday shopping season. Source: Amazon FBA.
The FBA fulfillment fee rolls your order picking, packing and shipping tasks—together with packaging costs—into one fee, which is also based on the size and weight of each item sold. Below are some examples of FBA fulfillment fees for different types of products.
FBA users benefit from Amazon's deep shipping discounts, so its overall fulfillment costs are often lower than what a small seller would pay to ship the same item. Source: Amazon FBA.
Navigating Amazon's e-commerce fulfillment center service takes work and you can run into unexpected pitfalls. For example, if your products aren't labeled properly, you'll face a relabeling charge. Amazon also tacks on hefty long-term storage fees for unsold stock. If you're considering FBA as your e-commerce fulfillment center, be sure to understand all of Amazon's FBA fulfillment costs and service details.
2. Shopify Fulfillment Network
The Shopify Fulfillment Network is a new e-commerce fulfillment center specifically for sellers using the Shopify platform for website and multichannel sales. Any Shopify seller can connect this built-in Shopify service to their store manager dashboard in just four simple steps.
Download and open the free Shopify Fulfillment Network app on your dashboard.

Select which products you want to ship via this service.

Receive an instant quote for monthly storage and per-order fulfillment fees.

Send your stock into the Shopify Fulfillment Network.
The Shopify Fulfillment Network is designed to meet the needs of startups and small businesses using the Shopify platform. Order minimums are very low, but the service scales up to accommodate plenty of growth. Currently, if you ship as few as 10 or as many as 10,000 orders per day, you qualify. This e-commerce fulfillment center service will soon be available to startups and micro-sellers averaging just three orders per day, as well as mega-sites shipping over 30,000 daily orders.
Shopify Fulfillment Network pricing and details
There's no set pricing for the Shopify Fulfillment Network. Your fees are determined by your product data, such as item weight and dimension, entered into your Shopify inventory list. If you're curious to see if the Shopify Fulfillment network is more economical than your current fulfillment solution, simply download the free app and get an instant quote. There's no obligation at all.
The Shopify Fulfillment Network app gives you an instant quote for storage and fulfillment fees based on the items you sell. Source: Shopify Fulfillment Network.
The Shopify Fulfillment Network uses data analytics and artificial intelligence (AI) technology to determine where to store your products within its warehouse network for quick and economical delivery to your customers. They also track your sales velocity and provide stock replenishment reports to help you avoid backorders and missed sales.
RedStag Fulfillment is a top-rated e-commerce fulfillment center that offers standard fulfillment storage, pick, pack and ship services, but that's not all. RedStag specifically caters to e-commerce businesses that sell products requiring special handling or extra care, including:
High-value goods: RedStag's secure storage and video-monitored packing and shipping areas ensure security for high-value goods like jewelry, watches and designer products.

Oversized, heavy and fragile products: The packaging pros at RedStag ensure damage-free deliveries for items like flatscreen monitors, artwork, mirrors and furniture.

Kitted and specialty packing: Careful packing with branded packaging helps RedStag's subscription box sellers deliver a memorable "unboxing."
RedStag Fulfillment operates two warehouses and orders reach most U.S. addresses within one to three days. Source: RedStag Fulfillment.
RedStag e-commerce fulfillment pricing and details
RedStag Fulfillment doesn't publish pricing, so you'll need to contact them for a quote that fits your unique fulfillment needs. However, they did provide us with some average costs for common services:
Inbound receiving: $13.25 per pallet; negotiable for smaller single or multi-box shipments.

Monthly storage: $2 per bin, $15 per pallet with up to four SKUs allowed per pallet.

Order pick-and-pack: $2.25 to $2.64 for the first item, $0.30 for each additional item.

Shipping boxes and packing materials: Basic shipping boxes and packing materials included at no extra cost.

Shipping fees: Deeply discounted FedEx rates, especially for items weighing over five pounds.

Monthly account minimums: 100 orders or about three orders per day, on average.
RedStag Fulfillment also provides free onboarding, which includes integration to most e-commerce platforms. Plus, you get a dedicated account manager who's just a phone call away. RedStag Fulfillment takes great pride in order accuracy and pays you $50 if an order ever ships out incorrectly.
Small sellers with special shipping needs, such as end-to-end security, kitting and assembly, or oversized handling, should seriously consider RedStag Fulfillment. Their unique blend of fulfillment services, low minimums and economical pricing places it high on any list of best e-commerce fulfillment centers for small businesses.
4. Whiplash e-commerce fulfillment
Whiplash is a leading e-commerce fulfillment center for small and growing businesses. It seamlessly connects to all top e-commerce platforms and offers fast fulfillment throughout the United States, Canada and the United Kingdom. Whiplash is known for its cutting-edge order and inventory management portal, intelligent data stock forecasting and network distribution, and ready integration with virtually all e-commerce platforms.
Whiplash has a monthly minimum of 500 orders, plus a $250 monthly minimum storage fee, so it's not what most would consider startup-friendly. However, they're a highly-rated, competitive choice for growing sellers shipping 15 to 20 orders per day, or more.
Whiplash e-commerce fulfillment pricing and details
Unlike e-commerce fulfillment centers that work off-price quotes, Whiplash proudly publishes their pricing on their website. In the fee schedule pictured below, you'll see that Whiplash charges per-package and per-item fees based on minimum monthly order volumes of 500 and 1,000 orders. Higher-volume sellers can receive even lower quoted rates.
Whiplash offers transparent pricing so you know exactly what your fulfillment services will cost from day one. Source: Whiplash.
Other cost factors like shipping and packaging are added to these costs. However, you'll benefit from Whiplash's deep discounts on shipping rates for all carriers, as well as bulk discounts on shipping boxes and packaging.
Whiplash's storage fees are volume-based and cost $0.45 per month per allocated square foot. However, there's a $250 monthly minimum which might be a stretch for startups and micro-sellers. Whiplash provides an online storage fee calculator to help you determine your storage fees. To help new sellers get up and running profitably, Whiplash doesn't charge any storage fees for the first two months.
5. Fulfillify e-commerce fulfillment
Fulfillify is another top-notch e-commerce fulfillment center for small businesses. It offers a nationwide warehouse network, transparent pricing, seamless online store builder integrations and ultra-low order minimums. In fact, Fulfillify's online pricing tool starts at zero orders per month, so they're clearly open to working with startups and small e-commerce sellers.
Fulfillify is also a leader in subscription box fulfillment and specializes in highly customized "unboxing" experiences. Their in-house design and printing department can help you craft a branded packaging program that delivers plenty of bang on any budget. Once that's done, their kitting services ensure that your boxes are perfectly packed, every time.
Fulfillify e-commerce fulfillment pricing and details
Fulfillify takes the guesswork out of pricing with a straightforward online pricing tool. Using the sliders shown in the image below, you can quickly estimate costs based on your average order volume and items per order, plus estimate costs for inbound stock shipments and storage.
Fulfillify's easy online cost calculator gives you an instant picture of your e-commerce fulfillment costs. Source: Fulfillify.
Shipping costs are based on actual shipping rates and, like others on our list, Fulfillify passes their deeply discounted carrier rates on to you. Basic packaging is generally included in the per-order fulfillment fee. However, specialty boxes and custom packaging have added printing costs.
Kitting fees for subscription boxes and other specialty items depend on the complexity of the work. Every client is assigned a Fulfillify account manager to assist with any special pricing needs, as well as general account setup and day-to-day oversight.
6. Ships-a-Lot e-commerce fulfillment
Ships-a-Lot delivers great value for high-volume sellers, batch shippers and subscription box sellers. It isn't a low-volume startup solution like a few on our list, nor do they offer much by way of special-handling services, like fragile or oversized goods. Instead, their main focus is getting large quantities of uncomplicated small and midsize items packed, shipped and into your customer's hands daily.
Ships-a-Lot runs a 24/7 operation that guarantees orders are packed and shipped within 24 hours, seven days a week. If they fail to meet their 24-hour turnaround guarantee, they pay you $20. The same applies to order accuracy. Ships-a-Lot prides themselves on a near-100% accuracy rate and, again, pays you $20 per packing or shipping error.
Ships-a-Lot provides plug-and-play integrations with top e-commerce platforms including Shopify, BigCommerce, Amazon and eBay. They also connect to other platforms, like WooCommerce and Magento, via customized integrations.
Ships-a-Lot e-commerce fulfillment pricing and details
Ships-a-Lot's only published cost is item storage. They charge a flat fee of $35 per month for storage, period. That one fee covers one item or 10,000 items, so that's pleasantly predictable. Your order pick-and-pack fee isn't as straightforward. This cost is determined through a quote based on the items you sell, your order volumes and how your items are packed and shipped.
Ships-a-Lot simplifies the shipping process and guarantees a 24-hour turnaround with 100% order accuracy. Source: Ships-a-Lot.
Shipping fees are added to your order pick-and-pack charges, but you do benefit from Ships-a-Lot's deep rate discounts on all major carriers. Kitting and batch shipping services for subscription box sellers are figured on a quote basis as well. There are no account onboarding costs with Ships-a-Lot and you're never tied to a contract.
Ships-a-Lot's order minimums aren't published either, but they tend to work with sellers shipping a minimum of 250 orders per month. Batch shipping minimums vary based on your items and specific packing and shipping needs.
Lack of pricing transparency doesn't seem to bother Ships-a-Lot clients at all. It has, on average, the highest overall ratings of any small business e-commerce fulfillment center. Look on any reviews website and you'll find that Ships-a-Lot consistently receives five-star ratings. They clearly deliver plenty of value to e-commerce sellers and live up to their performance guarantees.
7. ShipBob e-commerce fulfillment center
ShipBob is a fast-growing e-commerce fulfillment center boasting a nationwide warehouse network on par with enterprise fulfillment solutions. However, their low 100 monthly order minimum makes them accessible for small businesses and shoestring startups.
Delivery speed and low shipping costs drive ShipBob's e-commerce fulfillment model. They operate five strategically placed warehouses across the U.S. and use intelligent data to pinpoint the best storage locations throughout their nationwide network. Placing your goods within a one- to two-day delivery time to most U.S. addresses drives customer satisfaction, while also dramatically lowering your shipping costs by shortening the transit time.
ShipBob offers another customer service perk that few can match—same-day delivery within their warehouses' locales. This means that you can offer customers in New York City, Chicago, Dallas, Los Angeles and San Francisco a same-day delivery option to compete with Amazon.
ShipBob operates five warehouses nationwide with the goal of delivering orders to all U.S. addresses within one to two business days. Source: ShipBob.
ShipBob e-commerce fulfillment pricing and details
Like a few other e-commerce fulfillment centers on this list, ShipBob doesn't publish their pricing, so you'll need to contact them for a complete fulfillment quote. However, ShipBob did share their average fees for some standard fulfillment tasks:
Inbound receiving: $35 per shipment, regardless of the number of boxes or pallets.

Monthly storage: $5 per bin, $10 per shelf and $40 per pallet with up to two SKUs allowed per pallet.

Order pick-and-pack: Per quote, with shipping costs included in this overall fee.

Shipping boxes and packing materials: Basic shipping boxes and packing materials are free, custom packaging services are an added fee.

Monthly account minimums: 100 orders, or an average of three to four orders per day.
Onboarding is free for most new accounts. ShipBob also offers very economical batch fulfillment services for crowdfunding campaigns, product launches and subscription box programs. Order minimums and costs for these services vary based on your products and your packing and shipping needs.
ShipBob seamlessly connects to virtually all e-commerce platforms and online marketplaces. They also provide a centralized account portal so you can monitor sales activity across all channels and make smart product reordering and forecastings decisions.
E-commerce fulfillment centers: The bottom line
E-commerce fulfillment centers come in all shapes and sizes and offer an array of services, but our top picks have several features in common. Each supports startups and fast-growing brands. None require huge order minimums, startup fees, or long-term contracts. Most even offer discounted storage fees to help new accounts come onboard profitably.
Whether you're just starting to shop fulfillment providers or are close to a final decision, be sure to vet your potential partners carefully. Openly discuss your specific needs, closely review your quotes and clarify any questions you have. Then consider running a trial program with the final contenders to ensure the perfect fit. Most are happy to oblige—after all, they want to be sure you're the ideal fit for them too.
This article originally appeared on Fundera, a subsidiary of NerdWallet.