How to Write an Executive Summary in 6 Steps
This guide explains what an executive summary is and offers writing tips so your business plan starts out strong.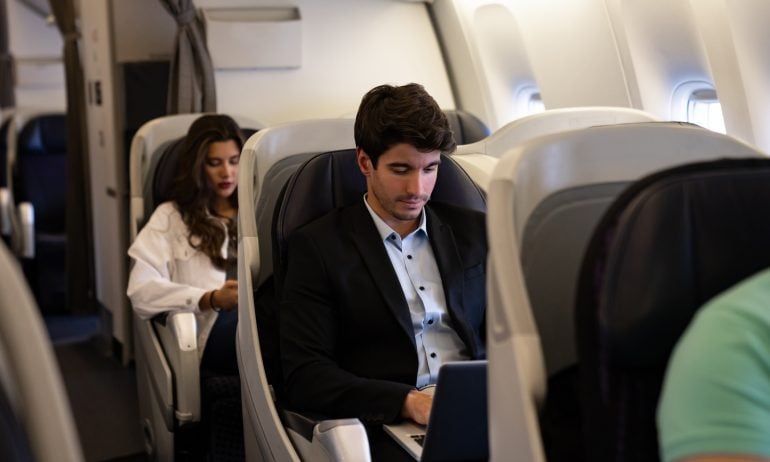 Many or all of the products featured here are from our partners who compensate us. This influences which products we write about and where and how the product appears on a page. However, this does not influence our evaluations. Our opinions are our own. Here is a list of our partners and here's how we make money.
When you're starting a business, one of the first things you need to do is write a business plan. Your business plan is like a roadmap for your business, so you can lay out your goals and a concrete plan for how you'll reach them.
Not only is a business plan essential for any business owner, but it's also a requirement if you decide to apply for small business funding or find investors. After all, before a bank or individual hands over any money, they'll want to be sure your company is on solid ground (so they can get their money back).
A business plan consists of several pieces, from an executive summary and market analysis to a financial plan and projections. The executive summary will be the first part of your business plan.
If wondering how to write an executive summary has kept you from completing your business plan, we're here to help. In this guide, we'll explain what an executive summary is and provide tips for writing your own so your business plan can start strong.
What is an executive summary?
An executive summary is a short, informative, and easy-to-read opening statement to your business plan. Even though it's just one to two pages, the executive summary is incredibly important.
An executive summary tells the story of what your business does, why an investor might be interested in giving funds to your business, why their investment will be well-spent, and why you do what you do. An executive summary should be informative, but it should also capture a busy reader's attention.
Why write an executive summary?
Anyone you're sending your executive summary and business plan to is likely busy—very busy. An entire business plan is long, involved, and deals with a lot of numbers.
Someone busy wants to get an understanding of your business, and they want to do it quickly, which is to say not by diving into a complicated, 80-page business plan. That's where your executive summary comes in.
An executive summary provides just the opportunity to hook someone's interest, tell them about your business, and offer a clear selling point as to why they should consider investing in your business.
Your executive summary is your chance to sell your business to potential investors and show them your business is worth not only their money but also their time.
What to include in an executive summary
By its nature, an executive summary is short. You must be able to clearly communicate the idea of your business, what sets you apart, and how you plan to grow into a successful enterprise.
The subsequent sections of your business plan will go into more detail, but your executive summary should include the most critical pieces of your business plan—enough to stand on its own, as it's often the only thing a prospective investor will read. Here's what your executive summary should include—consider it an executive summary template from which you can model your own.
The first sentence and paragraph of your executive summary determine whether or not the entire executive summary gets read. That's why the hook or introduction is so important.
In general, a hook is considered anything that will get a reader's attention. While an executive summary is a formal business document, you do want your hook to make you stand out from the crowd—without wasting time.
Your hook can be sharing something creative about your company, an interesting fact, or just a very well-crafted description of your business. It's crucial to craft your hook with the personality of your reader in mind. Give them something that will make your company stand out and be memorable among a sea of other business plans.
Grab their attention in the first paragraph, and you're much more likely to get your executive summary read, which could lead to an investment.
2. Company description summary
Now that you've hooked your reader, it's time to get into some general information about your business. If an investor is going to give you money, after all, they first need to understand what your company does or what product you sell and who is managing the company.
Your company description should include information about your business, such as when it was formed and where you're located; your products or services; the founders or executive team, including names and specific roles; and any additional details about the management team or style.
Your market analysis in the executive summary is a brief description of what the market for your business looks like. You want to show that you have done your research and proven that there is a need for your specific product or services. Some questions you should answer:
Who are your competitors?

Is there a demand for your products or services?

What advantages do you have that make your business unique in comparison to others?
To reiterate, stick to the highlights of your market analysis in your executive summary. You'll provide a complete analysis in a separate section of your business plan, but you should be able to communicate enough in the executive summary that a potential investor can gauge whether your business has potential.
Now that you've established a need in the market, it's time to show just how your business will fill it. This section of your executive summary is all about highlighting the product or service that your company offers. Talk about your current sales, the growth you've seen so far, and any other highlights that are a selling point for your company.
This is also a good time to identify what sets your business apart and gives you a competitive advantage. After all, it's unlikely that your business is the first of its kind. Highlight what you do better than the competition and why potential customers will choose your product or service over the other options on the market.
5. Financial information and projections
In this section of your executive summary, you want to give the reader an overview of your current business financials. Again, you'll go more in-depth into this section later in your business plan, so just provide some highlights. Include your current sales and profits (if you have any), as well as what funding you're hoping to acquire and how this will affect your financials in the next few years.
This is also where you can explain what funding, if any, you've received in the past. If you paid back your loan on time, this is an especially bright selling point for potential lenders.
While asking for what funding you need is essential, you've also got to make clear what you're going to use that funding for. If you're asking for money, you want the person to know you have a plan to put those funds to good use.
Are you hoping to open another location, expand your product line, invest in your marketing efforts? This final section of your executive summary should detail where you want your business to go in the future, as well as drive home how funding can help you get there.
Tips for writing an executive summary
Even if you include each part of a good executive summary, you might not get noticed. What is written can be just as important as how it's written. An executive summary has to strike a delicate balance between formal, personable, confident, and humble.
An executive summary should include everything that's in your business plan, just in a much shorter format. Writing a concise executive summary is no easy task and will require many revisions to get to the final draft. And while this is the first section of your executive summary, you'll want to write it last, after you've put together all the other elements.
To choose your most important points and what should be included in the executive summary, go through your business plan, and pull out single-line bullet points. Go back through those bullet points and eliminate everything unnecessary to understanding your business.
Once you have your list of bullet points narrowed down, you can start writing your executive summary. Once it's written, go back in and remove any unnecessary information. Remember, you should only be including the highlights—you have the rest of your business plan to go into more detail. The shorter and clearer your executive summary is, the more likely someone is to read it.
One simple way to make your executive summary more readable is to use bullet points. If someone is reading quickly or skimming your executive summary, extra whitespace can make the content faster and easier to read.
Short paragraphs, short sentences, and bullet points all make an executive summary easier to skim—which is likely what the reader is doing. If important numbers and convincing stats jump out at the reader, they're more likely to keep reading.
3. Speak to your audience
When writing your executive summary, be sure to think about who will be reading it; that's who you're speaking to. If you can personalize your executive summary to the personality and interests of the person who will read it, you're more likely to capture their attention.
Personalizing might come in the form of a name in the salutation, sharing details in a specific way you know that person likes and the tone of your writing. An executive summary deals with business, so it will generally have a formal tone. But, different industries may be comfortable with some creativity of language or using shorthand to refer to certain ideas.
Know who you're speaking to and use the right tone to speak to them. That might be formal and deferential, expert and clipped, informal and personable, or any other appropriate tone. This may also involve writing different versions of your executive summary for different audiences.
4. Play to your strengths
One of the best ways to catch the attention of your reader is to share why your business is unique. What makes your business unique is also what makes your business strong, which can capture a reader's interest and show them why your business is worth investing in. Be sure to highlight these strengths from the start of your executive summary.
Once you've written and edited your executive summary, you need a test reader. While someone in your industry or another business owner can be a great resource, you should also consider finding a test reader with limited knowledge of your business and industry. Your executive summary should be so clear that anyone can understand it, so having a variety of test readers can help identify any confusing language.
If you don't have access to a test reader, consider using tools such as Hemingway App and Grammarly to ensure you've written something that's easy to read and uses proper grammar.
How long should an executive summary be?
There's no firm rule on how long an executive summary should be, as it depends on the length of your business plan and the depth of understanding needed by the reader to fully grasp your ask.
That being said, it should be as short and concise as you can get it. In general, an executive summary should be one to two pages in length.
You can fudge the length slightly by adjusting the margin and font size, but don't forget readability is just as important as length. You want to leave plenty of white space and have a large enough font that the reader is comfortable while reading your executive summary. If your executive summary is hard to read, it's less likely your reader will take the time to read your business plan.
What to avoid in an executive summary
While the rules for writing a stellar executive summary can be fuzzy, there are a few clear rules for what to avoid in your executive summary.
Your executive summary should avoid:
Focusing on investment. Instead, focus on getting the reader to be interested enough to continue and read your business plan or at least schedule a meeting with you.

Clichés, superlatives, and claims that aren't backed up by fact. Your executive summary isn't marketing material. It should be straightforward and clear.
Avoiding the executive summary no-nos is just as important as striking the right tone and getting in the necessary information for your reader.
Executive summary examples
Sometimes the best way to learn is to see how other people are doing it. The U.S. Small Business Administration has multiple business plan examples; you can flip to the executive summary to help you write your own executive summary. For more inspiration, here is an example from Harvard Business School:
Executive summary template
After all the information we threw your way, you're probably itching to get started. If you're ready to apply what you just learned, download our free business plan template. Our template will not only make it easier to write your executive summary; it will also guide you in writing the rest of your business plan.
While an executive summary is short, it's challenging to write. Your executive summary condenses your entire introduction, business description, business plan, market analysis, financial projections, and ask into one to two pages. Condensing information down to its most essential form takes time and many drafts. When you're putting together your business plan's executive summary, be sure to give yourself plenty of time to write it and to seek the help of friends or colleagues for editing it to perfection.
However, some tools make crafting a business plan, including your executive summary, a simpler process. A business plan template is a great place to start, and business plan software can especially help with the design of your business plan. After all, a well-written executive summary can make all the difference in obtaining funding for your business, so you'll want all the help you can get.
This article originally appeared on JustBusiness, a subsidiary of NerdWallet.