Hair Salon Franchise Opportunities for 2022
Many hair salon franchise ideas require business savvy and entrepreneurial grit more than industry experience.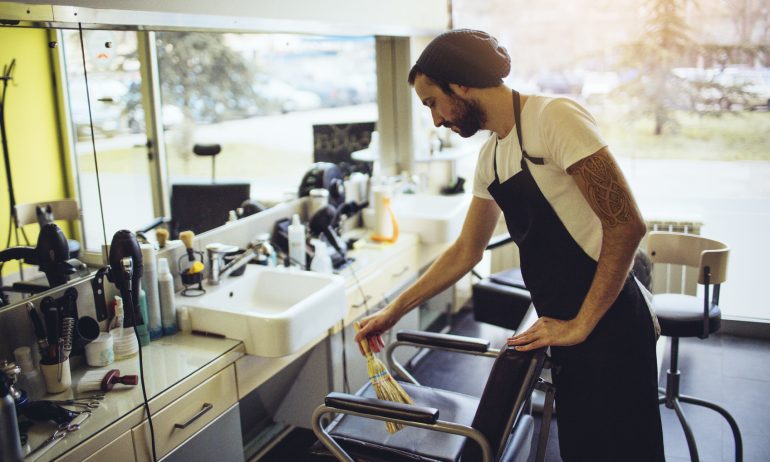 Many or all of the products featured here are from our partners who compensate us. This influences which products we write about and where and how the product appears on a page. However, this does not influence our evaluations. Our opinions are our own. Here is a list of our partners and here's how we make money.
If you're considering joining a franchise and love helping others look their best, consider a hair salon franchise. As an owner of a salon franchise, you enjoy additional perks like operating within a recession-resistant industry — no matter the economy, people will still need to regularly trim their hair. It can also be a rewarding challenge to build a loyal clientele base by building genuine rapport and delivering amazing service.
And if you don't have any prior experience in the hair salon industry, don't worry. Many of the hair franchises we list below don't require industry experience and place greater emphasis on business savvy and entrepreneurial grit.
If you want to know which hair salon franchise is right for you, check out our top picks below.
1. Roosters Men's Grooming Center
Roosters Men's Grooming Center is a successful franchise under the Regis Corporation umbrella. Started in 1999, this franchise has 85 locations across the United States and Canada. Their success is largely due to their traditional men's barbershop experiences.
This franchise is great for industry first-timers. They don't require any of their franchisees to have salon experience but do emphasize transferable skills, like leadership and business skills. If you're new to franchising in general, Regis Corporation has many resources for their franchisees. Their construction division will help you design your barbershop and their training programs will teach you all about customer service, sales tracking and other salon-related business responsibilities.
The financial requirement for starting a Roosters Men's Grooming Center is $150,000 in liquid assets and a $750,000 net worth. The total initial business investment can range from about $173,000 to $300,000.
MY SALON Suite was founded in 2010 by stylists Al Ferrigno and Alan D'Alessandro. They have built a loyal customer base with their high-end salon equipment and luxurious suite-style salon experience. MY SALON Suite was ranked sixth on Entrepreneur's "Top New Franchises" in 2017.
If you're already within the hair and beauty industry, then opening your own MY SALON Suite location may be the perfect franchise opportunity for you. This franchise is empowering salon entrepreneurs and professionals to build their businesses and increase their income by at least 40%.
Interested franchisees are recommended to have a minimum net worth of $1 million, $200,000 in liquid capital, and a credit score of 700. They also encourage you to have savings to cover at least nine months of living expenses during the pre-opening stages of building your MY SALON Suite location. You can learn more by visiting their website.
Created in 1982, Cost Cutters is another successful product born from Regis Corporation. As the name suggests, this salon is dedicated to delivering haircuts that are both affordable and quick. There is no need to schedule an appointment, which makes this salon a great choice for the overscheduled. With over 740 locations in the U.S., Cost Cutters is a memorable brand and a household name.
Cost Cutters doesn't require you to have any salon experience but an entrepreneur with quick wits and business savvy will thrive in this fast-paced salon brand. Franchisees should have at least $250,000 in liquid assets, a net worth of $1 million and can expect an initial investment of up to $180,000. Visit the Regis Corporation website for additional information about Cost Cutters.
Gordon Logan founded Sport Clips Haircuts in 1993 in Texas because he saw an opportunity in the salon industry. Since then, this franchise has rapidly expanded to 50 franchise stores in 1998 and now over 1,800 franchise stores today.
Sport Clips franchises also have a continuity rate of 95.4%, meaning in the last five years only 16 of 709 new locations had to close. They base this success on their strong support system for franchisees, recurring revenue and being within a recession-resistant industry.
To join the Sport Clips franchise, you can expect a total investment of at least $224,800, which includes the franchise fee of $59,500. To begin, you should have at least $200,00 in liquid assets, a credit score above 680 and a net worth of $400,000. You can learn more by visiting their website.
Founded in 2007 in Canada, this franchise is revolutionizing the hair industry with their unique take on a hair salon. Distinguishing themselves from standard salons, this franchise doesn't offer any cuts or coloring treatments. Rather, they only offer blowouts that follow their catchy tagline: "Wash. Blo. Go." Since their founding, this franchise has expanded to over 130 locations in Canada and the United States.
Blo Blow Dry Bar franchise is all about building a family-oriented community of professionals and entrepreneurs who build each other up. They like their franchisees to think of their franchise environments as a "home away from home." They're committed to helping their franchisees succeed with their intensive training programs, business software and more.
The Blo Blow Dry Bar has an initial franchise fee of $40,000 and a total investment range of $242,823 to $367,102. To see if you're the right fit for Blo Blow Dry Bar, visit their website.
Great Clips was founded in 1982 and has more than 4,400 hair salon locations across the U.S. and Canada. They're a brand favorite, serving about two million customers weekly. Open every day with no appointments necessary and a convenient app to check-in online, this hair salon franchise is helping busy people save time.
If you want to join a franchise that is dedicated to serving the community and contributing to philanthropic movements, then Great Clips is worth considering. Their Great Deeds program allows franchisees to raise millions of dollars for amazing causes, like Miracle Network, Thank a Veteran and Clips of Kindness.
Great Clips is offering franchise opportunities within the U.S. and Canada. Their franchise fee is $20,000 with an expected total investment ranging from $136,900 to $259,400. To learn if Great Clips is right for you, check out their website.
Since their founding in 1997, Salons by JC has opened over 100 locations and was ranked number one in Entrepreneur's Franchise 500 for 2018 and 2019. With Salons by JC, you get to follow an effective marketing strategy, receive extensive training and have a widely known brand backing you every step of the way.
Salons by JC franchisees should have at least $300,000 in liquid assets and a $1 million net worth. Like many other salon franchisees, no salon experience is required but prior business management experience is ideal. Even if you feel you're lacking, their extensive on-the-job training program will fill in any knowledge gaps you might have. You can learn more about this franchise opportunity on their website.
Phenix Salon Suites was founded in 2007 by Jason and Gina Rivera in Colorado Springs and was featured on Entrepreneur's Top 500 Franchise list four times. With more than 230 locations open, this salon is servicing clients nationwide. When you join this franchise, you're in the building property management business. With Phenix Salon Suites, you rent out your property's suites to professional hairstylists. In addition to servicing client's hair needs, Phenix Salon Suites also have an exclusive line of hair and skin products.
To become a franchise partner with Phenix Salon Suites, you can expect a total investment range of $300,925 to $1,380,050. You should have $400,000 in liquid assets and a net worth of at least $1 million. Visit their website to learn more about franchising.
9. Lemon Tree Family Salon
Lemon Tree Family Salons have been offering a full range of salon services to families for over 40 years. Today, they have over 39 locations open and are actively seeking entrepreneurs to expand their franchise. This salon is a Paul Mitchell Focus Salon and uses high-quality Paul Mitchell hair products to give customers a luxurious salon experience.
To join this franchise, you'll need to pay a $35,000 franchise fee. You can check out their website to learn more about becoming a franchise partner.
Fantastic Sams bridges a market need for quality salon services and a franchise model that works. With 1,000 locations up and running, this franchise has been rapidly growing since 1976. Fantastic Sams has been featured in Entrepreneur's Franchise 500 in 2017, Franchise Times' Top 200 in 2016 and Franchise Gator's Top 100 Franchise list.
Fantastic Sams attracts a loyal customer base with their affordable services and was one of the first hair salons to offer a full menu of services targeted toward the entire family.
The total investment for opening your own Fantastic Sams location ranges from $144,862 to $316,606. Franchisees should have at least $100,000 in liquid capital, a minimum net worth of $500,000 and will have to pay an initial license fee of $30,000. More information about franchising with Fantastic Sams can be found on their website.
11. The Great American Barbershop
Tye Featherstone founded The Great American Barbershop in 2015 to "craft the best haircuts with impeccable service standards, providing the ultimate barbering experience."
The Great American Barbershop facilitates a flexible lifestyle for their franchisees. There's no need for franchisees to have extensive salon experience or even have used a pair of clippers. As a manager, you can work part-time on your franchise location while pursuing other avenues in your career or personal life.
Interested franchisees can expect an initial investment ranging from $175,500 to $297,000 and should have at least $50,000 in liquid assets. The initial franchise fee costs $35,000. If this barbershop franchise resonates with you, submit an inquiry form on their website to obtain more information.
Image Studios 360 was founded by Jason and Shaun Olsen in 2010 to create "modern, high-end salon studios at affordable rates." They work with industry professionals and help them build the salon business of their dreams.
Franchisees receive tons of support when joining Image Studios 360. You'll get to follow a proven business model that is stress-free and easy to replicate. Their team will help you secure the ideal location and will analyze the local area and demographics. You'll also receive ongoing coaching as you bring your business plan to fruition.
To open your own Image Studios 360 location, you should have at least $500,000 in liquid capital. Franchisees will need to pay a franchise fee starting at $49,750 and should have a net worth of at least $1 million. Visit their website to learn more about franchising with Image Studios 360.
If you want a barbershop with a luxurious atmosphere and a complimentary cocktail, coffee, or beer with every haircut, Scissors & Scotch is a good match for you. Scissors & Scotch recently launched in 2015 and their edgy and humorous branding has helped them open new locations across several states, including Kansas, Nebraska, Oklahoma, Colorado and Texas. Scissors & Scotch follows a tiered membership model. Depending on which membership customers sign up for, they'll have access to different perks, like guest passes, free upkeeps and discounts from their fully stocked bar.
Scissors & Scotch has a franchise fee of up to $40,000 and franchisees can expect a total investment between $411,675 and $661,500. If you think this unique barbershop is the right match for you, apply to become a franchisee on their website.
Each of these hair salon franchises presents a different business model and a unique brand culture. Doing your research before committing to a specific franchise will help you make a business decision that's right for you, your skillset and your personality.
Keep in mind, there are several advantages and disadvantages of franchising, so weigh all the pros and cons before making your decision. You'll want to consider the total franchise fees you'll be expected to pay, what location you're working in, how saturated your market is and more. And make sure to read any franchise agreement carefully and consult with a lawyer before signing any paperwork. Once you make your decision, check out your hair salon financing options to help you get the startup capital you need to make your hair salon franchise dreams a reality.
This article originally appeared on JustBusiness, a subsidiary of NerdWallet.