The Ultimate Guide to Hotel Franchises
Our guide explains about hotel franchises, including how much hotel franchises cost and some popular options.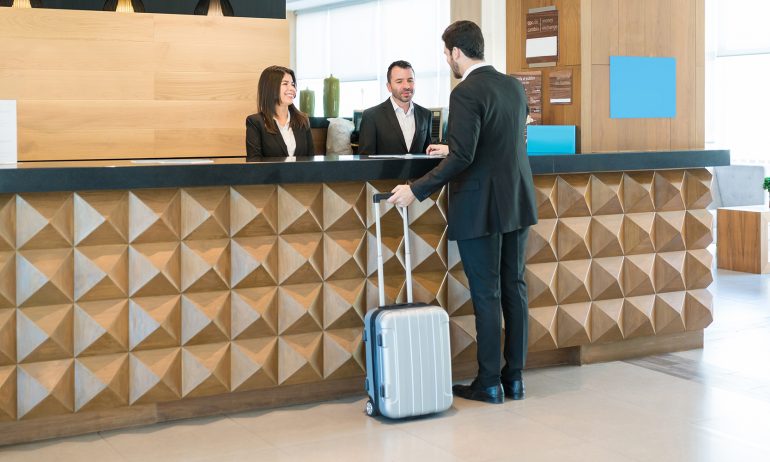 Many or all of the products featured here are from our partners who compensate us. This may influence which products we write about and where and how the product appears on a page. However, this does not influence our evaluations. Our opinions are our own. Here is a list of our partners and here's how we make money.
One of the many concerns that people face when considering starting their own business is the worry that their business might fail. While there are many factors that can cause a business to fail, some of the major concerns are simply that the demand isn't there or the business model isn't sustainable.
One way to ensure business success is to invest in a proven business model, which is exactly how franchising works. Hotel franchises are a popular option, since as long as vacations, honeymoons, and business trips exist, you'll have a market for your services.
While the success of your hotel franchise is certainly not guaranteed, you're more likely to find business success entering into a franchise agreement with a tried-and-true hotel brand than starting a new one yourself. In this guide, we'll break down everything you need to know about hotel franchises, including how much they cost and some popular options to consider.
What is a hotel franchise?
A franchise is a type of business where a business owner (the franchisor) shares their brand products, services, and business plan with a third-party (the franchisee) so the franchisee can open their own branch of the franchise. The franchisee pays a franchise fee to the franchisor to use their brand and receive support in operating their business.
In the case of a hotel franchise, the franchisor is going to be a hotel brand, such as Hyatt, Hampton, or Sheraton, to name a few.
To enter into a hotel franchise, you (the franchisee) will be required to agree to and sign a franchise agreement, which will lay out the entire process, cost, and operating system that you and the franchisor must follow.
In addition to the franchise agreement, you will pay the franchisor initial and ongoing franchise fees. These franchise fees will include the initial investment and other smaller fees that cover marketing, brand compliance, and quality control.
For this price, the franchisor provides you with the brand and operations manual. In some cases, the franchisor also offers on-call support and oversight of the business.
Best hotel franchise opportunities
If you're not sure which hotel franchise to pursue, these options can get you started. While the below hotel franchises aren't ranked in any specific order, but do offer a range of franchise fees and types of hotels. Evaluate each hotel franchise for whether it's a match to your available finances, your interests, and your skills.
Initial franchise fee: $35,000

Initial investment: $194,401 to $7,835,580
If you're looking for an affordable hotel franchise, Days Inn could be right for you and your budget. Days Inn hotels are part of the Wyndham Hotel Group. This brand is also seeing international expansion, so if you're looking to open a hotel abroad, this might be the right choice for you.
Initial franchise fee: $25,000 to $35,000

Initial investment: $209,638 to $4,444,387
Another affordable hotel franchise for those on a tighter budget is the Super 8 brand. Ever wondered where that name comes from? Originally, the rooms cost just $8.88 to rent per night. Not anymore. While an affordable brand, becoming a Super 8 franchise owner will still take a significant investment. The Super 8 brand is growing within the U.S., as well as in China and Canada.
Initial franchise fee: $25,000

Initial investment: $2,607,700 to $3,842,600
While the franchise fee for Motel 6 is only $25,000, the initial investment can still be over $2 million.
Don't discount this hotel brand just because it offers discounted rooms. From 2007 to 2017, the number of Motel 6 franchises has quadrupled. That's a good bet for success. This hotel franchise also has great brand recognition with travelers.
4. Hyatt Hotels & Resorts
Initial franchise fee: $60,000

Initial investment: $13,645,000 to $20,604,000
As one of the leading brands in hospitality around the world, you won't be surprised that the initial investment and franchise fee for a Hyatt hotel is high. With multiple subsidiary brands and operations in over 56 countries, investing in a Hyatt hotel franchise comes with lots of upsides.
Initial franchise fee: $75,000

Initial investment: $4,213,600 to $14,896,500
When you're looking for just the right balance between budget and quality, Hampton by Hilton might be worth a look. Both Hampton Inn and Hampton Inn & Suites represent wise hotel franchise choices for business owners looking to start in the hotel business. This brand is loved by hotel franchise owners and travelers alike.
6. InterContinental Hotels Group or IHG
Initial franchise fee: $50,000 to $75,000

Initial investment: $7,530,521 to $98,487,600
The InterContinental Hotels Group or IHG is actually a collection of different franchises. If you're looking to work with IHG, you could be working with hotel franchises such as Holiday Inn, Crowne Plaza, or Intercontinental.
Even with their exorbitant price tag, this group of hotel franchises is seeing significant growth. IHG has more than 5,000 franchises around the world.
Initial franchise fee: $85,000 to $112,000

Initial investment: $883,500 to $75,576,000
As part of the Starwood Hotels & Resorts Worldwide, Inc. brand, Sheraton is a well-known, respected, and highly recognizable brand. If you're looking for a luxury hotel brand to enter into the hotel franchise industry, you might just be able to find the right deal with Sheraton.
Initial franchise fee: $60,000

Initial investment: $10,565,000 to $21,828,000
Part of the Marriott International, Inc. brand, W Hotels Worldwide is revolutionizing the hospitality market. W Hotels Worldwide strives to be innovative, inspiring, and infectious. This hotel franchise comes with a lot of personality, and may be the perfect fit for someone looking for something outside of the usual.
How to buy a hotel franchise
Before you jump into buying a hotel franchise, it's important to understand the ins and outs of the process. These tips will help you to be ready to buy a hotel franchise and know what to look for when you're assessing which hotel franchise brand you want to invest in.
The first step that you need to take when considering buying a hotel franchise is the cost. Investing in a hotel franchise is no small matter. In exchange for a proven business model and recognizable brand name to operate under, you'll need to shell out a hefty upfront investment—often hundreds of thousands of dollars.
To see if this is even a possibility, you'll need to assess your own finances to decide the amount of capital you have to invest, as well as what franchise financing options you have. You may also explore other low-cost franchise options outside of the hospitality industry if you're priced out of a hotel franchise. Be sure to take time to consider your finances, your financial resources, and fully understand that entire investment prior to jumping in to an application.
Research hotel franchises
Once you've taken a good look at your finances, it's time to get serious about researching your hotel franchise options.
There are a lot of advantages and disadvantages of franchising, and each franchise is unique, meaning it has its own specific pros and cons.
Once you have an overview on what hotel franchises are within your geographic location, skillset, and budget, you can dig deeper into the brands and find out which ones you like and don't like. There are plenty of websites online, like Franchising.com, that go deep into the individual qualities of different hotel franchises. You can also look at each business's website to get a better understanding of the brand and how it operates.
Match your skills (and finances) to the right hotel franchise
As you begin to narrow down your list of hotel franchises that interest you, you can begin matching the brand to your skills and finances.
Hotel franchises come in a wide range, from budget motels to high-end, luxury hotels. Some hotels simply operate rooms for guests to stay while others also offer conference rooms, full-service dining, and bar space. Some hotels cater to business travelers while others focus on tourists and families.
Know your personality and strengths so you can choose the right hotel franchise for you.
Now that you have a better idea of which hotel franchises you want to pursue and how much they'll cost, you can decide whether you'll need to seek franchise financing to make your dream a reality. If you realize that you don't have enough money in the bank to purchase a hotel franchise outright, then you can look into financing options. While you won't need to obtain a loan before you officially enter into a franchise agreement, you should make sure you have strong enough financials to qualify for one when the time comes.
You'll want to make sure you have a strong credit score, solid personal financials, and more before moving forward.
Request a hotel franchise questionnaire
Once you've narrowed down your list of hotel franchises that you're interested in investing in, it's time to get applying. The hotel franchise must approve you before you can invest in the hotel franchise.
The first step in a franchise application is the hotel franchise questionnaire. This questionnaire will include questions about your basic information, your proposed location for the hotel, and how you would operate the hotel. The franchisor will also want to know information about your background, your experience in operating a business or hotel, why you're interested in owning a hotel franchise, and any management experience you have.
Another path to franchise hotel ownership is to start a hotel business on your own and later convert it to a different brand under a hotel franchise group. However, this will likely be the more difficult route to take.
Obtain hotel franchise disclosure documents
If the hotel franchise is interested in moving forward with you, the next step will be to review and accept the franchise agreement.
The most important document within the franchise agreement is the franchise disclosure document (FDD). To be compliant with the law, the franchisor should send you this document at least 14 days prior to when you're supposed to sign it so you have adequate time to examine the document and to have it reviewed by a lawyer if you choose to.
Also keep in mind that while the FDD is regulated by federal law, there are also state laws that regulate franchises. Each state has slightly different franchise rules and some, such as California, Minnesota, and Illinois are quite strict. Be sure to find out what state you'll be filing franchise documents in and what the requirements are for that state.
Consult with a hotel franchise attorney
While you're not legally obligated to hire a lawyer when joining a franchise, it's highly recommended. When dealing with a legally binding document that will affect your business for the foreseeable future, you should always take extra care to make sure there are no hidden clauses or red flags that could cost you down the road. A lawyer with experience in franchise law, or dealing with hotel franchises specifically, can be well worth the expense so that you don't enter into an agreement that you don't fully understand.
Review the hotel franchise agreement
While the franchise disclosure document or FDD will make a large portion of the franchise agreement, it's not the only document that you will need to consider.
The franchise agreement includes everything from the type of hotel, the geographic location for the hotel, the marketing budget, the operating documents that will be provided by the franchisor, and the amount of supervision and control the franchisor has over you and your franchise.
Larger hotel franchises likely have pre-written franchise agreements, as these should be consistent for every franchisee under one brand. In general, these franchise agreements are non-negotiable. However, you should still have a lawyer review the franchise agreement to make sure that you're entering into a legal and fair franchise relationship.
Once you've gotten your finances in order, done your research, and gotten all the legal paperwork in hand, then all you have to do is add your signature and finalize the details.
If you're interested to become a business owner, but aren't sure you want to go it alone, a franchise is a great option to enter the business world with a support system behind you.
Pair that with a love of hospitality and a passion for travel and you just might be perfectly suited to own and operate a hotel franchise. Entering into the hotel franchise industry is by no means cheap, but if you have what it takes to find funding and manage a hospitality business, your investment just might pay off.
This article originally appeared on JustBusiness, a subsidiary of NerdWallet.