How Much Does It Cost to Open a Laundromat?
Expect to pay between $200,000-$500,000 to open an average-sized laundromat due to commercial-grade equipment.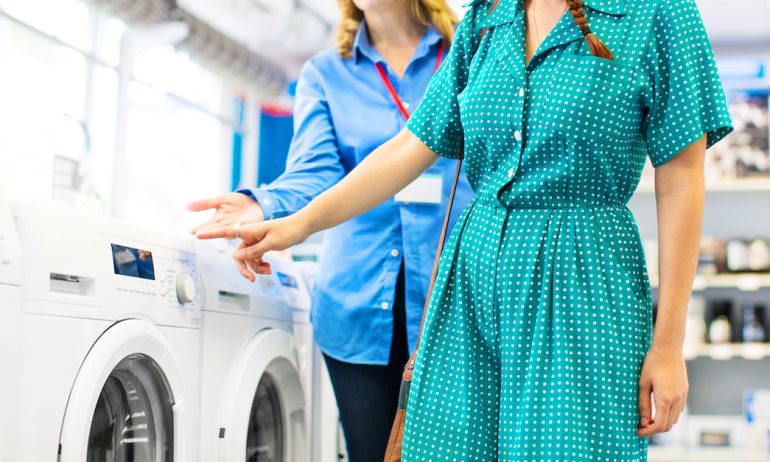 Many or all of the products featured here are from our partners who compensate us. This influences which products we write about and where and how the product appears on a page. However, this does not influence our evaluations. Our opinions are our own. Here is a list of our partners and here's how we make money.
No matter our differences, there's one thing we can all agree on — clean clothes are a must. That's probably why coin laundromats can generate anywhere from $15,000 to $300,000 in annual cash flow. For many entrepreneurs, starting a laundry business is an attractive idea. You're working with an in-demand service and can carve out a flexible work-life balance once things are established and running smoothly.
But like any other business, you'll need a financial runway to get off the ground. Opening a laundromat requires startup costs and the ability to cover recurring expenses month after month. Knowing what to expect can help you create the strongest business plan possible to give your new business the best chance of success.
with Fundera by NerdWallet
How much does it cost to open a laundromat?
Whether you're creating a brand-new business or buying an established company, it isn't uncommon for entrepreneurs to spend anywhere from $200,000 to $500,000 opening an average-size laundromat.
The funds you'll need to open a laundromat have everything to do with the type of laundry business you're starting. Will you be launching a new business from scratch or purchasing an existing one? Another option is buying into a laundromat franchise.
Purchasing an existing business does come with its perks. Stepping into a laundromat that's already running efficiently might help you avoid the growing pains of starting an entirely new business. It can also provide built-in customer loyalty.
If going the franchise route, many of the big players in this space have minimum liquid cash requirements ranging from $75,000 to $300,000. The biggest potential benefit of buying into a franchise is that you'll likely be able to lean on the franchisor for business guidance and support. You'll also have a recognized company name on your storefront.
So how much does it cost to open a laundromat? Those who are launching a new business of their own can count on the following costs.
Property for your laundromat
You can't have a laundromat without a physical space to operate. Before we get into the cost, the first order of business is finding the right neighborhood. Choosing a business location that's rich in apartment buildings is a good place to start as these residents are less likely to have washers and dryers in their homes. Being within walking distance could give you another advantage over the competition.
Speaking of, it always pays to do some basic market research before starting a new business venture. Look into how many laundry businesses already exist in the area. The goal of a thorough market analysis is to glean valuable insights and identify if there's actually a market need that your new laundromat will fill. We mention all of this because overlooking these steps could mean setting up shop in an area that doesn't turn a profit.
Once you feel good about the neighborhood, it's time to find an operating space. The cost of renting a commercial space ranges widely in price, depending on the market. Opening up a laundromat in, say, San Francisco will translate to a much higher monthly rent when compared to cities that have a lower cost of living. With that being said, the space you choose will likely be your biggest investment.
You'll want to make sure that the space you choose to operate your laundromat has the proper water line hookups and plumbing infrastructure to accommodate this type of business. It's something that goes hand in hand with utilities, which is a biggie when determining your overall laundromat startup cost. (If things go according to plan, you'll have washers and dryers going nonstop.)
Depending on where you establish your business, you may also have to account for sewer connection fees. It's essentially the price you pay for using the neighborhood's sewer and water system. They're sometimes called "tap fees" and could cost thousands per washer.
Now for an obvious cost — washers and dryers. Commercial-grade top-loading washing machines could set you back up to $1,000. Front-loading models typically range anywhere from $700 to $2,000, and dryers can cost several thousand.
Just keep in mind that enabling a card system (as opposed to traditional coin laundries) could cost a minimum of $40,000. This has its drawbacks, though. Some may argue that the customer convenience of using a credit or debit card could lead to greater overall sales. Alternatively, you could opt for a bill-to-coin change machine. Commercial units cost anywhere from $800 to $7,000. Beyond all this, you'll also need a commercial-grade water-heating system that can handle your volume of business. Prices vary based on the type you choose, but some models cost tens of thousands of dollars.
Some other costs to factor into your planning include:
Supplies for your office (computer, accounting software, etc.).
Business insurance comes in all shapes and sizes, but they all have one thing in common — they're designed to protect small business owners. Opening your doors to the public makes you vulnerable to some level risk. Whether a customer slips and falls in your laundromat or a tropical storm shatters your windows, your insurance policy could determine how well you financially recover.
How much you spend on insurance premiums depends on the type of coverage you choose. If you have any employees on your payroll, you may be required to pay for workers' compensation insurance and unemployment insurance. Commercial property insurance, which covers theft, vandalism, fire and some weather-related property damage, typically costs $1,000 to $2,000 annually.
Marketing and advertising
It's easy to overlook marketing when building your small business budget, but it certainly deserves your attention. Attracting and retaining customers is how you build a business that stands the test of time. The Small Business Administration recommends devoting 7% to 8% of your gross revenue to marketing and advertising (assuming your revenue is under $5 million and you have a 10% to 12% net profit margin).
It all begins with creating an individualized marketing plan for your laundromat. The goal is to appeal to your target audience, which you can do in any number of ways. Print ads, social media marketing, radio ads and local billboards are all ways to potentially bring in new business. Just be sure to monitor your marketing plan's effectiveness along the way and tweak things as necessary. You may discover that one advertising medium works better than others.
Creating a rewards program for existing customers is another way to keep them coming back again and again. If you offer a free wash-and-fold after so many visits, they may be more inclined to choose you over a competitor.
How to get financing to open a laundromat
After estimating your total laundromat startup cost, the next step is figuring out how to fund your business. Rest easy knowing that your personal savings account isn't your only option. If you aren't keen on sacrificing equity by bringing on a partner or investor, an equipment loan may be your next best bet. Unlike traditional small-business loans, where you typically have to be in business for a certain amount of time before qualifying for funds, equipment loans have no such requirement.
This makes them ideal for folks looking to open a laundromat. As the name implies, you can use an equipment loan to purchase things like washers, dryers, a water heater — you name it. It's generally easier to qualify for this type of loan because the equipment itself serves as collateral.
Another way to bring in additional funds once you're open is to offer extra services such as wash-and-fold options or laundry delivery.
This article originally appeared on JustBusiness, a subsidiary of NerdWallet.