How to Open a Bar in 10 Steps
Bars need significant capital to get off the ground — and a liquor license.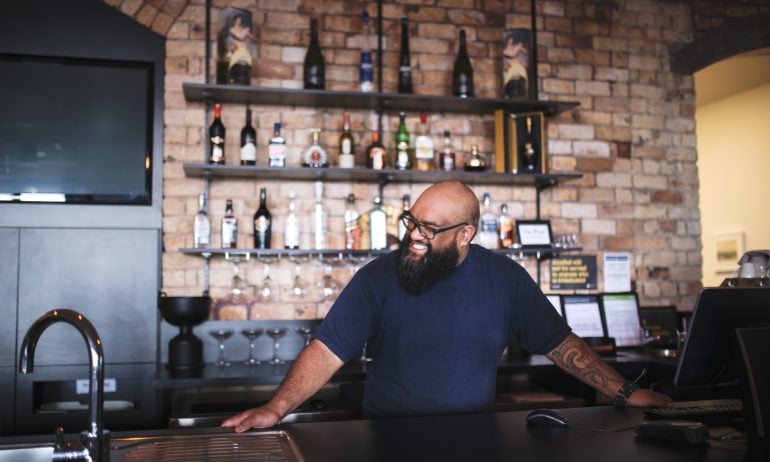 Many or all of the products featured here are from our partners who compensate us. This may influence which products we write about and where and how the product appears on a page. However, this does not influence our evaluations. Our opinions are our own. Here is a list of our partners and here's how we make money.
If you've ever spent an evening at a fun local bar, you may have wondered about whether you could run your own drinking establishment and be successful. This being said, if you're thinking that you might take that idea and turn it into a reality, you're now probably wondering how to open a bar in your neighborhood.
When it comes down to it, opening a bar is very similar to starting a small business of any kind — with the added aspect, of course, of serving alcohol to customers.
In addition, it's important to note that bars require around-the-clock maintenance, they need significant capital to get started, and they aren't recession-proof. Therefore, you'll want to make sure you take the time and effort necessary to plan strategically in order to successfully open your own bar.
1. Create a business plan
A business plan is an important document for any kind of small business. When learning how to open a bar, it's practically a requirement.
In short, your business plan is a written plan that takes you from inception to success and will cover your company's value proposition, the location and team, the industry you're entering, your legal structure, products and services, how you plan to market yourself, financial projections and any other additional information that will point you toward long-term growth and profitability.
Overall, this plan will help guide each of the other steps required to open a bar — and therefore, you can refer back to it often and tweak it as necessary as your plans change or pivot.
Plus, you'll not only use your business plan as a roadmap to long-term success, but also to attract investors and funders, as well as to explain your concept to potential partners.
2. Find the right location
Just as with any small business, choosing your business location is integral to your short-term and long-term success. If you're going to be the neighborhood bar, you better know the people you're serving.
During the planning stage, you can consider contacting your local chamber of commerce to get information on your target market. Are you catering to college students, blue-collar workers, the art crowd, or conservative suburbanites?
You might also choose to work with a real estate agent who is familiar with the area and can help you find the best location at the most affordable price. As renting or buying your storefront will be one of the largest upfront costs associated with opening a bar, you'll want to make sure your real estate agent has experience working with tenants and who can help you navigate the leasing process.
3. Register your business
You can't run a business without proper registration. The requirements for registering your bar depends on the city and state where your business operates. Like starting any new business, though, you'll want to acquire an employer identification number for tax filing purposes and register your business with local authorities.
You will also need to choose an appropriate business entity type. The four most popular entity types, or legal structures, are:
Limited liability corporations.
While sole proprietorships or general partnerships are the easiest entities to set up, they don't offer personal liability protection — meaning if someone sues your business, your personal assets may be seized. Since bars tend to have greater legal risks than other businesses, you should consider setting up an LLC or corporation. A business attorney who's experienced in the industry can help you make the best decision for your bar.
4. Choose a business name
Choosing a business name for your bar is a big part of your business's brand identity.
Your business name should be memorable, represent your business in some way and most importantly, not already registered by a competitor. You can check to see if your business name has already been taken by checking your secretary of state's website.
You'll also want to ensure that if you're making a business website that the domain name hasn't already been taken. If you plan on marketing your business on social media sites, checking platforms such as Facebook and Instagram is also essential.
5. Obtain licenses and permits
When you're learning how to open a bar, business owners often forget about the hassle that comes with permits and licensing — make no mistake — alcohol is a heavily regulated business.
First, you'll need a license from the Alcohol and Tobacco Trade and Tax Bureau, or TTB, the entity responsible for enforcing laws "regulating alcohol production, importation and wholesale businesses; tobacco manufacturing and importing businesses; and alcohol labeling and advertising." This process will take anywhere from six to 12 months to complete. The TTB will need to inspect your business and conduct background checks on directors, officers and owners.
Next, you'll need to get liquor licenses at the state and local level. If you plan on serving food, you'll also need a food seller's permit.
Once you obtain the necessary business licenses and permits, you'll want to be sure your bar is kept up to code as food and alcohol businesses are often subjected to inspection.
Satisfying patrons can either make or break your business. That's why finding good suppliers for your bar is an absolute must.
When you're looking for quality suppliers, we suggest connecting with your neighboring bar owners and see if they can refer you to their go-to vendors. We also recommend making a list of all the supplies you want and creating a business budget for them.
Once you have those in check, you can start shopping around. Online suppliers are also another worthwhile option because they generally have discounts, but beware — not all of them are as trustworthy as others. Here are some things you should know about the supplier before doing business with them:
How long they've been in business,

Quality assurance process,
Remember, a supplier should be willing to work with you and understand exactly what it is your business needs. If you have a bad experience with a vendor, don't be afraid to look for a new supplier.
From furnishings to point of sale software to insurance to licenses, getting your business off the ground requires you to think about getting funding for your bar.
How much does it cost to open a bar?
The average cost to open a bar varies widely depending on your location, but typically ranges from $110,000 to upwards of $500,000. Purchasing a pre-existing bar or opening a specialty bar (like a winery or micropub) is a cheaper option, although it can still cost you around $25,000 to get started.
Plus, once your bar is up and running, you'll still have significant ongoing costs for payroll, inventory, rent, insurance and more.
Therefore, if you're wondering how to open a bar with no money — and even if you do have some initial startup capital — you'll need to look into financing options for your venture.
A good place to start is with a business credit card, which can help cover the costs of small- to medium-sized purchases while also helping you earn up reward points.
In addition, you may want to look into startup business loans, short-term loans and other forms of business funding from either your local bank or an online lender. Whatever costs you have and your ability to pay them back should be covered in your business plan.
With the importance of this step, you'll want to take plenty of time to figure out what your startup costs look like and what type of financing will be best for your bar.
A bar is meant to be a welcoming space for people looking to unwind or socialize with friends. The same principles of designing a restaurant, therefore, can also be applied to bars.
You'll want to think about the atmosphere and how to efficiently utilize the space. You can set the tone of the bar by playing with lighting and choosing fixtures that differentiate your bar from everyone else's. You'll also want to pay close attention to how you design the bar stations; you may want to use several registers so that bartenders aren't getting in each other's way to ring up customers.
Another major part of designing a bar is the bar tops, which can be thought of as the centerpiece of your bar. Bartops are usually made out of glass, stone, or wood materials, but keep in mind that each material has its drawbacks and benefits.
9. Develop your marketing strategies
Ask any business owner in the bar and restaurant industry: Competition is fierce. People are always searching for the latest and greatest places to eat and drink.
As a bar owner, you need to develop strong marketing strategies if you want your business to last. To bring in new and repeat customers, you should present your bar in the best light possible.
This includes incentivizing customers to write honest reviews on sites such as Yelp, investing in high-quality photos to showcase your drinks and building a stunning website.
10. Pick a reliable POS system
Before you can officially open your bar, you'll need to pick a POS, or point-of-sale, system.
Although there are a variety of options when it comes to bar or restaurant POS systems, the right POS system should (at the very least) help facilitate your business operations. And contrary to popular belief, you don't necessarily need an expensive POS system. POS systems generally will cost you a monthly fee plus a small fee for credit card transactions.
Therefore, a reliable POS system should help you easily process payments, orders and sales. Three of the best POS systems for bars are:
Square: Good for small businesses.

Toast: Best for midsize businesses.

TouchBistro: Best for high-volume transactions.
It may look easy, but running around catering to patrons can be physically and mentally exhausting. There are many long days and nights associated with learning how to open and run a bar.
Once you've filed all of the paperwork and licenses, however, opening a bar becomes a little easier. As long as you have a clear vision for the design and work tirelessly to provide excellent customer service, people will come back.
And if they do, you'll be able to take advantage of word-of-mouth marketing — which be one of the best ways to promote your bar in the local community.
This article originally appeared on JustBusiness, a subsidiary of NerdWallet.