How to Start a Day Care: A Step-by-Step Guide
If you're a pro at educating and training small children, you may want to know how to start a day care business.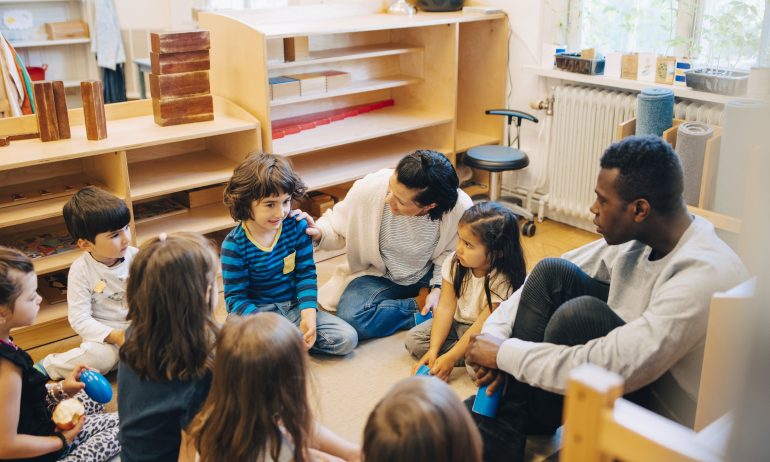 Many or all of the products featured here are from our partners who compensate us. This influences which products we write about and where and how the product appears on a page. However, this does not influence our evaluations. Our opinions are our own. Here is a list of our partners and here's how we make money.
If you're a teacher, former teacher, or simply have years of experience caring for children — and an entrepreneurial streak — you might have considered starting your own day care center, either from home or in a dedicated facility. And at an expected job growth of 7% over the next decade, working in child care is a stable career choice. So, if you're seriously wondering how to start a day care center, you've come to the right place.
As is the case starting a business in any industry, however, your passion for your craft alone — or, in this case, your students — isn't quite enough to ensure that your day care business is copacetic, either financially or legally. You'll need to do a good amount of due diligence when looking into how to start a day care business, paying special attention to licensing requirements, and ensuring that your facility and program aligns with your state's health and safety codes.
If you're a pro at educating, training, supporting and generally corralling large groups of small children, you should be pretty unperturbed by the work it takes to start a day care business. Here's what you need to know.
How to start a day care business
Although every path toward starting a business looks different for every business owner, there are a few steps that every aspiring day care owner needs to think about when it comes to how to best start a day care.
1. Decide what kind of day care business you want to start
Before you can even get to writing a business plan for your day care business, you need to decide what kind you want to open. Look into whether you want to start a day care business at home, or whether you want a more commercial facility — there might be different permits required in your municipality depending on which you choose. You also need to decide what age groups you want to focus on.
Next up, you'll have to decide on a business entity, which will have huge effects on the way you're taxed and how you operate your day care business. Will you have partners or open your business on your own? Additionally, you'll want to consider whether you want a business entity that offers you some protection. Making your day care center a limited liability company might be a good move, since the business will take on liability should anything go wrong.
You might also decide to buy into a day care franchise opportunity. This option will significantly streamline the steps you need to take in opening your day care.
Once you narrow down these details about your business, you can move on to the next step in starting a day care business: writing a business plan.
2. Write a day care business plan
This is a step you have to take when starting any business and it can be quite a bit of work, especially for anyone looking to get moving quickly on their business. When you start writing a business plan, start with an outline of all the things you want to include.
Your plan should include a summary, an overview of the company, a market analysis that includes an assessment of the need for a business like yours, a marketing and sales plan, and a financial plan along with financial projections. Don't worry, though, you can always add to it as your business grows.
One thing you should include, though, is market research. The last thing you want to do is go through all of these "how to start a day care business" steps, only to find that there isn't a market for one or that there are already too many day cares in that area to make it a viable business.
Your business plan should also include a budget. The costs associated with opening and running your day care center can never be accurately totaled, but nailing down a budget will give you some parameters to work within (and some peace of mind).
In your budget plan, don't forget to factor in:
Your startup costs, including day care equipment, food, toys and educational tools, wages, insurance and licensing.

How much tuition you'll charge.

Your predicted revenue over the next two to three years.
Also know that day care centers can claim certain tax deductions, which can ease your annual financial burden.
You'll also want to include a marketing plan. If you're seriously researching how to start a day care business, it's likely that you've already been caring for children in your area for some time and have built up a network of local parents. That's one valuable method of attracting customers (aka word of mouth) covered. Still, implementing even a basic marketing plan can help define and legitimize your business — and if you need to implement a waitlist as a result, that's great too!
Your marketing efforts can be relatively simple and low-cost. You can start by creating a Facebook page for your day care center and building a business website, making sure to include your contact information and a little bit about your business. If possible, plan to include pictures of your facilities and testimonials from happy customers.
If you're a fan of social media, it also can't hurt to create an Instagram, LinkedIn and/or Twitter account to keep both current and prospective customers updated on your business. Just be sure that once you do, you receive permission from parents or guardians before posting pictures of their children, of course.
Analog marketing techniques would work well here, too. If possible, consider distributing flyers or brochures to nearby libraries, schools, places of worship or any other local gathering spots.
3. Obtain the necessary certification and licenses
You may not need a master's degree in education to become a day care teacher, but each state does require some combination of licensing and certification when it comes to how to start a day care. Visit your state's Division of Child Care Services (or its equivalent) to find out the training, experience and credentials you need to legally operate a day care facility.
In New York State, for instance, the head of the day care facility must have one of the following:
An associate degree in early childhood education or an equivalent.

A CDA credential (child development associate) and at least two years of experience caring for children.

A high school diploma and at least three years' experience caring for children.
You'll probably find that there are some other requirements that usually come up when you're looking up how to start a day care business at home or in another facility. Your state may require that you and any staff you hire are CPR-certified, for one. Another point of safety to remember is that you should be trained in at least basic first aid for children. You and your staff might also need to be fingerprinted and undergo background checks before being cleared for work.
Even if your state doesn't require that you obtain a license, you should consider doing so, as your licensing course will go over all the boxes you need to check to operate your day care in your state — including health and safety regulations, proper food preparation and the required child-to-adult ratio.
4. Find a (safe) day care facility
In certain states, in order to obtain the proper licenses or registration to start your day care business, you'll first need to show that your day care facility meets your state's health and safety requirements.
So whether you choose to open your day care facility in your own home, or buy or lease a new property, you'll need to make sure your facility meets zoning, fire, and health and safety laws. When it comes to how to start a day care at home, you may need to make alterations to your house to comply with day care requirements in your state, so be sure to factor them into your budget.
Another requirement for obtaining your license? Getting insured. In certain states, you'll need to be licensed by the Department of Health and Human Services to run your day care center, but to do so, you'll first need liability insurance.
The exception is home-based day care centers, which don't need insurance to be licensed by the DHHS. Still, those opening day care centers at home should seriously consider obtaining small business insurance. You always run the risk of a lawsuit when you're running your own business, but that risk increases when caring for other people's children — so protect yourself whenever possible.
There are several types of insurance that cover day care businesses — general liability insurance, workers' compensation, property insurance, abuse and molestation insurance and others — so contact an insurance broker to help you decide which coverage is best for your business.
What's the best fit for your business?
Answer a few questions and we'll match you with an insurance partner who can help you secure quotes.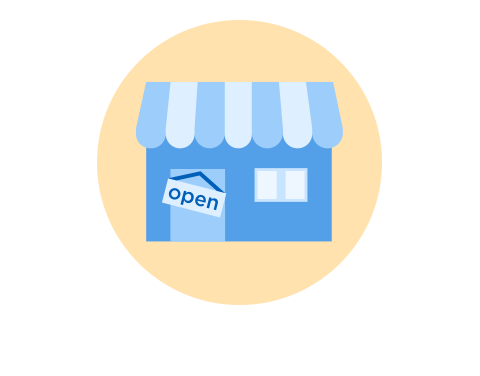 6. Get a business checking account and credit card
It's crucial to separate your personal and business expenses for many reasons, not the least of which is to reduce your (or your accountant's) burden come tax season. It's simply the most professional way to conduct your business, too. Set yourself up for success now by signing up for a business credit card and opening a business bank account, and be diligent about using both solely for your day care's finances.
Having a business credit card can help you increase your business credit score, too. By paying the card off on time — or early if you can — you can boost your score, which will help you late on when you need a loan or other financing for your day care business.
Most entrepreneurs bootstrap their businesses at the beginning, as it's difficult for brand-new businesses with limited credit history to secure a business loan, either from a bank or from an alternative lender.
Your financing options aren't limited to your own purse strings (or your friends' and family's). Here are a few other ways to get funding and loans for a child care business:
Although most SBA loans are available only to businesses with a few years of experience under their belts, SBA microloans are actually designed to help startups get off the ground. They're especially accessible to women, veterans, minorities and business owners in low-income areas. And unlike most other SBA loan programs, SBA microloans are disbursed by nonprofit lenders, rather than banks.
As the name suggests, SBA microloans tend to be on the smaller side, with amounts capped at $50,000, but they may be as low as $500. (For more context, the average microloan amount was $14,000 in 2017.) And because microloans are designed for new businesses, business owners with average or even challenged credit may still be accepted, as long as other aspects of their SBA loan applications are in good shape.
These loans from the SBA have all of the advantages that come with SBA microloans but the community advantage loans are specifically for businesses that are serving traditionally underserved communities. These loans are generally for a higher dollar amount than the microloans and can go a bit further for your business.
You might be able to obtain financial assistance to start and run your day care through state or federal funding programs for early childhood education providers. For instance, you can contact your state's Child Care and Development Fund Plan to look into startup funds, or your state's school meal contacts to seek funding for your day care center's meals.
It's important to use a business credit card to keep your day care's expenses separate from your own. Of course, using a credit card is also the most convenient way to pay for your daily expenses. And since credit limits for business credit cards tend to exceed those of consumer cards, you can spend more liberally without worrying about maxing out your card.
Another bonus? Using your business card responsibly (by which we mostly mean paying off your balance in full and on time, every month) can help you build business credit. And with a healthy business credit score, you're in a better position to secure business loans with great terms down the line.
If you opt for a card with a long 0% intro APR period, you can essentially use that introductory grace period as an interest-free loan. Look into the American Express Blue Business Plus card, which, at 12 months, carries one of the longest interest-free introductory periods in a business credit card right now.
After your 12 interest-free months are up, though, a variable APR kicks in at a rate depending on your creditworthiness and the market. Check the issuer's terms and conditions for the latest APR information.
You may be planning on running your day care facility solo, but depending on your state and the number of children you're looking after, that might not be an option — every state sets a required ratio of staff to children to ensure that every child receives adequate care. They also dictate the maximum number of children permitted in a group.
Adult-to-child ratios and class sizes depend on the age of the children, but they might also depend on the size of the day care facility, or face further restrictions based on municipality. For a day care center in New York state, for example, the state requires one adult for six children under school age. However, in New York City, there must be two teachers or one teacher and one assistant to every six children aged 2 to 3, with a maximum of 12 students allowed in a single group. Your own children may or may not be included in that count, too.
So, while hiring really depends upon your state's requirements, it makes sense to leave room for hiring staff in your business budget. That way, you'll be prepared for growth, without worrying about your operation shutting down because you're not properly prepared for it. (Just keep in mind that any staff you hire needs to be appropriately licensed or trained for it, and potentially undergo a background check.)
9. Write your day care contract and policies
To further legally protect your business, it's crucial that you draw up a contract, write out your day care policies, and require that potential clients (or, more likely, the parents of potential clients) review and sign both documents before accepting their patronage.
If you're just starting to read up on how to start a day care business, you might not be clear on the distinction between these two documents. To clarify, your contract is the document stating that you'll provide child care, be compensated for providing care according to the payment terms you specify, and have the right to terminate providing care.
Your policies, on the other hand, provide parents with important logistical information regarding how you'll run your day care center. There, you can outline protocol regarding vacation, illness, inclement weather, drop-off and pickup times, curriculum, field trips, and anything else you believe is important for your clients to understand and agree to about your day care center.