How to Start a Landscaping or Lawn Care Business
Get advice on how to start a landscaping business from someone who's done it. Plus learn how much it could cost.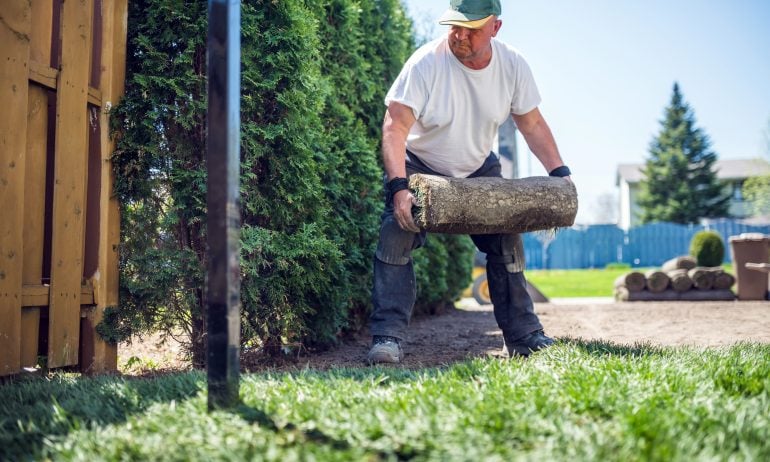 Many or all of the products featured here are from our partners who compensate us. This influences which products we write about and where and how the product appears on a page. However, this does not influence our evaluations. Our opinions are our own. Here is a list of our partners and here's how we make money.
Anyone with a yard knows that maintaining it is a lot of work. So it's no surprise that there are so many landscaping businesses out there to help eliminate the need for mowing, weeding, treating and doing more lawn maintenance yourself.
If you, however, are someone who loves to do yard work and the smell of freshly cut grass or a newly mulched garden is your favorite, you may have wondered how to start a landscaping business of your own.
The landscaping business is booming; and if you live somewhere with a warm climate, you may be able to work nearly year-round. The landscape services industry makes $93 billion in revenue each year and employs more than 1 million people, according to the National Association of Landscape Professionals.
If this sounds like the right move for you, keep reading to find out how to start a landscaping business of your own.
How to start a landscaping business in 5 steps
Considering the range and depth of landscaping — from residential to commercial, maintenance to removal and designing to tree care — the economics of starting your own landscaping business are remarkably simple. It can be as easy as renting a lawnmower and knocking on doors.
"My previous company was a lawn care business that I grew from myself and a push mower to over 125 employees," says Bryan Clayton, the founder of GreenPal, an online lawn care ordering service that is a bit like the Uber of landscaping.
"Most customers have to deal with shoddy and unprofessional competitors," says Clayton. "Creating a successful landscaping business is almost easy if you simply answer the phone when your customer calls, return their voicemails promptly, and do the work that you agree to with your clientele."
Sounds simple enough, right? But what else can a landscaping business owner do to move beyond the basics? Here are some tricks of the trade as you start your landscaping business.
1. Decide what services you want to offer and whether you want to rent or buy equipment
The first step to starting a landscaping business is to acquire your arsenal of landscaping equipment. Once you decide which actual services you want your landscaping business to offer, you'll know what equipment you need. Then it'll be time to decide whether you want to buy it outright or opt for the cheaper option of renting.
Starting out, you have the option to rent your equipment or to buy lower-grade equipment. But as your landscaping business grows, so will equipment needs and costs — and you could easily spend the same amount on maintaining cheap equipment as the price of purchasing higher-grade machines.
"Most landscape contractors will need to spend five to 10 hours a week maintaining their equipment at first by sharpening blades or changing oil, spark plugs, air filters, fuel filters, and so on," says Clayton.
So what are the basics of good landscaping equipment you'll need to know when starting a landscaping business?
There are a handful of manual tools any good landscaper should have at their disposal: shovels (such as square-mouth, spade, and trench), wheelbarrows, tillers (such as rear-tine tillers or cultivators), and more powerful items like chainsaws and drills. But this isn't where the real expenses lie. The cost of larger equipment might surprise you.
"Most people don't know this, but the riding lawnmowers that you see commercial landscape operators running cost over $12,000 themselves," says Clayton.
Landscape contractors need to make even bigger investments, according to Clayton:
"Landscape contractors also need to purchase or finance a decent truck, which costs at least $10,000 used, and a trailer, which costs $5,000+," Clayton says. "Also, for landscape construction, you will need in most cases a front-end loader, which will cost $10,000 to $50,000 by itself."
All told, Clayton estimates that landscape construction and maintenance businesses need to bring between $40,000 to $50,000 worth of equipment to a customer's property. That's why you might want to start off with rentals — which puts set-up costs at a more reasonable ballpark of $3,000, according to Clayton — but don't depend on them forever.
with Fundera by NerdWallet
2. Get the required business insurance, licenses and EIN
There are a few necessary forms of business insurance you need to obtain to conduct business at all. The most important is general liability insurance, which covers everything from the cost of repairs to legal fees to damages that need to be paid out if you or an employee accidentally causes damage. Accidents — like running over a sprinkler head with the mower, for example — happen, and you want to be covered when they do.
You might also need workers' compensation insurance, depending on what state you're operating in, though as Clayton puts it, "Many states require both insurances to operate a legitimate business regardless of whether you have employees or not." Workers' comp covers you in the event an employee is injured on the job, from medical expenses to court costs.
Other forms of insurance that aren't required, but may come in handy, include inland marine insurance (for coverage of goods damaged in transit), commercial auto insurance (you can't use your personal vehicle for most of what you lug around and your personal policy won't cover your commercial vehicles) and commercial umbrella insurance (which expands your coverage in case you're hit with a major settlement).
Additionally, if you're looking to apply pesticides as part of your services, most states have a pesticide charter that needs to be acquired. Clayton calls this "a very involved process" and doesn't recommend it until you're well-established in your field.
Before you start operating your business, make sure you also have any business licenses you need for the state you're operating in and that you've registered to pay taxes and received your employer identification number, also called a business tax ID number.
The rules around which business licenses you need and where to get them vary from state to state, so check the specifics for the state where your business will be operating before you start your landscaping business.
3. Get employment law liability insurance before you scale
Another form of insurance you'll need when starting a landscaping business is employment law liability insurance, which covers your business in case you make mistakes around calculating overtime and wage and hour violations.
Considering the uncertainty around the future of overtime wages, and the fact that many small-business owners tend to go it alone at first without the aid of a lawyer or an accountant, this insurance could be a life-saver — or more accurately, a business-saver.
Clayton describes his "personal nightmare" that resulted from not having this insurance as follows:
"In 2009 my company was audited by the Department of Labor and they determined that our crew leader managers could not be paid a salary — they needed to be paid as hourly wage employees," he says. "This, in turn, kicked in additional overtime charges that were due to 80 employees, and it resulted in a $450,000 fine that my company had to pay."
Not having that insurance almost killed Clayton's company. Take his experience as a lesson that having that insurance in place — particularly before you scale — is crucial to your landscaping business.
4. Develop a marketing plan and decide on prices
When it comes to marketing your landscaping business, you already know where to start: Facebook and other social media, as well as SEO tactics, will increase your search visibility on Google and other search engines.
Of course, word-of-mouth marketing is always the best, especially in hyper-local markets, but that comes with doing good work overtime. So while you wait for the glowing reviews to be passed around town, consider setting up your social accounts first as you start your landscaping business.
Clayton says that mastering all of the typical marketing channels, and putting a starting budget of $500 to $2,000 in place to acquire your first 10 to 100 customers, is the best way to start. A digital marketing expert may be necessary to bring your game to the next level once you expand your landscaping business.
When you're first starting your landscaping business, you should also decide on the prices of your services so you can include those in your marketing efforts. Any potential customers will want to know what they'll be charged for the various landscaping services your business will offer.
When you're deciding on your rates, it's a good idea to check out the competition and see what prices similar businesses are offering, then go from there. But remember, you can always adjust rates as you go.
5. Get your business financials in order
When you're starting a landscaping business, it's crucial that you keep your finances on track. And we're probably past the days of using a pen and paper to keep track of all your business expenses, schedules, and accounts. Even spreadsheet applications, though capable of handling large quantities of information, are a bit outdated.
Luckily, there are plenty of business apps out there that can help your landscaping business operate more smoothly. There are apps and software to help with everything from inventory management and payroll to employee timesheets so you can focus on the important things — like actual landscaping work.
Clayton also recommends accounting software for new landscape contractors. You'll be able to manage invoices and, depending on the program, even automate fixed asset management.
Starting a landscaping business: The economics
Most lawn care operators make between $30 and $50 per hour. If you're interested in going further — if you feel like you have the work ethic, dedication, people skills and willingness to learn (be it about new technologies like management software or small-business marketing) — little is stopping you from starting your own landscaping business.
Clayton went on to sell his business in 2013, in the largest acquisition in the lawn care industry in a decade, before starting GreenPal. And remember: He got started on his own, with just a push mower to his name. Success isn't guaranteed to everybody who gets into landscaping, but it's a field that shows no sign of disappearing anytime soon. And there's no time like the present to capitalize on people's love of a well-manicured lawn.
This article originally appeared on JustBusiness, a subsidiary of NerdWallet.