How to Start a Retail Business: A Step-by-Step Guide
Learn how to start a retail business. Our guide covers everything from identifying a niche to finding suppliers.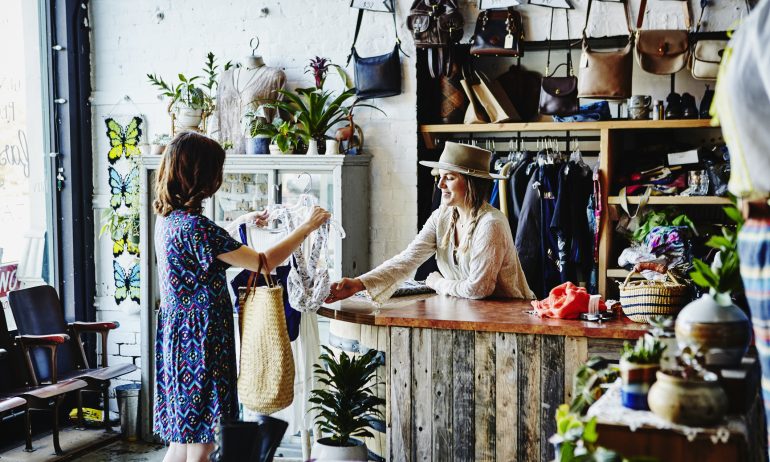 Many or all of the products featured here are from our partners who compensate us. This influences which products we write about and where and how the product appears on a page. However, this does not influence our evaluations. Our opinions are our own. Here is a list of our partners and here's how we make money.
If you're thinking about starting a business in the retail industry, you're in good company. Although local retailers don't get the same level of attention as nationwide brands do, small retail businesses actually make up the vast majority of all U.S. retail businesses.
In fact, researchers found that small retailers (with 50 or fewer employees) made up 98.6% of all retail businesses in 2019. To break into this vibrant industry and open a store of your own, therefore, you first need to understand how to start a retail business.
To help you through the process, we'll guide you through all the steps required to start a retail business, as well as offer additional resources to assist you on your startup journey.
ZenBusiness: Start Your Dream Business
Start today for as low at $0 plus state fees
How to start a retail business in 10 steps
These steps will have you running your retail business in no time. Let's get started.
The first decision you'll need to make in order to learn how to start a retail business is figuring out your company's niche. You may already have an idea of the type of company you want to form, or you may still be grappling to figure out where to focus your retail company. To determine your niche market, we recommend:
Explore your interests and passions: Determine what you love doing or what you'll enjoy selling.

Brainstorm potential conflicts: No industry is perfect, but figuring out what obstacles or issues you could encounter in your niche will help you plan ahead and determine if an industry is a good fit for your business.

Consider profitability: At the end of the day, you want to make money from your retail business, so you'll need to find a niche that has the potential for profitability. Generally, if your niche has absolutely no competitors, it's usually a sign there's no demand, and therefore, your focus will not be profitable. Use our guide to learn more about the most profitable business ideas.

Research competitors: Once you've found a niche market using the above three steps, it's time to research your competition. Figure out how they're marketing and selling and determine what you can learn from them and how you can improve upon what they have to offer.
Deciding on your niche can take a long time. It requires significant research and the passion to work within a particular market. To help you get started in identifying your niche market, here are a few retail business examples worth exploring:
Apparel shops (eyewear, sports apparel, undergarments, outerwear)

Restaurants and bars (determine a theme, whether that's the cuisine, small plates, a canteen, etc.)

Game centers (board games, video games, etc.)

Monthly box subscriptions
Step 2: Write a business plan.
We don't doubt that you have an amazing idea for a retail store, but an idea alone isn't enough to turn a dream into a reality. By writing a business plan, you're providing yourself (and, potentially, future lenders and other stakeholders) a physical roadmap detailing every step you'll take to open and run your retail business.
Therefore, when you're crafting your business plan for opening a retail store, you can start by answering essential questions about your business model:
What kinds of products are you selling?

Will you open a brick-and-mortar location, an e-commerce website, or will you take an omnichannel selling approach?

Who is your target market, and how will you market to them?

How will you set your store apart from your competition?
You'll also need to dig into details related to your processes, answering questions such as:
Who are your vendors? How will you store your inventory?

How much staff will you need?

What will your hiring process look like?

What will your startup costs be?

How much money will you need to launch?

How long will it take for you to break even?

How long will it take for you to make a profit?
Keep in mind, however, that your preliminary business plan is exactly that—preliminary. You can always return to your retail store business plan to make changes, updates, and additions as you gain experience with starting and running your business.
Along the same lines, you should also create a business budget, to the best of your ability, well before you've opened your doors. At this stage, you should be paying especially close attention to your startup costs.
Unfortunately, if you're wondering how to start a retail business with no money, you're going to find it's extremely difficult. Although there a variety of ways to cut costs—selling online instead of opting for a physical location, for example—there will always be a handful of costs associated with starting and launching your retail store.
This being said, in addition to standard startup costs like equipment, business insurance, and payroll, if you're opening a brick-and-mortar retail store, you'll have to cover some specific costs, like a down payment, potential renovations, and monthly rent and utilities for your store. You'll also be responsible for purchasing your merchandise, shipping and delivery costs, and storing excess inventory.
And don't forget about the other tools and software you'll need to run your business, including a POS system, retail accounting software, and a security system to monitor shoplifting and theft.
Step 3: Register your business.
With your business plan and budget in hand, you can now move onto the next step involved in learning how to start a retail business—making it official.
Come up with a business name
If you haven't already, you'll first need to come up with a business name. Choose a name that reflects your business's purpose and brand identity, allows you room to grow, and, perhaps most importantly, is actually available for use.
Once you've landed on your dream business name, run your moniker through a Google search to make sure another entrepreneur isn't already doing business under that name. Then, check for trademark filings in the U.S. Patent and Trademark Office, and conduct a Secretary of State business search to make sure there isn't another business in your area with your potential name.
Once you've established that your name is free and clear, you'll want to buy your domain name and create social media accounts with your name. That way, you can build a business website and launch your marketing strategy ASAP.
Determine your legal structure and register your business
Next, in order to register your business, you'll first need to decide on your business's legal structure. Your business structure determines how you're taxed, the degree of legal protection you're afforded, your business's ownership structure, and your ability to receive business funding (in addition to allowing you to register your business in the first place).
There are lots of business entities to choose from—all of which we overview in detail in our guide to types of business entities. Additionally, we'd highly recommend consulting a business attorney or accountant to guide you through this crucial step.
Once you've landed on a business entity type, you can go ahead and register your business through your state's Secretary of State website. After that, head over to the IRS' website to apply for an EIN (employer identification number) online. Your EIN is a bit like your business's social security number, and it'll help the government identify you for tax purposes. You might also need an EIN to apply for a business loan down the line.
Step 4: Obtain licenses, permits, and business insurance.
Some states require a general business license, while others require licenses and permits at an industry level. You may also need to acquire local permits and licenses, so consult your county or city clerk's website for their particular requirements, too. The SBA is an excellent resource for licensing and permitting information at both the federal and local levels.
For those learning how to start a retail business, you'll likely need to obtain multiple retail licenses related to your field, including a resale certificate, seller's permit, and a certificate of occupancy. We also recommend partnering with a trusted business attorney during this step.
Additionally, you won't want to forget about business insurance. As a retailer, you should consider general liability insurance, a business owner's policy, and business crime insurance; and as an employer, you're likely required by law to carry workers comp insurance, health insurance, and unemployment insurance for your staff.
Take a look at our guide to small business insurance for more information on the types of coverage you need.
Step 5: Find a physical location and build an online store.
If your retail business will include a physical store, finding the right location is arguably the most important aspect of this process. Your location can make or break the success of your business: If you're located in a heavily trafficked area, then your marketing efforts are practically built-in. If it's in a tough-to-find location, or if parking is limited, then your bottom line might suffer.
The right location for your business depends largely upon who your target market is and where they hang out. If you're opening an upscale boutique, for example, you probably want to choose a neighborhood that skews less toward students and cash-strapped millennials, and more toward people with some discretionary income to burn.
Of course, you'll also have to keep in mind how much space you need for display areas, a back-office and break room for your staff, dressing rooms, and an inventory storage area. Your location will also depend largely upon how much room you have in your budget for renovations, store design, remodels, updates, a down payment, and your monthly rent and utility bills. That may mean opting for your second or third choice location to protect your budget.
Build an e-commerce store
Even if you always dreamed of a brick-and-mortar store with in-person transactions, we also recommend opening an online store to give your retail business as much exposure as possible.
Luckily, building and managing an online store is incredibly easy with an e-commerce platform. Here are a few recommendations to get you started:
Shopify: This platform provides an infinitely customizable, standalone store that you build and manage entirely on your own.

Squarespace or Wix: These business website platforms are simple to use and offer e-commerce functionalities.

Etsy, Amazon, or eBay: These popular marketplaces will provide you with plenty of built-in traffic and handy seller tools. On the downside, you won't have as much control over your branding, customer relationships, or fulfillment process as you would with your own e-commerce store.
The combination of e-commerce and in-person retail is sometimes referred to as "bricks and clicks." You can use our guide to learn more about the bricks and clicks business model.
Step 6: Establish relationships with vendors and suppliers.
This is the next step to learning how to start a retail business—and beyond your store's location, arguably one of the most crucial aspects of your potential success—is finding trustworthy vendors and suppliers. Your vendors might become your most valuable partners and a great vendor can present you with new merchandise, determine which products will sell best, and cut costs for you.
There are a few considerations to keep in mind as you're searching for vendors.
Budget: Your vendors need to work within the supplier budget you've established.

Quality: The quality of their merchandise is crucial.

Reputation: You want to work with a supplier who is guaranteed to deliver your agreed-upon items on time and in good condition—every time you place an order.

Customer service: Remember that you'll be working closely with your vendors, so their service team must be reliable, personable, and easy to contact in case you run into any issues.
We recommend establishing relationships with several vendors. Even if your vendor of choice is stable, reliable, and cost-efficient, you need to have a contingency plan in place—without merchandise to sell, you won't have a business to run.
If you've never hired an employee before, take a look at our guide on how to hire great employees who'll stick with you for the long run. When hiring for a retail position, make sure to interview as much for their attitude as you are for their experience. While you can train your employees to use your POS system and manage your inventory, you can't teach them to be kinder, friendlier, or more trustworthy than they innately are.
In advance of hiring your first team member, make sure you understand your state-regulated employer requirements. Your state might require that you buy certain types of insurance for your staff. Additionally, you'll probably need to complete some other steps, like creating a state withholding account for payroll, reporting new hires, and verifying your potential new hire's employment eligibility as well.
Step 8: Find the right POS system.
Your POS system just might become your retail business's best friend. It'll certainly become your employees' best friend—assuming you choose an intuitive, easy-to-use model, of which there are tons on the market right now.
A point of sale system combines hardware and software that enables your business to accept and process all kinds of payments. Most POS software is loaded with valuable back-end capabilities, like inventory management, employee management, CRM tools, sales reports, and vendor tracking.
If you're opening a brick-and-mortar location, you'll need a POS system that can accept cash, checks, contactless payments, and both chip and swipe cards. In addition, you'll need a barcode scanner, receipt printer, and cash drawer.
For more flexibility, you might want to look into a POS system that allows on-the-go payments, too. For example, Square (and most other POS systems) has mobile card readers that plug into your phone or tablet so you can accept payments from virtually anywhere, whether that's at a pop-up shop, craft fair, or trunk show.
Similarly, Clover also has a fully equipped, handheld POS device so you or your staff can ring up your customers from anywhere in your store.
Ultimately, you have options—a lot of them. To help you navigate the selection process, consult our guide on the best retail POS systems.
Step 9: Organize your finances.
As we mentioned earlier, it's nearly impossible to figure out how to start a retail business with no money—so, whether you have a large amount of startup capital or are operating on a tight budget, it's extremely important to organize your finances.
First, you'll want to open a business checking account. If you're happy with your current bank, you may want to open a business bank account there. It's logistically easier for you to maintain all your finances with the same institution. In addition, many banks offer discounts and other incentives when consumer clients open business accounts. If you want to compare your options, we recommend looking into our best business bank accounts guide.
Next, you'll want to get a business credit card. Most credit card companies allow business customers to apply for a business credit card online—which makes this step even easier than opening a business bank account.
If your business is too new to have any financial data, you can provide your personal financial information on your application. If you're approved, you'll receive your card in the mail in about a week or two. Use it for your business's smaller, daily expenses, and be mindful of only using it for business-related purchases to maintain personal and business financial separation.
Most entrepreneurs need a little (or a lot of) financial help to get their businesses off the ground. That may be especially true of retailers and brick-and-mortar business owners, who have a few extra startup costs to contend with.
Although it can be difficult to get a business loan as a startup, there are a variety of alternative options you can consider, especially as you start to run your retail store and become more established.
Finally, don't forget to sign up for a good business accounting software solution, which will streamline, automate, and organize your business's finances.
Step 10: Market your retail business.
At this point, you've learned the most important pieces of how to start a retail business, and now, you're ready to open your doors and get to work.
Of course, to get the word out about your business, you need to develop a small business marketing strategy, which provides you with an opportunity to get a little creative. The best marketing strategies, especially for brick-and-mortar stores, use a combination of SEO, social media, email marketing, paid online marketing strategies (if their budget allows for it), and analog marketing efforts.
At the very start of your venture, your time is best spent building a business website and creating social media accounts. Squarespace and Wix provide users with tons of customizable, professionally designed templates and built-in SEO tools. For social media, focus on creating diverse, high-quality content, posting regularly, and responding promptly to your followers' comments and DMs—both the positive and the negative.
As a brick-and-mortar store owner, in-person marketing tactics are also important. We recommend:
Getting active in your local retailer community, networking with your fellow business owners, and participating in craft fairs and other events showcasing local businesses.

Partnering up with a local business whose target market is similar to yours and putting on an event together, or hosting pop-up shops or trunk shows in each other's locations.

Using good sales incentives—like BOGO deals, giveaways, and free trial periods—to draw even more customers into your store.
To boost your marketing strategy, it's important to take some time to develop your brand identity. Establish your messaging, market positioning, and how your unique business can provide your customers with what they're looking for—then create the materials to reflect those core values.
As you navigate the business formation steps, be careful not to lose sight of why you're opening your retail business in the first place. If you remember the passion that inspired you to launch your business, you might even enjoy the finer points involved in the process—who knew finding a POS system could be so fun?
This article originally appeared on JustBusiness, a subsidiary of NerdWallet.