How to Start a Trucking Company
Learn the business side of how to start a trucking company – legal structure, startup funding, equipment financing.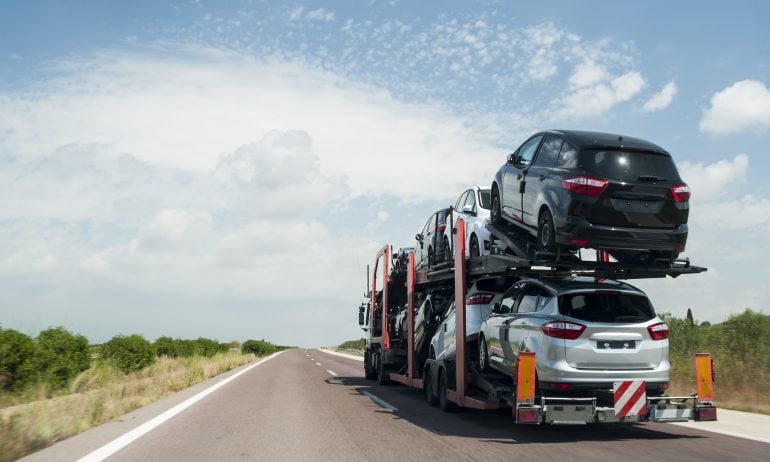 Many or all of the products featured here are from our partners who compensate us. This influences which products we write about and where and how the product appears on a page. However, this does not influence our evaluations. Our opinions are our own. Here is a list of our partners and here's how we make money.
When most people think about booming industries in the U.S., trucking might not be the first one that comes to mind. But one drive on an interstate should tell you all you need to know about the demand for trucking and haulage companies.
If you've been thinking about starting a business of your own and love driving and logistics, a trucking company may just be the right fit. Just over 70% of all U.S. freight moves through trucks, which means that there's always a demand for trucks—and, more importantly, trucking companies.
If you want to know how to start a trucking company, there are plenty of factors to consider, including hiring employees, choosing your business entity, and securing financing.
We'll break down what you need to know about how to start a trucking company from start to finish and help you make the right decisions to get your trucking business in high gear.
How to start a trucking company in 5 steps
If you're still with us so far, odds are you're ready to take the plunge into starting your own trucking company. Now that you're convinced, let's get into how to start a trucking company by looking at the critical tasks you'll need to accomplish before you get on the road and join a great big convoy.
Step 1: Write a business plan
It might not seem like you'd need to write a business plan for a trucking company, given that the underlying operating premises are somewhat straightforward. Writing a business plan, however, helps you focus on the core parts of your company. A good business plan lays out the reason for your company's founding, the capital required to get started, financial projections that display costs versus anticipated profits, and other strategy details.
Writing a trucking company business plan keeps you focused on building your company according to a blueprint, which is especially helpful as you get into the dirty work of getting started and may not have time to refocus on your overarching strategy. Just as importantly, you'll also need a business plan as part of just about any small business loan application. You'll be glad you created a plan before you start applying for funding, as the process will be smoother. To help you get started, check out our free business plan template.
Step 2: Register your business
Once you've written a rock-solid business plan, the next step you'll want to take to start a trucking company is to register your business with any local or state governments that require it.
You'll want to take a look at the different kinds of business entities available to you before submitting your paperwork. Each business entity offers various personal liability protections, taxation methods, ownership structures, and other technical differences. If you're starting a one-person, self-owned trucking company, look into limited liability companies (LLC) to protect your personal assets. If you're establishing your company with a business partner, you will also want to consider the different kinds of LLCs designed for partnerships (limited liability partnership) and corporations. There are other business entities out there as well worth considering, but it's best to start with these two categories and determine from there whether or not you need to go with something different.
The process of incorporating your business is relatively straightforward, even if it's a little paperwork-heavy. Typically all it takes is some supporting documentation about the company's principals and founders, tax identification information, a general business agreement, and a few other materials about your soon-to-be company (which largely differ depending on the state you're registering in).
Alongside registering your business, be sure to choose a unique business name. Your business name will the first impression for potential clients, so make sure it communicates your brand, specialty, and personality.
Also, be sure that your business name is not taken. Once you have a boil down your options to a few names, do a quick secretary of state and U.S. Patent and Trademark search to ensure the name you're considering are available for use.
Step 3: Obtain business licenses, permits, and insurance
Next, make sure your trucking company is operating legally. To do so, you'll want to look into business licenses, permits, and insurance.
Business licenses and permits
Trucking companies face unique challenges and liabilities, which makes it crucial that you line up all the required licenses and insurance policies as required by your state of operation.
Most, if not all, states will require you to get a business license if you intend to headquarter your business within its boundaries. You'll need to get these policies and licenses set up before your first shipment hits the road.
Another license you must secure is an International Registration Plan. This is required if your truck is 26,000 pounds and crossing state lines. This allows you to operate your truck in all states and some Canadian provinces.
As regulations vary by state, consult with your state's guidelines to find out exactly what you need to stay on the right side of local regulations.
Some types of business insurance you'll likely need to obtain include public liability insurance, cargo insurance, bobtail, and physical damage insurance. If you're unsure about whether you're fully compliant with your business requirements, it's always a good idea to consult with a startup lawyer that's worked with other trucking companies. Their expertise ensures you're taking all the legally required steps before starting your trucking business.
Step 4: Choose the right truck
Your commercial truck will be one of your most significant investments when learning how to start a trucking company—it's essential that you choose the right one for your business. When selecting your truck, you'll want to consider some of the factors:
Whether they have multiple dealerships across the U.S.

Whether you're operating locally or long distances
As with any vehicle you purchase, you should do a test drive. But if you want to narrow down your brands, you'll find that Kenworth, Freightliner, and Peterbilt trucks can accommodate most of your trucking needs:
This buy vs. lease debate depends on your buying power as a small business owner. And there are several advantages and disadvantages that accommodate each route. When you buy a truck outright, your payment is completed—no need to make monthly payments. You can also use the built-in equity to trade in your truck in the future. Of course, this also means a larger down payment—usually 10% to 25%—depending on whether you buy new or used.
When you lease, you don't own your truck. You must make regular payments and cannot use the equity to buy a new truck. Also, you must abide by specific regulations, including maintaining its condition and mileage restrictions. But leasing offers some advantages—mainly, the lessor will often cover your maintenance expenses.
Whether you choose to buy outright or lease, you will still likely need to find some way to finance your purchase.
Step 5: Secure startup funding
As we mentioned above, buying a commercial truck is no small expense. Thus, you'll likely need to secure startup funding to get your trucking business off the ground. Besides the below funding options, also consider opening a business bank account and credit card.
How much does it cost to start a trucking company?
Trucking can be lucrative, no doubt. It's also guaranteed to require a fair amount of capital to start a trucking company—a commercial truck costs around $80,000, after all. Then, of course, there's the capital that goes into keeping your fleet operating at peak performance. In addition to purchasing your truck, you'll also want to factor into your business budget:
Registration and documentations

Business permits and licenses

Accounting/invoicing software
These expenses can tally up. According to the Small Business Administration, trucking and transport companies took out an average loan of $106,000. So, if you want to learn how to start a trucking company with no money, you won't get very far. You will likely need to seek additional funding to make your business plan a reality.
The good news is that there are a ton of business loan options available to trucking businesses:
You'll find that SBA loans are increasingly popular due to their low interest rates, high loan totals, and generous repayment terms. Moreover, the SBA guarantees up to 85% of the loan's total if the borrower can't make repayments.
These loans are great to kickstart your trucking company but are notoriously hard to get. You need a long and established credit history, a good credit score, and a high tolerance for paperwork. If you think you can make the cut, check this full list of SBA loan types.
Commercial truck financing
If you don't qualify for an SBA loan, equipment financing loans are a great alternative and also offer borrower-friendly repayment terms. Under this umbrella, you'll also find commercial truck financing for buying or leasing new or used trucks or repairing or upgrading a truck you already own.
The way this type of loan works is you will approach the lender with a quote for exactly how much your equipment (in this case, most likely a truck) will cost. If approved, the lender then provides you with the appropriate sum of money, which you'll repay (plus interest) over a fixed amount of time.
Keep in mind that the truck serves as collateral, should you fail to repay your loans. Because of this "safety net," lenders are more likely to approve you for commercial truck financing.
Small business term loans
Another option to help start your trucking company is a business term loan. A lender provides a certain sum of money to the borrower to be repaid during a set amount of time. The interest rate associated with the loan may stay fixed throughout its duration or may vary based on economic factors.
While short-term business loans are easier to get than SBA loans—chiefly because they have lower credit requirements and easier applications—they typically hold higher interest rates, lower loan tallies, and must be repaid much more quickly.
4 reasons to start a trucking company
Here are the top four reasons why learning how to start a trucking company could be your next business venture:
1. There's a major shortage of drivers
The trucking industry is forecasted to need 100,000 drivers in the near future, and companies are desperate to find drivers to fill the void. When you want to figure out how to start a trucking company, this will likely provide you with a tactical advantage, considering that you'll be helping to fill a need for more trucks and drivers.
2. There's a need for innovation in the industry
Nearly any industry welcomes innovation—including the trucking industry. Increasing efficiency within your fleet and establishing less fuel-intensive routes and logistics helps you improve your value to your customers. This gives you a competitive advantage, positioning your business for long-term success.
Trucking is the backbone of the country's economy. As a trucking business owner, you'll play a pivotal role in getting goods to stores and warehouses. Also, the trucking industry is largely recession-resistant—there is always a need for trucking companies to obtain products and materials across the country.
4. It's easy to start small (and scale)
You won't have to invest as much into your trucking company before it turns a profit, and you can better expand your business as demand—and your profit margin—grows. Eventually, you can learn how to start a trucking company without driving by hiring additional employees and drivers.
Learning how to start a trucking company can sound complicated. In reality, it's not dissimilar to the steps involved in starting a small business of any other stripe. Your equipment costs may be a bit higher, and the hunt for talent a bit more competitive, but the underlying principles involved in starting a trucking business are still the same. With the right business plan, licensure, and financing in place, you too can get the wheels rolling on your trucking business.
This article originally appeared on JustBusiness, a subsidiary of NerdWallet.