Opening a Popeyes Franchise: An Overview
Looking at opening a Popeyes franchise? Here are the basics you need to know.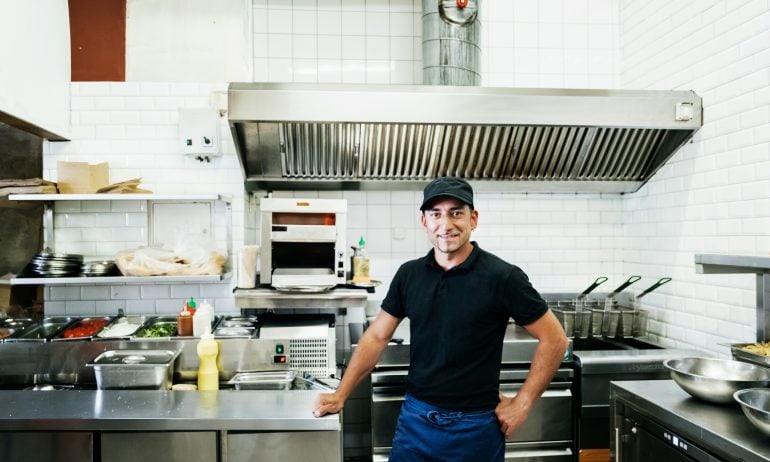 Many or all of the products featured here are from our partners who compensate us. This influences which products we write about and where and how the product appears on a page. However, this does not influence our evaluations. Our opinions are our own. Here is a list of our partners and here's how we make money.
Popeyes Louisiana Chicken made headlines back in 2019 when they added a chicken sandwich to their food lineup. Chicken lovers queued outside franchise locations everywhere trying to get their hands on the spicy sandwich, which actually sold out nationwide. So it's well-documented that Popeyes has a loyal and enthusiastic fanbase.
Perhaps that's why you're interested in opening a Popeyes franchise location. This article will cover what you need to get started.
Popeyes franchise overview
Popeyes franchise fast facts:
Initial franchise fee: $50,000

Initial franchise term: 20 years

Estimated initial costs: between $235,000 and $454,000
The first Popeyes location opened up in New Orleans 50 years ago. The story goes that in 1971, Al Copeland started a chicken restaurant in an effort to compete with KFC. His first venture failed, but a year later he opened a restaurant called Popeyes Mighty Good Fine Chicken. Copeland quickly discovered the benefit of franchising his idea. The first franchises popped up throughout Louisiana, but Popeyes now boasts over 2,700 locations worldwide.
In early 2017, Popeyes was purchased by Restaurant Brands International, a U.S. and Canadian fast food holding company. Other properties owned under the Restaurant Brands International (RBI) umbrella are fast food juggernaut Burger King and Canada's largest quick-service restaurant chain, Tim Hortons.
How much does a Popeyes franchise cost?
The initial franchise fee for a Popeyes restaurant is $50,000 and the total estimated investment per location is between $235,000 and $454,000. Why the large window in estimated costs? Don't forget that real estate prices can vary greatly based on location. A franchise owner in New York City is going to have much higher real estate costs than, say, a franchise owner in Baton Rouge. So factor that in when determining where you'll likely fall on that total investment range.
Beyond those estimated initial costs, there are ongoing fees. Of your gross sales, approximately 4% is allocated to a marketing fund and 5% covers royalty fees.
Although the initial franchise fee is $50,000, there are ways to lower it. If you qualify for their Veterans Development Incentive Program or their Women and Minorities Development Incentive Program, you may be able to trim $22,500 off the fee and get it to a far more reasonable $27,500 rate.
Now let's see how Popeyes stacks up against the fast food competition in terms of the initial franchise fee:
As you see, the $50,000 franchise fee is aligned with fellow UBI brand Burger King, but it is definitely on the high end for a fast food franchise.
Popeyes franchise requirements
Popeyes requires franchisees to have a net worth of $1 million per restaurant, $500,000 of which has to be in liquid assets. Ideally, Popeyes is looking for franchisees with experience in the restaurant business. But if you don't have restaurant experience, that's not a dealbreaker. The key is general business experience and a clear commitment to Popeyes. If you're interested in potential future expansion, even better.
How to become a Popeyes franchise owner
If you meet the franchise financial requirements, perhaps you're ready to jump right into the process of becoming a Popeyes franchise owner. Here's how to get started:
You'll need to contact Popeyes directly to let them know of your interest in becoming a franchisee. The franchising department has its own dedicated email address at [email protected] that you can contact to get rolling.
There's a lot of information that needs to be listed in your email. Make sure to include your name, your email, your phone number, your net worth, your liquid assets, your willingness to relocate, whether you have previous restaurant experience, where you're currently located, whether you're willing to relocate, and how many restaurants you'd ideally like to open.
Note that it's absolutely crucial to include all the requested information, as Popeyes specifically states that they won't consider applications that are incomplete.
As of publication, Popeyes listed specific geographic areas throughout the United States that they were targeting for expansion. Those states are: California, Florida, Kansas, Maine, Michigan, Missouri, Montana, Nebraska, New Hampshire, North Carolina, North Dakota, Oklahoma, South Carolina, South Dakota, Texas, West Virginia, Wyoming, Vermont, and Virginia. Check their website for the most up-to-date information.
Beyond the financial considerations, it's also good to keep in mind what Popeyes specifically is looking for in the personalities of their franchisees. They want their franchisees to be excited to grow the Popeyes brand, be independent and a go-getter, provide excellent hospitality, and live near their franchise locations so they can be hands-on.
Obtain financing for your Popeyes franchise
If you've read this far, you know that you need a significant amount of capital in order to join the Popeyes family. The numbers can seem daunting, but there are options available to assist you financially. You might decide that utilizing business financing to help cover some of the large initial costs would be best.
Luckily there are several options in that space: SBA loans, traditional bank loans, and alternative funding. And the financing loans aren't just for overall costs, there are specific loans tied to equipment financing if you need assistance there. If you've looked into starting a business before, you may be aware that it's generally harder for a new business to secure financing. That's one benefit of being tied to a franchise: They're viewed as lower risks, so you may find it less challenging to be approved for a business loan.
Top alternatives to a Popeyes franchise
After reading about all the requirements to opening a Popeyes franchise, maybe you've come away leaning toward pursuing another avenue for your small business dreams. That's fair. There are other franchise opportunities out there for chicken lovers. Here are a few of them
Popeyes was initially started as a competitor to KFC, so if you feel that the financial commitments for Popeyes are too high (or something else is causing you to second guess whether it's the right choice), KFC is a solid alternative option.
The initial franchise fee for KFC is $45,000, which is $5,000 less than the fee for Popeyes. When it comes to ongoing fees for running a KFC franchise, you can expect to pay 5% of gross revenue as a royalty fee and 5% of gross revenue for advertising.
One of the added benefits of becoming a KFC franchisee is the ability to open multi-brand locations with other Yum! Brands restaurants. So if you're interested in opening a combination of KFC, Taco Bell, and/or Pizza Hut under one roof, that's a possibility.
If one of the factors causing you to question whether Popeyes is right for you is the $50,000 franchise fee, Chick-fil-A might be a perfect alternative for you. Chick-fil-A's franchise fee is only $10,000—considerably lower than most of its competitors.
There are a few potential deal-breakers for those interested in joining the Chick-fil-A franchisee family. The biggest is that the Chick-fil-A franchise program is designed so that they retain ownership of all real estate and equipment. This is great for keeping your initial franchise costs low, but unfortunately, it also means that you won't own any equity. So upon your retirement, you cannot sell or pass down the restaurant you worked to build. For many potential franchisees, not having an equity stake is enough to cause them to look elsewhere for their small business dreams.
All Chick-fil-A franchises must also close on Sundays—this will cut into your profits, but it also means you only have to work six days a week. So ultimately it's a trade-off that you'll have to weigh. We also have to mention that Chick-fil-A is no stranger to controversy and has been subject to boycotts and other negative press. However, the negative press hasn't stopped them from being named America's favorite restaurant chain for six years in a row. So keep that in mind, as well.
If you're interested in a chicken restaurant, you can go even more niche and focus specifically on wings. Wingstop was founded in 1994 and has already grown to over 1,000 locations worldwide.
Wingstop's initial franchise fee is $20,000 per store and their development fee is $10,000—both of which are relatively low, so on the surface it appears to be a great option. However, they have a franchise commitment requirement: You can't open a single Wingstop location, you have to open a minimum of three. So those numbers all need to be multiplied by three in order to get the true initial required commitment: a $60,000 franchise fee for three stores and a $30,000 development fee.
For ongoing fees, Wingstop charges a royalty fee of 6% of gross sales, a marketing fee of 4%, and a local advertising and promotional fee of 1%. That 11% total is slightly higher than their competitors. Popeyes ongoing fees total 10%, for example.
Opening a Popeyes franchise is a big commitment—both financially and professionally. Before jumping into it, make sure that you've figured out a viable route to financing and are prepared for the time and effort you'll have to commit in order to ensure your business is a success.
Taking that all into account, if you love that chicken from Popeyes and are ready to meet all the potential challenges that may come your way as a franchisee, then opening a Popeyes franchise might be the path to small business ownership that you've been looking for.
This article originally appeared on JustBusiness, a subsidiary of NerdWallet.