How to Start a Business in New York: The Ultimate Guide
Intent on starting a business in NY? Here are eight important steps to join New York's entrepreneurial community.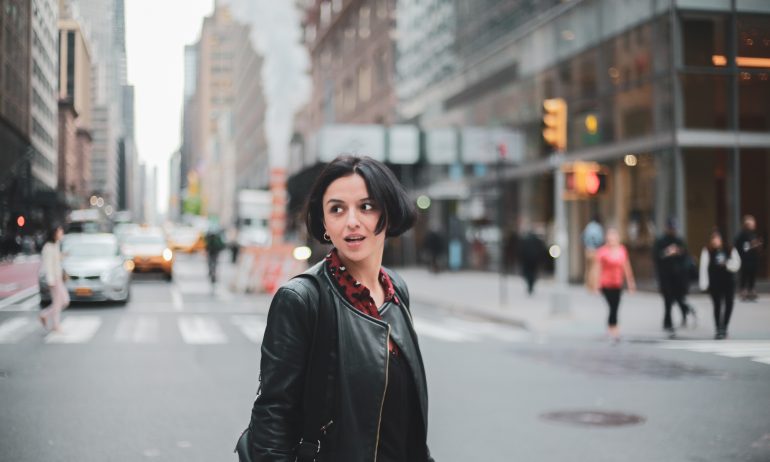 Many or all of the products featured here are from our partners who compensate us. This influences which products we write about and where and how the product appears on a page. However, this does not influence our evaluations. Our opinions are our own. Here is a list of our partners and here's how we make money.
BuzzFeed, WeWork, Etsy, Blue Apron: Other than snagging a spot in the coveted "unicorn" club, what each of these billion-dollar startups have in common are their roots in the great state of New York. And if you're an ambitious New Yorker, you might be curious about the process of starting a business in New York yourself.
We wouldn't blame you. Other than name-dropping, we can give you some statistical evidence of New York's thriving entrepreneurial ecosystem: According to the SBA 2018 Small Business Profile, small businesses made up 99.8% of all businesses in the Empire State. And by the end of 2017, New York's economy grew at an annual rate of 4%, which was faster than the national average of 3.4%.
Inspired? In this guide, we'll walk you through the eight important steps it takes to start a business in New York so you can join the Empire State's vibrant entrepreneurial community.
ZenBusiness: Start Your Dream Business
Start today for as low as $0 plus state fees
Starting a business in NY: A step-by-step guide
This may not be what you want to hear, but sometimes patience really is a virtue—and starting a business in New York (or anywhere, for that matter) just so happens to be one of those times. So while you may be gung-ho to get your business idea off the ground, take a second to get your bearings and write a business plan. This roadmap will guide you from point A to point B and beyond. You'll thank yourself for it when you inevitably make an unexpected turn.
Your preliminary business plan should address at least the following:
A description of your product or service in detail, plus pricing. What pain point does your business address?

How your product or service sets itself apart from your competitors

Your business's management and ownership structure

A hiring plan, if necessary

An overview of your target market

How you can attract and retain your potential customers

How much money you currently have

How much money you need to launch

How long it will take to break even, and how long it will take to make a profit
Keep in mind that your business plan is a living document. To begin, simply aim to be as detailed as possible, remembering that you can always dive back in and make adjustments and additions as you garner traction, experience, and funds.
2. Choose a business name
Your business name is arguably among the most important aspects of your business (other than doing your job well, of course)—it indicates to your customers who you are, what you offer, what you value, and how your customers will feel when they patronize your business. This isn't a task to take lightly, but it's also one of the most creative aspects of starting a business. Take a look at our guide on how to come up with a business name to get started on this crucial step.
Once you've landed on a business name, you'll need to make sure it's available for use across a few platforms. Most importantly, search the New York Business Entity Database and do a business entity name search through the New York Secretary of State to make sure the name isn't already in use by another New York business. If it is, you won't be able to move onto registering your business, so you'll have to go back to the drawing board. We recommend running your name through a trademark search on the U.S. Patent and Trademark website, too.
Then, run a Google search to ensure that a competing business isn't using your dream name, or a similar name, either in New York or elsewhere. Finally, check that your web domain name is available, and if it is, buy it ASAP. That way, you can build your business website and start garnering traffic immediately.
Once you've cleared all these hurdles, you're ready to register your business with the state of New York.
3. Choose a business entity and register your business
The next step in starting your business in New York is crucial: choosing a business entity. The business entity you choose will determine how you're taxed, your management and ownership structure, and your degree of legal protection. Your registration process will also differ depending on your business entity.
In New York, a few of the more common business structures are sole proprietorships, partnerships, LLCs, and corporations; and among those structures, LLCs are especially popular, as they're easy to form, easy to maintain, and they provide the owners with legal protection. Learn more in our guide to forming an LLC in NY.
It's always recommended that you consult legal or financial professionals to help you determine which type of business structure makes the most sense for your particular business. You can also take a look at New York's Business Express new business checklist to learn more about what each type of business structure entails, how to register with the state, how much the formation fee will cost, and their ongoing requirements.
Pro tip: Using this new business checklist will provide you with personalized, step-by-step guidance about starting a business in New York, and it only takes about 10 minutes to fill out.
4. Obtain your EIN and register for taxes
Before you can start conducting business in New York, you need to register with New York's Tax Department. It's also a good idea to familiarize yourself with your state and local tax requirements, which may differ depending on the type of business you're running. For instance, businesses that sell physical products or perform certain services need to collect a sales tax and obtain a Certificate of Authority, and businesses in New York City are also subject to the city's business income and excise taxes. You can take a look at the state's Department of Taxation and Finance website to read up on your tax obligations, but we'd recommend talking to a professional who can break it all down for you in simpler English.
At this point, you should also apply for an EIN with the IRS, which you'll need in order to file your business's income tax return or payroll tax return. You'll also need an EIN to open a business bank account, apply for a business credit card, hire employees, and apply for a business loan down the line. The only exception here are sole proprietorships, who can use the owner's social security number in lieu of an EIN.
5. Obtain permits, licenses, employer information, and insurance
If you've completed New York's Business Express new business questionnaire, then your customized checklist will include information about whether you need to obtain professional licensing or permits to legally start and operate a business in New York. This checklist also provides you with links to your county clerk and main county office so you can inquire about your local licensing, permitting, and zoning requirements.
At this stage, you'll also need to brush up on your employer obligations if you plan on hiring employees. Among those requirements includes carrying business insurance, such as unemployment insurance, workers compensation insurance, and disability benefits insurance. If you aren't hiring employees, then after you complete your checklist you'll be provided with a Certificate of Attestation of Exemption, which attests that your business isn't required to carry any of the aforementioned insurance types.
Whether you have employees or not, however, you'll almost certainly need to buy some type of coverage, whether that's commercial property insurance to protect your property from damage, professional liability insurance to cover negligence or malpractice suits brought against your practice, and/or general liability insurance to protect your business from a host of potential legal claims.
6. Secure startup funding
Inevitably, you're going to need some cash to get yourself off the ground. But if you're ready to seek startup funding, your first stop probably shouldn't be your local bank: Banks are wary of lending to new businesses, because startups just don't have the years' worth of financial documents and strong credit required to prove that business's ability to handle debt.
Instead, most startups use a combination of alternative financing methods to get themselves going. Most often, that involves tapping their own savings, borrowing from family and friends who believe in their venture, bootstrapping, and/or using a personal loan for business purposes. If possible, you can also go debt-free and try your hand at crowdfunding, or scour your network to seek angel investors.
In addition to our guides on startup funding and NYC-specific business funding options, you can take a look at New York's Small Business Loan Resources page for state-specific funding information.
7. Get a business bank account and business credit card
You know the old saying, "Don't mix business with pleasure?" Turns out, it applies to your finances, too. The next step in starting a business in New York is to open a business checking account and apply for a business credit card.
Separating your business and personal finances is crucial for two key reasons: It'll protect your personal assets in the unlikely event that your business is sued, and it'll make your bookkeeping (and tax season) much easier to organize. Opening a business bank account and signing up for a dedicated business credit card are the first two important steps in establishing this separation. Luckily, they're both easy to do.
If you're happy with the bank you're using for your personal finances, you may decide to open your business bank account with them, too. Keeping both sets of finances with the same institution is logistically easier, and as banks tend to reward loyalty, they may offer you incentives on your business bank account, like forgoing the monthly maintenance fee or allowing you to open your account online. Otherwise, take a look at our guide to the best business bank accounts for small businesses. They're all excellent options. Keep in mind that when you're starting out, you can get away with opening just a checking account for easy access to your cash. You can open a business savings account when you start growing.
And using a business credit card for your daily business-related expenses is a no-brainer: Firstly, it's so easy to apply for a business credit card online, and it's much easier for startups to qualify for credit cards than traditional financing. If you can't provide your business's financial information on your application, credit card companies often allow you to use your personal financial information instead. Spending on your card responsibly will help boost your credit score, which is crucial for qualifying for a business loan down the line. And as most cards provide some form of reward or benefits, you'll be earning cash back or other rewards. Plus, using a 0% intro APR credit card can help you fund your New York business during the early days. Just make sure you have a plan to pay off the balance before the introductory period ends and the APR jumps.
8. Kick off your marketing plan
Now that your paperwork and financials are in order, you're well on your way to starting a business in New York. The next step is spreading the word about your new business. Marketing your business may seem daunting, but in reality, your small business marketing plan can be an opportunity to flex your creativity. And at the beginning of your venture, you can keep your marketing strategies small: Simply focus on building and maintaining an online presence, and reaching out to your community.
Building a professional-looking business website is pretty non-negotiable, and with website builders like Squarespace and Wix, it's super simple to do. Hopefully you bought your domain name back in Step 2, but if you didn't, you can do so through your website builder.
Your business website can essentially be as detailed or bare-bones as you want. But either way, make sure to include an About page so potential customers can put a face to your business, as well as links to your business's social media platforms. If you're a service-based business, you can also integrate your appointment scheduling software to make it easy for clients to book a session with you.
Along with creating a website, creating social media accounts dedicated to your business is the most important marketing strategy you can implement now. Social media not your forte? Consult our comprehensive guide to social media marketing for small business, which will show you exactly how to tweet, post, and create stories to attract new customers (while retaining your professional integrity). Most importantly, focus on posting high-quality content on your chosen platforms regularly. And don't forget to announce your new business on your personal platforms, then redirect your followers to your business's handles.
Although creating your digital footprint is crucial, don't overlook the importance of establishing human connections, too. Good, old-fashioned networking is a great way to get the word out about your venture. Whether you're opening a physical storefront, an ecommerce business, or a service-based business, pay a visit to local New York business owners in your neighborhood, introduce yourself, and ask if you can keep a stack of your business cards at their till (and assure them that you'll do the same for them). And don't forget about the power of word-of-mouth marketing. Making sure your customers have a great experience with your new business will help word spread quickly.
How to start a business in NY: The final word
We can't guarantee that your business will join the likes of BuzzFeed, WeWork, and other unicorn club members. But we can assure you that following the previous eight steps for starting a business in New York can help establish a strong foundation for your own New York-based venture.
ZenBusiness: Start Your Dream Business
Start today for as low as $0 plus state fees
This article originally appeared on JustBusiness, a subsidiary of NerdWallet.