Opening a Wingstop Franchise: Information and Costs
Learn about opening a Wingstop franchise: the costs, opportunities, training, ongoing responsibilities, and more.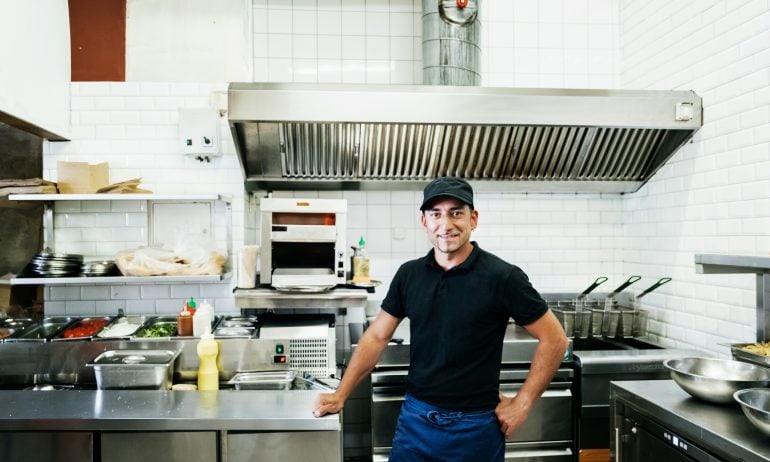 Many or all of the products featured here are from our partners who compensate us. This may influence which products we write about and where and how the product appears on a page. However, this does not influence our evaluations. Our opinions are our own. Here is a list of our partners and here's how we make money.
Known for their variety of—you guessed it—chicken wings, Wingstop is a brand with a lot of loyalty and customer appeal. If you're interested in opening a Wingstop franchise, there's lots to know about its corporate structure, Wingstop franchise cost, and more.
Is franchising right for you? This guide will give you the information you need to help guide you toward a decision about whether to open a Wingstop franchise of your own.
Wingstop franchise information
Wingstop has over 1,200 locations in the U.S. and other locations in multiple countries. Of their 1,300-plus worldwide locations, more than 980 are franchises. Founded in 1994, Wingstop first began offering franchising opportunities in 1997.
Customers love Wingstop for their variety of flavors, which are unique to the brand and made with proprietary recipes. Wingstop is also highly focused on running a robust takeout business on top of their brick-and-mortar presence, which is why many of their storefronts are smaller than the average fast-food store. Along with a robust menu of chicken options and sides, some Wingstop locations are licensed to sell beer and wine as well.
According to Wingstop, franchises have high sales per square foot relative to the rest of the industry, with an average store doing about $1.25 million in annual sales.
Plus, Wingstop is on the upswing in terms of chain restaurants. The fast-food chain grew 31.4% from 2015 to 2019, posting revenues of $53 million in 2019. Their profit for 2019 was also more than $20 million. Part of this growth is due to the company strengthening online sales, which rose 39% last year. As more consumers opt for online ordering, this is especially important to keep in mind—clearly, Wingstop already has an established online ordering system in place, which means your sales won't suffer as you try to establish one yourself.
Wingstop franchise growth
This fast-food franchise has grown quite a bit over the last three years—they have increased their number of stores by more than 38% from 2016 to 2019.
This growth isn't just reflected in established markets, either. In fact, there are several different markets available for expansion, so you have several options for where to open your Wingstop franchise. Odds are there's a market close to you that Wingstop is looking to expand into, which provides an opportunity for new, would-be franchisees to set up shop.
Wingstop franchise commitment
When exploring Wingstop franchises, keep in mind that you can only choose a multi-store development with a minimum of three units.
They also require previous multi-unit restaurant management and development experience, with a strong preference for past franchise ownership. Additionally, franchise agreements with Wingstop last for a term of at least 10 years.
Corporate support for opening
One of the many advantages of franchising is the support you'll receive from the franchisor. This can be especially appealing to entrepreneurs without previous business ownership or restaurant experience. Wingstop offers support for identifying real estate, setting up operations, and managing construction.
Wingstop owners are required to undergo extensive training before they open their stores: over 19 hours of online training, 30+ hours of classroom training, and over 153 hours of in-restaurant training. This will all take place over the course of 25 days at Wingstop's Restaurant Support Center, which is located in Dallas, Texas.
If this is your first franchise, you'll have two Opening Restaurant Trainers at your location for up to 14 days.
You'll also need to potentially participate in updated or additional training, which might also include franchisees and managers.
So, how much is a Wingstop franchise? As we go through how much it costs to open up a Wingstop franchise, remember that these fees vary depending on your location and any updates the company makes.
These Wingstop franchise costs, as well as expectations, requirements, training, and more will all be defined in the franchise disclosure document (FDD) that you'll receive from the franchisor before you make a commitment to the brand.
Initial investment: The initial investment will vary significantly based on your location and the type of restaurant you want to open. The average investment is around $390,000, but this can stretch to over $775,000.
Franchise fee: The Wingstop franchise fee is $20,000 per store. There is also a development fee of $10,000 per store. Keep in mind, you're required to open at least three stores.
Net worth: Wingstop requires a minimum net worth of $1.2 million.
Cash liquidity: Liquidity requirements are $600,000 minimum (more if you open more than three stores).
Keep in mind, the above costs are exclusive of land, lease, and mortgage costs. Because Wingstop does about 80% of their business via takeout, you don't need to look for a lot of space—you can open a store with a minimum of between 1,200 and 2,000 square feet.
As with the vast majority of franchises, franchisees will be responsible for ongoing franchise fees. These include:
Royalty fee: The franchise royalty fee is 6% of your monthly gross sales.
Marketing fee: The fee for the marketing and advertising campaigns, which corporate executes, is another 4%.
Local advertising and promotional fee: This fee is 1% as of 2020.
Wingstop franchise financing
Wingstop does not offer financing directly, but they do have relationships with third-party lenders that can help you finance all or a portion of the cost of opening your Wingstop franchise. This financing includes capital for startup costs, fixtures, real estate, and more. If you're a newcomer to franchise financing, you may want to do your homework and make sure you're getting the best small business loan terms possible.
If you're a veteran, you'll be pleased to hear they have an incentive for veterans, which is $15,000 off the $20,000 (per store) fee. To qualify for the discount, you must own at least 50% of the franchise and have been honorably discharged.
You also have the option to look into other third-party financing made to help franchisees open their businesses. These loans include equipment financing, term loans, personal loans for business, and more. Keep in mind, if you have good credit or business history, you'll have a higher chance of securing a business loan. Your financial profile will also help determine how much capital you will receive.
Wingstop franchise pros and cons
There are several pros and cons to opening up a franchise in general, but also some that are specific to Wingstop. Consider both as you make your decision about opening a Wingstop franchise, and pay close attention to whether the pros outweigh the cons and vice versa—not just in quantity but in importance.
Cost: Relative to many other franchises, Wingstop is relatively low cost. Their royalty fee is also on the low end.
Territory: Wingstop guarantees some territory protection, which shields you from other franchisees opening in your market and threatening your sales.
Employees: Since Wingstop does so much of their business online, you may not need a large staff at any given time, which is an important consideration as you plan your hiring strategy.
Hands-on: If you're looking for a franchise that'll let you be offsite, Wingstop does not allow absentee ownership. While you may not need to be the day-to-day operator, you will be expected to have a hands-on role.
Variety: Menu options are limited, which, although simple for owners, may limit the appeal to a smaller group of consumers.
Fees: The fees for both marketing and advertising add up to a higher percentage than many other comparable franchises.
Developments: If you're interested in opening multiple stores, there is a three-store minimum, though sometimes more depending on your market.
If opening a Wingstop franchise sounds like the right business venture for you, you can submit an application through Wingstop's website. If you're approved, you'll have the opportunity to attend a Wingstop Discovery Day, which will help you get a sense of whether you'd like to take the plunge to own a Wingstop franchise. Make sure you speak with as many current and former Wingstop franchisees as possible during this process, as they'll be able to provide firsthand information about the franchising process and relationship.
If you find Wingstop isn't the best franchise opportunity for you, consider our list of best franchises instead.
This article originally appeared on JustBusiness, a subsidiary of NerdWallet.