What to Know About Flying Semiprivate on Aero
This carrier offers luxury, service and an alternative to flying commercial — or private.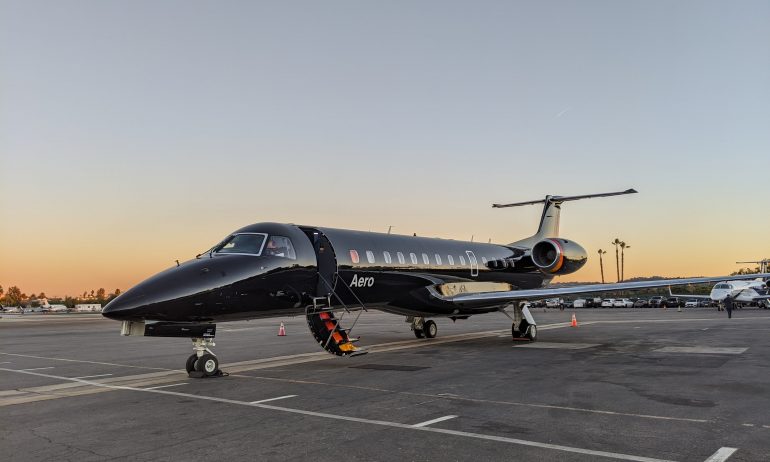 Many or all of the products featured here are from our partners who compensate us. This influences which products we write about and where and how the product appears on a page. However, this does not influence our evaluations. Our opinions are our own. Here is a list of our partners and here's how we make money.
The author flew as a guest of the airline on a flight that would have otherwise cost $950 one-way. However, the author's opinions are his own and this article hasn't been reviewed or approved by Aero.
---
Between crowded airports and reduced airline service, it isn't surprising that passengers are looking for a better way to fly. However, as anyone who's looked into booking private flights has found, flying private can be exorbitantly expensive.
Enter a Goldilocks middle ground: flying semiprivate.
Over the past few years, startup airlines like JSX have popped up to offer flyers the opportunity to avoid many of the hassles of flying commercially without the higher cost of flying private.
One of the newer entrants into this space is Aero. After debuting in Europe in 2020, this public charter airline launched U.S. flights in February 2021. So, I took a flight on Aero from Los Angeles to Las Vegas to see what the experience was really like.
Here's what you need to know about flying semiprivate on Aero.
Where Aero Airlines flies
Aero's U.S. operations currently center around its hub in Los Angeles, but you won't be flying in or out of LAX. Instead, Aero operates out of Van Nuys airport — a public airport located in the San Fernando Valley about 20 miles northwest of downtown LA.
From Van Nuys, Aero currently operates scheduled flights to:
Tickets on most routes start at $1,000 each way. The only exception is Los Cabos, for which one-way tickets start at $1,950 each way. However, prices can fluctuate with demand. On popular routes — such as Los Angeles to Aspen — fares were nearly double the starting price last time we checked.
The airline is open to expanding its route options and is turning to passengers for recommendations, as flights out of Los Angeles are limited. The airline also doesn't allow passengers to book connecting flights. So, if you want to fly from Aspen to Las Vegas for example — as one of the passengers on my flight did — you have to book two separate one-way fares. But if the interest is there, Aero could add these routes in the future.
Aero's European operations vary by season. Previous summer routes included flights between London; Ibiza, Spain; Mykonos, Greece, and Nice, France. For winter 2021/2022, Aero will operate three routes from its base at London's Farnborough Airport to:
One-way fares on these routes start around $1,600 — or £1,200 — per person. European flights work a bit differently from Aero's U.S. flights. Instead of operating scheduled flights, Aero requires at least two passengers to book the flight to operate it. Aero calls this the "threshold to fly."
Differences between Aero aircraft
Aero uses two types of aircraft: Embraer ERJ135 and Embraer Legacy 600. Although similar looking on the outside, the interiors are quite different. Aero's ERJ135 jets have 16 all-forward-facing seats across eight rows of 1-to-1 seating. That means everyone gets both an aisle seat and a window seat.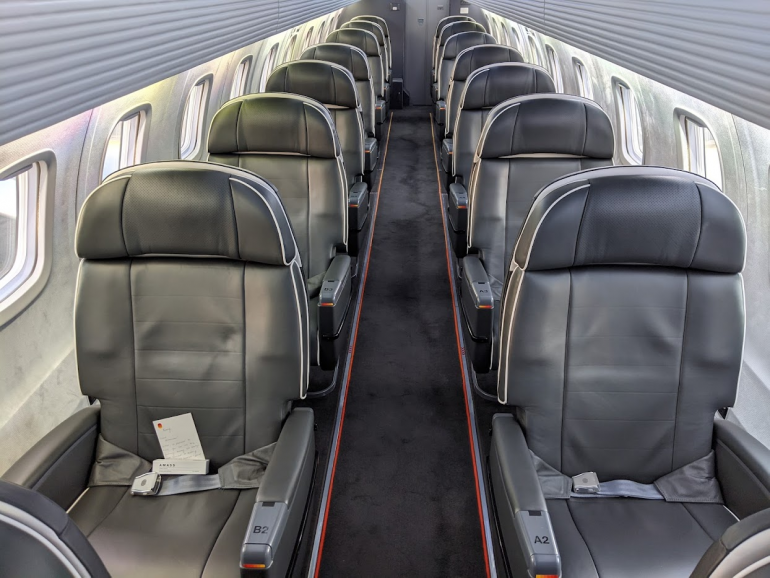 The Embraer Legacy 600 aircraft have just 12 seats. Fewer seats may sound even better, but these aircraft are better suited for groups than solo travelers. Rather than having all-forward-facing seats, the Legacy 600 aircraft have seats that face each other, including a conference-style table with four seats.
What it's like to fly semiprivate on Aero
Here's my full Aero flight review.
The experience began before arriving at the airport. A week before departure, I received an email from Aero's concierge team offering help in arranging transportation and assisting with any questions or requests. Passengers can use this opportunity to request a favorite snack or drink be available onboard.
Because of the infamous Los Angeles traffic, I arrived at the Van Nuys airport "only" 46 minutes before departure. That would be an anxiety-inducing airport arrival time when flying any commercial airline. However, this was more than enough time to check in for this semiprivate flight. In fact, Aero's cutoff time for check-in is just 20 minutes before departure on domestic flights.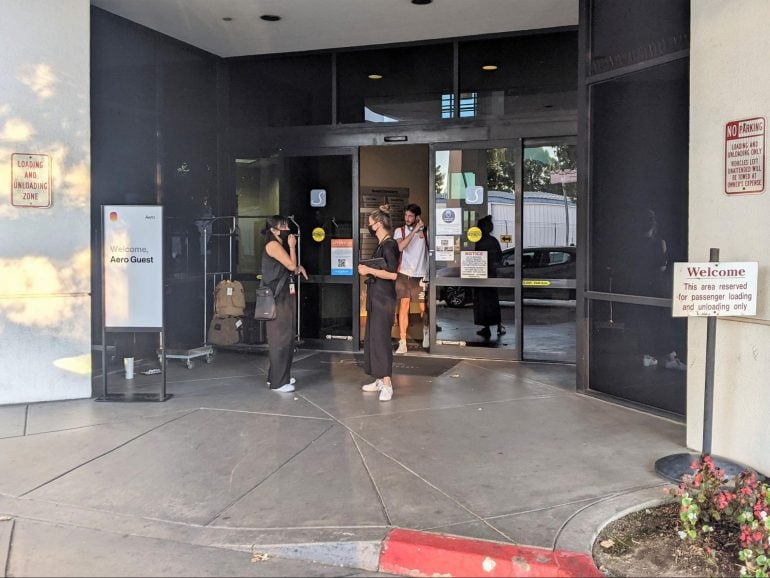 The friendly agents greeted me at the door of the Signature Flight Support terminal building. The agents checked my ID, weighed my carry-on bag and asked if I had any hazardous materials. That was the full extent of the check-in and security process.
Just three minutes after arriving at the airport, I stepped into Aero's lounge. The underwhelming lounge consisted of a room with chairs, a TV and excellent views of the airfield.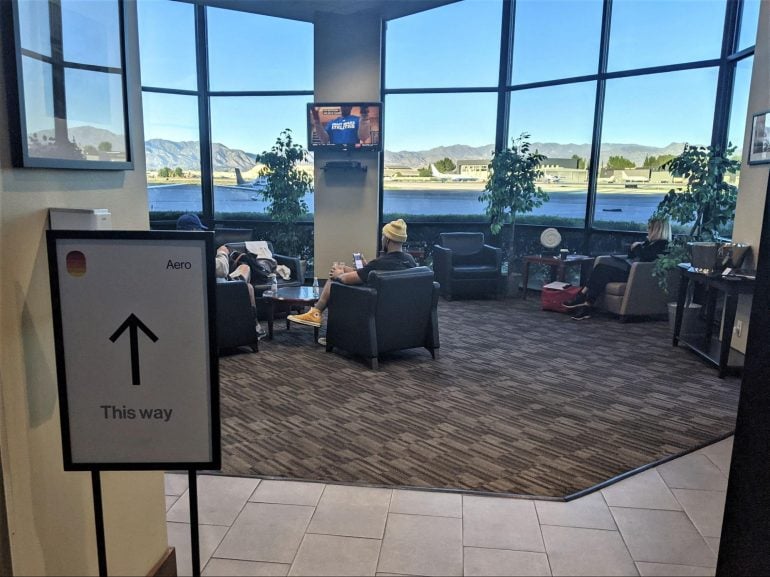 While passengers had access to the self-serve espresso-based coffee machine, there were no other drinks or snacks in the Aero lounge. There were, however, well-stocked bathrooms.
Aero's baggage policy depends on the type of aircraft that you're flying. On Aero's ERJ135 aircraft, passengers can check up to two bags weighing up to 50 pounds each. Plus, you can bring a small carry-on bag weighing up to 20 pounds that must fit under the seat in front of you (13 inches x 13 inches x 10 inches).
On Aero's Legacy 600 aircraft, passengers can only check one bag weighing up to 50 pounds. You can also bring a carry-on bag of up to 20 pounds. However, as there's no storage space under the seat or overhead, the crew will need to stow your bag for takeoff and landing.
Aero accepts odd-sized checked luggage — whether it's skis, golf clubs or bikes. The only restrictions are that the item needs to be placed inside a bag and must be under the weight limit. Just make sure to contact your Aero concierge ahead of the flight to let them know what you're bringing.
Around 15 minutes before our scheduled departure, our flight's captain stepped into the lounge to introduce himself to the passengers. He noted that the flight would only take 40 minutes, but there would likely be delays due to air traffic congestion in Las Vegas.
Mere minutes later, Aero agents invited us to start boarding the Aero ERJ135 aircraft. Aero airport agents individually escorted passengers for the short walk to the plane, where the flight attendant warmly welcomed passengers starting at the boarding door.
At my assigned seat A1 — notably not 1A — Aero left a personal handwritten note welcoming me onboard. Before the other three passengers boarded, I sneaked a peek at the notes left on their seats. Sure enough, each offered a different personalized message. Next to each letter was a box with wonderfully scented hand sanitizer.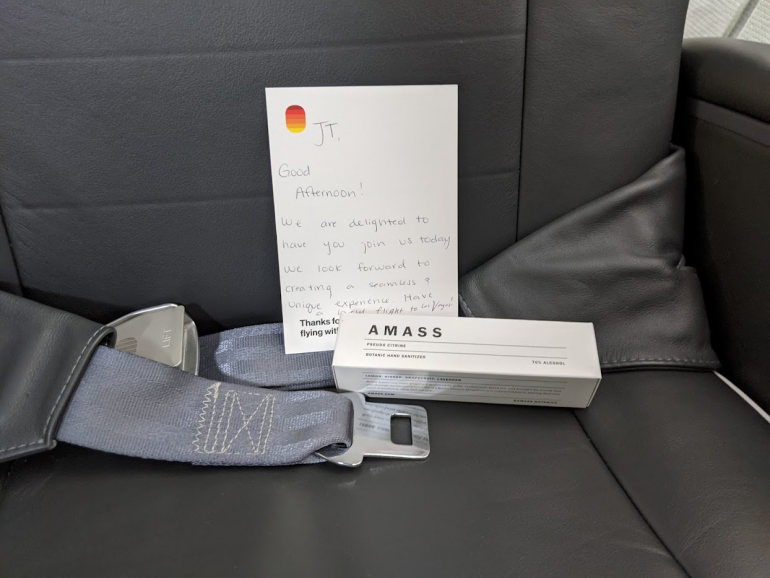 Seating onboard Aero's ERJ135 aircraft
On Aero's ERJ135 aircraft, all seats are identical leather seats, each with a power outlet on the aircraft wall. The tray table folds out from one armrest, while the other armrest serves as a mini storage compartment.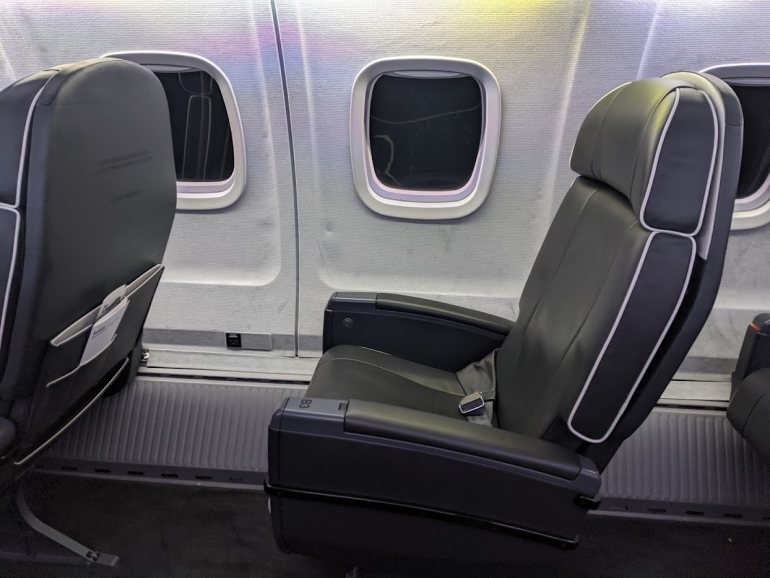 Each seat reclines to a rather extraordinary degree. On an empty flight, this recline could make for an excellent way to nap. But on a full flight, this recline could become problematic with the passenger behind you.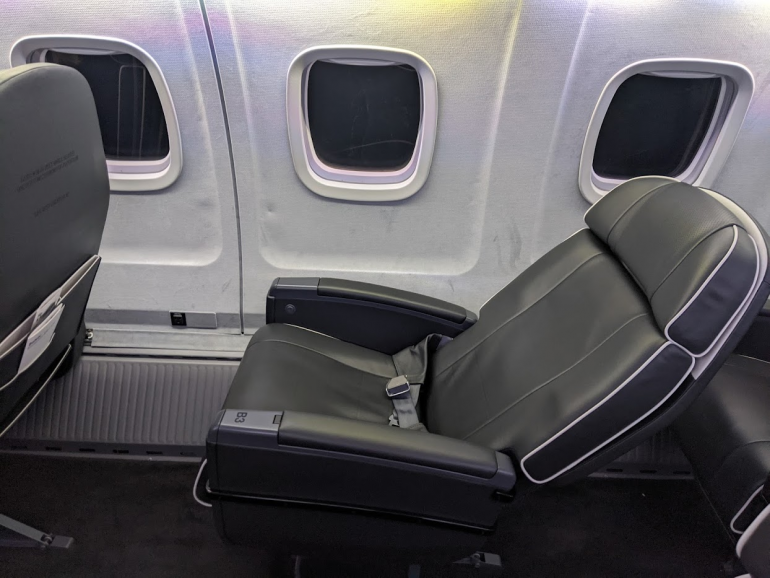 Aero aircraft don't have overhead bins, so passengers must stow any carry-on bags under the seat in front of them. Unfortunately, the seat's physical support system minimizes the under-seat storage space, meaning you're only going to be able to fit a smaller bag.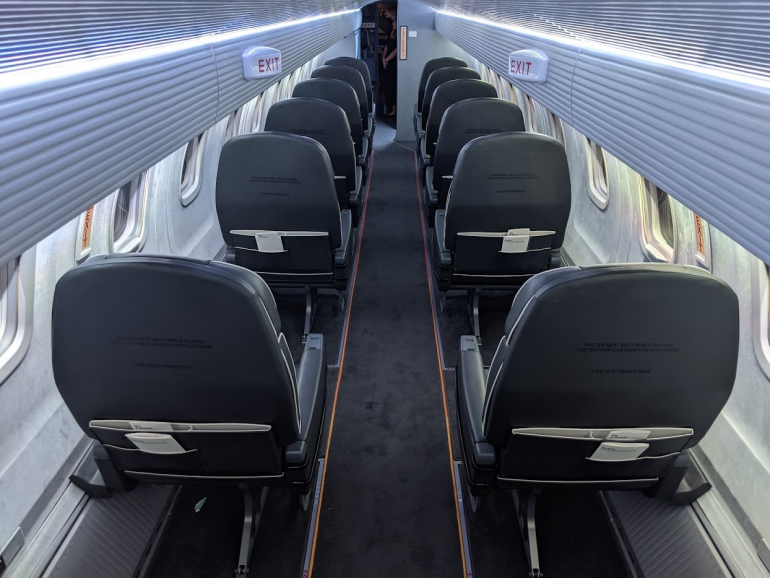 As I was sitting in the front row, I couldn't store my bag under a seat in front of me. Since the flight was only one-quarter full, I reached around and slid my bag under my seat. But, the flight attendant noted that she could store my bag elsewhere in the case of a full flight.
As passengers settled in, the flight attendant offered a glass of champagne before departure. And this was no cheap bottle of sparkling wine: The $50-plus Louis Roederer Collection 242 — served in a stemless champagne glass — set a luxurious tone.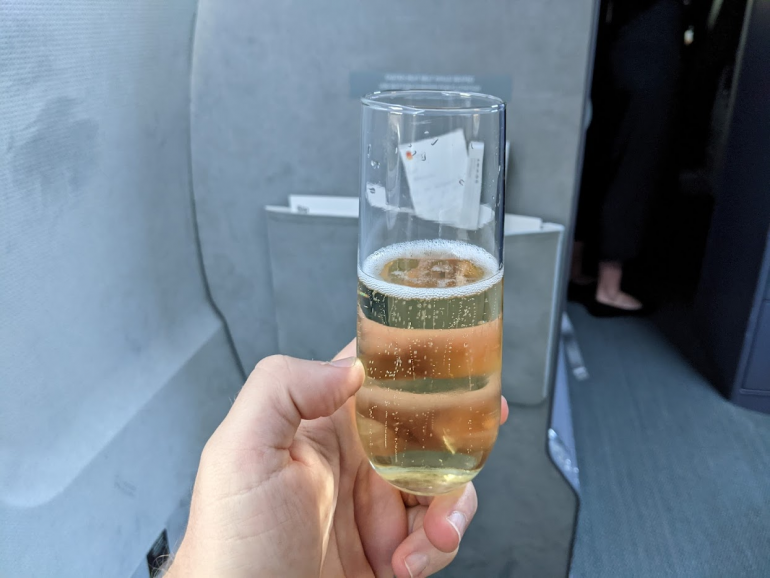 As we departed, I explored the diverse drink menu left in the seatback. From kombucha and sake to six types of wines and cocktails, Aero offers an impressive selection of drinks onboard.
As with the pre-departure champagne, all drinks were served in real glassware.
Compared to the fine wines and spirits, the basket of packaged snacks felt a little less refined. However, a small snack was more than enough for this short flight to Las Vegas.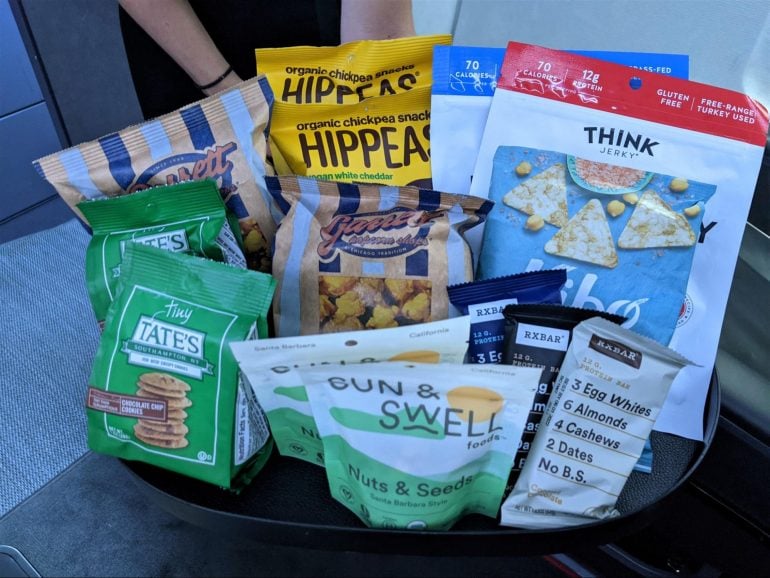 Despite the warning of a potential late arrival, we arrived a few minutes before the scheduled arrival time. The pilots taxied and parked the aircraft at Atlantic Aviation — which is about as close to the Las Vegas Strip as you can get.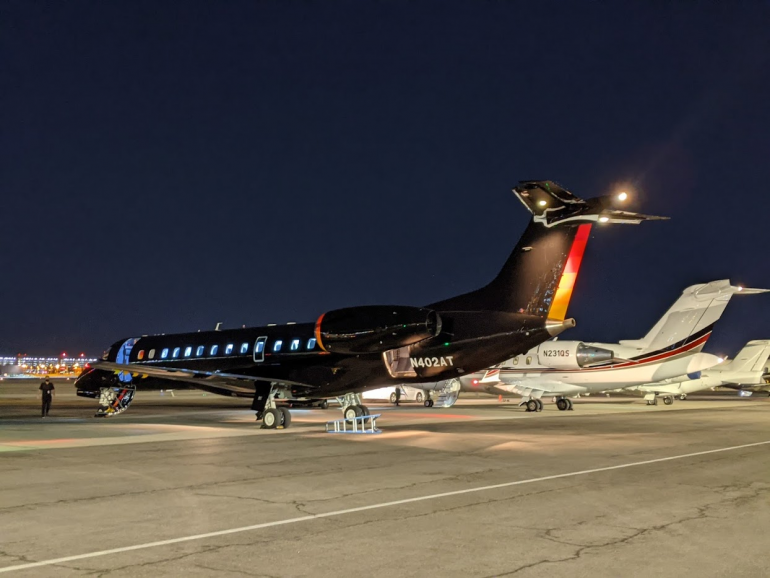 Passengers could collect their checked bags right from the back of the plane. But, Aero agents were on hand to escort passengers and help carry bags the short distance to the polished Atlantic Aviation terminal building. The agents offered to help coordinate a ride for me, but we were so close to my hotel room at the MGM Grand that I opted just to walk.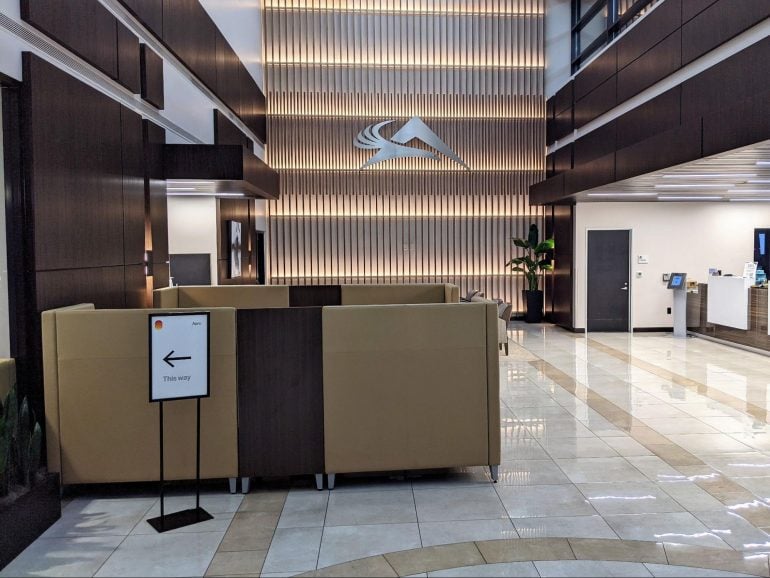 Other things to know about flying Aero
Free changes and cancellations: You can make free changes or cancellations to flights more than 48 hours before departure — you just need to pay any fare difference. If you change to a cheaper flight, you'll either get a refund or flight credit for the price drop. Within 48 hours of departure, Aero charges a $300 change fee plus the fare difference.

No Wi-Fi or entertainment: Make sure to bring reading material or digital entertainment, as Aero doesn't have any Wi-Fi or in-flight entertainment.

Check-in times vary by destination: For domestic flights, Aero passengers only need to check in at the airport at least 20 minutes before departure. However, you'll need to arrive 90 minutes before departure for U.S. international flights and 60 minutes before departure for Aero's European routes.

No loyalty program: Unfortunately, you can't earn or redeem points or miles for flights on Aero.

Pet fees: Aero charges a $300 pet care charge for carry-on pets. Pets must be under 20 pounds and fit in the seat in front of you.
If you're considering flying Aero
Aero is one of several public charter airlines offering an alternative to the hassles of flying commercial and the high cost of flying private. Benefits of flying semiprivate include being able to arrive at the airport shortly before arrival, minimal security screenings and a much quicker arrival process.
Aero charges much higher fares than some of its competitors, but it is clearly providing a superior experience. Passengers get concierge services before and after their flight, including the ability to make special requests for drinks or snacks for the flight. And Aero serves a wide variety of high-quality drinks onboard, with nice touches like real glassware. Onboard, these airlines offer much more space and better service than you'll generally find even in first class on commercial airlines.
Top photo courtesy of JT Genter.
---
How to maximize your rewards
Get more smart money moves – straight to your inbox
Sign up and we'll send you Nerdy articles about the money topics that matter most to you along with other ways to help you get more from your money.