American Airlines vs. Delta: Which Is Best?
Though Delta ultimately comes out ahead, American beats its competitor in a few important areas.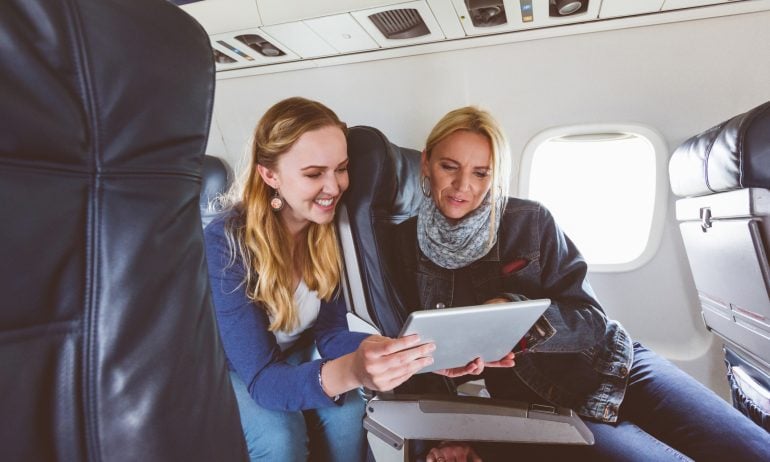 Many or all of the products featured here are from our partners who compensate us. This may influence which products we write about and where and how the product appears on a page. However, this does not influence our evaluations. Our opinions are our own. Here is a list of our partners and here's how we make money.
The number of travelers passing through security checkpoints more than doubled from June 2020 to June 2021, according to the Transportation Security Administration. If, like many people, you're planning to travel more in the near future, choosing the right airline — with the right loyalty program for your needs — is essential.
American Airlines and Delta are two of the largest . If you're trying to decide between these two, here's a quick snapshot of the American Airlines versus Delta experience, based on the following factors:
Here's what to consider when comparing American Airlines and Delta.
American Airlines flies to about 350 destinations in more than 50 countries. It is part of the 14-airline .
American Airlines' top domestic airports:
Headquartered in Atlanta, Delta Air Lines reaches about 300 destinations in over 50 countries. It is one of the 19 airlines in the .
Delta's key airports in the U.S. are:
American Airlines offers three personal card types within its . The cards offer benefits like:
Depending on which card you sign up for, you can qualify for 10,000, 50,000 or 65,000 welcome bonus miles after meeting spend requirements. Annual fees range from to .
The airline also offers its co-branded through Barclays. Its benefits include:
Other advantages of the AAdvantage® Aviator® include your first checked bag for free and preferred boarding.
Delta offers four card options through American Express. Some benefits to expect, depending on the card, include:
Depending on which card you sign up for, you can earn 10,000, 70,000, 80,000 or 90,000 welcome bonus miles after reaching a minimum spend on the account in the first three months of card membership. Annual fees range from to . Terms apply.
The AAdvantage program lets you earn miles for purchases through American Airlines and its  and for hotels, car rentals, vacation packages, cruises and more.
Based on , each American Airlines AAdvantage mile is . Although American Airlines put a pause on mileage expiration through December 2021, miles typically expire after 18 months with no activity in the AAdvantage account.
Miles can be redeemed for travel including flights, upgrades, cars and hotels, Admirals Club membership, luxury experiences and more. As you accumulate Elite Qualifying Miles, you might be eligible for .
at  each, and they never expire — a big plus when comparing loyalty programs of American Airlines versus Delta.
Delta SkyMiles members can earn miles by flying on Delta and its partner airlines, like , and . Members can also earn SkyMiles using a .
earn more miles per dollar spent on Delta flights.
Members can redeem SkyMiles for flights, hotel stays, seat upgrades, access to Delta Sky Club lounges, experiences, merchandise and other travel purchases. However, when redeeming miles for award flights, Delta can be more limiting compared to American Airlines' broader selection of routes and more affordable award fares.
When it comes to add-on fees like baggage, seats and more, which airline rises to the top?
If you're flying economy on American Airlines, you can bring one carry-on bag and one personal item aboard the aircraft. There's no charge, so long as they fit inside the overhead bin or under the seat in front of you.
Checked bag fees start at $30 for the first bag and go up for additional bags. Traveling with pets? You'll pay a $125 fee to bring your pet onboard in an approved carry-on kennel. Checking a pet costs $200 and this kennel also must meet airline standards. Unaccompanied minors incur an additional $150 fee, plus tax, each way.
With Delta Air Lines, similar baggage rules apply for economy passengers. Travelers can bring one carry-on bag and a personal item on the plane at no additional charge. For standard checked baggage, you can expect fees starting at $30 for the first bag.
Delta charges a $150 fee each way for an unaccompanied minor. For pets, travelers are charged a $125 one-way fee for carry-on pets; large pets that don't meet in-cabin requirements can be shipped through Delta Cargo at variable rates.
Some credit cardholders and travelers with Medallion status in the SkyMiles program, get the fee waived on their first checked bag.
American offers lots of what you've come to expect from a modern airline, like high-speed in-flight Wi-Fi and a range of entertainment options including movies and music.
But on most AA flights, you have to use your own phone, tablet or laptop to access the entertainment, instead of a built-in screen on the seat back in front of you. There's also no free texting on American Airlines, aside from app-based texting while connected to Wi-Fi.
Delta offers a streamlined experience when it comes to in-flight entertainment. Delta Studio, the carrier's entertainment suite, provides passengers on many flights with movies, TV series, music and podcasts from its built-in seatback screens.
Also, Delta provides travelers with free texting on iMessage, Facebook Messenger or WhatsApp, making it easy to stay connected while 35,000 feet in the air.
When comparing the experience between Delta Air Lines versus American Airlines, Delta is a clear winner. Although it doesn't have as many flight routes as American Airlines, Delta makes up for it with its superior in-flight experience and useful SkyMiles credit card benefits.
You want a travel credit card that prioritizes what's important to you. Here are our picks for the , including those best for: