Are Travel Credit Cards Worth It?
If you know how to maximize their value, the right travel credit cards can help cut costs on future trips.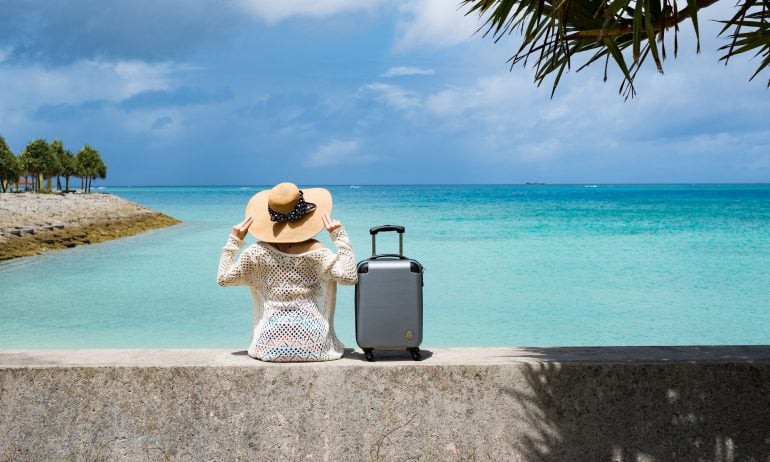 Many or all of the products featured here are from our partners who compensate us. This may influence which products we write about and where and how the product appears on a page. However, this does not influence our evaluations. Our opinions are our own. Here is a list of our partners and here's how we make money.
Travel credit cards can be one of the best ways to lower the cost of travel, whether you're taking a trip to visit family in another state or boarding a plane for a luxurious vacation overseas. Regardless if you collect , hotel points or , they all perform the same function of making your future trip more affordable.
However, many travel rewards credit cards come with annual fees, ranging from a sensible $95 to a staggering $695 per year. Not only that, but travel rewards take time to understand, and you might be left wondering "Are travel credit cards worth it?"
Travel credit cards come in many variations, but the main three categories include:
Airline credit cards include options like the , the and the . These cards, and other airline-related options, earn miles in the respective airline's loyalty program, which you can redeem for a flight when you have enough piled up. Terms apply.
Hotel credit cards, such as the , the and the , perform a similar function and award you with hotel points redeemable for free nights. Terms apply.
You might also have heard about general travel rewards cards, such as , the or the . These cards earn flexible points that can be transferred to an array of travel partners, including airlines and hotels, redeemed for travel via a respective issuer's travel portal, or even used as cash back for statement credits. Terms apply.
No matter which travel rewards card you pick, learning how these rewards work will help you maximize their full potential.
Although a downside, many travel rewards cards come with annual membership fees. Some are reasonable and cost $95 to renew every year. Others charge as much as per year, as does (it could still be , though). Terms apply.
The upside of travel rewards cards is they often come with benefits, statement credits and travel protections, which can offset the annual fees.
For example, comes with a annual fee. To a casual traveler, the price tag can seem steep. However, the card comes with an easy-to-use annual $300 credit good toward travel purchases. It also comes with up to $60 in DoorDash statement credits (through December 2021), complimentary Priority Pass Select membership and a every four years, as well as trip delay insurance, baggage delay reimbursement, auto collision damage waiver on rental cars and roadside assistance.
These perks alone can offset the amount to hold the card every year, plus you get to earn points toward travel by making everyday purchases with the card. To help you get there faster, 10x total points on hotel stays and car rentals and 5x total points on air travel purchased through Ultimate RewardsⓇ.
The same logic applies to co-branded airline and hotel credit cards. Ask yourself if you would use a card's benefits enough to justify paying its membership fee.
Be honest with yourself and keep your expectations realistic when considering a travel rewards card, its cost and the benefits you'd actually use.
Although travel rewards cards make it somewhat easy to earn rewards, more often than not, they don't make it easy to redeem rewards for high value, leaving you to figure that part out on your own.
It's true that learning how rewards programs work takes time and effort on your part and becoming a pro at won't happen overnight. That's not to say that it's difficult to learn the basics.
Read articles on earning and redeeming travel rewards, practice running award searches and become familiar with how credit card points can be used. Here are some resources to get you started:
Soon, you'll have an understanding of how to get the maximum value from your rewards and how to use them to fund your next vacation.
When used correctly, travel credit cards can be a gold mine for travelers wanting to reduce the cost of trips or travel more often. Make sure to use all the card's benefits to offset the fees, avoid paying interest and learn how the rewards programs associated with your card work to get the most out of your travel rewards credit card.
You want a travel credit card that prioritizes what's important to you. Here are our picks for the , including those best for: