The Guide to Chase Luxury Hotel & Resort Collection
Reserving through the Chase Luxury Hotel & Resort program comes with perks like upgrades, free breakfast and more.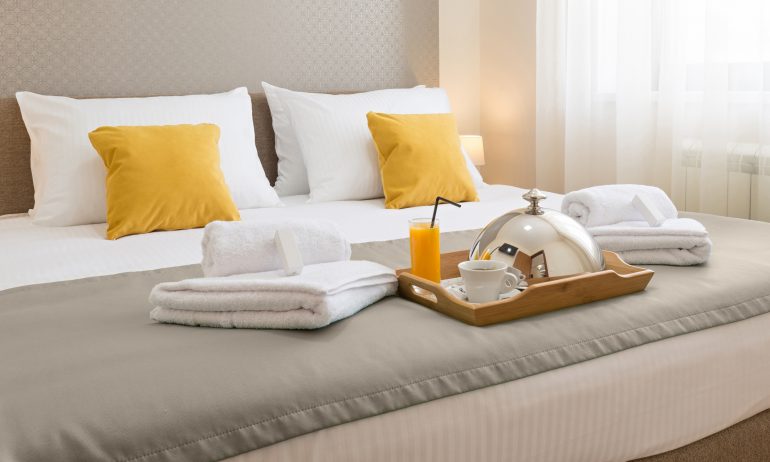 Many or all of the products featured here are from our partners who compensate us. This influences which products we write about and where and how the product appears on a page. However, this does not influence our evaluations. Our opinions are our own. Here is a list of our partners and here's how we make money.
Here's how to make the most out of the Chase Luxury Hotel & Resort Collection.
The Chase Luxury Hotel & Resort Collection is similar to the American Express Fine Hotels & Resorts program. Chase has negotiated specific benefits at select hotels in a partnership with the Signature Travel Network, which is a community of travel agents, advisors and suppliers. It delivers sizable rewards in the form of room upgrades, free breakfast, late checkout, and dining and spa credits by reserving a hotel through its dedicated channels.
Chase's program includes more than 1,000 participating hotels, resorts and spas. The rates aren't always the cheapest option (most hotel companies have discounted rates for loyalty program members that book directly through their own channels), but sometimes the costs are similar or have a small upcharge only. Plus, they pack in additional perks that can more than make up the difference in cost. These can be especially beneficial if you're booking a hotel where you don't have elite status and want to maximize the experience.
This program opens up a whole new set of properties where you can stay and feel rewarded.
Which credit cards are eligible?
Oddly, Chase doesn't publish an official list of eligible cards that have access to this program. You can check if your card is eligible by searching for a destination and dates; on the next screen, you'll be prompted to enter the first six digits of your credit card number.
According to Chase, eligibility depends upon the account. You'll have to test your card online to see if your specific account is eligible.
You must pay with your associated Chase card to take advantage of these benefits, which can be especially beneficial on cards with built-in bonuses on travel spending, like the Chase Sapphire Reserve® (Earn 10x total points on hotels when you purchase travel through Chase Ultimate Rewards® immediately after the first $300 is spent on travel purchases annually, plus earn 3x points on other travel booked outside of the portal).
There are a host of reasons why booking through this program can improve your stay. The hotels that participate in this program are considered to be in the upper echelon of those in a particular destination. These usually aren't cookie-cutter airport hotels or standard convention properties. They often fall into the upscale, boutique or resort category, which means that scoring certain benefits like suite upgrades, late checkout and free breakfast are especially valuable.
Early check-in and late checkout when available
Guests can check in to their room early. This is great when you arrive at a destination in the morning, which is often the case when traveling to Europe from North America. You're tired, groggy and just want a shower. Early check-in can prove to be a huge benefit if a room is available.
There's also the option for late checkout, too, based upon availability.
Room upgrades when available
Upgrades vary by hotel depending on the way properties classify room types and are dependent on availability. For some properties, a room upgrade could simply mean a better view, while others may offer a larger room or suite. Still, booking through Chase's program promises some type of upgrade if space is available.
Free breakfast, Wi-Fi and more
Other notable benefits include free wireless internet and daily breakfast for two people.
There's also a special amenity worth up to $100 to use during the stay, although it varies by property. It can include a food and beverage or property credit you can use at the spa, for example. The particular amenity is usually listed in the search results for each hotel online. Not all hotels offer benefits worth $100; some offer smaller values, so be sure to review what each hotel offers.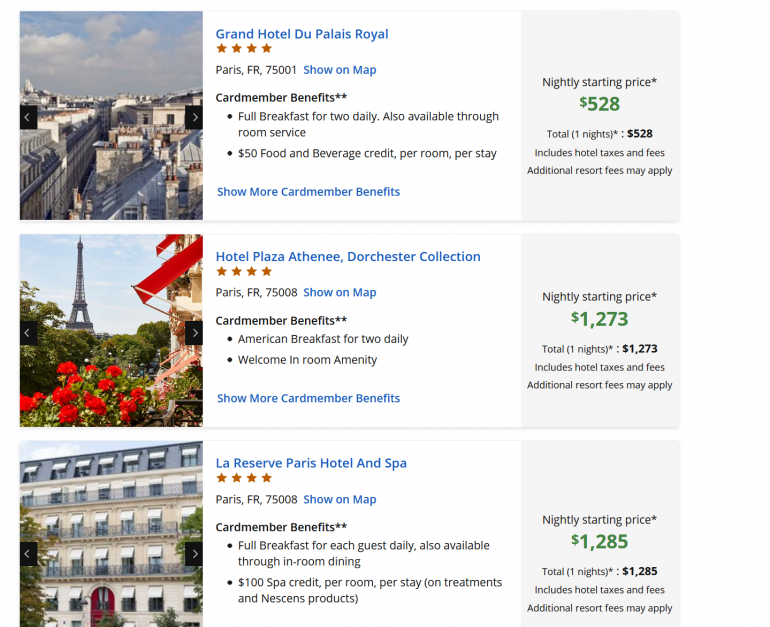 How do you make a reservation?
To make a reservation, eligible cardholders can call one of the program's travel specialists (use the Chase number on your card) or search online. Before seeing a list of participating properties, you will be asked to enter the first six digits of your credit card to check if the card is eligible.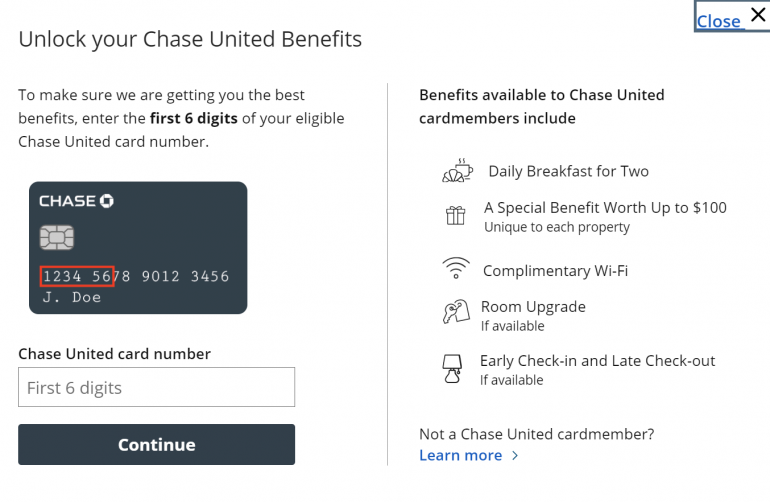 The list of hotels can be arranged by star rating, price or distance from the search location. You can also view the search results by location using a map view.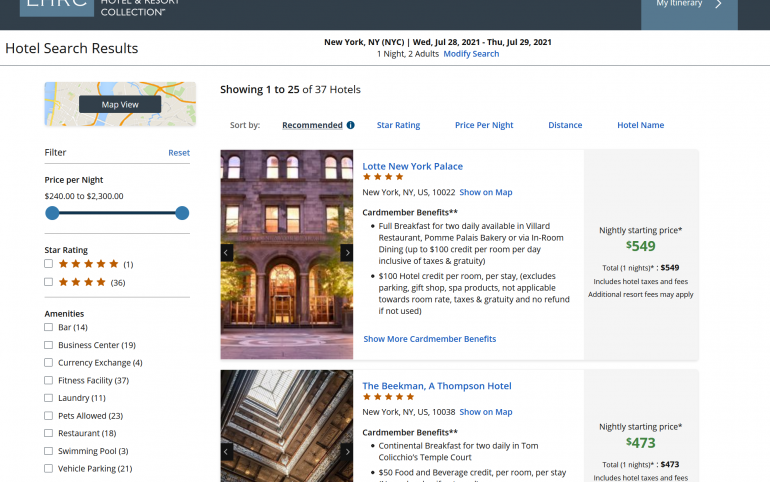 When you click on a particular property, it provides a list of room types and the associated cardmember benefits, plus the details of the cancellation policy. This section can help users determine if the benefits available by booking via Chase outweigh the cost difference compared with booking directly with the hotel.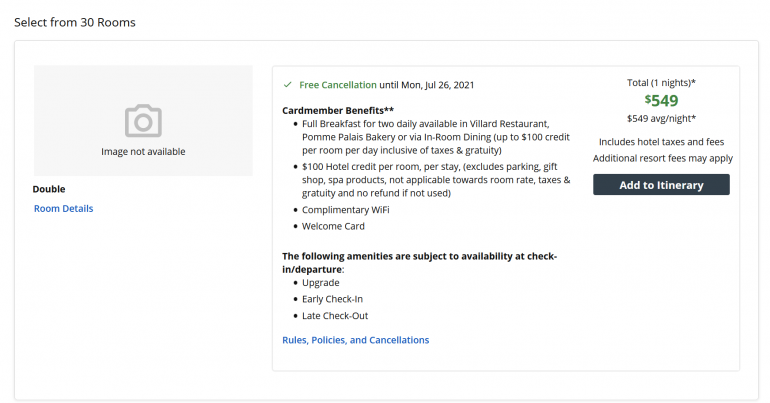 Individual hotel pages show a map with the property's location, as well as a selection of photos to review.

What if I already have elite status with a brand?
While you may be tempted to book with your preferred loyalty program, some destinations may have other (better) brand options with properties closer to where you need to be. Perhaps your destination doesn't have a convenient property from your preferred brand, or only has independent properties that you might not have otherwise considered.
If you have an eligible card, it could be worth forgoing loyalty point earnings if you can enjoy the benefits of this program instead. With bonuses like late checkout and breakfast, you can take advantage of elite status perks at hotels that may not even have a loyalty program.
Keep in mind that hotels that participate in loyalty programs, like Marriott Bonvoy for example, usually don't award points when travel is booked through a third party like the Chase portal. Some hotels also differentiate between prepaid rates and those paid at the hotel. Anecdotally, your experience may vary.
If you want to earn loyalty points, but book through the Chase program, contact the hotel and your loyalty program first to double-check that it's possible. Many loyalty programs require that reservations be booked through their own channels to qualify to earn points.
Chase says that it is on a "property-by-property" basis whether the hotel awards loyalty points when booking these rates.
Does it make sense to book via Chase?
The answer is "it depends." Each scenario is different, so it's worth comparing prices. If you're staying somewhere for a short time and won't be able to benefit from perks like late checkout or free breakfast, then take that into consideration. You'll have to weigh whether you prefer ample onsite perks or the points that come with booking directly. Of course, if you already have elite status with a brand, you can get points and many of the same perks that come with the Chase program by booking directly.
For instance, let's say you want to book a stay at the Prince de Galles, a Luxury Collection Hotel, Paris (part of Marriott Bonvoy). The cheapest, non-prepaid rate is about $953 (788 euros; you can shave $100 off by prepaying).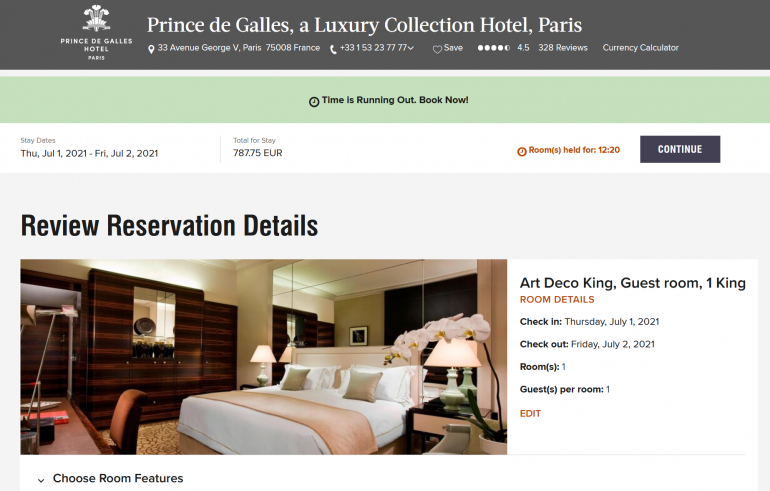 Booking this same stay directly with Marriott assures points earnings and any associated elite status perks. But booking with Chase for the same dates adds some added benefits. In addition to early and late checkout, plus a potential room upgrade (also possible with top tiers of Marriott elite status), the $979 rate from Chase includes a full daily breakfast for two people and one complimentary, three-course lunch for two people. That's a lot of added value for a cost difference of about $25 (or $125 for pre-paid bookings).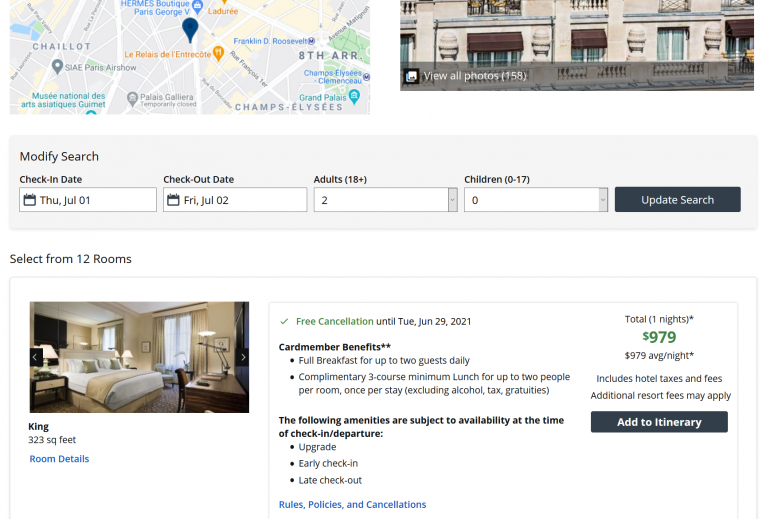 As you can see, the Chase rate is higher, but the value of the included perks can more than cover the difference. It really depends on your elite status level with the brand. If you had no elite status at all with Marriott, the Chase rate would be a no-brainer if you have time to enjoy those meals on the property. But if you plan only enough time to sleep at the hotel and will be off to the airport before the sun even rises, it's best to book the cheapest rate you can find. Each person's needs will vary by trip.
If you have access to the Chase Luxury Hotel & Resort Collection's benefits, it could be worth exploring and comparing rates with alternative booking avenues for your next trip. Remember to contact the hotel directly to see if you can earn loyalty points when booking via Chase. If you can, you might be able to take advantage of benefits from elite status as well as Chase's negotiated perks. There's nothing like double-dipping on benefits when you can.
---
How to maximize your rewards
Get more smart money moves – straight to your inbox
Sign up and we'll send you Nerdy articles about the money topics that matter most to you along with other ways to help you get more from your money.