The Guide to Hawaiian Airlines Seat Selection
Basic economy is the only Hawaiian Airlines fare tier that doesn't allow you to select your own seat.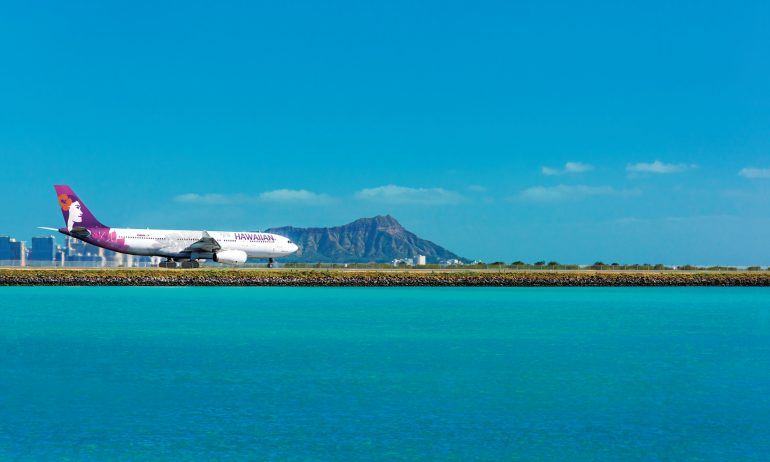 Many or all of the products featured here are from our partners who compensate us. This influences which products we write about and where and how the product appears on a page. However, this does not influence our evaluations. Our opinions are our own. Here is a list of our partners and here's how we make money.
Each airline handles seating a bit differently these days, and trying to figure out which seats cost money, and which are free, can be confusing.
If you're looking at traveling with Hawaiian Airlines, it's a good idea to figure out the airline's seating policies in advance so you can budget appropriately. If you're wondering, "Does Hawaiian Airlines charge for seat selection?" here's all the information you need to help ensure you get your favorite seat on Hawaiian Airlines.
How Hawaiian Airlines seat selection works
Whether you're able to choose your seat on Hawaiian Airlines depends on what type of ticket you purchase.
If you're booking a domestic flight on Hawaiian Airlines, you'll see options for Main Cabin Basic, Main Cabin and first class. On Hawaiian Airlines international flights, there are just two options: Main Cabin and business class.
When it comes to seat selection, all fare types allow you to choose or upgrade your seat — except for Main Cabin Basic.
Let's look at how much seats cost on Hawaiian Airlines and how to go about choosing the seat you want.
Hawaiian seat selection fees
According to an analysis of airline fees by NerdWallet, Hawaiian Airlines is tied with Alaska Airlines for charging the smallest seat selection fee, while budget airlines Frontier and Spirit charge the most. Southwest wasn't ranked because it doesn't assign seats.
How to select seats on Hawaiian Airlines flights
The first step in selecting your seats on a Hawaiian Airlines flight is knowing which types of tickets allow you to choose one yourself. Main Cabin Basic, the least expensive fare, doesn't allow you to pick a seat, and instead assigns you one at check-in.
However, if you book a Main Cabin fare on Hawaiian Airlines, you can choose your seat for no extra charge — though there are limitations on which seats are available. While regular Main Cabin seats are free to select, you'll pay extra if you'd like a preferred or Extra Comfort seat.
Let's go over each fare type and look into how seat selection works for each one.
If you want to save money on Hawaiian Airlines, you may want to look into a Main Cabin Basic fare.
On a sample round-trip flight from Los Angeles to Honolulu, Main Cabin Basic tickets were $80 cheaper than Main Cabin fares. For a family of four, that could equal a $320 savings on your Hawaii vacation.
However, those savings come with a caveat: Your family may not get to sit together, because with Main Cabin Basic on Hawaiian Airlines you can't pick your seat. So there's a chance your family will end up in separate rows or different parts of the plane.
If, after you book, you decide you want to splurge on extra legroom seats, you're out of luck. Basic economy seats are not eligible for upgrades, even paid upgrades. Plus you'll be among the last to board the plane, when overhead bin space is getting scarce, and you can't change or cancel your tickets for a refund.
While booking your Main Cabin ticket on Hawaiian Airlines' website, you'll be directed to a seat selection page. In the example below, any of the seats colored purple on the chart that don't have a price on them are available to you at no extra charge. These regular seats in Main Cabin have the standard amount of legroom and are usually toward the back of the plane, but if you book early enough, you'll find plenty of aisle and window seats to choose from.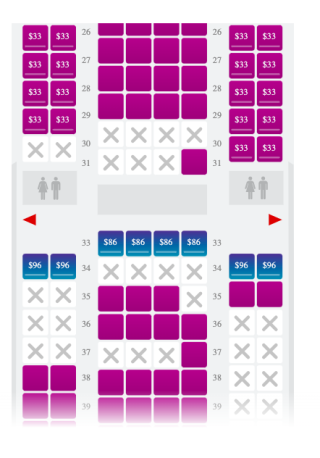 Want to see available seats before you book? Just click "View seats" in the flight results page to pull up a chart like this. But be warned that the seats you're eyeing could get snapped up by another traveler before you lock them in. Use the "View seats" chart as a general reference and remember those spots aren't yours until you pay for your flight.
Main Cabin preferred seats
Preferred seats, in Hawaiian Airlines lingo, are also in the Main Cabin and offer the same legroom as regular Main Cabin seats. The only difference is that they're in more desirable locations on the plane — and they come with an extra charge. On the Hawaiian Airlines seating chart above, preferred seats are also purple, but you'll see a dollar amount on them, like the $33 seats near the front of the plane.
To choose a preferred seat, just click the seat you want during booking, and you'll be asked to confirm the add-on charge when you pay for your ticket.
Like a lot of legroom? Then Extra Comfort seats in Hawaiian Airlines' Main Cabin may be worth the extra cost.
Depending on the aircraft, these seats often come with five more inches of space to stretch out in than regular Main Cabin and even preferred seats. Emergency exit row and bulkhead seats are almost always priced as Extra Comfort seats, and they often have even more legroom than other seats in this class.
However, that extra legroom can be pricey. Depending on the route, aircraft and demand, Extra Comfort seats on Hawaiian can range from $59 one-way from the West Coast to Hawaii up to $250 per seat on a peak season flight from New York-John F. Kennedy to the islands. For a family of four traveling from the East Coast, Extra Comfort seats could add up to $2,000 to the cost of your vacation.
First and business class seats
The most luxurious seats on the plane are in first class on Hawaiian Airlines domestic flights and business class on international routes.
Passengers in these premium cabins can enjoy fully lie-flat seats on most, but not all, Hawaiian Airlines aircraft. For example, flying from Ontario, California, to Honolulu on an Airbus 321 plane, first class passengers instead get a spacious recliner seat that does not lie flat.
If you purchase a first or business class seat, there are no add-ons or upgrades. For example, as you can see below, all the seats in the first class cabin are free for you to select.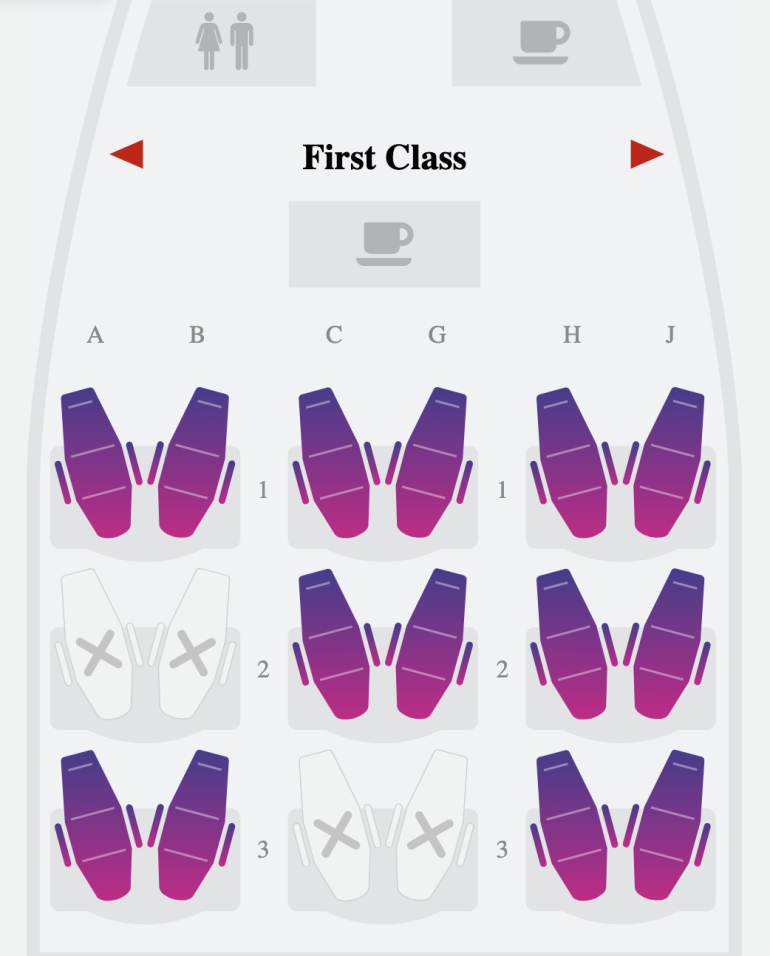 Hawaiian Airlines seats for elite members
Pualani elite members of Hawaiian Airlines' loyalty program, HawaiianMiles, receive a variety of perks when flying. One of them is the ability to select Extra Comfort seats for free, when space is available. This benefit is available for both Pualani Gold and Pualani Platinum elite members.
Hawaiian Airlines plane seating chart
We recommend checking the Hawaiian Airlines' seating chart for your flight before you purchase your airfare. Even if you're buying your ticket through a third-party travel agency or buying a ticket that doesn't let you choose your seat, a glimpse at the chart can give you an idea of how packed your flight will be and what seats may be available to you.
To see the chart for a specific flight, do a flight search on Hawaiian's website, then click the "View seats" link under the flight you're considering. There's no guarantee that the seats open on the chart will be open to you when you book or board, but you'll still get a rough idea of what to expect on your trip.

Hawaiian Airlines seat selection recapped
When you're flying to paradise, any seat is a good seat — but some are definitely better than others.
Decide whether you're willing to be assigned a middle seat at the back of the plane to save money or, alternatively, whether and how much you want to splurge to get to Hawaii more comfortably.
If you decide to choose a Main Cabin seat, you can also take advantage of upgrades to preferred or Extra Comfort seats for an extra fee. Just remember to factor that cost into each leg of your trip to get the full picture of how much your trip will cost.
(Top photo courtesy of Hawaiian Airlines)
---
How to maximize your rewards
Get more smart money moves – straight to your inbox
Sign up and we'll send you Nerdy articles about the money topics that matter most to you along with other ways to help you get more from your money.