How to Get Free Upgrades on Flights
Elite status — whether yours or someone else's — is the best way to get free upgrades.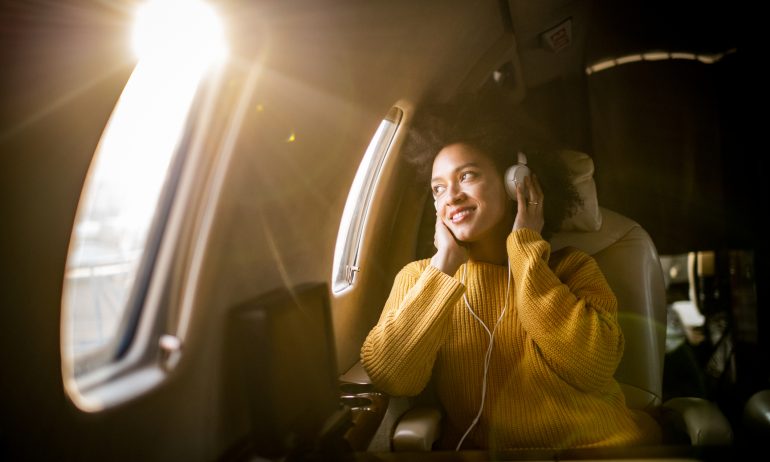 Many or all of the products featured here are from our partners who compensate us. This influences which products we write about and where and how the product appears on a page. However, this does not influence our evaluations. Our opinions are our own. Here is a list of our partners and here's how we make money.
The internet is full of lousy advice about how to get upgraded on a flight for free. Perhaps in the past, you could get an upgrade simply by dressing up. But that's rarely going to happen anymore. And no, you can't summon a flight upgrade by mentioning the magic words "revenue management" to an airline agent.
However, that doesn't mean that there aren't ways to get free upgrades on flights. There are actually several times you can find yourself bumped up to the next class on a future trip. We'll show you how to get free upgrades on flights.
7 ways to get upgraded on a flight
Luck will only get you partway there; instead, keep these tactics in mind, which can improve the likelihood of your ticket changing to a more premium class.
1. Earn airline elite status
The most reliable way of getting upgraded for free is to have elite status on the airline you're flying. Most airlines reward their most frequent flyers with complimentary upgrades on domestic routes.
2. Fly with someone who has airline elite status
Don't fly enough to have elite status yourself? You have another option: flying on the same itinerary with someone who has elite status. Many airline loyalty programs let elite travelers sponsor another traveler for a complimentary upgrade when they're flying on the same flight. So consider coordinating travel plans with co-workers or a frequent flying family member if you want to score an upgrade along with them.
3. Ask an elite member for their unused upgrades
In addition to scoring upgrades when you fly with them, elite status members may also be able to upgrade you even when you aren't flying together. Elite status members may have more upgrade certificates or upgrade points than they're able to use.
For example, if they book only business or first class in the first place, they don't need the upgrade certificates or upgrade points that come with elite status. If you're friends with or family of someone with airline elite status, it can't hurt to ask if they have any extra upgrades you can use.
4. Volunteer for an oversold flight
Airlines will sometimes oversell flights, whether in an effort to fill every seat on a flight or because of flight cancellations. Whatever the reason, you can come out ahead by volunteering to take a bump to a later flight.
In addition to getting a flight voucher or other compensation, try to negotiate with the gate agent to get an upgrade on the later flight. Although the agent may be limited in how much monetary compensation they can offer, an upgrade on your new flight may be an easy sweetener. So try negotiating a flight upgrade as part of the package.
5. Purchase upgrades with the right credit card
Several premium credit cards offer incidental airline fee credits that cardholders can use to offset qualifying travel expenses. If you have one of these cards, you can use it to pay for an upgrade to avoid having to pay for it out of pocket. Examples include:
On several airlines, that could mean upgrading to an extra-legroom seat with complimentary alcohol.
Another way to avoid paying for an upgrade out of pocket is by using miles to pay for it. Mileage upgrades work differently from airline to airline. Some airlines — like Delta Air Lines — price mileage upgrades dynamically based on demand, but you'll only need to pay miles to upgrade.
Other loyalty programs require a cash copay in addition to the miles needed for a mileage upgrade. For example, American Airlines charges 15,000 AAdvantage miles plus $75 for mileage upgrades on flights within North or Central America (excluding Hawaii). If you charge that cash copay to the right credit card, you can use statement credits or points to offset the cost.
7. Pay for a last-minute upgrade
This tactic may seem counterintuitive, but it will benefit you. Rather than upgrading an elite member for free, airlines would much rather get some extra revenue for that seat upfront. So, many airlines offer very affordable paid upgrades to travelers close to departure. Keep an eye out for upgrade offers in the days before your flight — and especially during the check-in process.
To turn a paid upgrade into a free upgrade, you'll need to charge it to the right credit card. For example, pay for the upgrade with a Capital One Venture Rewards Credit Card. You can then redeem miles for statement credit to offset the upgrade cost within 90 days. You can also charge the upgrade to a Discover it® Miles card and you'll have 180 days to use miles to pay for the upgrade.
If you want to get a free upgrade
Can you get upgraded to first class for free? The answer is yes.
The most reliable way of getting an upgrade at no additional cost is to utilize airline elite status — whether earned by you or your friends, family or co-workers. Other ways to get upgraded for free include leveraging your schedule flexibility, using airline miles, taking advantage of last-minute upgrades and credit card statement credits.
The information related to Citi Prestige® Card has been collected by NerdWallet and has not been reviewed or provided by the issuer or provider of this product or service.
---
How to maximize your rewards
Get more smart money moves – straight to your inbox
Sign up and we'll send you Nerdy articles about the money topics that matter most to you along with other ways to help you get more from your money.