The Complete Guide to the Alaska Airlines Companion Fare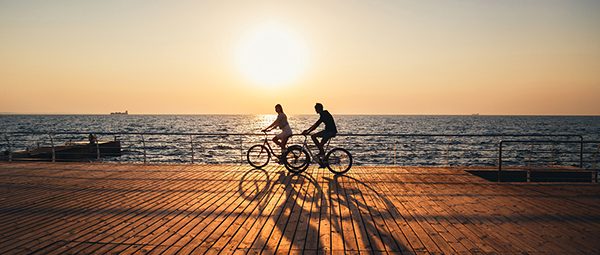 Many or all of the products featured here are from our partners who compensate us. This may influence which products we write about and where and how the product appears on a page. However, this does not influence our evaluations. Our opinions are our own. Here is a list of our partners and here's how we make money.
The annual Companion Fare included with the Alaska Airlines Visa Signature® credit card is not only one of the best perks of the card, but one of the best perks of any branded airline credit card. It lets you book one round-trip coach fare starting at $121 ($99 fare plus taxes and fees from $22) on the same itinerary.
The Companion Fare can easily save you the cost of the card's $75 annual fee. It can help defray the cost of family travel, especially during the holidays. And, with some creativity, it can provide hundreds or even thousands of dollars in value.
In this article we'll walk through the basics of how to use the Alaska Companion Fare, as well as some simple ways to maximize its value.
Master the nuts and bolts
After you sign up for the Alaska Airlines Visa Signature® credit card, the Companion Fare will be automatically added to your Mileage Plan account within two billing cycles. To find it, look in the "Discount and companion fare codes" section of your Alaska Mileage Plan account.

To use a code, either click the "Shop" button or enter the code into the "Discount or companion fare code" section of the flight search tool. Then just search for a flight for two, as you usually would.
Note: You can only use the companion fare on tickets purchased directly from Alaska. Online travel agencies such as Orbitz, Kayak and Expedia won't support it.
Once you search for a flight, you'll see the price of the Companion Fare for each leg below the cost of the regular fare.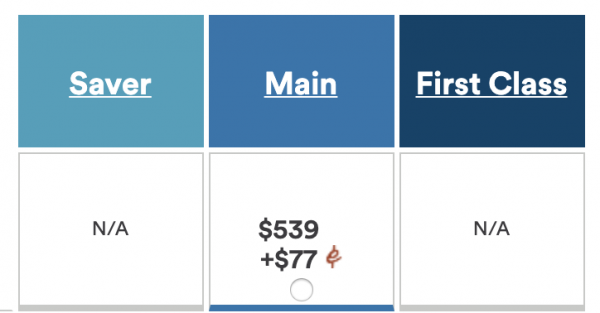 (The Companion Fare amount is indicated by that alien symbol that Alaska claims is the letter "e." Why "e," and why so weirdly depicted? We don't know just yet.)
The $99 Companion Fare will be spread across the different legs of the itinerary, so don't be confused if it seems lower than you expect on a given leg. The total, including the taxes and fees, will be displayed once you have made your flight selections and added it to your cart.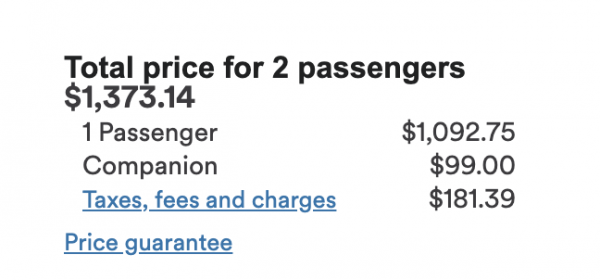 Using the Alaska Companion Fare is fairly straightforward. Getting the most value from it requires more knowhow.
Use it for expensive itineraries
This is the most basic principle behind using the Companion Fare, but it bears repeating: Employing your code on a $200 one-way flight will only save you about $80. Using it on a $900 ticket will save you more like $780.
The fare can only be used on flights operated by Alaska Airlines — no partner flights or segments are allowed. And since Alaska has very limited international options, you can't book an around-the-world dream vacation with the Companion Fare. That said, you can use it for some notoriously pricey destinations like Hawaii, or for smaller destinations like Sun Valley, Idaho.
Maximizing the Companion Fare each year therefore requires thinking ahead. Try to identify the most expensive trip you're likely to take in the next year with a companion, and use it there. Don't get caught up in finding the perfect fare — each code expires after 12 months, so use it or lose it.
This is where things get interesting (if you're a nerd). The official language on the Companion Fare states that it can only be used for round-trip travel, but that leaves plenty of wiggle room.
For example, "open jaw" itineraries are generally allowed. What does that mean? You can fly back from another airport than you flew into. For example, you could fly from Seattle to Boston and then back from Baltimore to Seattle.
And that's not all. Using Alaska's "multi-city" search tool, you can string together multiple stops on the same "round-trip" itinerary.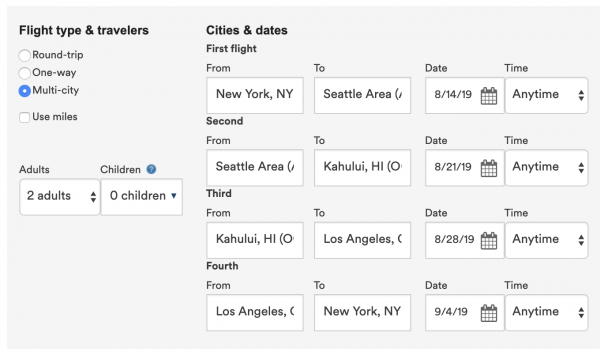 This itinerary starts in New York, stops in Seattle, continues to Maui, then Los Angeles, and back to New York, all over the course of a month. This ticket cost $1,001 when we searched, so the Companion Fare would save $833.
We told you it would get interesting.
There are a few limitations on the Alaska Companion Fare that keep it within (understandable) bounds.
First, you're limited by the four available fields in the multi-city search tool. That caps the number of "stops" you can make in your itinerary.
Second, the stops have to make "sense" geographically. You can't double back in the direction of a previous city in the itinerary or take disconnected legs in the wrong direction. Sound confusing? It is, to be honest. Alaska doesn't explain these rules anywhere, so the best method for learning them is spending some time with the multi-city search tool. When you search for an invalid itinerary with the Companion Fare code, you'll get this error:

Play around to figure out what works and doesn't for your destinations.
The Alaska Companion Fare is ideal for holiday travel, when prices are sky-high and you're more likely to fly with a partner.
For example, a round-trip flight from New York to Missoula, Montana, in the week of Christmas cost a whopping $988 when we searched. That comes to $1,976 for a two-person itinerary without the Companion Fare, or $1,140 with it — a $836 difference.
Family travel in the summer, when fares can be substantially higher, is another good use of the Companion Fare.
One great feature of the Companion Fare is that you don't have to fly on any of the purchased tickets yourself. You just have to book it using your Alaska Airlines Visa Signature® credit card.
That means you can fly your friends or family to meet you, instead of the other way around. Or you can give two flights as a gift to someone you know. You don't even have to tell the recipients how much money you saved. (In fact, we'd encourage you to omit that altogether.)
Get multiple companion passes
Traveling with a large family or taking several Alaska flights with a companion each year? Consider opening more than one Alaska Airlines Visa Signature® credit card in your household. Or, if you have a small business, check out the Alaska Airlines Visa® Business card.
You'll have to pay the annual fee for each card, but that could pale in comparison to the savings from multiple Companion Fares.
You might be tempted to find the absolute most expensive itinerary in order "maximize" the value of the Companion Fare. A multi-stop itinerary on the week of Thanksgiving is likely to meet this criteria, and be an absolutely miserable experience.
The Companion Fare is a great tool to help reduce the cost of your travel plans. Try to avoid getting sucked into the "maximization" rabbit hole or you'll end up booking travel you never intended to take.
And remember: You still have to pay the full cost of half of the itinerary. A $1,500 companion fare ticket might save you $1,400, but … it still costs $1,500.
Whether you use Alaska's Companion Fare to defray the cost of a family trip, stage a multi-city dream itinerary, or just take a normal round-trip ticket, the savings are almost sure the exceed the Alaska Airlines Visa Signature® credit card's annual fee.
The real trick is remembering to use it.
Frequently asked questions
---
How to maximize your rewards
Get more smart money moves – straight to your inbox
Sign up and we'll send you Nerdy articles about the money topics that matter most to you along with other ways to help you get more from your money.