How Will the Coronavirus Crisis Affect Award Travel?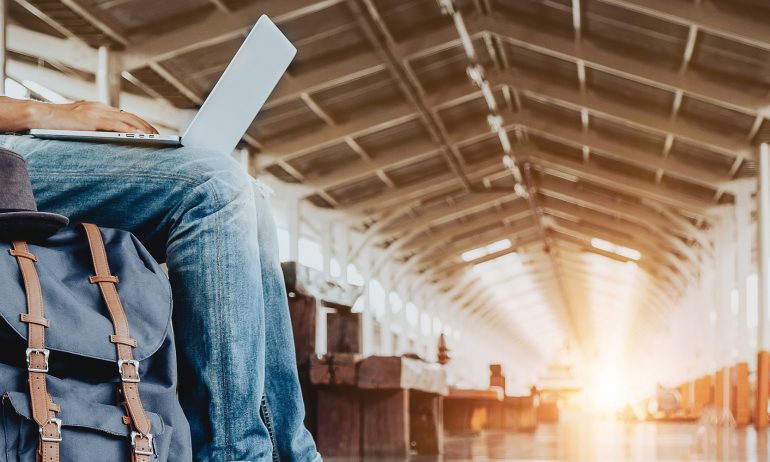 Many or all of the products featured here are from our partners who compensate us. This may influence which products we write about and where and how the product appears on a page. However, this does not influence our evaluations. Our opinions are our own. Here is a list of our partners and here's how we make money.
Note: As you plan travel during the coronavirus pandemic, please check the CDC and State Department websites for current guidance and travel restrictions.
---
---
While at home, between communicating with loved ones and binge-watching our favorite shows, many of us still dream of taking a much-needed vacation, as soon as we can safely do so. Although it's not one of our most pressing matters, there are good reasons to consider what impact the coronavirus crisis will have on award travel in the future.
NerdWallet Guide to COVID-19
Get answers about stimulus checks, debt relief, changing travel policies and managing your finances.
Clearly, the health and safety of our loved ones is the most important thing in our lives right now, but that's likely followed by our financial well-being.
Along with your jobs, your bills and your investments, you might want to take a moment to think about the future of award travel.
Having closely followed this industry for over 10 years, and actively earned and redeemed travel rewards for over 30 years, I've experienced award travel as it changed through major events in U.S. history including the 9/11 attacks and the 2008 Great Recession. There are several good reasons to take stock of the industry at this time:
First, award travel has an impact on your credit card strategy. Even when confined to home, you're still paying for food, utilities and other consumer goods, and you're more likely to do so with a credit card than ever before. If the value and utility of travel rewards points and miles is diminished, then you're better off earning cash back instead.
On the other hand, it's also possible that reduced demand for travel could result in an unprecedented revaluation of loyalty programs, as airlines and lodging providers desperately try to fill empty airplane seats and hotel rooms. In such a scenario, it will be in your best interest to continue to collect travel rewards points and miles in the short term for use after the crisis ends and travel is safe again.
And if travel remains unsafe or inadvisable for a long time, then you might seek to redeem your travel rewards for nontravel options. Already, some travel rewards programs have begun limiting nontravel options.
Before the pandemic began, both domestic and international air travel was booming. 2019 saw annual increases in available seat miles, the percentage of seats occupied, and in supply and demand for hotel rooms. With a strong economy and a high demand for travel, there were fewer incentives needed to sell rooms and seats and less excess capacity to offer to award travelers, especially airline passengers.
Factors affecting future award availability
At the end of March, a variety of major international airlines were flying a small fraction of their previous routes, with many no longer operating any international flights at all. It remains to be seen when or if these carriers will resume service, and at what levels compared to their pre-crisis schedules. We could see one of three scenarios play out:
With few flights comes little opportunity to purchase travel or redeem awards.

To the extent that airlines may be willing to fly mostly empty planes, there could be plenty of award seats available.

If airlines decide to fly planes full, then award seats could be scarce.
Closely tied to the number of flights offered is the actual demand for travel. When demand is high, airline awards are scarce. When it starts to become safe to travel again, there's likely to be very low demand, which would typically equate to high award availability. Additionally, in times of recession, there could be increased use of travel rewards instead of cash. There's evidence that this was the case during the last recession.
The price of oil has collapsed due to both extremely low demand and increased production. With ultra-low oil prices, the marginal cost of travel will fall, which could induce airlines to offer more award seats. Yet if travel prices remain low, the actual value of an award seat could be much less than before.
Airline industry behavior
The airline industry behaves differently than other industries, and decisions often appear to contradict normal rules of supply and demand. For example, airlines losing money will often reduce inflight services and increase fees. Moves like this might seem counterproductive to efforts to increase sales, but there's precedent for this type of thinking within the airline industry.
Government stimulus package
The recently passed CARES Act offers U.S. airlines $25 billion in grants and another $25 billion in loans and loan guarantees. Among other things, this act suspends air ticket excise taxes and fuel taxes through the end of 2020 while requiring airlines to maintain flights to all destinations served before the crisis. This could further reduce airline costs while perhaps forcing airlines to operate nearly empty aircraft to smaller cities with little demand.
Most airlines allow passengers to make reservations approximately 11 months in advance. Those not traveling immediately have little incentive to change or cancel their future reservations at this time. In fact, it could be in their interest not to cancel a reservation (and avoid paying the fee), as there would be no fee if the flight were ultimately canceled by the airline.
Many existing reservations are likely to be canceled or end up as "no-shows," which could skew award availability through early 2021. If an airline appears to have many passengers on a flight, it's unlikely that it will release seats as awards until passengers cancel their reservations at the last minute.
Comparisons to past events
In the last 20 years, there have been two major events that have had dramatic impacts on award travel:
The terrorist attacks of Sept. 11, 2001.

The financial crisis and Great Recession of 2008.
After 9/11, the U.S. completely shut down its airspace while the international disruptions were less pronounced. Currently, international flights are almost completely eliminated, while domestic schedules are being trimmed at a much slower rate. While the government quickly implemented new security measures that allowed airlines to resume most of their service, consumer confidence was low and the economy was in recession, so it took years for travel to rebound to pre-9/11 levels.
With the 2008 financial crisis and subsequent recession, there was no direct effect on aviation. Instead, the economic downturn resulted in diminished corporate travel budgets and lower consumer spending. In this time of decreased spending and travel, there were numerous incentives to earn and spend frequent flyer miles that disappeared as the economy recovered.
I do not see the coronavirus crisis and its recovery playing out like it did after 9/11 or the Great Recession of 2008 but predict there will be some parallels.
As in the aftermath of 9/11, airlines are dramatically reducing capacity. But in this case, I don't believe capacity will return nearly as quickly as it did after 9/11. As of this writing, social-distancing measures are scheduled to be in place until at least the end of April. And even if those measures were to end in May, it's hard to imagine Americans quickly returning to the skies.
Instead, it's much easier to envision a very gradual rebound of travel, starting with essential industries like government, medical and defense workers. As the crisis subsides and many who have recovered from the virus have immunity, families will slowly begin to reunite through travel. Only after a critical mass has immunity, either naturally from past exposure or from a future vaccine, will we see people feeling safe to travel for business and leisure.
By then, leisure travel will be a luxury that many won't be able to afford due to the likely prolonged recession. Likewise, many businesses will likely see their travel budgets slashed, especially in light of their increased experience with teleconferencing. This is the time when the parallels to the 2008 recession will be the strongest.
It's also easy to imagine countries requiring certificates of good health, immunity or vaccination before accepting international travelers. These restrictions could even come and go as outbreaks occur and are contained. Already, we've seen restrictions enacted in China to prevent foreigners from infecting areas that have already recovered. It seems likely that other countries will restrict foreign visitors after their recovery, severely hampering the ability to travel internationally.
Ultimately, I see travel rewards retaining their value, and perhaps becoming even more valuable during a worldwide recovery. There's little use for a frequent flyer ticket to an international destination you're either scared — or legally unable — to visit. But at least for domestic travel, I'm optimistic that frequent flyer miles will be increasingly valuable during the recovery that occurs in late 2020 and in 2021.
In general, it's always been a bad idea to save reward points and miles for redemptions in the distant future, as the likelihood of devaluation in a strong economy was high. Today, the concern is for the safety and permissibility of travel in the future, and there is too much uncertainty for me to recommend continuing to accrue frequent flyer miles for the purpose of international travel until more is known about the timeline of the recovery.
I'm more optimistic about domestic travel in late 2020 and in 2021. For many, I think it can still make sense to earn rewards towards future trips within the U.S. I believe we will see excellent award availability on domestic routes with low load factors. However, the prices of a purchased ticket may also be low, diminishing the savings offered by using points and miles. Therefore, the best course of action could be to earn rewards that have significant nontravel redemption opportunities, such as cash back.
---
How to maximize your rewards
Get more smart money moves – straight to your inbox
Sign up and we'll send you Nerdy articles about the money topics that matter most to you along with other ways to help you get more from your money.