New Air France/KLM Flying Blue Promo Rewards — March 2020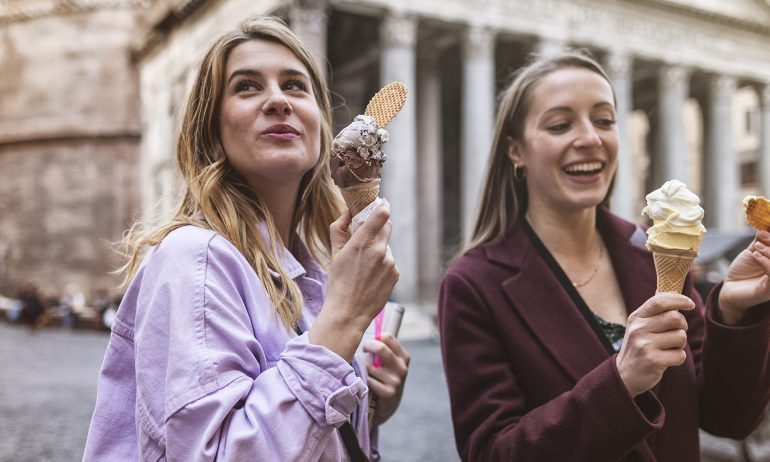 Many or all of the products featured here are from our partners who compensate us. This may influence which products we write about and where and how the product appears on a page. However, this does not influence our evaluations. Our opinions are our own. Here is a list of our partners and here's how we make money.
Earlier this month, AirFrance/KLM published its Flying Blue Promo Rewards, which allow you to travel to certain destinations for as much as half off the usual award rates. The Promo Rewards must be booked by March 31 and are valid for travel from May 1 through June 30.
March Flying Blue Promo Rewards
Although the standard discount is 20%-40% off of short-haul flights, this month all short-hauls are discounted by 40%. (Short-hauls are intra-European flights.)
However, given the abundance of low-cost carriers in Europe, it seldom makes sense to use miles for these short flights. Instead, use your miles to book intra-European flights when prices are unusually high or you have a lot of luggage, which low-cost carriers usually charge for.
Long-haul awards are on sale for 25%-50% off, and these awards can offer some pretty enticing options. This month's long-haul awards are only offered to South America. Usually, there are Flying Blue Promo Rewards offered to Asia and the Middle East. However given the developing COVID-19 pandemic and flight restrictions into Asia, it makes sense that AirFrance/KLM would avoid offering discounted travel to these destinations.
Flying Blue Promo Rewards can be booked as one-way tickets, which means you can travel from one city and come back to another. The flexibility afforded by booking one-ways can present some excellent opportunities for crafting trips. For simplicity's sake, however, the awards we discuss below are all round trips.
Let's look at some of this month's more exciting Flying Blue Promo Rewards options.
25% off Europe to/from North America

This month, there are very few options for travel to North America and the discount is only 25% off. Considering that AirFrance/KLM includes pesky taxes and surcharges on awards, the best bang for your buck will come from awards that provide the largest discount in miles and the most convenient route.
Washington, D.C., to Amsterdam
Amsterdam is just starting to warm up in May and June, so you'd likely benefit from some nice weather if you head to the beautiful city during this time. This is a popular time to visit Amsterdam, so if you're considering going, you'd want to book your award sooner than later.
Although the promo chart above states that round-trip awards between Washington-Dulles and Europe are 41,250 miles, we found lower rates when searching the French version of the AirFrance site. For example, a round-trip award in May from Washington-Dulles to Amsterdam priced out at only 36,750 miles + $169 in taxes in economy: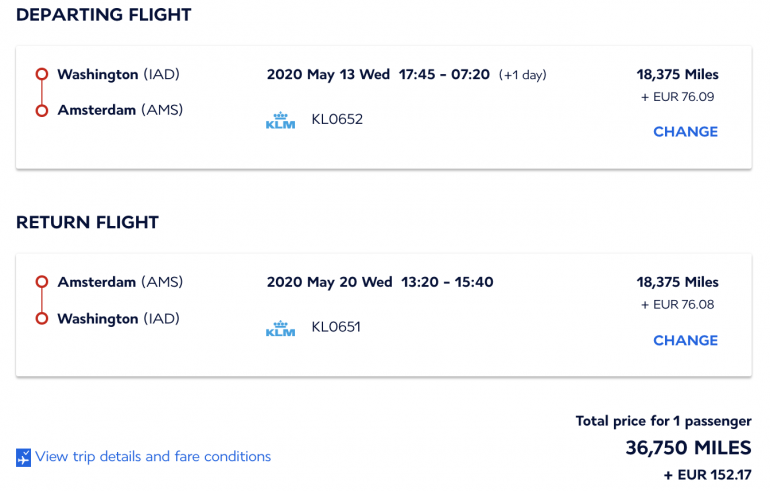 On Skyscanner, this flight costs $800, resulting in a solid value of 1.7 cents per mile.

Comparatively, a round-trip flight from Washington-Dulles to Amsterdam on United Airlines costs 60,000 miles + $53 in taxes. American Airlines currently has a Web Special going on for this route, with the cheapest round-trip award pricing out at 34,000 AAdvantage miles + $59 in taxes. However, there are no nonstop flights on American for this route, so this is something to keep in mind.
25%-50% off Europe to/from South America


If you're thinking of heading to South America, you can take advantage of Promo Rewards to Brazil, Ecuador and French Guiana for as much as 50% off.
Fortaleza, Brazil — discount of 50% in economy and 25% in premium economy and business class.

Quito, Ecuador — discount of 25% in economy, premium economy and business class.

Cayenne, French Guiana  — discounts of 50% in economy and 25% in premium economy.
Two round-trip economy promo rewards that stand out are those from Europe to Ecuador and Europe to Brazil. Given the large distance flown, nonstop flights between these countries are quite long. Grabbing an award at such a discounted rate seems like a great opportunity to leverage your Flying Blue miles. Let's take a look at some sample dates to see if the math on these awards makes sense.
25% discount in economy, premium economy and business class
Ecuador is famous for the wildlife in the Galapagos Islands, UNESCO Heritage sites in Quito, the Amazon jungle, and the inactive volcano Chimborazo, which you can hike.
A nonstop flight from Europe to Ecuador is almost 12 hours long, so we're going to take a look at a business class award, because using your miles for such a long flight can make a lot of sense.
A round-trip nonstop business class award ticket from Paris to Quito, Ecuador, is 118,500 Flying Blue miles + $535 in taxes.



On Skyscanner, this same flight prices out at $2,595, which results in a strong redemption value of 1.7 cents per mile.

For reference, United charges 160,000 miles + $212 in taxes and American Airlines charges 135,000 miles + $367 in taxes. Although AirFrance/KLM charges more for taxes than United and American, the discount in miles is worth considering, particularly if you're looking to extend the life of your Flying Blue miles.
50% off in economy and 25% in premium economy and business class.
Fortaleza, Brazil, is on the northern coast of Brazil, which offers exceptionally beautiful beaches. You can either stay and explore Fortaleza, which is an exciting city with nice beaches, or use the city as a hub for traveling to other places in Brazil. Brazil is a diverse country with a lot to offer, including the Amazon rainforest, crystal clear waters along the coastline and vibrant cities. Although Brazil is reasonably safe for tourists, pickpocketing and petty theft still happen. If you're heading to Brazil, make sure you pay attention to your belongings, don't venture out alone at night and avoid displaying any signs of wealth that can draw unwanted attention. This sort of advice, however, is applicable in all instances, especially when traveling, so don't let fear deter you from seeing this beautiful country.
A round-trip ticket in June from Frankfurt to Fortaleza is available for 36,000 Flying Blue miles + $280 in taxes: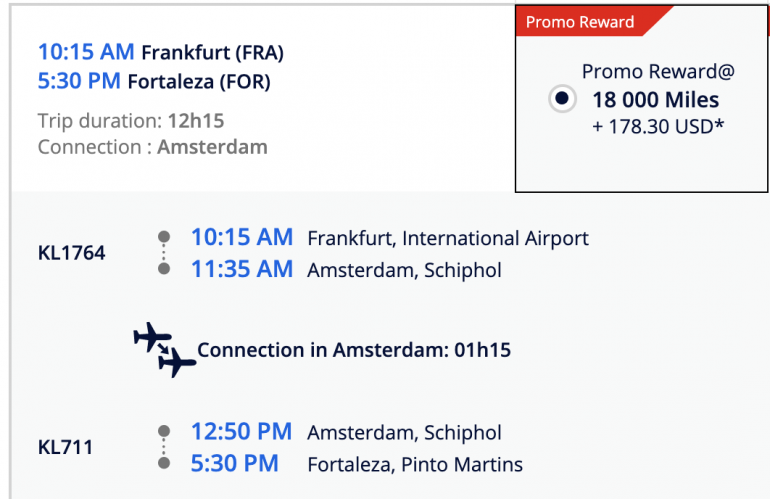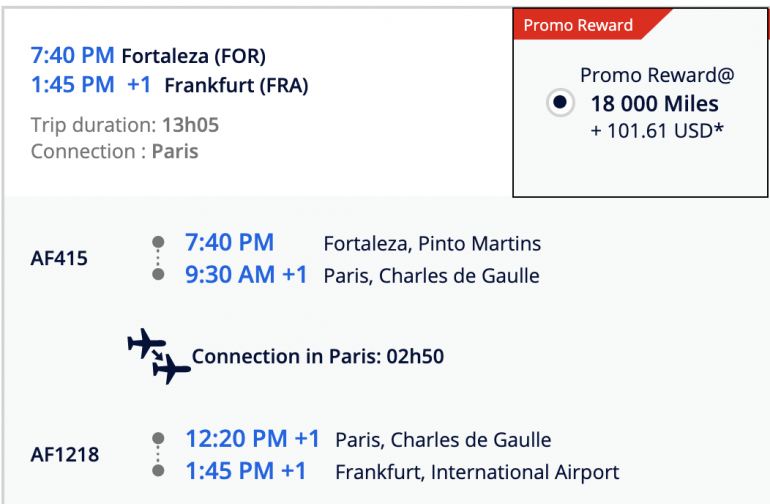 On Skyscanner, this flight prices out at only $526, yielding a weak redemption value of 0.7 cents per mile.

Given the relative unfavorable cent per mile yield, this may be one instance in which it would make sense to conserve your miles and pay for the flight with cash, or better yet via the Chase Ultimate Rewards® portal.
Not only would you earn Flying Blue miles (or miles on any other SkyTeam airline) on the flight if you pay in cash or use the Chase Ultimate Rewards® portal, but if you hold the Chase Sapphire Reserve® or Chase Sapphire Preferred® Card, you would derive 50% and 25%, respectively, more value when you redeem your points for travel through Chase Ultimate Rewards® portal.
Earning Flying Blue miles
Capital One Venture points transfer at a 2:1.5 ratio (2,000 Capital One Venture points = 1,500 FlyingBlue miles), so unless there is a promo on transfers, this isn't the most lucrative ratio.

Marriott Bonvoy points transfer at a 3:1 ratio (3,000 Bonvoy points = 1,000 Flying Blue miles), and with every 60,000 points transferred you will earn a 5,000-mile bonus (60,000 Bonvoy points = 25,000 Flying Blue miles).
Flying Blue Promo Rewards offer an opportunity to take advantage of reduced award tickets during the promotional period. If you're considering a trip in May or June, browse through these Promo Rewards in case your vacation plans align with a city currently on sale.
Although AirFrance/KLM charges annoying taxes and surcharges on award tickets, you'll save a significant number of miles, especially when compared to competing airlines. If you don't have miles in your Flying Blue account, AirFrance is a partner of all five transferable programs, so it is very easy to take advantage of these discounted awards.
The information related to the Citi Prestige® Card and American Express Chairman has been collected by NerdWallet and has not been reviewed or provided by the issuer or provider of this product or service.
How to Maximize Your Rewards