The Guide to Open-Jaw Flights With Chase Points
You can only book an open-jaw flight through the Chase portal if it's three segments long; otherwise you'll need to call or transfer points.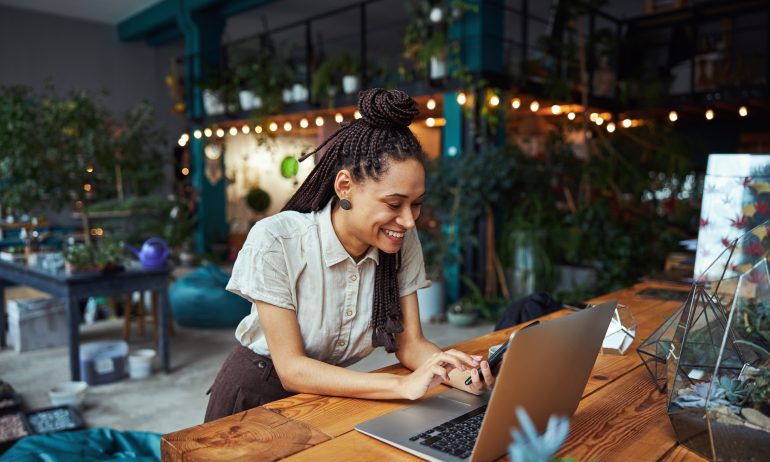 Many or all of the products featured here are from our partners who compensate us. This influences which products we write about and where and how the product appears on a page. However, this does not influence our evaluations. Our opinions are our own. Here is a list of our partners and here's how we make money.
Whether to take a river cruise through Europe or go on a one-way road trip, sometimes you want to book flights that aren't just a simple round trip. However, especially when traveling internationally, one-way flights can be much more expensive than round-trip flights.
Chase points collectors, particularly, can avoid the upcharge of booking one-way flights. Since many airlines let you book two one-way flights together to form an "open-jaw" itinerary for around the same price as a round trip, and Chase points are transferrable to a variety of airlines, affordable options abound.
When to book an open-jaw itinerary
Say you want to take a river cruise starting in Budapest, Hungary and ending near Munich, Germany. Rather than backtracking to Budapest to fly home, you could save time by flying into Budapest to start your trip and flying back home from Munich. This type of multi-destination trip is called an "open-jaw" itinerary.
You might assume you need to book two one-way flights — one to Budapest and one back from Munich. But booking that way is likely much more expensive than a simple round-trip flight.
Instead, many airlines let you book these trips as a "multi-city" booking where you reserve two (or more) one-way flights together on one ticket. Instead of paying the more expensive one-way costs of booking separate tickets, airlines generally group the destinations together and price the ticket similarly to a round-trip ticket. Effectively, you'll pay half the round-trip price of each route, before taxes and fees.
Transferring Chase points to partners vs. booking through the Ultimate Rewards® travel portal
One of the great benefits of earning Chase Ultimate Rewards® points is the variety of redemption options. When it comes to booking flights, you have two primary choices:
Transferring points to airline partners for an award booking.

Buying fares through the Chase Ultimate Rewards® travel portal.
Generally speaking, transferring points to airline partners is a straightforward process. Booking travel through the Ultimate Rewards® portal, on the other hand, may require the additional step of calling a Chase phone agent (depending on the number of legs of your flight itinerary).
If you're splurging for business or first class, transferring your points to an airline loyalty program will generally require fewer Chase points. But if the cash price for your flights is affordable, booking economy fares through the Chase Ultimate Rewards® travel portal often makes more sense.
How to book by transferring points to an airline partner
If you find a stellar deal on an airline that's a Chase transfer partner, it's often wise to book through the airline itself rather than through the Chase portal.
First, check the list of Chase transfer partners and determine which ones might offer the cheapest rates to your destination. Our airline partner booking tool should be able to help with that.
Full list of Ultimate Rewards® transfer partners
Let's say you've picked United Airlines to go to Europe. You'll want to use the advanced search feature in the lower left-hand corner of the United homepage to find open-jaw routes.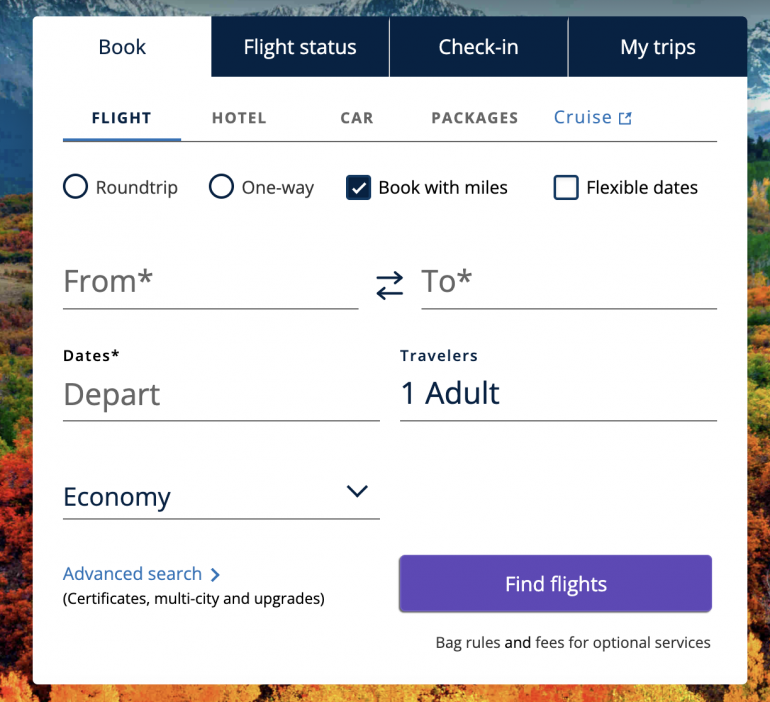 Then, select the box that indicates you want flight prices to be displayed in miles. Choose the "multi-city" tab to input your departure and arrival locations for your open-jaw itinerary.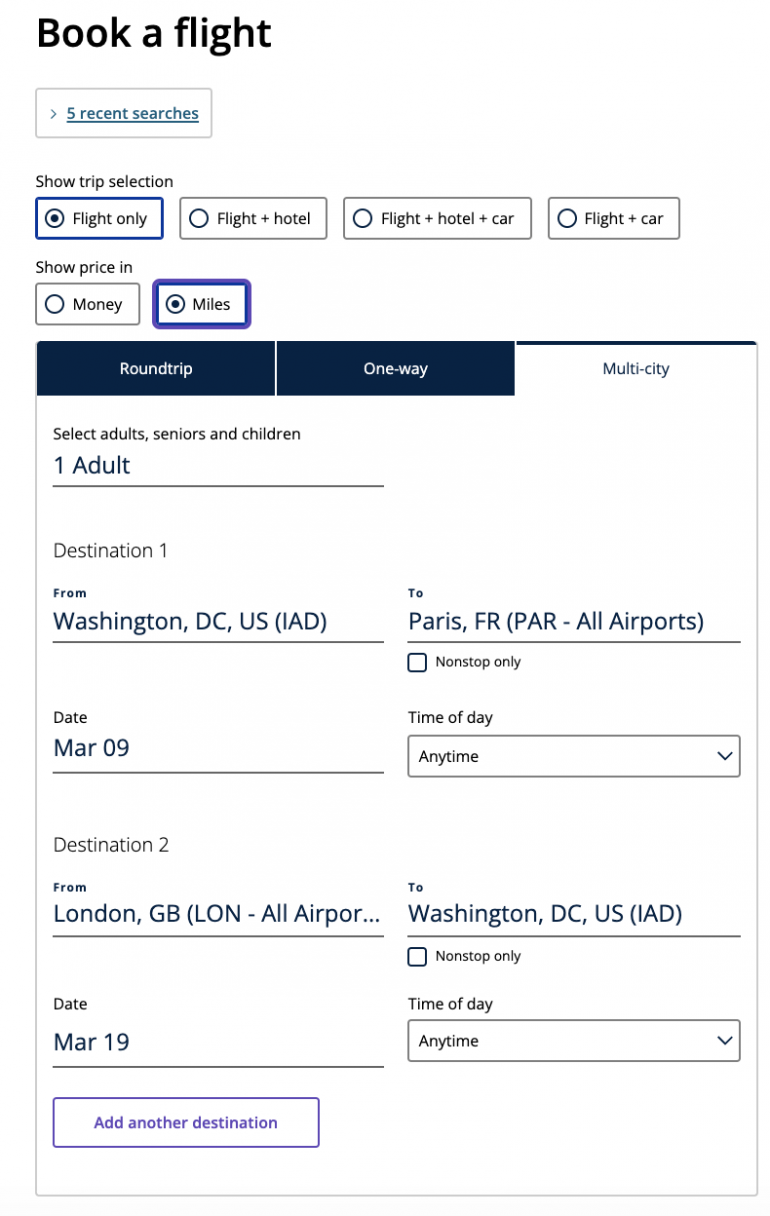 You'll be able to select each flight separately. Find out how many miles it'll cost for both flights; then, transfer those miles from your Chase Ultimate Rewards® account to United so you can book your trip.
Ways to maximize savings when booking with Chase partners
Score potential savings on taxes and fees
When booking with airline miles, the mileage price will typically be the same whether you book a round trip or two one-way flights. However, the taxes and fees may be lower when you book an open-jaw itinerary than they would be for two one-way flights — especially when traveling to Europe.
For example, here's a flight from Detroit to Paris, with a return flight from Amsterdam to Detroit, booked through Virgin Flying Club — a transfer partner of Chase Ultimate Rewards®. When booked together as an open-jaw, your seat in Delta One business class will cost 100,000 Virgin points, plus $65.17 in taxes and fees.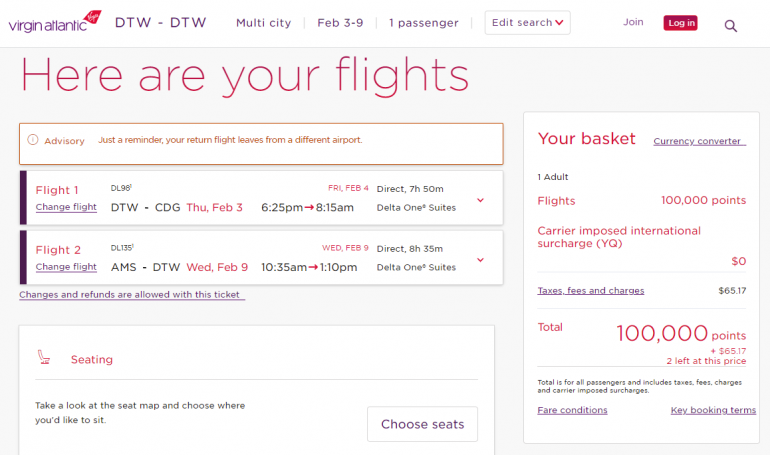 If you book these two flight separately, it'll still cost you 100,000 Virgin points total (50,000 each way), but it'll cost you about $300 in taxes and fees. Grouping the flights into a single open-jaw itinerary saves you about $235.
Find free one-way flights on multi-city itineraries
There are other benefits of booking multiple award flights together in the same booking. For example, when booking qualifying awards through United MileagePlus, you can score a free one-way flight through United's Excursionist Perk. You can use this perk to really hop around Europe.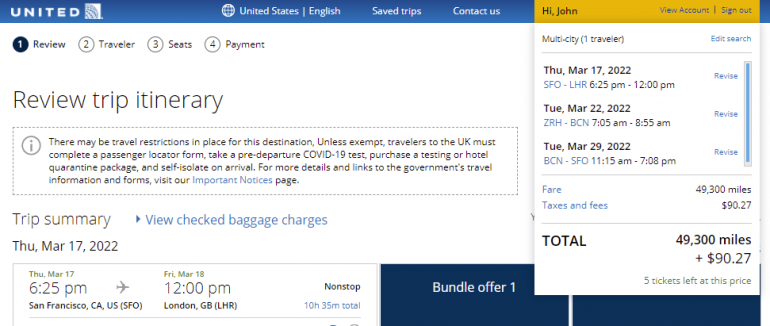 How to book in the Chase Ultimate Rewards® travel portal with points or cash
Instead of transferring Chase Ultimate Rewards® points to an airline and booking your flight there, you can redeem points within the Chase travel portal itself.
Unfortunately, finding eligible, affordable open-jaw tickets can be a bit tricky when booking through the Chase travel portal. Before checking the Chase travel portal, we recommend using an online flight search tool like Google Flights to see what options are available for your selected dates and destinations. Enter your preferences, and Google Flights will automatically find the cheapest open-jaw itinerary.
To get the best rates, search for open-jaw flights operated by the same airline or its partners in both directions.
For example, on SAS you can currently book an open-jaw itinerary from Los Angeles to Stockholm, Sweden with a return flight from Gothenburg, Sweden for $370 round trip.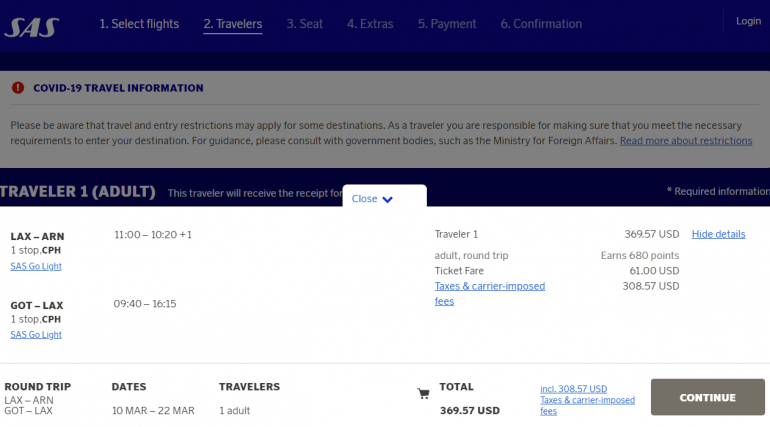 However, if you want to book a return flight from Prague instead, SAS doesn't have any availability. In that case, you'd want to book through Delta, Air France or KLM.
Don't worry, you won't need to cross-check every airline out there to find the best option. Look closer at the options recommended by Google Flights, make your selection, and then prepare for booking in the Chase travel portal.
Open the portal. From there, you'll see three booking options: Round-trip, one-way or multi-city. If you want to book three flights for your open-jaw itinerary, you can proceed and book through the portal. If you only need two flights, however, you'll need to call Chase at 866-951-6592 to book — regardless of whether you're paying with points or cash.
Thankfully, you should have no issues getting hold of an agent. Chase travel advisors are available 24 hours a day, seven days a week. Advise the agent that you want to use or earn Chase Ultimate Rewards® points, and provide your dates and routes. Make sure that the price jibes with what you found through Google Flights or another flight search engine before agreeing to book.
If you want to book an open-jaw flight using Chase points ...
You have options when booking flights with Chase points. You can transfer points to Chase's airline transfer partners, redeem points to book through the Ultimate Rewards® travel portal, or book airfares with cash in the portal.
Booking a two-leg open-jaw itinerary isn't currently possible on the Chase Ultimate Rewards® travel portal. However, you can call to book these itineraries over the phone. Just make sure to price out the trip through another online source before calling. That way, you'll have an idea of how much the open-jaw flights should cost — and whether you should transfer your points to airlines to book award flights instead.
---
How to maximize your rewards
Get more smart money moves – straight to your inbox
Sign up and we'll send you Nerdy articles about the money topics that matter most to you along with other ways to help you get more from your money.