The Points Collector's Guide to Qantas Airlines
This Australia-based airline is a transfer partner of several credit card rewards programs.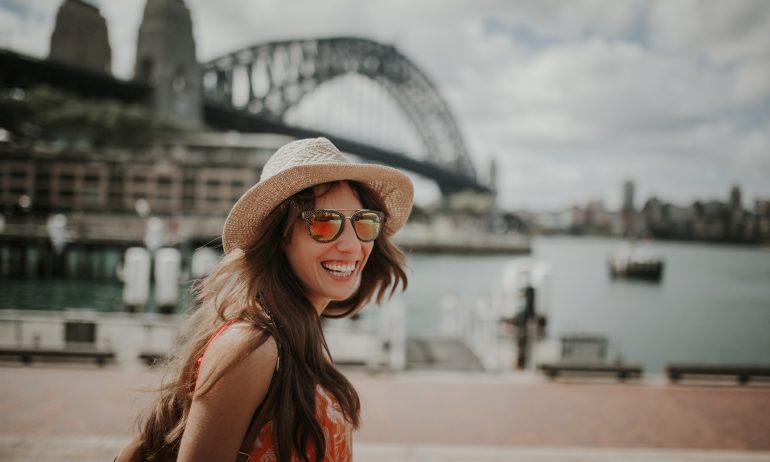 Many or all of the products featured here are from our partners who compensate us. This may influence which products we write about and where and how the product appears on a page. However, this does not influence our evaluations. Our opinions are our own. Here is a list of our partners and here's how we make money.
Though it may not be very well known among U.S. travelers, Qantas is Australia's largest airline for both domestic and international travel. It was founded over a century ago, with an acronym for Queensland and Northern Territory Aerial Services.
We'll cover what you need to know in our guide to Qantas, from how to earn and redeem Qantas points for max value to finding the best routes.
Qantas partners with the low-fare Jetstar, which is also owned by the Qantas Group. Qantas is also part of the , which includes the U.S.-based and to sweeten those Qantas U.S. route options.
Here are a few main features you'll want to know about Qantas.
For flights from the U.S. to Australia, there are four main fare types:
Each of these has three fare values:
The primary differences among these three fares are higher fees for flight changes and cancellation on sale and saver fares. Flex fares have no change or cancellation fees. At the economy level, sale fares will also have a seat selection fee.
Currently, Qantas has paused most international travel due to COVID-19 restrictions in Australia. However, before the pandemic, there were a few main U.S.-Australia routes operated by Qantas, though code-share flights were available for other U.S. destinations. The main Qantas U.S. routes from Australia are between Honolulu, Dallas, Los Angeles, San Francisco, Miami, Chicago and New York to Sydney, Brisbane and Melbourne.
Join the Qantas rewards program, Frequent Flyer, to earn points for your loyalty. The program allows you to earn Qantas points, as well as status credits, which count toward your elite status. If you earn 150,000 Qantas points, you can join the Qantas Points Club. More on this to come.
The primary way to earn Qantas points is by flying on Qantas Airlines or any of its partners. After joining the Qantas Frequent Flyer program, you simply need to book flights. Points earnings are based on a combination of distance, class of travel, fare type and loyalty status.
to make it easy to figure out how many Qantas points you can expect to earn on your trip. For instance, you can earn 11,250 Qantas points on a premium economy flight between Los Angeles and Sydney each way.
Qantas also provides a to help you determine how many Qantas points and status credits you'll earn on a flight.
Credit cards are a significant way to earn Qantas points quickly; however, Americans will be disappointed to find that there are no co-branded Qantas credit cards currently available for spend in the U.S.
That doesn't necessarily preclude you from using credit cards to earn Qantas points, as there are multiple transfer options.
While there may not be co-branded cards to help you earn Qantas points, you can earn on other cards and transfer them to the Qantas program. Three main programs for transferring points to Qantas are Citi ThankYou Rewards, Capital One Rewards and American Express Membership Rewards.
Transfer your Citi ThankYou Rewards to Qantas at a 1:1 ratio. The offers a sizable welcome bonus: . With an annual fee of only , this is a mid-level card that can help you quickly earn rewards that can be added to your Qantas points bank.
Transfer to Qantas points at a 2:1.5 ratio. If you're new to Capital One Rewards, then consider the . The welcome bonus is also enticing: . The card earns unlimited 2 miles per dollar on every purchase, and costs a reasonable annual fee of . It's easy to quickly start accumulating miles to transfer to Qantas.
Transfer your to Qantas at a 1:1 ratio, starting with a minimum of 500 points. To earn AmEx Membership Rewards quickly, consider . While it charges a hefty annual fee, you can quickly earn the welcome bonus:
In addition to a number of other benefits and points earning opportunities, you'll receive a statement credit every year for Clear, which will help you skip to the front of the security line at the airport. Terms apply.
Classic flight rewards — which include Qantas and American Airlines flights, among others — based on distance flown. Zone one is for flights between 0-600 miles, while zone 10 includes flights from 9,601 to 15,000 miles. Flight redemptions vary, with one-way economy flights in zone one costing only 8,000 Qantas points, whereas one-way economy flights in zone 10 are a heftier 55,200 Qantas points.
Note that there are three other award charts at play depending on which airline operates the flights you would like to redeem: Jetstar Classic Flight Reward table, Partner Classic Flight Reward table and the Oneworld Classic Flight Reward table. Paying attention to the distance, as well as the airline, is one secret to maximizing the Qantas Frequent Flyer program.
Where value really shines is in the premium class products to Australia on Qantas. On such a long flight, you'll want to stretch out and relax, and premium economy — at the minimum — helps ensure a more comfortable flying experience. Award availability is given to members of the Qantas Frequent Flyer program first, making this a big reason to book those flights with Qantas points. Classic flight rewards open up 353 days prior to departure, unlike partner airline American Airlines, which provides availability only 331 days prior to departure.
Qantas has four status levels: Silver, Gold, Platinum and Platinum One. To move into an elite status tier, you need to earn status credits, not just Qantas points. Status credits are based on the flight, airline and fare. Flexible fares earn more than saver fares, and more premium cabin flights earn more status credits than economy flights.
While you can earn status credits on partner flights, you'll need to take four flights in a year with Qantas, QantasLink or Jetstar to reach Silver, Gold or Platinum membership.
It takes a certain amount of status credits to reach different tiers, then a slightly lower amount of status credits to maintain status each year. Here's how that shakes out:
As you acquire status, you'll earn bonuses on your Qantas points. You'll also earn access to lounges, free luggage, priority check-in and more.
Some of the most useful benefits are outlined below:
Other benefits include a choice of at 500 status credits for all levels, plus invitations to special events and experiences at the Platinum One level.
This multi-city booking option helps create savings for those looking to hop around the continent of Australia on their visit instead of booking separate and potentially more expensive itineraries once in the Land Down Under.
Qantas' rules on booking with stopovers makes it an easy option for booking around-the-world trips with points. There are only a few conditions when booking multi-stop trips, the key ones being:
Qantas is largely a program and airline that benefits Australian residents. However, with some savvy transferring, non-Aussies can find ample value in the airline itself, the loyalty program and utilization of Qantas' Oneworld partnerships.
You want a travel credit card that prioritizes what's important to you. Here are our picks for the , including those best for: