United Airlines Seat Selection: What You Need to Know
Seat selection is free above basic economy with the option to upgrade for a fee or free for elites.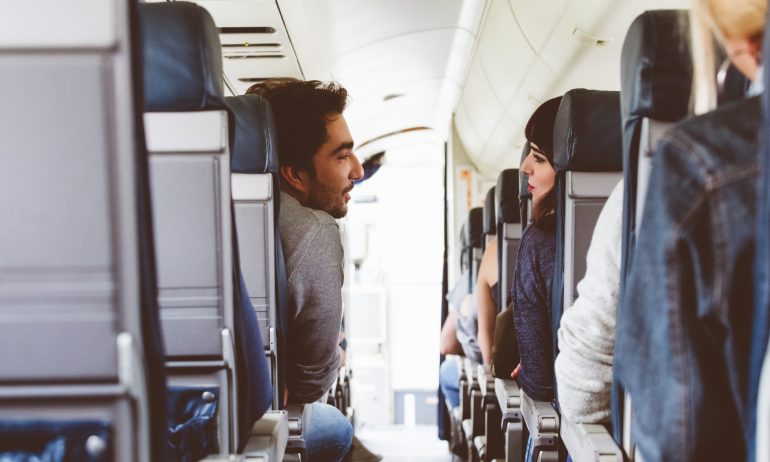 Many or all of the products featured here are from our partners who compensate us. This may influence which products we write about and where and how the product appears on a page. However, this does not influence our evaluations. Our opinions are our own. Here is a list of our partners and here's how we make money.
When you take to the skies one of the most important things when it comes to preparing for your flight is knowing where you'll be seated on the airplane. Like most other airlines, United gives its guests assigned seating on its flights. The majority of customers can select from a variety of seats for free, but there are also options for preferred seating and even upgrades for those who are willing to pay. Here's a look at United Airlines seat selection and United Airlines seat assignment policies.
United Airlines seat selection
Most United Airlines flights will have at least two cabin classes: economy and first class. Depending on where you're going, you may also find business class and premium economy seating.
No matter your fare class, you will be able to choose a seat from the available selection, though how much you'll pay and the associated fees will differ according to your ticket and various other factors.
How much is seat selection on United Airlines? Charges vary, but generally speaking, the longer and more in-demand your flight, the more expensive it will be for your seat selection.
United seat selection fees
Basic economy (most restrictive)
Basic economy tickets don't provide complimentary seat selection in any cabin. In exchange for cheaper tickets, you can either opt to pay for a seat assignment or wait until check-in and be randomly assigned a seat.

Families and groups who book basic economy tickets won't be seated together; though again, they can pay to ensure that they're near each other.
You may be wondering: "How do I choose my seat on United Airlines?" Happily, those booking a regular economy class ticket will have the ability to book a seat for free, although the available options may not be desirable. In this case, customers can also choose to pay for better seats while maintaining their economy class ticket.
If you're traveling with young children you may want to know: "Does United seat families together?" Yes, it does. If you're booking an economy ticket or above, United's system will automatically attempt to seat children under 15 on the same reservation together with their parents.
Preferred seating features seats with better locations than standard United economy flights. The seats are the same, but they tend to be closer to the front of the cabin. Costs for preferred seating vary depending on the flight, but these are the cheapest paid seat upgrades you can find on United flights.
Economy Plus seats are within the standard economy cabin, though they're located just behind first class seating. They provide more legroom than regular economy seats and also offer free alcoholic beverages on premium transcontinental routes. These seats are more expensive than preferred seats.
Premium Plus is United's premium economy offering and is available on select flights. This is better than economy class but not as good as United's international business class, Premium Plus seats are all free for those who book this cabin.
United first and business class
Like Premium Plus, those who book either first or business class can choose any seat within the cabin for free.
United Airlines seats for elite members
Silver elite members and above have complimentary access to preferred seating at booking.
Gold elite members and above can pick an Economy Plus seat for free when booking their ticket. Silver members, meanwhile, can choose from available Economy Plus seats upon check-in.
United elite members are also entitled to complimentary upgrades on select flights starting as early as 96 hours before departure.
Wondering what the seats on your flight will look like? United provides a seat map that you can find when booking your flight. Before selecting a flight, you can view the seat map by selecting "Seats" on the search result page.

This will open a live preview of the seats on your aircraft that shows you the layout of the seats as well as which seats are available to select. You'll also see the seat map during booking, when you're prompted to select your seats.

After booking, it's possible to change your seats by going to "My Trips" and selecting "Manage Trips." Once on your specific flight page, you'll be able to view your seat and select a new one if you desire.
How to select a seat on United Airlines
You'll automatically be prompted to select a seat when booking your ticket online. Once you've selected your flight, you'll fill out your passenger information and any frequent flyer programs.
Depending on your flight, United may also offer the ability to purchase discounted bundles during checkout. These may save you money over choosing extras individually, though you'll want to take a look at the costs.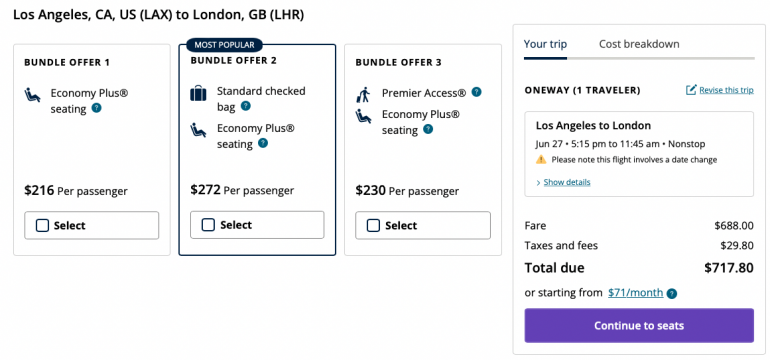 After deciding whether to add a bundle, you'll be taken to the seat map to choose your seat. A legend on the right will show you which seats are included and the costs of any upgrades.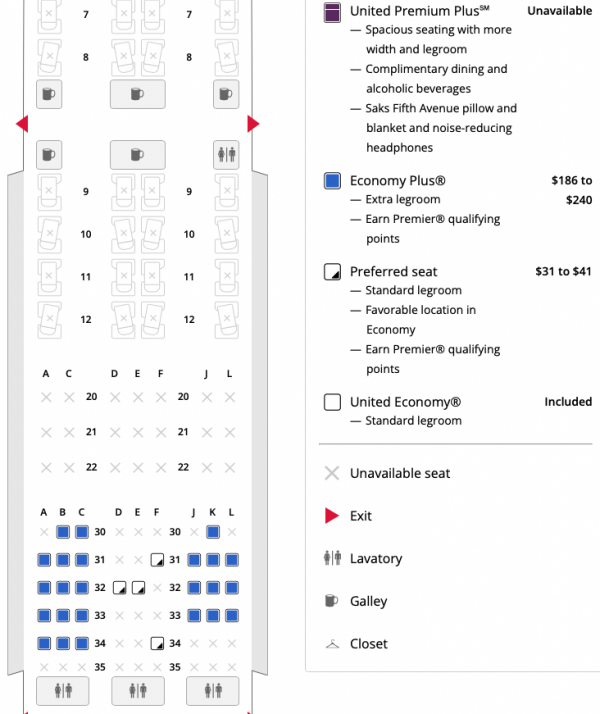 Once you've selected a seat, complete the check-out process and pay for your ticket.
If you've already booked a ticket and would like to select a seat or change your existing seat, you can do so from the "Manage My Trips" tab under the "My Trips" option.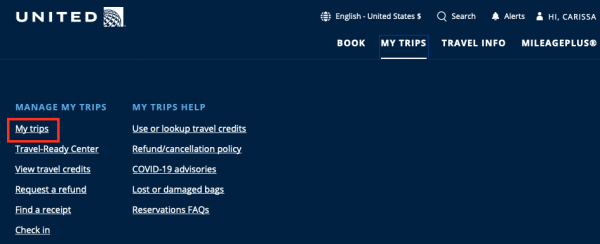 Then, you'll select "Manage Trip" from your available trips. Here you'll find your trip information, including the option to change your seat.
Final thoughts on selecting United Airlines seats
United Airlines' seating policies can be confusing, especially when you're booking an economy class ticket. The short of it is this: If you book at least a standard economy ticket, you'll be able to choose a seat for free. You can also pay to have better seats, though some United elite members will receive access to these better seats for free. Basic economy customers, meanwhile, will always need to pay to select a seat.
---
How to maximize your rewards
Get more smart money moves – straight to your inbox
Sign up and we'll send you Nerdy articles about the money topics that matter most to you along with other ways to help you get more from your money.