What Is American Airlines ConciergeKey?
ConciergeKey is the highest level of elite status with American Airlines, and it's only offered to big spenders.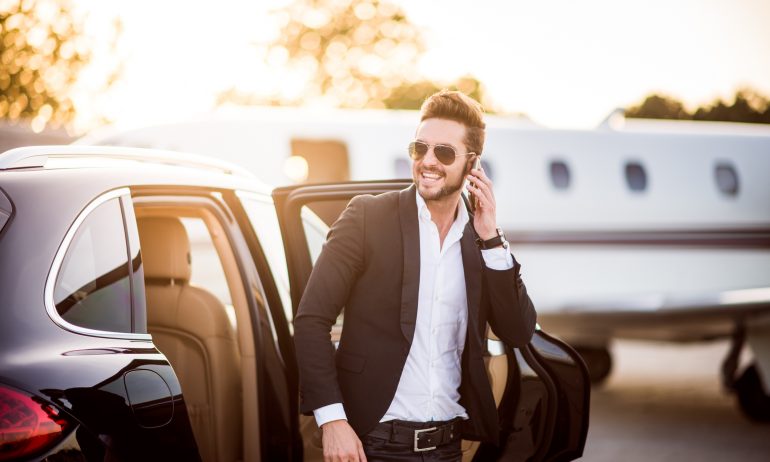 Many or all of the products featured here are from our partners who compensate us. This may influence which products we write about and where and how the product appears on a page. However, this does not influence our evaluations. Our opinions are our own. Here is a list of our partners and here's how we make money.
ConciergeKey is the top tier of the American Airlines AAdvantage elite status program. Haven't heard of it before? That's because according to their published elite status levels, the highest level is AAdvantage Executive Platinum. However, this secret tier, while being harder to earn, offers richer benefits, like private transport around an airport.
If you're wondering what exactly ConciergeKey status includes, plus how to get it, here are the details.
Best travel benefits for ConciergeKey status holders
There are a lot of travel benefits that come with becoming ConciergeKey — most are centered around the day of travel.
Impressive lounge privileges
ConciergeKey flyers get membership to Admirals Club lounges (with the ability to bring two travel companions or one's immediate family), as well as access to Flagship Lounges. Other travelers must be flying internationally to access a Flagship Lounge, but ConciergeKey members can use them even when flying domestically.
Executive Platinum status
While ConciergeKey is considered a step above American's top status level, it also comes with all of the status privileges of the public highest tier, Executive Platinum. This includes perks like unlimited 500-mile upgrades to use on eligible flights, plus priority perks like dedicated check-in lanes and three complimentary checked bags.
ConciergeKey members are automatically Oneworld Emerald members, which includes access to Oneworld first class lounges and priority check-in and boarding when traveling internationally on Oneworld partners.
ConciergeKey members (like Executive Platinum members) get free access to preferred or main cabin extra seats when flying in the main cabin. In addition, they can enjoy a complimentary alcoholic beverage and snack (or a meal like a sandwich or salad on flights that offer them). Beyond the free food and drink in the main cabin, onboard treatment of ConciergeKey members is usually no different than other passengers.
World of Hyatt Globalist status
American's partnership with World of Hyatt means that ConciergeKey members are automatically granted Globalist status, which gives them perks like suite upgrades and free breakfast at many Hyatt brands. By linking American and Hyatt loyalty accounts, members of both programs earn one AAdvantage mile for every dollar spent with Hyatt and one World of Hyatt point for every dollar spent with American.
As a Globalist, you'll earn five World of Hyatt points per eligible dollar spent at Hyatt properties, plus a 30% bonus.
Dedicated phone line and day-of-travel assistance
ConciergeKey flyers get access to a dedicated phone number (frequent flyer number required for verification) that reaches a priority reservations desk. Wait times (if any) are rarely long, and agents also monitor day-of-travel plans to proactively assist in the event of a delay or cancellation. For example, if your flight is delayed, an agent will call or email to alert you of any upcoming issues and provide rebooking assistance. Members can also email these agents for assistance at any time.
ConciergeKey members have access to assistance when connecting between flights at hub airports. This ranges from being met at the door of the plane for a private Cadillac ride to your next flight (never having to set foot inside the terminal), or an electric cart escort within the terminal to your next gate. These are usually reserved for tight connections.
Further, airport agents will text or call during your connections to see if they can provide any assistance. They may meet you at the gate to usher you to the front of the line. In addition, ConciergeKey members can use this private check-in area to check bags and get direct access to the security line without having to wait at airports that have Flagship First check-in (JFK, LAX, and MIA, for example).
With Executive Platinum status comes your choice of two Elite Choice Rewards. These reward options include things like systemwide upgrades, 25,000 AAdvantage miles and flight discounts. Additionally, flyers that exceed additional thresholds can select even more benefits along the way.
American charges a copay fee for flyers when they upgrade a flight using miles. For ConciergeKey members, this fee is waived. On a long-haul flight, this could represent savings of up to $350 in each direction.
American calls ConciergeKey members to board before other premium cabin flyers and elite status members. As one of the first groups to board, there is never concern over finding a place for carry-on bags.
ConciergeKey members enjoy the highest priority on upgrade, standby and waitlists for flights. For upgrades, ConciergeKey members clear before Executive Platinum members if space is available. Same-day change and standby fees are waived, and ConciergeKey holders get priority over all other status holders on the standby waitlist.
In the event of a canceled or delayed flight, ConciergeKey members are placed at the top of the list with the highest priority. In addition, American promises to get them on the next available flight, and in many circumstances, the airline will get them on a full flight.
Guaranteed seat availability
Even if a flight is sold out, a ConciergeKey member can purchase a seat on any flight as long as they do so prior to 72 hours before departure. This access to any flight availability (even if it means an expensive, last-minute fare) is a great perk for travelers who must be somewhere with little advance notice.
Some ConciergeKey members can award Executive Platinum status to a companion, but this is not something that all members can do (American doesn't explain who gets this perk and who does not). On occasion, American sends members appreciation gifts like chocolate, and there is usually an annual gathering for ConciergeKey members and company executives in Dallas.
ConciergeKey members receive a metal luggage tag that is fashioned from one of the airline's retired aircraft and features the plane's exact tail number (this past year, it was a Boeing 767; the year prior, it was a Super 80).
How do you earn ConciergeKey?
Let's start by saying that exactly how you earn this status is not written in stone. Unlike other status tiers within AAdvantage, which have published requirements for Elite Qualifying Miles, Elite Qualifying Segments and Elite Qualifying Dollars, ConciergeKey is awarded to high spenders. The exact amount is not revealed by the airline and is believed to change each year.
Many say that it could be a top percentage of the highest spenders for the year — others believe that it may be based on where you fly from the most. Hub captive flyers (like those from Charlotte, Dallas and Miami, for example) may have to spend more to achieve this status, whereas those living in other airline hub cities or smaller cities with more competition and fewer nonstop routes may have an easier time achieving ConciergeKey. American is tight-lipped on the requirements and does not publish the exact details.
It is believed that one must spend around $50,000 on American-operated flights to be considered, but again, a flyer's home airport and the type of tickets they buy (unrestricted or premium cabin fares) can also come into play. That's quite a lot considering that the next highest tier, Executive Platinum, requires spending $15,000 EQDs and either 100,000 EQMs or 120 EQS.
Usually, another path to ConciergeKey is for those that work for companies with corporate contracts of American. Sometimes this can include the ability for a travel manager to award certain employees with status no matter how much they spend in a particular year.
American Airlines rolls out the red carpet for its ConciergeKey flyers, and like any company, it wants to protect its biggest spenders. For those lucky few in the club, the difficult-to-attain ConciergeKey makes the flying experience much more pleasant.
---
How to Maximize Your Rewards
Get more smart money moves – straight to your inbox
Sign up and we'll send you Nerdy articles about the money topics that matter most to you along with other ways to help you get more from your money.