Pros
Access to more than 60,000 ATMs
No monthly fees or balance requirements for basic accounts
Money Manager tool tracks spending
Cons
Top annual percentage yield (APY) on basic savings account is 0.15%; better rates are available elsewhere
Only four locations in the U.S.
Membership limited to people with military ties
Military families on the move need a bank that goes with them. Through online banking options, mobile tools and a broad ATM network, USAA Bank ensures that members can access their money from anywhere.
If you're eligible for membership, the bank's no-fee checking account and Money Manager tool deserve a closer look.
Ratings methodology | Updated Dec. 15, 2017
USAA offers four checking accounts nationwide: Classic Checking, college checking, Youth Spending and checking for military recruits. (A fifth account, Cashback Rewards Checking, is available in 28 states as part of a pilot program.) They all have the same fees and requirements, though the cashback and military checking accounts waive the $25 minimum opening deposit for new recruits.
Free USAA Classic Checking
Balance to waive monthly fee
$0
Certificate of Deposit
Min. balance for APY
$1,000
How does USAA Federal Savings Bank compare?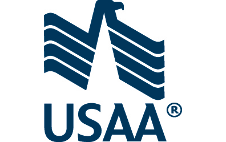 USAA Savings
NerdWallet Rating

Online Savings
NerdWallet Rating
at Goldman Sachs Bank USA,
Member, FDIC

Online Savings Account
NerdWallet Rating
Not for you? Read more bank reviews