This post was written by Kimberly Palmer, personal finance expert and credit card writer at NerdWallet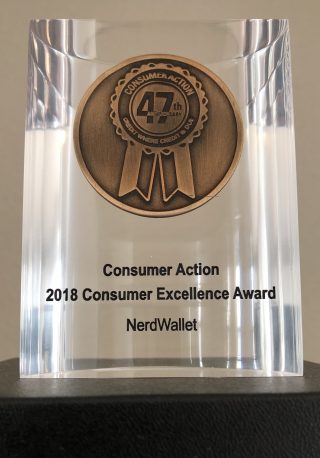 We were excited recently to receive Consumer Action's Consumer Excellence Award for our editorial coverage of personal finance issues. Consumer Action, a nonprofit focused on financial education and advocacy for underrepresented consumers, selected NerdWallet as one of its 2018 winners because of the work of our editorial team, which, it said, "writes easy to understand and unbiased articles to help consumers better manage their financial lives."
Consumer Action also pointed to the value of the disclosures on our editorial coverage, "which make it clear that people can use the site for educational purposes even if they never click to buy a financial product," the nonprofit said.
At NerdWallet, we care deeply about empowering consumers and are driven by our mission to bring clarity to all of life's financial decisions. Because many consumers struggle to get good financial advice, our goal is to provide consumer-first, unbiased content, tools and side-by-side comparisons so they can make the best financial choices for their lives.
We're proud that every year more than 100 million people — almost a third of American consumers — come to NerdWallet for advice when making a major financial decision. And we look forward to continuing to help even more people navigate their finances in the future.
Content team members Brad Wolverton, Dayana Yochim, Sara Rathner and Kimberly Palmer attended Consumer Action's ceremony in Washington, D.C., on Oct. 18, to receive the award. Previous winners have included Detroit Public Television and Washington Post columnist Michelle Singletary. We thank Consumer Action for recognizing NerdWallet's work!
Photo: NerdWallet