Advertiser Disclosure
Are You Too Fat to Buy Life Insurance?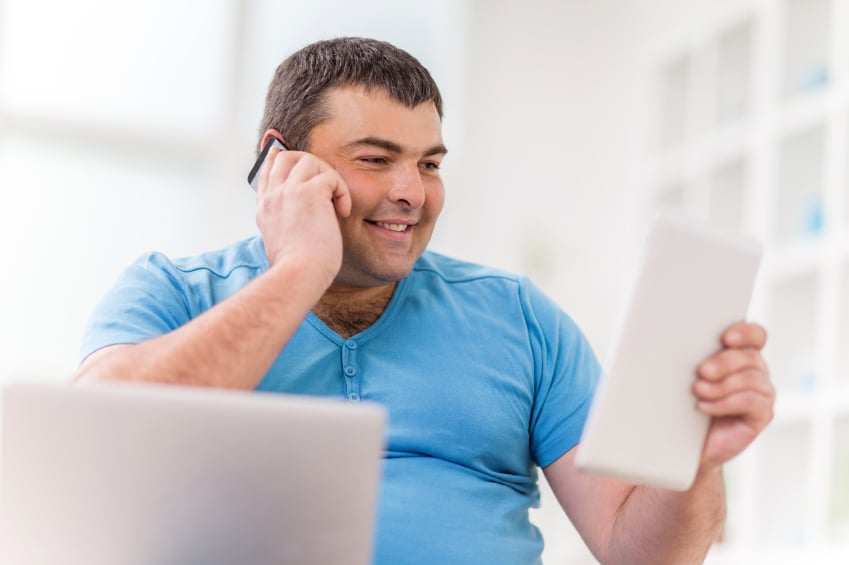 The average American man is 5'9" tall and weighs 196 pounds, according to the Centers for Disease Control and Prevention. That makes him overweight, according to the CDC's body mass index charts. And if he puts on a mere six pounds at Thanksgiving, he'll be officially obese at 203 pounds.
But even at 203 pounds, a 5'9" man is not too fat to find life insurance — far from it. In fact he'll easily be able to find many life insurers that will sell him a policy.
NerdWallet looked at the rules for weight maximums for some of the nation's biggest insurers to determine the point at which someone is too fat to buy life insurance. Although each company has its own cutoff points, we found that generally men and women of average weight would have to pack on more than 100 pounds before they would be unable to buy life insurance.
It's only when the 5'9" man hits about 329 pounds that he would be declined for life insurance by some carriers.
The average woman in the U.S. is 5'4" tall and weighs 166 pounds — also officially overweight by CDC standards. Based on NerdWallet research, the average woman, depending on her overall health, might still be able to qualify for "preferred plus" life insurance rates at some  companies — the very best offered. She would have to put on almost 120 pounds — to reach 283 pounds — before she would be turned down for life insurance by some companies.
How height and weight affect life insurance
Each life insurance company has its own "build chart," which lists heights and the maximum allowable weights for each price class. Each one-inch height difference has a different weight maximum. Agents use these charts to help figure out which rate their client is going to receive. The best rates are typically called "preferred plus" rates and go to the people who are the healthiest and fall within certain height/weight rules.
» COMPARE: NerdWallet's life insurance comparison tool
NerdWallet research found that even people considered overweight can qualify for very good life insurance rates, assuming there are no other health problems that would bump up the price. So don't be alarmed by the CDC's judgy BMI classifications: Men and women of average height and weight can still get "preferred" rates at many companies, despite being officially "overweight."
You generally have to be extremely obese to be too fat to buy life insurance and face declines at multiple companies.
Take New Jersey Gov. Chris Christie, who's 5'11". In June 2014, Politico asked two doctors to estimate his weight before and after his February 2013 lap band surgery. They agreed he appeared to be about 236 pounds at the time, down from about 322 pounds. At his heaviest, Christie could still have qualified for individual life insurance, although at pricey rates. If he had tipped the scales at about 348 pounds he would have been facing application denials.
As an employee of the state of New Jersey, though, Christie likely has access to group life insurance. People who work for employers that offer group life can get coverage no matter what their weight or other health issues, although coverage is often only one or two times annual salary.
Life insurance rates based on weight
For individual coverage, extra pounds will lead to higher premiums. The reason is people who are too heavy tend to have lower life expectancy, based on insurance underwriting calculations.
NerdWallet looked at the lowest average rates available through our life insurance comparison tool. For a $500,000, 20-year term life insurance policy, a 5-foot-11 man weighing 246 pounds would pay about $330 more per year for life insurance than if he weighed the average of 196, or 50 pounds less. Over the span of the policy, that's $6,600.
Men


Average annual life insurance premiums for a 35-year-old man, 5'9″, at different weights, for a 20-year, $500,000 term life policy

196 lbs.
206 lbs.
216 lbs.
226 lbs.
236 lbs.
246 lbs.

$310

$370

$412

$504

$593

$641
A woman of average height who weighs 216 pounds would pay $335 more a year for the same policy than a woman who weighs the average of 166 pounds, or 50 pounds less. That's a $6,700 total over 20 years.
Women


Average annual life insurance premiums for a 35-year-old woman, 5'4″, at different weights, for a 20-year $500,000 term life policy

166 lbs.
176 lbs.
186 lbs.
196 lbs.
206 lbs.
216 lbs.

$260

$314

$367

$473

$578

$595
Methodology: We averaged the four lowest quotes available at each weight using NerdWallet's life insurance tool.
How does the life insurer know your weight?
Life insurance applications ask for height and weight, and those numbers will be verified when you take your life insurance medical exam. But don't plan to go on a crash diet to lose 20 pounds just before your medical exam to get a better price. Life insurers routinely pull applicants' medical records to look at previous weights, along with past and current medical conditions.
"The historical weight trend is actually more important than the weight at any single point, including that on the paramedical exam," says Julie Westermann, a spokeswoman for insurer Genworth.
After you've been issued a policy, though, all bets are off.
"Once the contract is in force there is no way for us to know if the policyholder has gained weight or do anything about it," she says.
How much would you pay for a policy? You can easily compare prices with NerdWallet's tool.
Amy Danise is an editor at NerdWallet, a personal finance website. Email: adanise@nerdwallet.com. Twitter: @AmyDanise.
---
Image via iStock.