Advertiser Disclosure
WiseBanyan Review 2018

Under the slogan "The world's first free financial advisor," WiseBanyan makes a compelling case to potential clients. The robo-advisor charges no account management fees and requires no minimum account balance, making it a great first choice for beginning investors.
If there's a drawback — and it's not so huge, given that the service is free, after all — it's that WiseBanyan charges for some services that are part of the all-in management fee at other large robo-advisors. That shouldn't stop those committed to lowering costs from using WiseBanyan, though. And the larger the account, the more you can potentially save here on management fees. The service is a truly tempting prospect.
---


Quick facts
Management fee: $0
Account minimum: $0
Promotion: Get $20 for every successful customer referral.
Compare WiseBanyan with other robo-advisors
WiseBanyan is best for:
Beginner investors
Investors seeking free management
Investors with low balances
Investors with IRA accounts
WiseBanyan at a glance
Overall



Account minimum
$0
Account management fee
None
Investment expense ratios
ETF expense ratios average 0.12%.
Account fees (annual, transfer, closing)
$75 to transfer non-retirement account to another broker; $95 to transfer IRA. No other fees.
Portfolio mix
ETFs from 11 asset classes. Additional ETFs may be used for tax-loss harvesting.
Accounts supported
• Individual non-retirement accounts
• Roth, traditional and SEP IRAs
Tax strategy
Extra fee for tax-loss harvesting: 0.25% of assets under management, with cap of $20/month
Automatic rebalancing
Free on all accounts
Customer support options
Phone support Monday-Friday 11 a.m.-7 p.m. Eastern; email support.
Promotion
No promotion.
Where WiseBanyan shines
Free management: A big draw of robo-advisors is that they offer financial advice and management for much less than a human financial advisor charges — but few offer their management services completely free, especially regardless of account balance. WiseBanyan's founders say they wanted to build a company that didn't have an incentive to earn money at the client's expense.
So how does the company earn money? Well, it's unclear how much it is actually making, but what it does bring in comes from its paid tax-loss harvesting service and other optional products and services.
No account minimum: No account minimum means that anyone can take advantage of WiseBanyan's free advice and portfolio management.
Investments: Like many robo-advisors, WiseBanyan's investment philosophy is based on modern portfolio theory. The company automatically creates a portfolio for each client by asking a few questions. Those questions lead to a "risk score" that helps build a recommended portfolio of exchange-traded funds, weighted to reflect the amount of risk the investor is willing to accept. The company says clients can increase or decrease their risk score, and the investment recommendations will automatically update to reflect the change.
WiseBanyan's ETF portfolio is similar to, but generally a bit smaller than, that of other robo-advisors. The company's funds carry an average expense ratio of 0.12% and cover U.S., international and emerging market equities; U.S. government and corporate bonds; short-term high-yield bonds; Treasury inflation-protected securities; and real estate. Many of the ETFs are from Vanguard and iShares. The company does not include municipal bonds, emerging market bonds or natural resources in its asset mix.
Customers must liquidate their investments before transferring an account to WiseBanyan; the company does not support transfers in kind.
Milestones: Much like fellow robo-advisor Betterment, WiseBanyan has rolled out a goal-based approach to help investors create buckets for their money, called "milestones" here. Users can tell the service their goal, time horizon, income and net worth, and WiseBanyan will calculate a recommendation for how much should be invested toward that milestone. Investments can be auto-deposited separately into each milestone's individual portfolio. Users can also adjust WiseBanyan's recommended asset allocation for each milestone via a bar slider.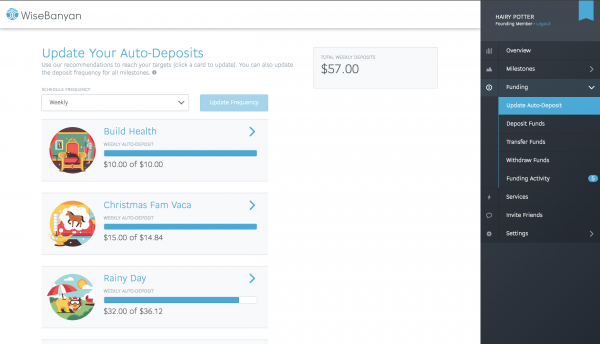 Where WiseBanyan falls short
Account selection: Currently, WiseBanyan customers can open only individual taxable accounts or traditional, Roth or SEP IRAs. That's a short list of choices, and it limits the number of clients who will be able to take advantage of the company's free service. You can't, for example, open a joint taxable account with your spouse, as you can at other robo-advisors and brokers, and you can't open a trust or a custodial account for your children. The company says this limited selection is the result of a move to a new broker-dealer and clearing firm.
Paid tax-loss harvesting: This service, which the company calls WiseHarvesting, is the first paid add-on option launched by WiseBanyan and the center of its revenue model. The service automatically monitors the account for opportunities to reduce taxes.
Clients with taxable accounts can choose to opt in to the WiseHarvesting service for an annual fee of 0.25% of taxable assets. The fee is capped at $20 a month, so once an account grows past $96,000 it will start to pay a lower percentage of assets under management than the 0.25%.
At issue, of course, is that many other robo-advisors offer tax-loss harvesting as part of their base services, with no additional fee. WiseBanyan's 0.25% fee for the service puts accounts that take advantage of it in line with the overall 0.25% management fee of Wealthfront, even though the latter offers a more advanced version of the feature.
WiseBanyan vs. similar robo-advisors
Is WiseBanyan right for you?
The basic structure of WiseBanyan's service is a lot like what you get at other robo-advisors — but for free. So it makes a solid choice for investors looking for low-cost management as well as some goal-based guidance. If you want the extras of other robo-advisors — primarily tax-loss harvesting — be prepared to pay more here. If you have a taxable account and need tax-loss harvesting, it might be better to go with one of the larger robo-advisors that offer better versions of the feature at the same cost.
Open a WiseBanyan Account