Are you thinking about taking out a payday loan from Plain Green Loans? Proceed with caution. The "plain and simple pricing" is straightforward enough, but while Plain Green might be better than, say, Western Sky, it's still an incredibly expensive way to get fash cash to meet your financial needs. We'll break down the costs of Plain Green Loans and suggest some alternatives that help you build credit without getting deeper into debt.
Explore payday loan alternatives
The cost of a personal loan
PG says that the typical first-time customer qualifies for a loan of $200-$1,000, with an APR of 299.17% to 378.95%. That's better than many of the lenders we've written about: Western Sky's interest rates on small-dollar loans can be as high as 340%, while MoneyTree and Mobiloans can easily have APRs over 450%. Still, you can do much better than a 300% interest rate. For comparison: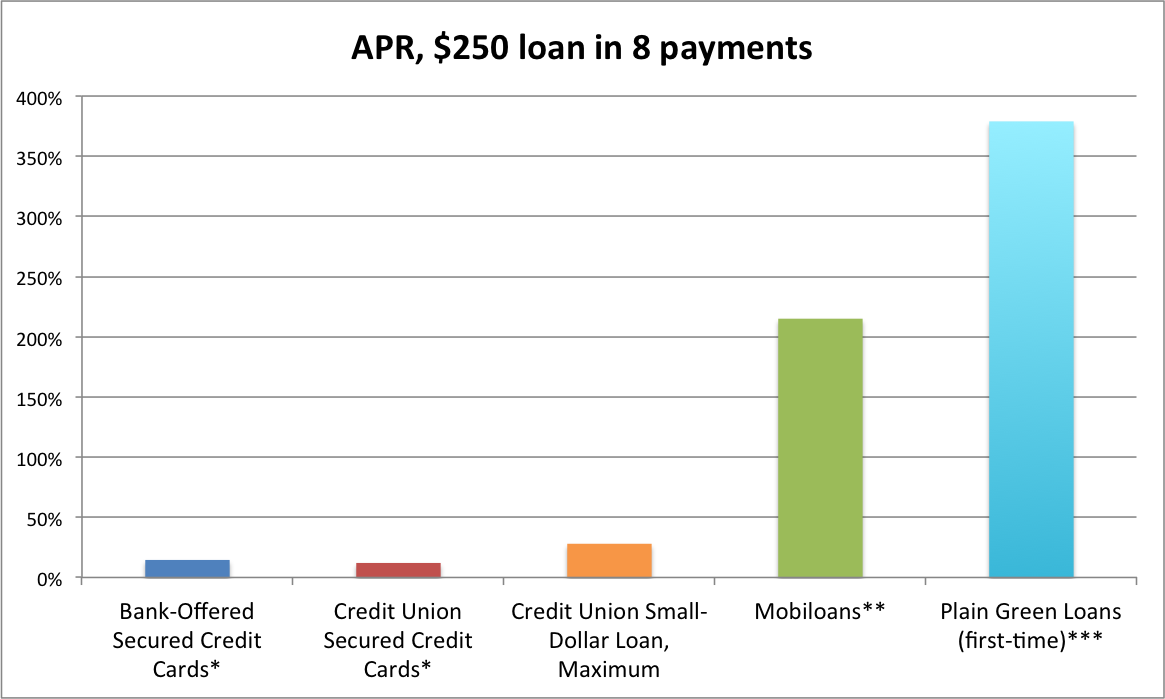 *NerdWallet average
**Assuming loan payments of $55 a week
***From PG's loan calculator
Even if you need cash quickly, Plain Green loans aren't the cheapest option. Moreover, Plain Green doesn't report to credit bureaus unless you're late on your payments. This means that you're stuck in the land of bad credit, unable to build your way back up.
Not quite transparent
Plain Green's blog has this handy tip for avoiding unscrupulous lenders:
"Find an online lender who will be clear and up-front about the loan's terms and conditions."
Unfortunately, it can't follow its own advice. While it does disclose a chart of its interest rates, it's remarkably quiet about its other fees for late payment or bounced checks:
Late fees and non-sufficient funds/returned item fees may apply as described in your Loan Agreement."
You'll be charged those fees if you miss a loan payment, or if PG tries to deduct money from your checking account and you don't have the funds to cover the fee. For a company that claims to be upfront, it's remarkably un-transparent about the extra fees it charges.
Alternatives high-APR loans
Even if you have less-than-perfect credit, you don't have to settle for 300% APR or higher. Moreover, you should look for products that will improve your credit score, so eventually you can qualify for a lower-rate loan. Here are a few examples:
Small-dollar loans from credit unions. Many credit unions, especially community development credit unions, make loans of $200-$1,000 with an APR of 28% or less and an application fee of $0-$20. These loans are meant to help you build credit and get your finances in shape. The loan term is between one and six months, so you don't get in a cycle of borrowing to repay your debts. Credit unions are also a great source of financial education and can potentially offer financial counseling.
The Capital One 360 checking account has an overdraft line of credit that lets you pay more than your available balance on your checking account, but instead of charging an overdraft fee, levies a low interest rate of 11.5%. However, they run a credit check when qualifying you for the overdraft line of credit, and you might have a low limit.
Cash advances on credit cards. This can be a fairly expensive option if you need to borrow for an extended period of time. You'll probably have to pay a cash advance fee, 3-5% of the amount advanced, and most credit cards have higher cash advance interest rates than regular purchase rates. But once again, credit unions come to the rescue. Many credit unions have cards with low cash advance interest rates and no fee. For example:
Spectrum Federal Visa Platinum

No cash advance fee
9.99%-17.99% cash advance APR
Anyone can join with a $5 donation to the Financial Fitness Association.

Northwest Federal FirstCard Visa Platinum

Meant for those who need to build up their credit history
Requires you to take a 10-question financial literacy course
No cash advance fee
Anyone can join with a $10 donation to the Financial Awareness Network.
Break the borrowing cycle
While there are cheaper alternatives to Plain Green loans, the truth is that payday lending is pretty expensive no matter where you go. It's important to take a hard look at your finances, ideally with the help of a professional. This will help you get your finances in shape and prevent you from having to borrow again next payday. Here are some low-cost or free financial counseling resources:
NerdWallet's Ask an Advisor site, where you can get free advice from certified financial professionals
Search Google or Yelp for financial empowerment agencies in your area
Military OneSource (available if you or a family member is in the military (active duty, Guard or Reserve)
It's never an easy path, but with effort and help when needed, you can break the cycle of borrowing and establish financial security.