TurboTax is generally pricier than everything else out there, but even though confident filers may not need all the bells and whistles that most TurboTax online products offer, many people will find the experience worth a few extra bucks. We've long praised TurboTax for its design and flow.
---

Quick facts
User-friendly, interview-style Q&A
Live, on-screen support feature raises the bar in human help
Some of the most expensive software on the market
↓ Compare TurboTax with other software
TurboTax's prices
TurboTax has a lot of things going for it, but price isn't one of them. The list price of its software routinely is on the high end of the spectrum, especially when you factor in the added cost of a state return. Military discounts are available — typically at least $5 — though you might be able to score the Deluxe version for free depending on your rank. But on balance, buying TurboTax means spending more.
The company's free version lets you file the new Form 1040 (the IRS killed off the 1040EZ and the 1040A in 2018) and allows you to claim credits such as the child tax credit and the earned income tax credit. But if you want to do much else, you'll need to get one of the paid versions. Translation: if you plan to itemize, were a landlord, had capital gains, freelanced or ran a small business, or had any other situations going on that require filing a separate schedule, you'll need to pay.
Available packages and list prices
Free edition
• Federal: $0
• State: $0

TurboTax's free federal version allows you to file a 1040 and a state return for free, but you can't itemize or file any of the new Schedules 1-6. It works for people who don't plan to claim any deductions or credits other than the standard deduction, the earned income tax credit or the child tax credit.
TurboTax Live Basic
• Federal: $79.99
• State: $34.99

This is essentially the free version but with on-demand video access to a tax pro for help, advice and a final review.
Deluxe
• Federal: $59.99 (with TurboTax Live: $119.99)
• State: $44.99

This version lets you itemize and claim other tax deductions and tax credits, and includes the ItsDeductible feature for calculating the value of donated items. You can file a Schedule C, but you can't report capital gains or rental income. The Live version comes with on-demand video access to a tax pro for help, advice and a final review.
Premier
• Federal: $79.99 (with TurboTax Live: $169.99)
• State: $44.99

This is the Deluxe version plus added capability for reporting investments and rental income. The Live version comes with on-demand video access to a tax pro for help, advice and a final review.
Self-Employed
• Federal: $119.99 (with TurboTax Live: $199.99)
• State: $44.99

Gets you everything in the Premier version plus deduction help and expense-tracking features for freelancers, independent contractors and side-hustlers. The Live version comes with on-demand video access to a tax pro for help, advice and a final review.
One note about prices: Providers frequently change them. We'll keep updating this review, but you can verify the latest price by clicking through to TurboTax's site.
TurboTax also offers desktop software, but it's not part of our review. Desktop means your return doesn't reside in the cloud; it stays on your computer while you work on it. People who have used the desktop version before will see a cosmetic difference with the cloud, but the steps are similar — and, of course, the math is the same.
TurboTax's features and ease of use
TurboTax's products are some of the most user-friendly on the market, and for good reason. Like many other providers, TurboTax lets you access and work on your return across devices: on your computer via the website or on your phone or tablet via an app. So you could import your W-2 information from your employer, but you also could snap a photo of the form with your mobile device and see all the data transferred to your return. The latter is especially helpful if you have multiple W-2s.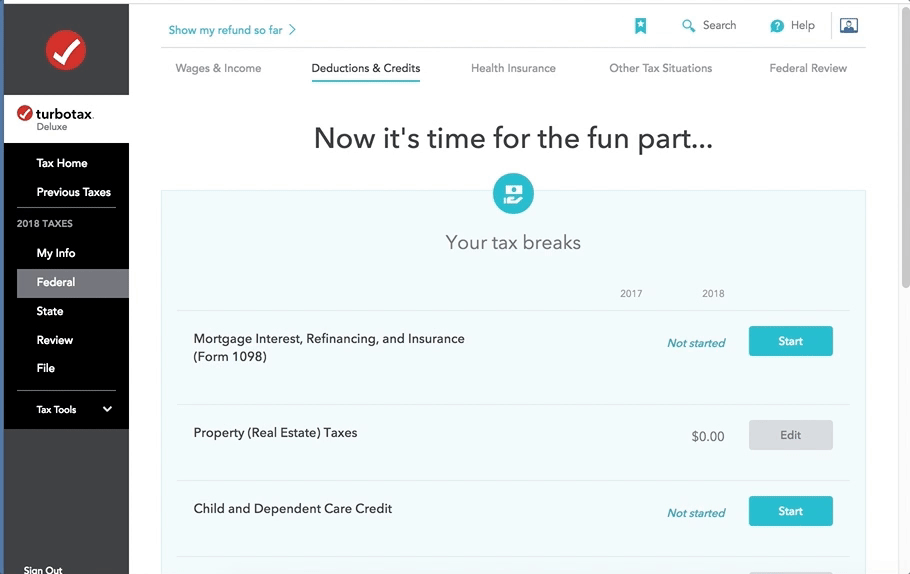 Getting help throughout the preparation process is TurboTax's biggest strength. A banner running along the side keeps track of where you stand in the process and flags areas you still need to complete.
TurboTax's interface is like a chat with a tax preparer. The software asks questions in plain language and puts your answers in the right place on your return. You can skip around, too.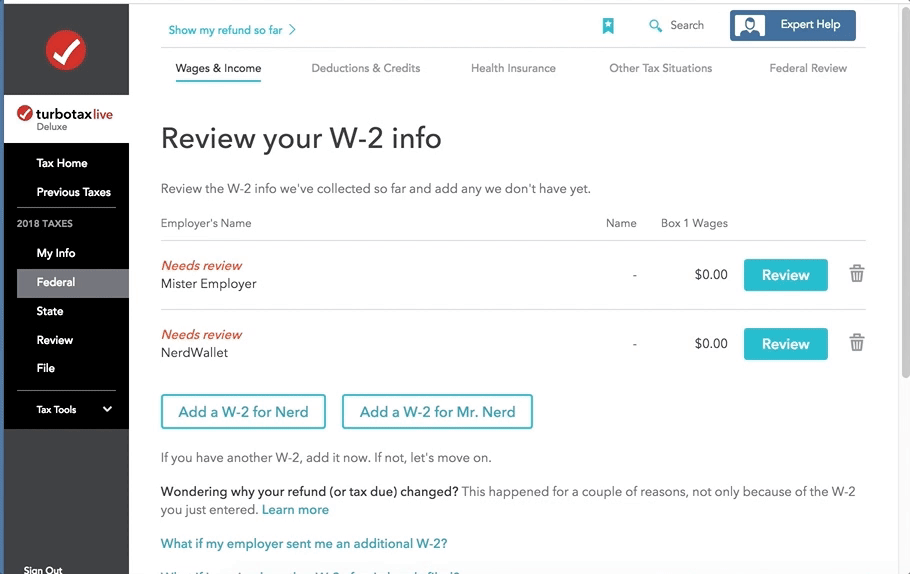 The Deluxe, Premier or Self-Employed packages also integrate ItsDeductible, a feature — and standalone mobile app — that's helpful for quickly finding the deduction value of donated clothes, household items or other objects.
TurboTax's Self-Employed version offers a neat expense-tracking feature through QuickBooks, including the ability to store photos of your receipts and track mileage from your phone.
Support options with TurboTax
If you need (or want) a lot of handholding, TurboTax could be a great choice. Its searchable knowledge base, video tutorials and online community are great for research on the fly, but the access to live help is a game-changer for many nervous filers.
Ways to get help
Searchable knowledge base
Big online community
Video tutorials
Alexa skill for checking return or refund status
Live, on-screen human help (if you paid for it)
One of TurboTax's most outstanding support features is TurboTax Live, which is in its second year. If offers (and not cheaply; see our pricing table for costs) a one-on-one review with a CPA or enrolled agent before you file, as well as unlimited live tax advice. They'll even sign and e-file your tax return if you want. You can make an appointment or talk on the fly to a tax pro via one-way video (you see them, but they don't see you — they just see your screen). Hours of operation are 8 a.m. to midnight Eastern, seven days a week.
New this year is an offline expert review option that lets you ask questions and get answers from a CPA, Enrolled Agent or tax attorney via email.
To boot, you can get tax advice year-round with TurboTax Live (it doesn't close up shop on April 15). Having on-demand access to a tax pro all year is huge, although you can't ask to talk to the same tax expert each time you call.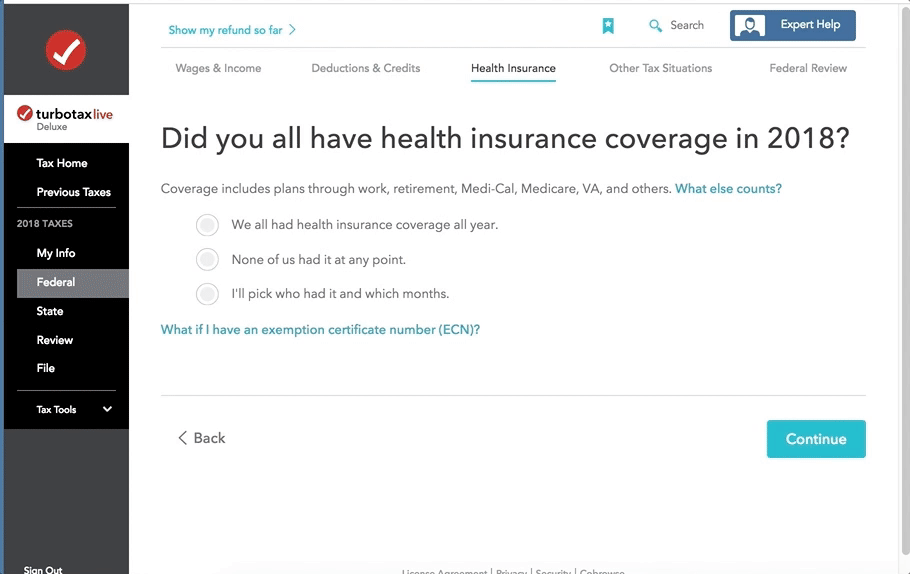 If you're audited
Getting audited is scary, so it's important to know what kind of support you're getting from your tax software. First, be sure you know the difference between "support" and "defense." With most providers, audit support (or "assistance") typically means guidance about what to expect and how to prepare — that's it. Audit defense, on the other hand, gets you full representation before the IRS from a tax professional.
TurboTax gives everyone free audit "guidance" from a tax pro to help you understand what's going on if you get that dreaded letter, but if you want someone to represent you in front of the IRS, you'll need TurboTax's audit defense product, called Max Defend & Restore. It costs $39.99.
Tax refund options
No matter how you file, you can choose to receive your federal refund via direct deposit to a bank account — that's the fastest option. You can also have your refund loaded onto a TurboTax Prepaid Visa Card. (If you're getting a refund on your state taxes, see if your state offers a prepaid card option as well.) Other options include getting an old-fashioned paper check, applying the refund to next year's taxes or directing the IRS to buy U.S. Savings Bonds with your refund. And TurboTax will up your refund by up to 10% if you load the amount to an Amazon e-gift card.
You have the option of paying for the software out of your refund (if you're getting one). But there's a $39.99 charge to do that.
How TurboTax compares


Read full review






Read full review






Read full review



Pricing

On the higher end




---




Ease of use

Q&A user flow is the best we tested




---




Support

Live video help from a tax pro available, plus online FAQs





Pricing

On the higher end




---




Ease of use

Less flashy, but still a solid, clear experience




---




Support

Live on-screen help from a tax pro available, plus online FAQs and 12,000 locations





Pricing

Good budget pick




---




Ease of use

Simpler, but upgraded design is a plus




---




Support

Online FAQs plus phone and chat





Compare more software
The bottom line
With its cutting-edge support and comprehensive design, TurboTax is in many ways the standard for the do-it-yourself tax-prep industry. Its products come at a price, however, and confident filers who don't need all the bells and whistles may get a better value elsewhere.