Editorial Review
Merrill Edge Review 2019
Merrill Edge offers high-quality research and unlimited free stock and ETF trades. Plus, Merrill clients have access to customer support at about 2,500 Bank of America locations.
At NerdWallet, we strive to help you make financial decisions with confidence. To do this, many or all of the products featured here are from our partners. However, this doesn't influence our evaluations. Our opinions are our own.
Our Take
The Bottom Line: Merrill Edge stands out for its robust research, and Bank of America customers will appreciate the account integration.
Fees
Account Minimum
Promotion
Up to $600
cash credit with qualifying deposit
Pros & Cons
Pros
Robust third-party research.

Integrated with Bank of America.
Cons
Minimum balance requirement for active-trading platform.
Compare to Similar Brokers
Promotion

Up to $600

cash credit with qualifying deposit

Promotion

$100 to $2,500

cash credit with a qualifying deposit
Full Review
Merrill Edge appeals to casual traders with a powerful combination of robust research and competitive pricing, including unlimited free trades on stocks and ETFs. Merrill clients also have access to customer support at about 2,500 Bank of America locations.
Merrill Edge is best for:
Bank of America customers
Where Merrill Edge shines
Integration with Bank of America: Merrill Edge is a product of Bank of America's acquisition of Merrill Lynch, and it's clear that the parent company has made efforts to create a seamless experience for clients who use both services. You can view your Bank of America accounts and Merrill Edge accounts with a single login, and real-time transfers move money between accounts instantly. The same integrated experience is available on mobile, and you can even view your Merrill Edge investment account balances on Bank of America ATMs.
Free trades: Like many brokers these days, Merrill Edge offers customers commission-free online stock, ETF and options trades. Options trades carry a per-contract fee of $0.65, which is competitive with other brokers.
Preferred Rewards program:  Merrill Edge customers with Bank of America accounts may qualify for Merrill's Preferred Rewards program, which offers access to a variety of discounts and promotions, including higher interest rates on savings accounts, reduced rates on auto loans, and discounts on mortgage origination fees.
To qualify, you must have an eligible Bank of America checking account, plus a three-month average combined balance of $20,000 or more in Bank of America deposit accounts and/or qualified Merrill Edge and Merrill Lynch investment accounts.
Research: The company provides research from its own BofA Merrill Lynch Global Research, as well as third-party providers, including Morningstar, CFRA, Trefis and Recognia. Mutual fund reviews and rankings come from Morningstar and Lipper, and the company compiles a list of Merrill Edge Select ETFs and Merrill Edge Select Funds, with the top funds in each category as evaluated by Merrill Lynch investment professionals. Merrill Edge's website also has a lot of educational resources, including videos, courses, webinars and articles, all searchable by investing experience or topic. Morningstar's investing classroom is available on the site, too.
With Merrill Edge's "Fund Story" feature, you can research a mutual fund's holdings (that is, what it's investing in), the sectors it covers, its historical performance, third-party analyst ratings and more. Plus, the fee analyzer illustrates the cost of owning the fund over time. Similarly, "Stock Story" offers detailed information on individual stocks, all in an easy-to-follow format.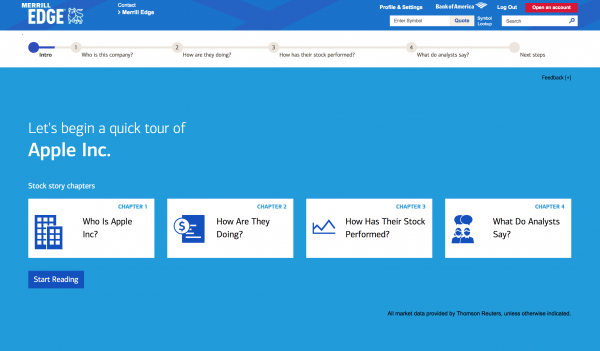 Where Merrill Edge falls short
Trading platform restrictions: Like many brokers, Merrill Edge offers both website trading and an active trader platform, called Merrill Edge MarketPro, which is browser-based. The company's website is clean and intuitive, and offers several screeners so you can quickly sort through stocks, mutual funds, ETFs and bonds. The MarketPro platform is also robust, with much of what active traders expect: interactive charts, alerts, a customizable dashboard, and streaming data and news.
But MarketPro requires Java and has restricted access. It's available only to customers who maintain a combined balance of $50,000 or more in Merrill Edge, Merrill Lynch and/or Bank of America accounts or make at least 15 trades per quarter. (Customers who qualify for the Preferred Rewards Platinum or Preferred Rewards Platinum Honors programs also get access to MarketPro.) Level II quotes, which show real-time bid and ask prices for Nasdaq stocks, are available only to investors who trade at least 30 times per quarter or maintain a total combined balance of $1 million or more in their Bank of America and Merrill Lynch accounts.
Is Merrill Edge right for you?
Now that Merrill Edge offers free trades to all investors, there's a good chance this broker has much of what you'd need — high-quality research, a good investment selection and helpful customer service. The company ranks among the top of the field when it comes to online brokers.
on Merrill Edge's website