Lost Money Order? How to Cancel It and Get Your Cash
To cancel a money order, contact the issuer, provide details, attach a copy of the receipt, submit the cancellation form and pay a fee.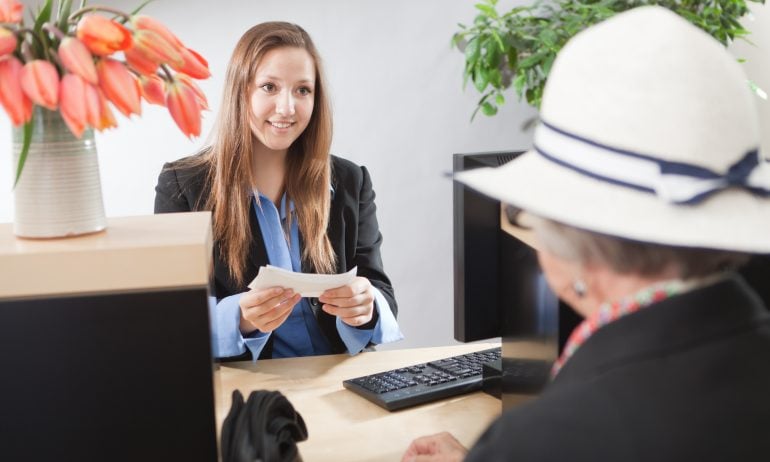 Many or all of the products featured here are from our partners who compensate us. This influences which products we write about and where and how the product appears on a page. However, this does not influence our evaluations. Our opinions are our own. Here is a list of our partners and here's how we make money.
Discover the bank accounts that fit your financial goals
Just answer a few questions to compare bank accounts that meet your needs.
Whether you received a money order or bought one to pay someone else, losing it doesn't always mean saying goodbye to your funds.
Here's how to cancel and replace a money order or get a refund.
Can you cancel a money order?
You can cancel a money order that hasn't been cashed. (If it's already been cashed, skip ahead.) If you're not sure about your money order's status, you can track it by calling the issuer's customer service number or using the tracking feature on its website.
How to cancel a money order
Here are the steps to cancel a money order.
Step 1: Contact the issuer, who will ask you to start the cancellation process by completing a request form. If it was a Postal Service money order, for example, visit a post office to fill out the form.
Step 2: Provide details on the request form, such as the money order's purchase date, location and amount, as well as its tracking number. You'll find this information on the money order receipt, which the buyer gets at the time of purchase. If you don't have the receipt, fill in as much information as you can.
You might also be asked for the name of the person or company you were paying and a brief description of how the money order was lost.
Step 3: Attach a copy of the receipt, if you have it.
Step 4: Submit the cancellation request form and pay a fee. Depending on the provider, you don't have to return the form to the same location, or even in person. Some issuers, including Western Union, let you email, fax or mail the request.
SoFi Checking and Savings

APY
4.60%SoFi members with Direct Deposit or $5,000 or more in Qualifying Deposits during the 30-Day Evaluation Period can earn 4.60% annual percentage yield (APY) on savings balances (including Vaults) and 0.50% APY on checking balances. There is no minimum Direct Deposit amount required to qualify for the stated interest rate. Members without either Direct Deposit or Qualifying Deposits, during the 30-Day Evaluation Period will earn 1.20% APY on savings balances (including Vaults) and 0.50% APY on checking balances. Interest rates are variable and subject to change at any time. These rates are current as of 10/24/2023. There is no minimum balance requirement. Additional information can be found at http://www.sofi.com/legal/banking-rate-sheet.
Fees for canceling a money order
Here's what some of the larger money-order issuers charge for a cancellation:
MoneyGram: $18 (available at Walmart).

U.S. Postal Service: $6.25.

Western Union: $15 if you have your receipt, $30 if you don't.
Once the issuer accepts payment, it will verify your information and research whether the money order was cashed. If all goes well, the issuer will cancel the old money order and send a new one. The entire process varies by issuer, but it often takes about 20 to 30 days if you provide a receipt. If not, it can take around eight weeks.
Instead of receiving a new money order, you can ask for your money back, usually on the same form. The fees and time to process are generally the same as if you canceled and asked for a replacement money order to be sent.
What if the money order was cashed?
If the money order has already been cashed, you probably won't get your cash back or a replacement money order. But you might still be able to collect.
The provider might give you a photocopy of the cashed money order. If you think it was cashed fraudulently, alert your local law enforcement. The copy could help authorities catch the criminal and make sure the money is returned to you.
To help protect yourself against fraud, write a name in the "payee" field as soon as you buy the money order and give one only to people or businesses you trust.
What to do if you receive a money order
If you receive a money order, cash it or deposit it in a checking or savings account before you have a chance to lose it. But if your money order does disappear, follow these steps for a decent shot at reclaiming your cash.
APY
4.60%
With $0 min. balance for APY
Bonus
$300
Earn up to $300 with direct deposit. Terms apply.
Get more smart money moves – straight to your inbox
Sign up and we'll send you Nerdy articles about the money topics that matter most to you along with other ways to help you get more from your money.