'Debt-Proof' Credit Cards Lower Some Barriers but Raise Their Own
These new cards promise no credit checks, fees, deposits or even interest rates. But in exchange for those guardrails, you'll have to make some compromises.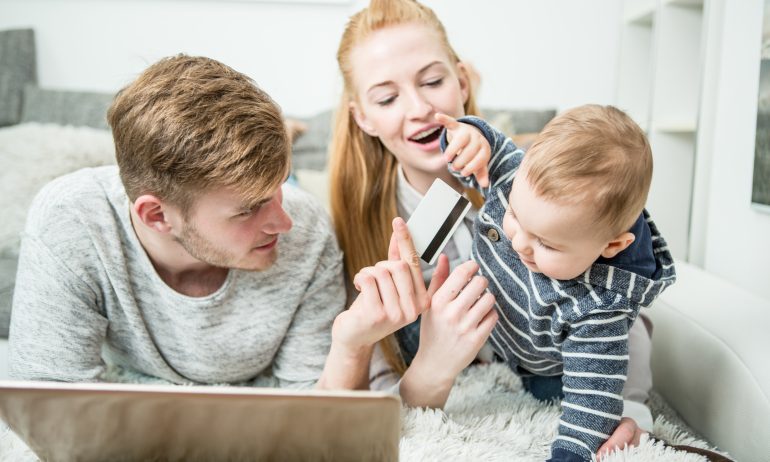 Many or all of the products featured here are from our partners who compensate us. This influences which products we write about and where and how the product appears on a page. However, this does not influence our evaluations. Our opinions are our own. Here is a list of our partners and here's how we make money.
A credit card that makes it essentially impossible to overextend yourself, while also helping your credit scores? Sounds a bit like having your cake and eating it, too.
And what if, as icing on that slice, that card advertised no credit check, no security deposit, no fees, not even an interest rate? For credit newbies and second-chance seekers, that's a sweet recipe, and it's becoming easier to find.
In recent years, financial technology companies, from Chime and Grow Credit to Tomo, Varo and Yotta, have unveiled starter cards that remove such traditional barriers to building credit, while also instituting guardrails to keep you on track.
But for all their potential benefits, these kinds of products come with certain drawbacks and aren't for everyone. Here's what you need to know about them.
Ideal ingredients for credit-building
These relative newcomers to the market are easier to get and cheaper to hold than a lot of other credit cards for bad credit (FICO scores of 629 or lower). Some of their benefits include:
1. No credit check or traditional security deposit
For many of these cards, the application process doesn't result in a hard inquiry on your credit report that can cause credit scores to temporarily drop. Instead, eligibility may depend on other factors like your income, cash flow or the security deposit, depending on the card.
But unlike traditional secured credit cards, you don't have to put down a fixed, upfront security deposit of several hundred dollars. Rather, you'll often have the flexibility to choose your own deposit amount, which sets the card's credit limit. This generally requires that you link a bank account to the card. (Some cards, like the Tomo Credit Card and Grow Credit Mastercard, don't require a security deposit at all.)
Even though security deposits are refundable, coming up with the typical $200 to $300 immediately — and then tying up that money for months — can be a burden. A flexible security deposit lowers the barrier to accessing credit, according to Edward Sanchez, a registered financial consultant based in Illinois.
2. No annual percentage rate or fees
Most of these cards won't let you carry a balance month to month, hence there's typically no APR. That is, you literally cannot be charged interest. In cases where you set your own deposit through a linked bank account, your purchasing power is limited to that amount; you can't spend beyond it.
And unlike many unsecured cards targeting those with poor credit, these cards tend to charge no annual fee, nor many other fees at all. Late fees, for example, often aren't possible because some of these cards automatically deduct funds from your linked bank account to cover transactions.
"Most (other) credit builders that I've seen online, credit cards — because they are targeting people with lower credit or no credit — they have gouging rates and gouging fees," Sanchez says.
3. Payments reported to major credit bureaus
Depending on the card, your bill payments are reported to some or all of the major credit bureaus. Establishing a record of on-time payments is a key step in working your way up to good credit (FICO scores of 690 or higher).
A potentially challenging recipe
While such credit-building ingredients may sound appealing, these cards do pose some speed bumps:
1. A linked account is generally required
To qualify for one of these cards, you may have to open an account with the company that offers the card, or link an existing bank account through a third party. If you don't want an extra account or don't feel comfortable sharing banking information, this requirement may leave a bad taste in your mouth.
It's also worth pointing out that some of the companies behind these cards aren't official banks, but rather tech platforms that merely "service" the card. Also known as "neobanks," these companies partner with an official issuing bank but have their own drawbacks.
2. Terms might be confusing
Many of these products work less like traditional credit cards and more like secured charge cards, meaning they come with limitations. As with a secured card, your charging power is limited, and as with a charge card, you can't carry a balance, so flexibility won't be a strong suit.
Because these cards don't have uniform terms and features, you may have to consult the fintech companies behind them to understand how they work. For example, some of these products don't report credit utilization to the bureaus, so understanding the information on your credit report may be tricky.
When Erica Patterson, of Connecticut, was first considering Chime's card, she picked up the phone to understand its ins and outs. "I ended up calling them and speaking to a representative and she broke it down," she says.
Some traditional secured credit cards offer a way to upgrade to an unsecured card with the same issuer. So not only can you graduate to a card with more robust rewards and features, but you can do so without having to close that original account. That can preserve your credit utilization and your length of credit history, both of which are major factors in your credit scores.
But these alternative cards, by and large, don't offer that option. If you're looking to branch out to a better card, you'll have to go with a different credit card issuer entirely.
4. Poor preparation for a traditional credit card
While these kinds of cards can help establish credit, they may leave you ill-prepared to eventually manage a traditional credit card — one that most certainly will charge an APR and other possible fees, but will not come with many training wheels.
For example, if you're used to having your bill payments automated with some of these newer cards, you may find it difficult to budget for traditional credit card expenses.
Patterson says that using Chime's card helped her to finally qualify for a store credit card, but there was an unexpected learning curve once she got it.
"I didn't understand that if you're not paying on time, how it can affect you and will add money onto the amount you have to pay," Patterson says. "This whole time I've had someone else on the back end paying that bill, and it's nothing that I've had to worry about."
The Chime Credit Builder Visa® Credit Card is issued by Stride Bank, N.A., Member FDIC, pursuant to a license from Visa U.S.A. Inc. and may be used everywhere Visa credit cards are accepted.
Find the right credit card for you.
Whether you want to pay less interest or earn more rewards, the right card's out there. Just answer a few questions and we'll narrow the search for you.
Get Started
Get more smart money moves – straight to your inbox
Sign up and we'll send you Nerdy articles about the money topics that matter most to you along with other ways to help you get more from your money.