How to Stop Wasting Your Money on Credit Card Interest
Transferring your balance to a 0% card is one option; another is to cut expenses and increase income.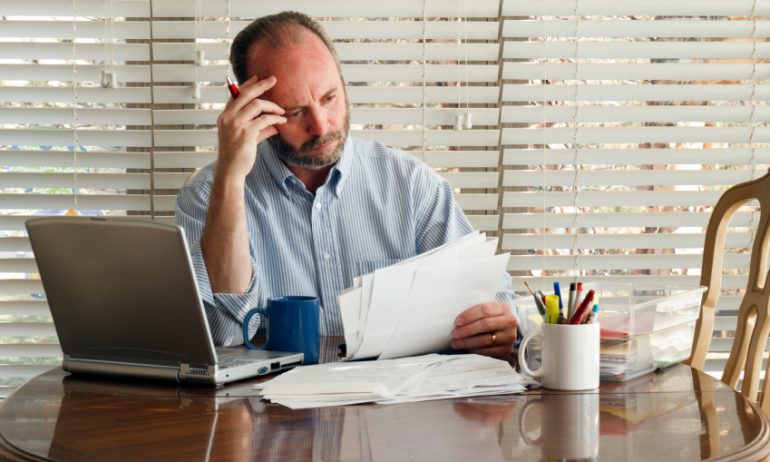 Many or all of the products featured here are from our partners who compensate us. This influences which products we write about and where and how the product appears on a page. However, this does not influence our evaluations. Our opinions are our own. Here is a list of our partners and here's how we make money.
For U.S. households that carry credit card debt, that debt is expensive: On average, they will pay interest charges of $1,155 this year, according to a NerdWallet study. That number is even higher for self-employed Americans, who will pay an average of $1,539 in credit card interest this year.
If you've got better things to do with your money — building an emergency fund or saving for retirement, for example — you can reduce or eliminate your credit card interest with these tips.
Transfer your balance to a 0% APR credit card
One of the easiest ways to stop incurring credit card interest is to move your debt from your current card to one with a 0% APR offer for balance transfers. You won't be charged interest on the transferred balance for a set period of time, usually 12 to 18 months. If you pay off the card before the 0% rate expires, you won't owe any interest on the amount you transferred.
However, you should aim to use a 0% card only if you can pay off the balance before the introductory rate ends. Some cards apply retroactive interest to your initial balance if it's not fully paid off when the 0% period ends.
Be sure not to confuse a 0% intro APR offer with a deferred interest offer, which is more common on store credit cards. Unlike a 0% intro APR offer, a deferred interest offer doesn't waive the interest, it just sets it aside. If you still owe any money after the intro offer expires, even a tiny amount, then you will owe all the interest that's been building over time.
It's easy to get caught up in the balance-transfer game — transferring your balance from one 0% card to another, making only the minimum monthly payment, then repeating the process when the 0% period ends.
But play the game too often, and you'll end up losing, for two reasons: the possibility of retroactive interest and how applying for credit cards in a short period of time affects your credit score. Hard inquiries to your credit — like those from applying for new cards — can hurt your score, especially if your credit history is short. Get one 0% APR card and make a plan to pay it off before the introductory rate expires.
A 0% APR card is a great tool for reducing debt, but it isn't an option for everyone. Most 0% cards are available only to those with good or excellent credit, which doesn't help those with subpar credit scores. But you can reduce interest costs in other ways, even if you can't eliminate them entirely.
For starters, you can make more than one payment per month. For example, if you get paid twice a month and you can afford to pay $500 a month on your credit card, then pay $250 each time you get your paycheck. Credit card interest accrues on your daily average balance; making payments more often will reduce the daily average balance and therefore the amount of interest you will pay.
Say you have a balance of $5,000. If you make one payment of $500 on the 30th of the month (the due date), your average daily balance for the month is $4,983. Assuming an interest rate of 20%, you would accrue $81.92 in interest. If instead you made two $250 payments — one on the 15th and one on the 30th — you would accrue only $79.87 in interest. This may not seem like a life-changing amount, but it can make a significant difference over time and with large balances.
Going forward, if you expect to be carrying a balance regularly, then interest will be a fact of life. Look for a card with a low ongoing interest rate, and use that card for purchases you expect to need time to pay off.
Cut expenses and increase income
Once you have a strategy for reducing or eliminating interest, you can focus on putting more money toward your debt on a monthly basis. There are two ways to do this: Make more money or spend less. If you can, do both. If that's not possible, work on whichever method makes the most sense for you.
To cut expenses, evaluate your current budget. Do you have any monthly expenses you don't need or value? Are there more affordable alternatives for some of your existing expenses? Challenge yourself to cut $100 from your budget the first month. Then try to beat your previous month's savings each subsequent month.
You can also try to make more money. If your employer pays by the hour, ask whether you can work overtime. If not, can you pick up a second (or third) job at night and on the weekends? You could also use a skill such as writing, carpentry, tutoring or design to earn money as a freelancer.
Other moneymaking options include selling homemade goods online or at your local farmers market or craft fair, or selling items you're no longer using. Maybe you have an extra room in your home that you can rent out on an accommodations website. As with cutting expenses, challenge yourself to make an extra $100 this month, and try to earn more next month.
Whether you cut expenses or increase income, it's critical that the extra money go toward your debt. Use the newfound cash to make extra payments on your highest-interest credit card balance. As with making multiple payments a month, your monthly savings may not seem significant, but they truly add up.
As your credit card balances decrease, you'll accrue less interest, so make debt payment a top financial priority. In the short term, reduce or eliminate interest by taking advantage of 0% offers, making multiple payments per month, and freeing up money in your budget by making more, spending less or both.
A version of this article also appeared on U.S. News.
Find the right credit card for you.
Whether you want to pay less interest or earn more rewards, the right card's out there. Just answer a few questions and we'll narrow the search for you.
Get Started
Get more smart money moves – straight to your inbox
Sign up and we'll send you Nerdy articles about the money topics that matter most to you along with other ways to help you get more from your money.