6 Budgeting Mistakes and How to Fix Them
Build a sound budget with this advice from financial planners.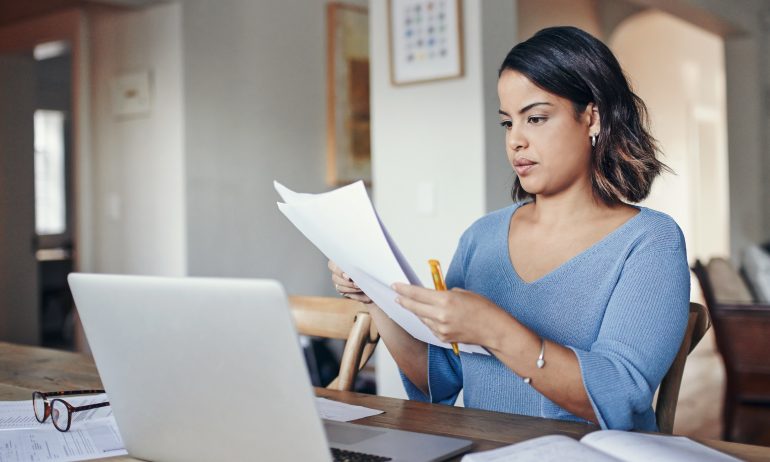 Many or all of the products featured here are from our partners who compensate us. This may influence which products we write about and where and how the product appears on a page. However, this does not influence our evaluations. Our opinions are our own. Here is a list of our partners and here's how we make money.
The thought of accounting for every bit of money you touch can be intimidating, but the biggest budgeting flubs don't require a math degree to fix. With some instruction and resolve, anyone can build a budget.
We talked with several financial planners to identify the most common and troublesome budgeting errors and help you avoid them. The pros agree: Skipping a budget entirely is the biggest mistake you can make. But once you've nailed one down, steer clear of these additional blunders.
1. Failing to track expenses
The accuracy of your budget and your ability to make progress toward financial goals depends on knowing what you're spending. Being vague with these figures could set you up for failure.
"

Skipping a budget entirely is the biggest mistake you can make.

"
"Quite frankly, most people have never stopped to think about how much money they actually spend on food or personal items," says Justin Goodbread, a certified financial planner with Heritage Investors in Knoxville, Tennessee. He says he sees folks both dramatically over- and underestimating how much they spend each month.
Fix: Track what you spend for at least one month before setting your budget. Ideally, you'll keep tracking expenses every month, but shoot for one month per quarter at minimum. Use a good budgeting app to simplify the process.
2. Neglecting your retirement
A goal that's many decades away is an easy goal to neglect. But whether you're middle-aged with a family or fresh out of college, you need to save for retirement — it should be the single biggest financial priority in your life.
"People tend to see saving for retirement as sacrificing their 'expendable' income today," says Lauren Klein, CFP and founder of Klein Financial Advisors in Newport Beach, California. "That's looking at it all wrong." Klein suggests thinking of today's retirement contributions as tomorrow's paychecks — this is the money that will pay the bills when you're older.
Fix: At a minimum, set aside enough of your salary to meet any employer match for 401(k) contributions. If you don't have a 401(k), set up an IRA and contribute what you can each month. The ultimate goal is to set aside at least 15% of your current income for your golden years.
3. Skipping the emergency fund
Your emergency fund eliminates the need for tapping credit cards or other loans when unexpected expenses happen, according to Scott Higgins, CFP with Rose Street Advisors in Kalamazoo, Michigan. "It's not a matter of if something will happen, but a matter of when," Higgins says.
"

If you have nothing set aside in case of emergency, make a $500 fund your first priority.

"
Fix: If you have nothing set aside in case of emergency, make a $500 fund your first priority. Once that's in place and you're contributing regularly to your retirement, set manageable goals for your emergency fund, working up to saving three and then six months of living expenses. If you have the time and energy, consider boosting your emergency fund with side gigs — just figure out how to make money in a way that fits your schedule.
4. Assuming your partner is on the same page
"Let's talk about money" can be fightin' words in some households, but failing to align on your budgeting and long-term financial goals is a major mistake. "If that lack of communication hasn't already caused problems, it definitely will down the road," Klein says.
Fix: Talk about money early and often. Look at monthly income, bills and spending together, so you both know where the money is going. When it comes to budgeting and goals, if you don't agree on everything, compromise. Klein suggests getting outside help if money remains a constant point of contention.
You won't achieve financial freedom just by avoiding small expenses, like your daily Starbucks fix, according to Daniel P. Mahoney, CFP and founder of True Square Financial LLC in Atlanta. Instead, he says, "two things prevent most families from saving more — high fixed costs like your mortgage, car payments and tuition, and unexpected expenses or income loss."
Fix: Keep the big stuff the priority. With an emergency fund in place for unexpected expenses, examine your recurring monthly expenses for places to save substantially. Brent Sutherland, CFP with Ntellivest in Pittsburgh, suggests asking yourself whether you really need that oversized house and mortgage, or two vehicles instead of one. "It's easy to get caught up in believing these items are a necessity."
6. Assuming you should go it alone
Budgeting is hard, but help is out there, and it's not reserved for the rich. "You don't need a minimum amount of money to receive professional financial advice," according to Shelly-Ann Eweka, CFP with TIAA in Denver, though many people are afraid to ask for help when it comes to managing their money.
Fix: There are many times when working with a financial advisor is warranted, and Eweka says people might be surprised at how little they'll have to pay. Credit counselors are another, lower-cost option if you're looking for help with debt management and general budgeting. If you're still unsure about paying someone to help you with finances, talk to trusted friends and family, especially those you've seen achieve their financial goals.