Hollywood on Strike 2023: What Happens Next?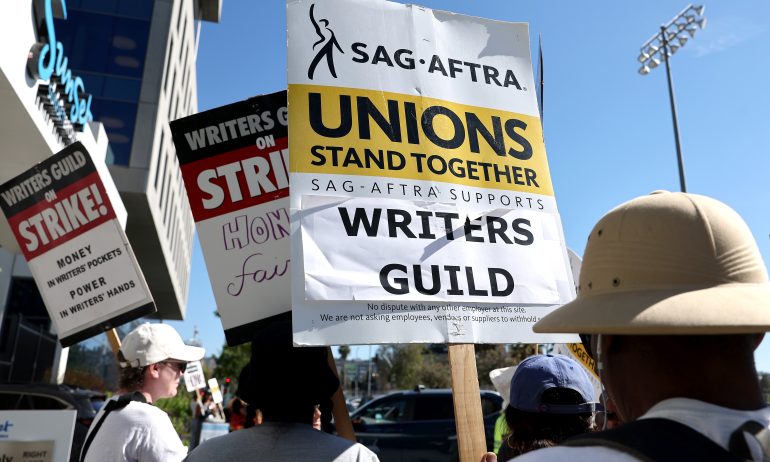 Many or all of the products featured here are from our partners who compensate us. This influences which products we write about and where and how the product appears on a page. However, this does not influence our evaluations. Our opinions are our own. Here is a list of our partners and here's how we make money.
Update on Sept. 27: The WGA strike is tentatively set to end after nearly 150 days. On Sept. 24, the Writers Guild of America and the Alliance of Motion Picture and Television Producers reached a tentative agreement. Members still must vote to ratify the new three-year contract. But workers may now return to work. Late night talk shows will likely be the first productions to get back up and running since scripted series and films are still being impacted by the SAG-AFTRA strike. See this story for more details on the WGA deal.
The story below was first published on July 13.
Roll up the red carpet because Hollywood is on strike.
The Screen Actors Guild and the American Federation of Television and Radio Artists (SAG-AFTRA), the union representing 160,000 performers, voted Thursday to strike. It's the union's first strike since 2000.
SAG-AFTRA joins the Writers Guild of America (WGA) — the TV and film writers' union — on the picket line. The strike officially begins at the stroke of midnight on Friday. The last time Hollywood actors and writers were striking at the same time was in 1960, when SAG was led by then-actor Ronald Reagan. The dual strike has, effectively, shut down Hollywood.
Following the strike announcement on SAG-AFTRA president Fran Drescher (yes, of "The Nanny" fame) said during a press conference, "It came with great sadness that we came to this crossroads, but we had no choice. We are the victims here. We are being victimized by a very greedy entity. I am shocked by the way the people that we have been in business with are treating us. I cannot believe it, quite frankly, how far apart we are on so many things. How they plead poverty, that they're losing money left and right when giving hundreds of millions of dollars to their CEOs. It is disgusting."
What the Hollywood strike means for you
If you enjoy televised, live, film and streaming entertainment, a full Hollywood work stoppage will mean a few things for your consumption of new content:
Don't expect new seasons of your favorite TV shows back anytime soon. 

Any anticipated upcoming movie projects starring A-list actors (and B-list, C-list and so on) will be on pause or will be nixed entirely. 

All publicity for upcoming releases will be halted as well. That includes promotional appearances, online videos between chummy actors, actors' social media posts, press conferences, award shows like the Emmys and red carpet premieres.
A slew of film and TV projects were already on halt due to the writers' strike. That includes TV shows like "Abbott Elementary," "Andor," "American Horror Story," "The Chi," "Cobra Kai," "Daredevil: Born Again," "Family Guy," "Good Omens," "Hacks," "House of the Dragon," "The Last of Us," "The Old Man," "Saturday Night Live," "Severance," "Stranger Things," "The Penguin," "Yellowjackets," and the "Yellowstone" prequel "1923," among others.
Any remaining projects are expected to shutter quickly following the strike announcement. However, a few TV broadcasts, including news, soap operas and sports, won't be impacted by the shutdown. Animated movie productions are also expected to continue.
If you don't enjoy most broadcast entertainment, then the shutdown won't mean much to you personally, but you might still be curious how the strikes came to be.
Nerd out on investing news
A NerdWallet account is the smartest way to see the latest financial news and what it means for your wallet.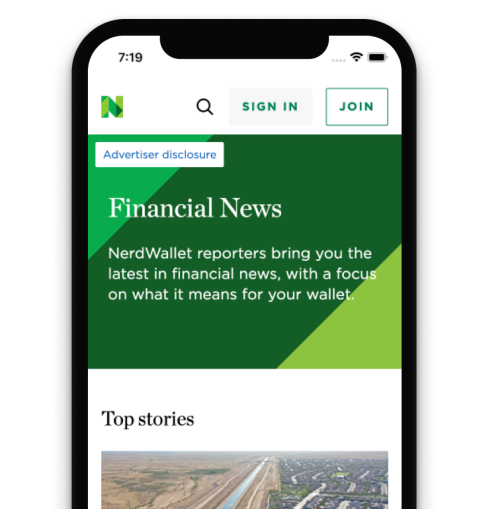 SAG-AFTRA and the Alliance of Motion Picture and Television Producers (AMPTP) have been in negotiations since June 7, following a strike authorization by the union. AMPTP is the bargaining group that represents major Hollywood studios and streamers including Amazon, Apple, Disney, NBCUniversal, Netflix, Paramount, Sony and Warner Bros. Discovery.
The actors' union argues that the alliance has not acknowledged the negative impact of industry shifts on workers, namely how the streaming ecosystem has undermined actors' pay over the last decade. SAG-AFTRA also says that artificial intelligence poses an "existential threat to creative professions." The union states that performers need "contract language that protects them from having their identity and talent exploited without consent and pay," according to a July 13 press release.
The two bodies failed to reach a deal Wednesday before a late-night deadline. The union recommended a strike and voted in favor of it on Thursday.
AMPTP issued a statement following the negotiation breakdown early Thursday morning. It said the union refused its "offer of historic pay and residual increases, substantially higher caps on pension and health contributions, audition protections, shortened series option periods, a groundbreaking AI proposal that protects actors' digital likenesses, and more."
Duncan Crabtree-Ireland, SAG-AFTRA's national executive director and chief negotiator responded to AMPTP's "groundbreaking AI proposal," at SAG-AFTRA's press conference on Thursday saying, "They proposed that our background performers should be able to be scanned, get paid for one day's pay, and their company should own that scan, their image, their likeness, and to be able to use it for the rest of eternity in any project they want with no consent and no compensation. So if you think that's a groundbreaking proposal, I suggest you think again."
Why are writers striking?
The WGA, both west and east, has been on strike for more than two months. The strike started on May 2 following six weeks of negotiations with AMPTP. The union is asking for fairer compensation and protections for writers.
The union's frustrations are similar to actors': namely, that streaming services have eroded compensation, effectively creating a "gig economy inside a union workforce" and "opened the door to writing as an entirely freelance profession," according to a May 1 press release by the WGA.
The WGA also mentions the disruption of AI in the profession. It doesn't want to ban AI, per se, but it would like the use of AI to be regulated and for writers to get first credit on projects.
The only statement made by AMPTP regarding the writers' strike was reported in Deadline, an entertainment industry news website: "As we have said all along, our companies are committed to finding workable solutions to our ever-changing business for the mutual benefit of those who contribute to its success."
How long could the strikes last?
The duration of the actors' strike is anyone's guess. When asked at the press conference Thursday how long the strike might last, Drescher said, "That's up to them. We're open to talking to them tonight. All of this is because of their behavior."
The last time SAG-AFTRA went on strike was in 2000, and it lasted six months. But that was regarding pay for commercials. Actors haven't striked against film producers, studios and TV networks since June (AFTRA) and July (SAG) of 1980. That strike lasted until Oct. 23, 1980.
The writers are still on strike. Deadline reported on Tuesday that the AMPTP's strategy is to dig in its heels until union writers run out of money and are forced to return to work. The last WGA strike began in 2007 and lasted for 14 weeks.
Meanwhile, the Directors Guild of America (DGA) and AMPTP reached a new three-year labor contract on June 26, ahead of the DGA's slated contract expiration on June 30. Negotiations began on May 10 and were completed on June 3. The new contract includes wage increases, global streaming residuals, and provisions addressing safety, diversity and creative rights. It also establishes a new standard that generative AI can't replace duties performed by DGA members.
Photo by Mario Tama/Getty Images News via Getty Images
Get started with budget planning
Check your current spending across categories to see where you can save