Average Monthly Expenses: From a Single Person to a Family of 5
In 2022, average monthly expenses ranged from $3,693 for one person to $8,068 for a family of five or more. Try the 50/30/20 model for your own spending.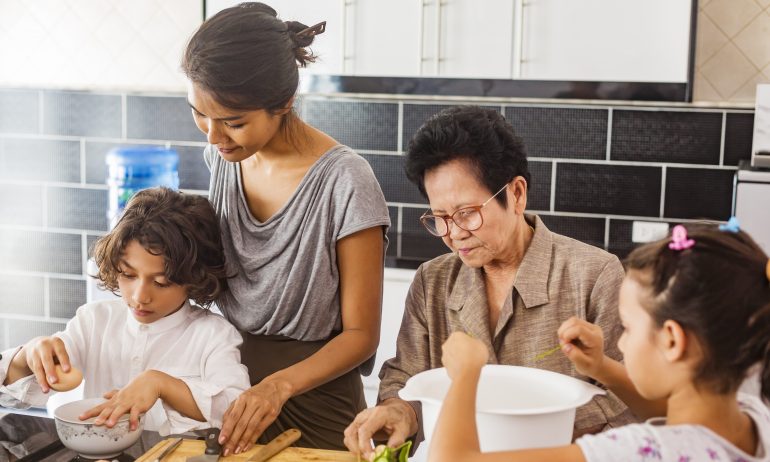 Many or all of the products featured here are from our partners who compensate us. This influences which products we write about and where and how the product appears on a page. However, this does not influence our evaluations. Our opinions are our own. Here is a list of our partners and here's how we make money.
Without a budget — or come to think of it, even with one — you may wonder how your average monthly expenses compare with "what's normal."
The average monthly expenses reported here are from the 2022 Consumer Expenditures Survey conducted by the U.S. Bureau of Labor Statistics and released in September 2023 — the latest data available.
Note that "family size" doesn't necessarily mean two parents and children. A household might have any number of configurations of parents, grandparents, children and unrelated people living together.
Average monthly expenses by household size
The average monthly expenses among all households totaled $6,081, which is $72,967 annually. That's up 9% from 2021.
Average monthly expenses for one person:
Average monthly expenses for one person totaled $3,693, or $44,312 annually.
Average monthly expenses for a family of 2:
$6,372, or $76,468 annually.
Average monthly expenses for a family of 3:
$7,189, or $86,265 annually.
Average monthly expenses for a family of 4:
$8,460, or $101,514 annually.
Average monthly expenses for a family of 5 or more:
$8,068, or $96,814 annually. Yes, we do note that a family of five has lower monthly expenses than a family of four, according to the BLS. Such is the nature of statistical estimates.
Average monthly expenses that increased year over year
Among the 14 major elements of household spending in 2022 these had the largest jumps by percentage, according to the BLS report:
Food, 12.7%. This was slightly less than 2021's food spending increase of 13.4%. The subset of "food away from home" rose 20.1%, and spending there exceeded 2019 levels for the first time since the COVID-19 pandemic began.

Personal care products and services, 12.3%.

Apparel and services, 10.9%. This increase brought spending in this area back above pre-COVID levels.
Average monthly expenses that declined
The only major spending component to decline in 2022 was entertainment, and just by 3.1%, the BLS says.
How much should I spend each month?
With all of the variables, stacking your family's spending up against other similarly sized households in the U.S. will be a rough comparison at best.
Spending can be impacted by income, the cost of living in your area, your family's health care needs, transportation, debt and taxes.
NerdWallet advocates the 50/30/20 budget. With this formula, you aim to devote 50% of your take-home pay to needs like rent and insurance, 30% to wants like vacations and entertainment, and 20% to debt repayment and savings.
Your starting amount is your take-home income, after tax and with payroll deductions added back in. That figure determines how much you can afford to spend each month.
Start with the 20% for savings and debt. Pay yourself first by setting aside money for an emergency fund and retirement. Then turn to debt. If you have outstanding credit card debt, for instance, work on knocking that down.
Next, subtract your regular bills. If your monthly take-home pay is $5,000, shoot to spend no more than half of that, or $2,500, on essentials such as your rent and electric bill.
Finally, give yourself room to breathe. Just like a restrictive diet, trying to hold to a budget that doesn't allow for fun isn't realistic. That's where the 30% spending on "wants" comes in.
If your spending isn't fitting the 50/30/20 model, you can try to make more money — get a raise, switch to a job with a higher salary or take on additional work. And to make your current pay stretch further, find ways to save money, like cutting bills and shopping strategically.

Find and move all your old 401(k)s — for free.
401(k)s left behind often get lost, forgotten, or depleted by high fees. Capitalize will move them into one IRA you control.