Private Flood Insurance Companies vs. NFIP: Know Your Options
Here's how to decide between private flood insurance and coverage offered by the National Flood Insurance Program.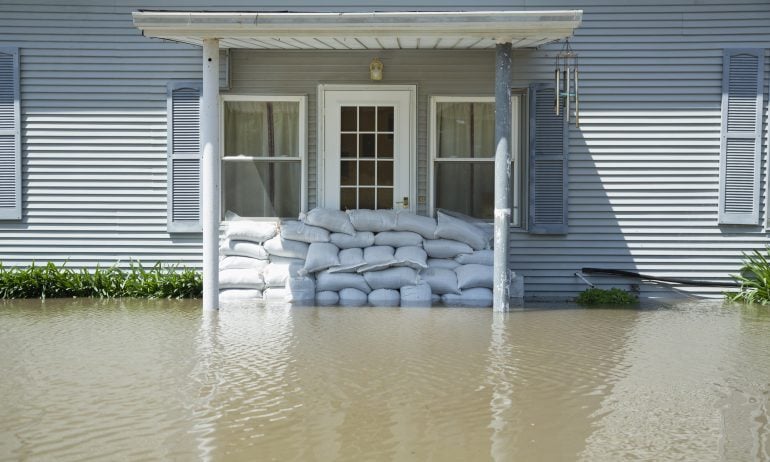 Many or all of the products featured here are from our partners who compensate us. This may influence which products we write about and where and how the product appears on a page. However, this does not influence our evaluations. Our opinions are our own. Here is a list of our partners and here's how we make money.
You're ready to buy flood insurance — but where should you begin? You could turn to one of the many flood insurance companies selling policies from the National Flood Insurance Program. However, private flood insurance, from providers unaffiliated with the NFIP, might be a better option. Here's how to find the best flood insurance for your home.
The most common way to get flood insurance is by going through the , part of the Federal Emergency Management Agency. The NFIP partners with dozens of FEMA-approved insurance providers, including several of the nation's largest insurers, to sell and manage its standard policy.
All of the NFIP's partner companies offer the same flood insurance coverage and maximum payouts, but it's wise to buy your policy through an insurer with a strong reputation for consumer satisfaction. Five companies that NerdWallet has rated at least 4 out of 5 stars offer NFIP policies.
You can find a full list of NFIP flood insurance providers in your state . You're eligible for coverage as long as you live in one of the program's roughly 24,000.
After buying your NFIP policy, there's usually a 30-day waiting period before it goes into effect. For this reason, it's best to nail down your coverage when there's no looming threat of tropical storms or seasonal flooding.
Flood insurance comes with for both building and contents coverage. A deductible is the set amount your insurer will subtract from a claim payment. Selecting higher deductibles will lower your rates, but you'll have to pay more for your own repairs if you file a claim. With lower deductibles, your rates will increase but your policy will stretch further.
Coverage limits through the NFIP are capped at $250,000 for your home and $100,000 for belongings.
If you need coverage beyond the NFIP's limits, consider excess flood insurance, which allows you to increase coverage when a federal policy isn't enough.
Although compatible with NFIP plans, excess flood insurance must be purchased separately; you can get it from companies such as Wright Flood, Chubb or Aon Edge. An independent insurance agent can help you find reputable sellers in your area.
Depending on where you live, you may have the option to buy private flood insurance instead of going the federal route. (A note about terminology: NFIP policies are technically sold by companies such as Farmers and USAA, but by "private flood insurance" we mean policies that aren't underwritten by the federal government or bound by its requirements.)
Demand for private flood insurance has grown significantly over the past few years, so it may be worth shopping around. Private flood insurance companies tend to offer more generous coverage than the standard NFIP policy, including higher limits, fewer exclusions and a shorter waiting period before your policy takes effect.
An independent agent can help you find the best options in your area, but below are a few widely available private flood insurance companies to consider.
The EZ Flood policy from Aon Edge covers your home's structure up to $750,000 and your personal belongings up to $200,000, with options to add coverage for swimming pool cleanup, spoiled food and living expenses should you need to relocate during repairs. A 15-day waiting period applies unless you buy your policy as part of a loan closing.
The company says it saves policyholders an average of 40% over NFIP coverage. EZ Flood insurance is available through agencies across the U.S. except in Alaska, Hawaii, Kentucky and Washington, D.C.
Because Chubb specializes in coverage for high-end homes, its flood insurance policies go far beyond the NFIP's offerings. You can insure your home's structure and contents up to a combined total of $15 million, and the company will also pay for damage to personal possessions and built-in items in your basement. Additional living expenses, if you have to temporarily relocate, are included too, as is debris removal up to $250,000.
If you're under threat of a flood, Chubb will reimburse up to $5,000 for protective measures such as moving valuable items out of your home or putting sandbags around your foundation. Chubb offers flood insurance in 38 states plus Washington, D.C.
Available in all 50 states and Washington, D.C., Neptune offers a slick website where you can get a flood insurance quote within a few minutes. Neptune's flood insurance covers items an NFIP policy won't, including damage to items in your basement, swimming pool refills and additional living expenses if you need to stay in a hotel while your home is repaired.
Its coverage limits are also significantly higher than the NFIP's: up to $2 million for your home's structure and $500,000 for its contents. Coverage takes effect 10 days after you buy the policy — or immediately if you purchase it in conjunction with a mortgage.
Private Market Flood insurance is sold by The Flood Insurance Agency, which also offers NFIP policies. The policies are nearly identical, but the agency's private flood insurance policy has higher coverage limits, up to $500,000 for the building and up to $250,000 for contents. The waiting period can range from zero to 14 days, depending on the circumstances.
Private Market Flood policies are available nationwide, except in Kentucky, New York, Washington, D.C, and Florida's Monroe County.
Because private flood insurance may not be available in all states and communities, it's best to talk to your home insurer or agent about coverage options where you live.
Not sure which is right for you? Here's a breakdown to help you choose the best flood insurance.