How to Make Insurance Claims After an Earthquake
Learn how to make earthquake insurance claims and get the payout you deserve.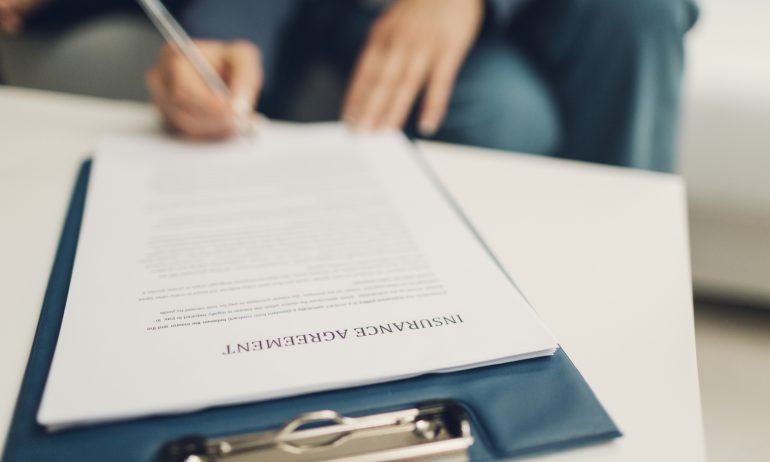 Many or all of the products featured here are from our partners who compensate us. This may influence which products we write about and where and how the product appears on a page. However, this does not influence our evaluations. Our opinions are our own. Here is a list of our partners and here's how we make money.
In your haste to recover after an earthquake, it's important not to get rushed into costly mistakes. Going into the claims process informed and organized will help you get the settlement you deserve and reduce frustration during an already trying time.
Contact your earthquake insurance company to start a claim. You'll probably want to alert other insurers, too, including:
Your home insurer, if different from your earthquake insurer. Home insurance can cover certain problems that stem from an earthquake, such as fires.

Your flood insurer: If you have flood insurance, your policy pays for repairs related to earthquake-induced flooding.
When you speak to each insurer, schedule a visit from an adjuster. This is the person who will inspect the damage and determine the claim settlement amount.
Prepare for your adjuster's visit
Take pictures or videos of all damage to your home, property and belongings, including vehicles.
Make a copy of your home inventory, if you have one. If you don't have an inventory, make a thorough list of your damaged possessions and their value, and find any receipts you have for them.
Patch up holes in your roof or windows to prevent further damage, but don't start other repairs or throw away any belongings until your adjuster documents them. Save receipts for any urgent repairs you have done so your insurer can reimburse you.
Make copies of all claim forms you fill out and keep them in a central spot. Record dates, names, contact information and discussion points after every interaction with your insurer. This can help down the road if you need to remember key details or resolve disputes.
After starting your claim
Meet with your insurance adjusters
Adjusters will inspect the damage and collect any records and receipts you've prepared. Your insurer may cycle through several adjusters for a large claim.
Guide adjusters around all the nooks and crannies of your home, such as crawl spaces and basements, to document hard-to-notice damage.
Adjusters might offer advance checks at this time so you can start repairs. If you have to leave your home while it's being fixed, save receipts for hotels, meals and other costs. These are covered by the "additional living expenses" part of your earthquake policy. Your adjuster might also give you an advance check for these expenses.
Get a second opinion on damage
Earthquake damage can be hard to measure, even for your insurance adjuster. Consider having a licensed structural engineer or contractor inspect your home to get an additional assessment.
Also, consider hiring a public adjuster. Public adjusters don't work for the insurance company; they represent you and your best interests. They could help you negotiate a better insurance payout than you'd get on your own. Public adjusters generally get a percentage of the claim settlement as their payment — between 5% and 12%, according to United Policyholders, a consumer advocacy group.
Before deciding on a public adjuster, check your state's department of insurance to confirm that he or she is licensed.
You don't have to stick with your insurer's choice of contractors. In fact, it's wise to get several bids so you have a clear idea of how much repairs should cost. Your insurance company's adjuster will need to approve the final estimate before giving a contractor the go-ahead.
Be wary of fraudulent contractors
You may have to wait several weeks before repairs begin. Watch out for fraudulent builders who often emerge from the woodwork in times like these. Someone may show up at your door offering to fix your home right away, but it may be a con artist hoping to coax some quick cash out of you and then disappear. For this reason, it's best to decline any repair work that you don't initiate.
You'll get an alert from your insurer once it has processed a claim. If you're satisfied with the settlement offer, typically the insurer will send a check.
In some cases, contractors may have arranged for your insurer to send payment directly to them. Authorize payment only if you're satisfied with the work so far.
Don't hesitate to challenge your settlement
The initial settlement offer doesn't have to be the final word on your claim. If you're not getting the payment you deserve, you can dispute your insurer's assessment.
For example, your insurance company might say that a certain repair method is suitable for fixing cracks in your foundation, while an independent contractor may disagree. You don't have to accept shortcuts; you're entitled to have your home restored to its pre-quake condition.
A public adjuster may come in handy when negotiating these issues. You could also pursue a claim settlement in court. However, that's typically a last resort given the time and financial commitment involved.
Reopen the claim if you find new damage
You have up to a year after a disaster occurred to file additional claims, according to the Insurance Information Institute, an industry group. If you discover damage that you and your adjuster missed the first time around, alert your insurer to have the claim reopened.
Get more smart money moves – straight to your inbox
Sign up and we'll send you Nerdy articles about the money topics that matter most to you along with other ways to help you get more from your money.