Medicare Should Come With These 4 Warning Labels
Medicare enrollment can present an overwhelming variety of choices. Here are pitfalls to avoid as you compare specific plans.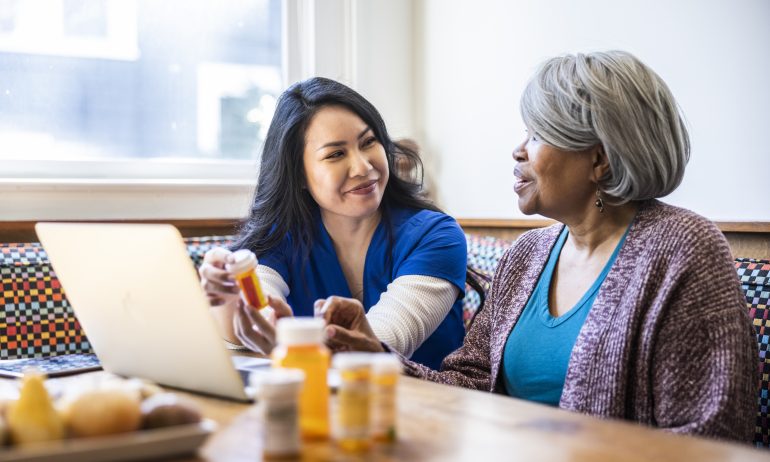 Many or all of the products featured here are from our partners who compensate us. This influences which products we write about and where and how the product appears on a page. However, this does not influence our evaluations. Our opinions are our own. Here is a list of our partners and here's how we make money.
You can think of enrolling in Medicare as an enormous dinner out with very filling starters. But before you order, you must choose one of two menus: Do you prefer Original Medicare or Medicare Advantage?
Original Medicare starts with two courses of alphabet soup: Medicare Parts A, B and D followed by your choice of Medigap supplemental insurance plan types: Plans A, B, D, G, K, L, M and N.
Go for the other menu, Medicare Advantage, and you'll get a blue-plate special bundling together the coverage of Parts A, B and D. But from there, the options can still overwhelm. Those from Ohio, for example, can choose among 216 Medicare Advantage plans offered by 20 insurers.
Given all this complexity, many first-time enrollees feel uncomfortably full — at least their heads do — before they even address the big question: How can they ensure 5-star health care for the rest of their lives?
The key is to avoid a handful of fundamentally bad choices that can only be reversed at a high cost, if at all.
And just how steep can your health care costs be under Medicare? One measure is the proportion of Medicare-eligible folks who find themselves mired in debt related to their care. Some 22% of people age 65 and up said they owed money on medical or dental bills, according to a 2022 survey by KFF, a health policy nonprofit.
Let's dig in to illuminate the big-picture mistakes that you can work to avoid.
Shopping for Medicare plans? We have you covered.
Best for member satisfaction

MEDICARE SUPPLEMENT, or Medigap, is private health insurance that covers "gaps" in traditional Medicare coverage. Compare options from our Medigap roundup.

Best for Medigap plan options

Best for premium discounts

Star ratings from CMS and on a 5-★ scale.
1. Don't enroll late, even if current health care needs are modest
Consider Medicare Part B, your coverage for doctor bills, outpatient services and so on. In 2022, the Centers for Medicare & Medicaid Services average Part B late-enrollment penalty was 27% higher than the base premium. That penalty amounted to $45.93 per month. With Part B, you pay the penalty — which is proportional to how long you delayed enrolling — every month, for as long as you have Medicare.
If you currently take only cheap generic prescription drugs, you may be tempted to delay enrollment in Medicare Part D. But think about the long term: There's a strong chance you'll eventually need more expensive medications.
"People get into hot water with brand-name specialty medications, which can cost thousands of dollars," says Sarah Murdoch, director of client services at the Medicare Rights Center, a nonprofit consumer advocacy organization. "Some Part D plans are very inexpensive."
The bottom line: If you go without Parts A, B or D for months or years, you may pay less now — but you will likely pay much more later when you do enroll and the penalties kick in. This is an unrealistic strategy for most retirees, who can't reasonably expect their real income to grow significantly.
2. Don't go without Medigap if you choose Original Medicare
"It's shocking how many people have no idea that they need a Medigap plan," says Charles Weeks, founding partner at Barrister Wealth Management in Philadelphia. Indeed, there are approximately 6 million people with Original Medicare who lack Medigap coverage, per a 2022 analysis from KFF.
According to Weeks, "the problem is, they're not aware that Part B only covers 80% of the charges" for outpatient medical services such as doctor visits, chemotherapy infusions or joint-replacement surgeries, costing tens of thousands of dollars. Without Medigap, you could be saddled with 20% of some large bills — and Medicare Part B has no limit on what you must pay out of pocket.
Be forewarned: For residents age 65 and older in most states, your guarantee of enrolling in Medigap, regardless of pre-existing conditions, expires six months after you enroll in Medicare.
3. Don't assume you can get Medigap if you later switch to Original Medicare
Beware the strategy of initially signing up for free or cheap Medicare Advantage, then switching to more costly Original Medicare if you need extensive treatment.
"It's true that if people sign up for a Medicare Advantage plan, in a later annual open enrollment period they can switch to Original Medicare," says Tricia Neuman, a senior vice president at KFF. "But it's not well understood that Medicare Advantage enrollees may not be able to sign up for a Medigap policy. I have friends who have found out about this the hard way."
Here's the troubling scenario: A Medicare Advantage beneficiary receives a diagnosis of a serious illness requiring expensive outpatient treatment.
To gain access to specialists outside their Medicare Advantage network, the beneficiary switches to Original Medicare. But when they seek a Medigap policy to cover Part B's 20% coinsurance costs, insurers in most states are permitted to evaluate their health status and either deny coverage or quote an astronomical premium.
So if you think you'll ever want Medigap coverage, choose it during your initial enrollment.
4. Don't expect comprehensive, unbiased advice from an insurance agent or a friend
Insurance agents' interests don't always align with your own, and friends might not understand all the complexities of Medicare as they apply to your situation. So before enrolling, seek advice from a professional whose sole mission is to help you make the best Medicare choices.
Medicare Rights Center's Helpline answers questions from people in all 50 states. And the State Health Insurance Assistance Program (SHIP), which links to all state health insurance assistance programs, is "a neutral source of information," Neuman says.
Get more smart money moves – straight to your inbox
Sign up and we'll send you Nerdy articles about the money topics that matter most to you along with other ways to help you get more from your money.