How to Open an IRA in 4 Steps
You can open an IRA online in a few steps. It can go quickly once you find the right provider for your needs.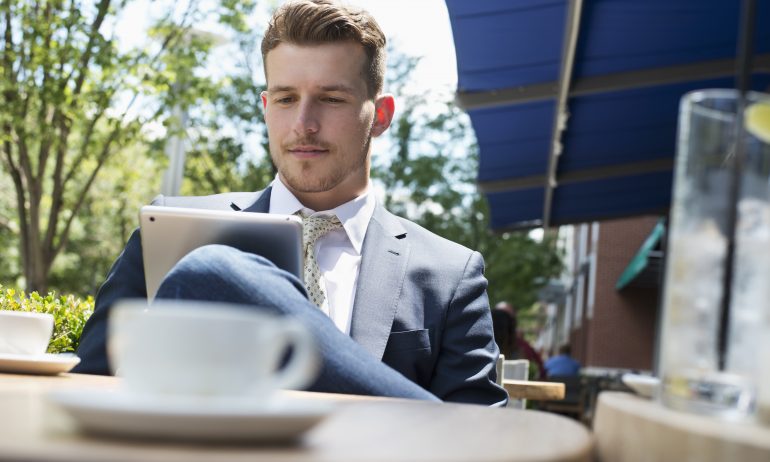 Many or all of the products featured here are from our partners who compensate us. This influences which products we write about and where and how the product appears on a page. However, this does not influence our evaluations. Our opinions are our own. Here is a list of our partners and here's how we make money.
---
The investing information provided on this page is for educational purposes only. NerdWallet, Inc. does not offer advisory or brokerage services, nor does it recommend or advise investors to buy or sell particular stocks, securities or other investments.
Individual retirement accounts or IRAs are important tools that help you save and invest for retirement. Unlike 401(k)s, which can only be accessed through workplace programs, IRAs are open to virtually anyone. Opening one is easy, and once you've done that, you can take your time funding the account and making investment selections. Here's how to get started in four steps.
1. Decide between an online broker or a robo-advisor
What sort of investor are you — hands-on or hands-off? Your answer will help determine whether you should set up an IRA with an online broker or a robo-advisor.
If you want to choose and manage your investments, you'll need an online broker. Here you'll open an account and buy and sell investments yourself over time. We'll give you some tips on how to choose a broker below.

If you'd like an automated way to manage your investments, consider a robo-advisor. A robo-advisor will choose low-cost funds and rebalance your portfolio, keeping it in line with your investing preferences and timeline — for a fraction of the cost of hiring a human financial advisor. Keep reading for more on what to look for in a robo-advisor.
Advertisement
Promotion 

None

no promotion available at this time

Promotion 

None

no promotion available at this time

Promotion 

Get $50

when you open & fund a new account with $5K on Chase.com or the Chase Mobile® app.
2. Choose where to open your IRA
Once you've identified your investing style, the next step is choosing a provider that fits your preference.
Robo-advisors are great for those who agonize over investment decisions. Look for one with a low management fee — generally 0.40% or less — and services that meet your needs. Automatic rebalancing and portfolio allocation are usually standard, but others — such as access to human financial advisors — can vary by provider.
Look for a broker that has low or no account fees and small commissions; offers a wide selection of no-transaction-fee mutual funds and commission-free exchange-traded funds; and provides solid customer support and educational resources, especially if you're a new investor.
Also, pay attention to account minimums and any investment minimums. Some mutual funds may require a minimum investment of $1,000 or more. An ETF can be purchased by the share, making it less expensive to get into, especially if you choose a commission-free fund.
The actual steps will vary slightly by provider, but opening an IRA is pretty easy. In general, you'll head to the provider's website, choose the type of IRA you want to open (Roth or traditional) and fill in some personal details such as your Social Security number, date of birth, contact information and employment information. Once you've opened the account, you'll see your options for how to fund it.
4. Fund your account and get started
Once you've decided where to open your account, you'll need to select how you want to fund it. Usually you'll do this by transferring funds from a bank account, transferring existing IRA assets from a different firm into your new account, or rolling over a 401(k).
Just remember that IRAs have an annual contribution limit of $6,500 in 2023 ($7,500 if age 50 and older), but you don't have to contribute that much. When it comes to retirement, starting with any amount early on is better than nothing. What's more, you don't have to fund it all at once. A common strategy, known as dollar-cost averaging, is to make regular contributions at regular intervals. For example, perhaps you stash away $100 per month in your IRA.
Both Roth and traditional IRAs also have income limits. However, traditional IRAs only have income limits if you or your spouse have a retirement account at work. Here are the Roth IRA income limits:
Maximum annual contribution

Single, head of household or married filing separately (if you didn't live with spouse during year)

Less than $129,000 in 2022.

Less than $138,000 in 2023.

$6,000 ($7,000 if 50 or older) in 2022.

$6,500 ($7,500 if 50 or older) in 2023.

$129,000 up to $144,000 in 2022.

$138,000 up to $153,000 in 2023.

$144,000 or more in 2022.

$153,000 or more in 2023.

Married filing jointly or qualifying widow(er)

Less than $204,000 in 2022.

Less than $218,000 in 2023.

$6,000 per person ($7,000 if 50 or older) in 2022.

$6,500 per person ($7,500 if 50 or older) in 2023.

$204,000 to $214,000 in 2022.

$218,000 to $228,000 in 2023.

$214,000 or more in 2022.

$228,000 or more in 2023.

Married filing separately (if you lived with spouse at any time during year)
Are you rolling over a 401(k)?
If you have a 401(k) from an old job, you can move those funds into your new employer's retirement plan or into an IRA by doing a 401(k) rollover. For many people, rolling over into an IRA is the best option, given that IRAs tend to have a wider array of investment choices and lower fees than many 401(k)s.
The IRA provider will help you do this — many have "rollover specialists" on staff — but the basics are simple: You'll contact your former employer's plan administrator and complete a few forms, and they will send your account balance (via check or by wiring the funds) to your new provider.
Are you funding from your bank or brokerage?
You'll need your account number and routing number. If you're just starting out, it may be helpful to set up automatic transfers.
These limits cover multiple accounts, so if you have both a Roth and a traditional account, you'll need to keep your total contributions at or under the maximum.
How should you choose your investments?
If you decide to use a robo-advisor for your IRA, you don't actually need to choose your investments. Your robo-advisor will ask you for your goals and preferences and select investments that match up with them, and even adjust those investments over time. That's it; you're done.
If you're going the hands-on route with an online broker, consider building a portfolio out of low-cost index funds and ETFs. This approach makes it easier to ensure adequate diversification in your portfolio (which lowers your investing risks) and helps minimize the fees you'll pay.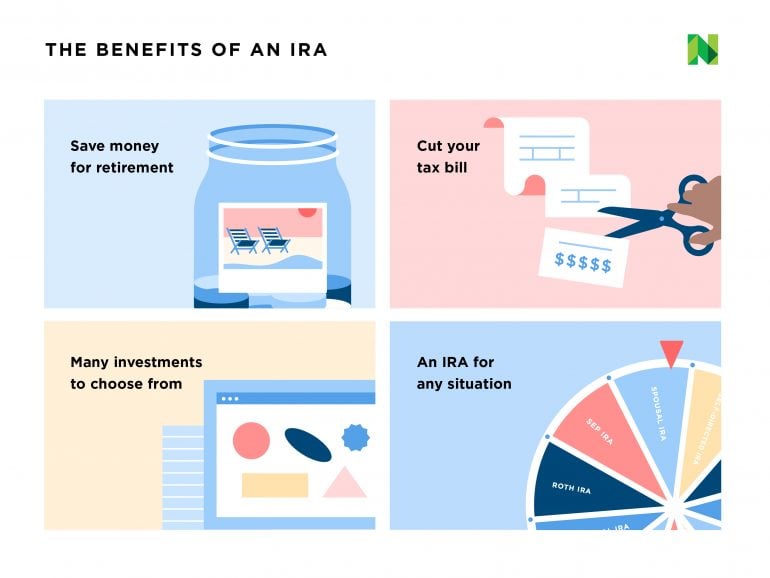 Got more questions about how to open an IRA? We have answers
Where is the best place to open an IRA?
Can I open an IRA at a bank?
Who is eligible to open an IRA?
What is the minimum to open an IRA?
How much does it cost to open an IRA?
What if I'm not sure how to invest my IRA?
Can I transfer an old 401(k) to an IRA?
Get more smart money moves – straight to your inbox
Sign up and we'll send you Nerdy articles about the money topics that matter most to you along with other ways to help you get more from your money.