Marijuana Stocks: How to Lower Risk and Buy What's Right for You
Marijuana stocks may seem a tempting investment, but make sure you're aware of the associated risks before diving into this burgeoning market.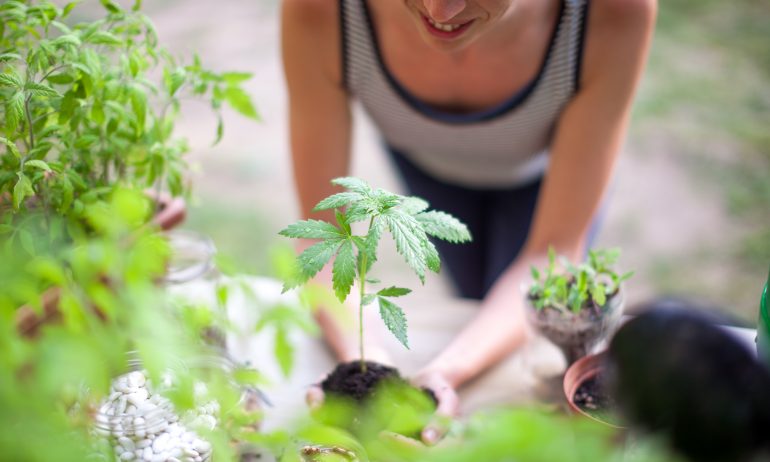 Many or all of the products featured here are from our partners who compensate us. This may influence which products we write about and where and how the product appears on a page. However, this does not influence our evaluations. Our opinions are our own. Here is a list of our partners and here's how we make money.
---
The investing information provided on this page is for educational purposes only. NerdWallet does not offer advisory or brokerage services, nor does it recommend or advise investors to buy or sell particular stocks or securities.
Marijuana stocks are dope, the industry's growing like a weed — take your pick of puns, but investing in marijuana is far from a joke. With recreational marijuana legal in 15 states and medical marijuana legal in far more, this once-shady corner of commerce has become a full-fledged industry, albeit one still in its early stages.
At first blush, weed stocks may seem somewhat limited to retail operations. But once you dig a little deeper, you'll find several subsectors within the industry, where everything from biotech and research companies to specialists in distribution and consumption operate.
All that said, it's important to remember this is a nascent industry whose main product is still a Schedule 1 drug at the federal level. That alone makes any marijuana investment risky, but there are several other reasons why you'll want to do thorough research before diving headfirst into cannabis stocks.
A stock's a stock, right? Definitionally, sure: You're buying shares of ownership in a publicly traded company. But marijuana stocks carry some additional challenges and risks, including:
If you're in a position to take on the kind of risk that comes with investing in marijuana stocks, be sure to know what you're getting into. In your search, you'll come across dozens of extremely cheap marijuana stocks that may be tempting, but remember, these are cheap for a reason: There's usually very little public information about them, and they haven't been around long enough to pass muster in the investor community.
While all marijuana stocks are extremely risky at this point, there are a few ways to determine how legit a stock might be:
What's the company's market cap? , or market cap, is how the stock market sizes up companies — the larger the market cap, generally, the more established the company, and the less likely it is that it will go out of business. The largest companies have market caps over $10 billion, while medium-sized companies have market caps between $2 billion and $10 billion. The smallest companies have market caps below $2 billion. These are known as large-, mid- and small-cap stocks, respectively.
At this point, most of the marijuana stocks you come across will fall in the small- and micro-cap category (micro-cap describes companies with market caps below $250 million). There are a few mid-cap marijuana stocks, and even fewer large-cap stocks.
Is it traded on an official exchange? Stocks purchased over-the-counter aren't required to disclose important information to the public, making it virtually impossible to conduct a true analysis of the stock. If listed on a U.S. exchange, you'll most likely see NYSE or NASDAQ written before the stock ticker. If it's over-the-counter, you'll see OTC.
Are analysts taking it seriously? Currently, Morningstar — a well-known investment research firm — is formally covering only certain cannabis companies in its qualitative analysis program, including Aurora Cannabis, Canopy Growth Corp., Cronos Group, Curaleaf Holdings Inc., Green Thumb Industries and Tilray Inc. There are thousands of "analysts" on the internet that may hype one penny stock or another, but using a reputable source like Morningstar can help narrow your search.
Is it a pure-play marijuana company? This could be good or bad, depending on what you're looking for. As the marijuana industry heats up, long-established companies, like ScottsMiracle-Gro and pharmaceutical company Abbvie Inc., have ventured into the cannabis industry in some form, while still maintaining their main lines of business.
As such, they're often lumped in with pure-play marijuana businesses, which operate solely in the marijuana industry. Those indirect cannabis companies could potentially be a safer alternative considering they're more established, but if you're trying to get in on the ground floor of a young marijuana company, these might not be for you.
If you are thinking about adding marijuana stocks to your portfolio, here are the 10 largest companies by market cap. Some of these companies are pure-play marijuana businesses, and others specialize in certain aspects of the marijuana supply chain, such as growing supplies.
These stocks represent the top 10 marijuana stocks by market cap and are ranked by 1-year performance. Stock data is current as of March 5, 2021.
Just because you can buy cannabis stocks doesn't mean you should. You'll need to assess your investing goals, current holdings and how comfortable you are with the risks. Make sure you won't need to touch any money you plan to invest in these stocks for at least five years — and don't forget about their speculative nature.
Marijuana stocks shouldn't make up the bulk of your portfolio, nor should any other single stock. Rather, diversification, a mix of different assets, is key to long-term investing success. A common rule of thumb is to dedicate no more than 10% of your portfolio to individual stocks and focus instead on low-cost index funds such as mutual funds or exchange-traded funds.
As with any new investment, dedicate several hours to researching prospective pot stocks, including how the company makes money, the long-term investment merits and what makes the stock price go up or down. (New to this? Consult our guide on .)
Individual stocks aren't the only option for would-be marijuana investors. There are a handful of available to U.S. investors, and they may be attractive if you don't want to do stock-specific research. But the industry's broader risks don't disappear: Marijuana ETFs also experience wild price swings.
You'll need a to buy marijuana stocks. You shouldn't have trouble finding most of these stocks available among NerdWallet's picks for the . It takes about 15 minutes to open a brokerage account, a process that's similar to setting up a checking or savings account.
If you don't plan to dabble in penny stocks beyond marijuana stocks, consider our picks of the instead. Above all, you want to choose a broker that offers a variety of investments — including ETFs and mutual funds — and has low or no commissions, useful educational tools and high-quality customer service.
When you've funded the account, assessed the risks, done your research and narrowed down the options, you're ready to buy. You can locate the stock using its ticker symbol, and from there, you'll need to fill out the order.
Just like any other stock or ETF, the price is determined by what's called a bid-ask spread, or the difference between what buyers want to pay and what sellers are willing to accept. This price will be clearly outlined on the ordering page, where you'll enter the number of shares you want to buy (or the dollar amount, depending on your brokerage).
Be sure to review your order before hitting the "buy" button, and with that, you're officially an investor in the marijuana industry.
Disclosure: The author held no positions in the aforementioned securities at the original time of publication.