How to Finance a Home Remodel
To finance a home renovation, compare home equity funding to nonequity options like personal loans and credit cards.
Last updated on Jan 27, 2022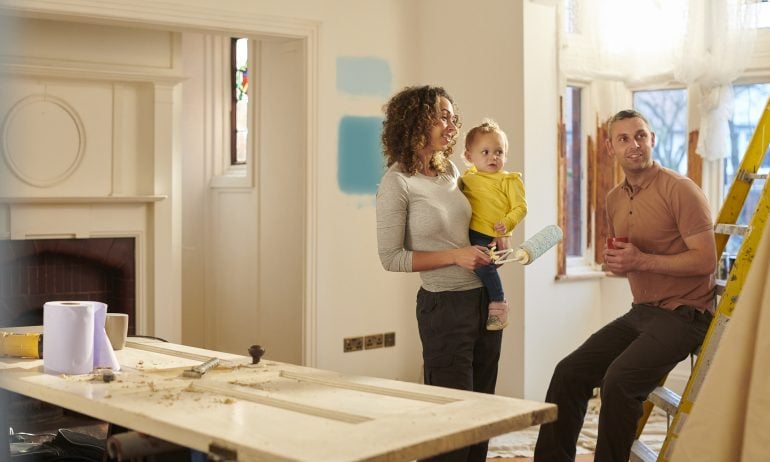 Many or all of the products featured here are from our partners who compensate us. This influences which products we write about and where and how the product appears on a page. However, this does not influence our evaluations. Our opinions are our own. Here is a list of our partners and here's how we make money.
An important step in any home improvement project is deciding how to pay for it. There are multiple ways to finance a home remodel, including options that use the equity you've built up in your home and nonequity options like personal loans and credit cards.
Here are seven home remodel financing options and when each works best.
Borrowing against home equity involves either replacing your current mortgage or getting a second home loan and using the funds to pay for the remodel. This type of financing often comes with single-digit interest rates, and interest paid on home equity loans or lines of credit is tax-deductible if they're used for home improvements.
With equity financing, the lender requires a home appraisal, and you'll pay closing costs. It also uses your home as collateral for the loan, which means you could lose your home if you fail to make payments.
Home equity lines of credit
A HELOC is a credit line you draw from as needed. You pay interest only on the amount you borrow.
HELOC amounts can be up to 85% of your home's value minus what you still owe on your mortgage. Interest rates are usually variable, meaning monthly payments fluctuate as the rate changes. You typically have 10 years to spend the money from a HELOC and 20 years after that to repay the balance.
When it's best: The flexibility to draw money as you need it makes a HELOC ideal if you don't know exactly how much the renovation will cost.
Like a HELOC, a home equity loan allows you to borrow up to about 85% of your home's value minus what you currently owe. The difference is you receive the funds in a lump sum and repay over a term that's often 15 years or less. These loans often have fixed interest rates and monthly payments.
When it's best: Because home equity loans are fully funded at one time, they're best when you know the cost of your renovation project.
Cash-out refinancing replaces your existing mortgage with a larger one. You receive the difference between the current mortgage's balance and the new, larger loan in cash, which you use to fund your renovation.
When it's best: Cash-out refinancing is best if the new mortgage has a lower interest rate than your current home loan and if you need a large loan for renovations to a home you plan to stay in long term.
Paying for a remodel without equity
Many homeowners cover renovations with cash, which ensures you'll finish the project interest-free.
Atlanta-area certified financial planner Jovan Johnson says he sets money aside each month for future home improvement projects or necessary fixes.
For do-it-yourself and other projects that don't require full payment upfront, breaking up payments over the course of the renovation helps fit the project into your budget.
When it's best: Use cash when doing so won't disrupt other financial goals or exceed your monthly budget.
Unsecured personal loans can help homeowners finance a project quickly. Most personal loan lenders promise funding within a week, in contrast to home equity financing that involves time-consuming underwriting and appraisal processes.
Rates on personal loans range between 6% and 36%, which is higher than most home equity options but lower than some credit cards. There are home improvement loans for borrowers with bad credit (below 630 FICO), but the lowest rates are reserved for good- and excellent-credit borrowers.
Repayment periods on most personal loans are two to seven years. A shorter term will raise your monthly payments, while longer terms will cost more in total interest.
Many online lenders offer pre-qualification to let borrowers see their potential rate, loan amount and monthly payment. Since these loans come in a lump sum and are repaid in fixed amounts, you can plan for them in your monthly budget.
Ready to renovate? Get started now by pre-qualifying for a personal loan
Just answer a few questions to get personalized results from our lending partners.
When it's best: Because personal loans are funded quickly, they're good options for urgent repairs or projects you want to start quickly. They can also cover larger projects if using equity isn't an option.
For small home improvements, consider a 0% APR credit card that you can pay off during the interest-free period, typically 15 to 18 months. You'll need good or excellent credit (690 or higher FICO) to qualify for these cards.
Some cards give rewards on certain purchases, including home improvement expenses. Retail cards also offer special financing or promotions, which can make sense if you're buying most of your supplies from the same store.
When it's best: Using credit cards can help you accomplish smaller DIY or short-term projects that don't exceed a few thousand dollars.
The government offers Title 1 loans for qualified borrowers who want to make specific updates to their home, including buying appliances, making your home more accessible or improving its energy efficiency.
You can borrow up to $25,000 for a single-family home, and repayment terms are typically between six months and 20 years.
Title 1 loans above $7,500 require your home as collateral. You also must be in the home for 90 days or longer before you can borrow.
When it's best: If your project qualifies for this type of loan, it can pay for the whole project or make it more affordable.
Get more smart money moves – straight to your inbox
Sign up and we'll send you Nerdy articles about the money topics that matter most to you along with other ways to help you get more from your money.