Financial Aid for Graduate School: Who Qualifies and How to Apply
Take advantage of free aid through the FAFSA and merit-based programs before considering student loans.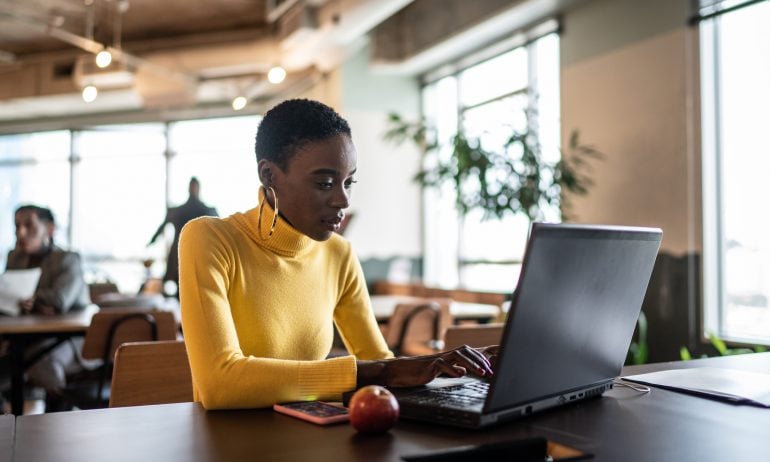 Many or all of the products featured here are from our partners who compensate us. This influences which products we write about and where and how the product appears on a page. However, this does not influence our evaluations. Our opinions are our own. Here is a list of our partners and here's how we make money.
Financial aid for graduate school includes grants, scholarships, fellowships, assistantships and loans.

Exhaust all opportunities for free aid before considering student loans.

If you take out student loans, borrow federal direct loans first. For additional funding, compare offers between federal PLUS loans and private loans to see where you'll get the best deal.
If you're considering graduate school, make sure you have a funding plan in place ahead of time. Costs for graduate school can vary greatly depending on the type and length of the program, but there are opportunities to help cut down out-of-pocket costs.
Graduate students can get financial aid through:
FAFSA: The Free Application for Federal Student Aid provides access to federal, state and some school-based grants.

Organization grants: Industry-specific organizations may provide grants to those studying in relevant fields.

Scholarships: State governments, schools and private organizations may provide scholarships for academic excellence or other factors, like studying in high-needs fields or increasing diversity.

Fellowships: Schools, private organizations and government entities offer fellowships based on field of study and academic performance in exchange for research activities.

Assistantships: Schools may award living stipends and tuition waivers to full-time students in exchange for work.

Employer tuition assistance: Employers may offer to reimburse their employees' tuition expenses as an employment benefit.
Here's who qualifies and how to apply for each type of aid.
Student loans from our partners

Complete the Free Application for Federal Student Aid, or FAFSA, as your first step to funding your graduate education. Citizens and eligible non-citizen graduate students, including permanent residents and U.S. nationals, are eligible to file.
You must file the FAFSA to qualify for federal and state-based grant awards. Many school-based grants also require the FAFSA.
Federal grants for graduate students include the Teacher Education Assistance for College and Higher Education, or TEACH, grant. The TEACH grant provides up to $4,000 a year to education students who will teach in a low-income school or high-needs field after graduation.
Contact your school's financial aid office to learn more about school-based grants and ask your department head about industry-specific grants.
Scholarships are available at the state, local and school levels. These awards are based on various eligibility criteria, which can include field of study and academic achievement. Some scholarships are also need-based or allocated only for certain demographics.
Apply for as many scholarships as you qualify for to increase your chances of getting the most money.
Contact your school's financial aid office and department head about specific scholarship programs you may be eligible for.
Fellowships and assistantships
Eligibility requirements and service commitments for fellowship and assistantship programs vary. While fellowships are offered by schools, private organizations or government agencies, assistantships typically only come from the school.
With a fellowship, you may perform research activities outside of your school and payment may not be directly tied to tuition. As assistantships are generally school-based, they are more likely to directly provide full or partial tuition waivers. Some assistantships also come with living stipends.
Contact your financial aid office about school-based fellowships and assistantships, including teaching and resident assistantships. Search the zintellect database, which has ties to the Department of Education and a consortium of Ph.D.-granting institutions, for government and private-sector fellowships.
Employer tuition assistance
According to a 2020 survey by the Society for Human Resource Management, or SHRM, about 47% of employers offer tuition assistance as part of their benefits package. This benefit can be in the form of tuition reimbursement, where the employer gives a lump sum to employees after they prove their tuition expenses. Other companies may pay tuition costs directly to the school, so the employee doesn't have to front the bill.
The amount of reimbursement varies by employer. The most common benefit ranges from $5,000-$5,999, according to a 2019 report by the International Foundation of Employee Benefit Plans.
Contact your human resources team to ask about your company's tuition assistance benefit. Make sure to verify that graduate school tuition qualifies. You also want to get an understanding of any service commitments that come with accepting the benefit. Some employers require you to stay with the company for a certain period after the reimbursement funds are disbursed.
If you exhaust all of your opportunities for aid that doesn't have to be repaid, look to student loans to fill the remaining funding gaps for graduate school. Schools may include student loans as part of your aid package, but you have to repay them.
Filing the FAFSA typically qualifies you for direct unsubsidized federal student loans. As a graduate student, you can borrow up to $20,500 each year. These loans will accrue interest while you are in school, but typically come with lower interest rates than their private loan counterparts. They also offer repayment options that private student loans don't, like income-driven repayment.
Student loans from our partners