Advantages and Disadvantages of a Business Bank Loan
Bank loans offer low interest rates and competitive terms, but you'll need to meet strict requirements to qualify.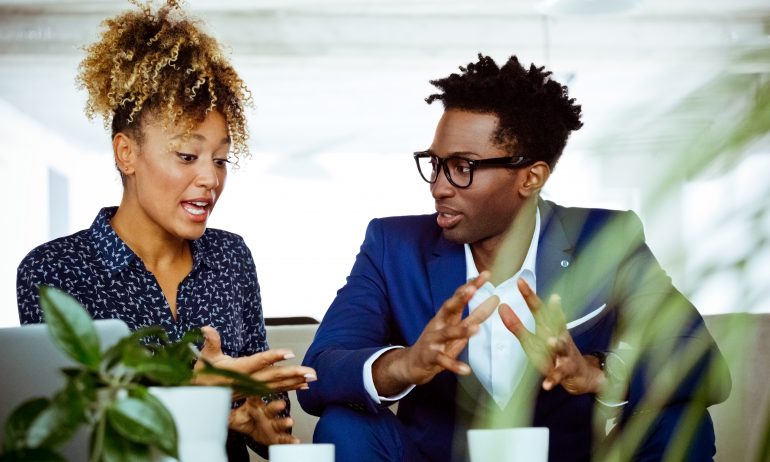 Many or all of the products featured here are from our partners who compensate us. This influences which products we write about and where and how the product appears on a page. However, this does not influence our evaluations. Our opinions are our own. Here is a list of our partners and here's how we make money.
According to the Federal Reserve's 2021 Small Business Credit Survey, banks remain the most common source of credit for small businesses — compared with options such as online lenders, community development financial institutions or credit unions.
You can use a business bank loan for a variety of purposes: working capital, real estate acquisition, equipment purchase or business expansion. To qualify for one of these small-business loans, however, you'll likely need excellent credit and several years in business.
Before applying for a business loan from a bank, consider the following advantages and disadvantages.
with Fundera by NerdWallet
Advantages of business bank loans
Banks offer a range of different business loan products, including term loans, business lines of credit, equipment financing and commercial real estate loans, among other options. Unless you opt for a product that has a specific use case, like a business auto loan, for example, you can generally use a bank loan in a variety of ways to grow and expand your business.
When you submit your loan application, the bank may ask you to identify a purpose for the financing to evaluate the risk of lending to your business. Once you're approved, however, the bank is unlikely to interfere if you change your intentions, as long as you make your payments. This flexibility is perhaps one of the biggest advantages when comparing debt versus equity financing.
Large loan amounts and competitive repayment terms
Bank loans are often available in amounts up to $1 million or more. Many online lenders, on the other hand, only offer financing in smaller amounts. Popular online lenders OnDeck and BlueVine, for example, both have maximum loan limits of $250,000.
Business loans from banks also tend to have long terms, up to 25 years in some cases. These loans usually have monthly repayment schedules, as opposed to daily or weekly repayments.
In comparison, online business loans typically have shorter repayment terms, ranging from a few months to a few years. Many of these loans require daily or weekly repayments.
Banks typically offer small-business loans with the lowest interest rates. According to the most recent data from the Federal Reserve, the average business loan interest rates at banks range from 3.19% to 6.78%.
Although some online lenders can offer competitive rates, you'll find that their products are generally more expensive than bank loans, with rates that range from 7% to 99%.
The interest rates you receive on a bank loan, or any small-business loan, however, can vary based on a number of factors, such as loan type, amount borrowed and your business's qualifications, as well as any collateral you provide to back the loan. In general, the stronger your qualifications and the more collateral you can offer, the better rates you'll be able to receive.
Relationship with a bank lender
Many banks provide ongoing support for their lending customers, such as business credit score tracking or a dedicated relationship manager to work with your business. Most banks also offer other types of financial products, such as business checking accounts, business credit cards and merchant services, if you prefer to use one institution for your financial needs.
Although some alternative lenders offer additional support and services, the Federal Reserve's 2021 Small Business Credit Survey reports that businesses that receive financing are more satisfied with their experience with small banks (74%) and large banks (60%) compared with online lenders (25%).
Disadvantages of business bank loans
Intensive application process and slow to fund
To apply for a small-business loan from a bank, you'll need to provide detailed paperwork that may include, but is not limited to, business and personal tax returns, business financial statements, a loan purpose statement, business organization documentation, a personal financial statement form and collateral information. You may have to visit a bank branch and work with a lending representative to complete and submit an application — although some banks offer online applications for certain business loan products.
The entire process, from application to funding, can take anywhere from several days to a few weeks, or even longer, depending on the type of loan and the bank. Some banks will also require you to open a business checking account with them before you can receive funds.
In comparison, alternative lenders typically have streamlined, online application processes that require minimal documentation. Many of these lenders also offer fast business loans — in some cases, funding applications within 24 hours.
Strict eligibility requirements
To qualify for a business loan from a bank, you'll generally need strong personal credit (often a FICO score of over 700), several years in business and a track record of solid business revenue. Bank of America, for example, requires a minimum annual revenue of $100,000 for unsecured term loans and a minimum annual revenue of $250,000 for secured term loans.
Depending on the bank and the loan type, you may need to provide collateral, such as real estate or equipment, to secure your financing. Most banks will also require you to sign a personal guarantee that holds you personally responsible for the debt in the event that your business can't pay.
Online lenders, on the other hand, have more flexible qualifications and some will work with startups or businesses with bad credit. To qualify for a business line of credit with Fundbox, for example, you only need six months in business, a credit score of 600 or higher and at least $100,000 in annual revenue.
Although online lenders may still require a personal guarantee, they're less likely than banks to require physical collateral.
Find and compare small-business loans
Still trying to determine the right way to finance your business? Check out NerdWallet's list of the best small-business loans for business owners.
Our recommendations are based on the market scope and track record of lenders, the needs of business owners, and an analysis of rates and other factors, so you can make the right financing decision.