Free Small-Business Budget Templates
Your business budget template can act as a business health scorecard if you set it up properly.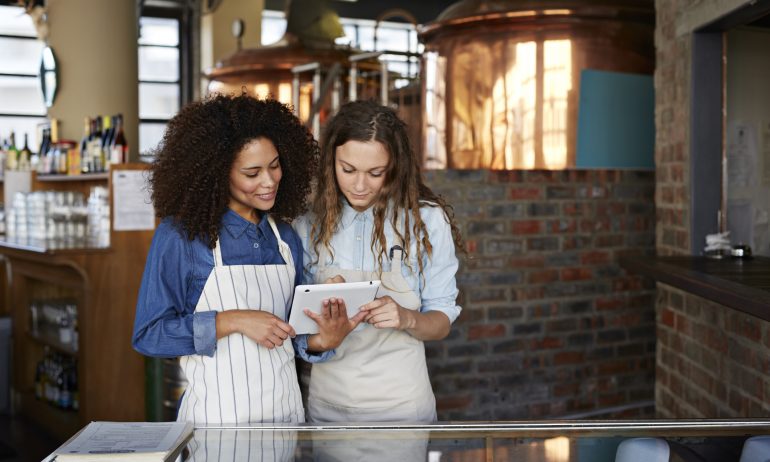 Many or all of the products featured here are from our partners who compensate us. This influences which products we write about and where and how the product appears on a page. However, this does not influence our evaluations. Our opinions are our own. Here is a list of our partners and here's how we make money.
A business budget template is one of the most important tools you can use to run your small business. However, many small-business owners skip this vital business management step.
The misconceptions surrounding budgeting are plenty. It seems complicated and time-consuming. But with a good business budget template, the process can be much less daunting.
An effective small-business budget template is a living document. Creating a budget and then forgetting about it is wasted effort. You must compare your actual numbers against your budgeted numbers regularly.
Therefore, your budget should be easy to access and adjust on an ongoing basis. Fortunately, you don't have to spend a lot of money on fancy budgeting software. There are several free small-business budget templates available online.
Why you need a business budget template
A business budget template is an essential tool for business owners who want to take care of their bottom line. Why should you invest in a smart template from the start?
Here's how a business budget template can set you up for success:
Track cash flow, expenses and revenue.

Prepare for regular business slowdowns.

Allocate your budget to the portions of your business that need capital most.

Plan for business investments and purchases.

Project all costs to starting and running your business.
Generally speaking, your business budget template can act as a business health scorecard if you invest in setting one up properly. Here's our list of the best budget templates available so you can do just that.
Capterra's Free Small-Business Budget Template
The Capterra small-business budget template has been a fan favorite since it was published in 2015. In this one simple Excel workbook, you can create your monthly budget, your annual budget and then compare your actual numbers to your budgeted numbers. It also has a convenient overview sheet, which gives users access to their performance at a glance.
To help you through the process, Capterra has included a detailed Instructions tab, which walks you through how to use the template step by step. Start here to save yourself hours of time and frustration. As a bonus, there are several resources linked on the Instructions tab to help you create the perfect budget for your small business.
PDFConverter.com 15 Best Budgets
Rather than one bloated Excel workbook that tries to do everything, PDFConverter.com has compiled a library of 15 small-business budget templates.
These templates cover a wide range of budgeting needs, from a basic overview of your business income and expenses to marketing budget templates. The startup budget template is ideal for newbie entrepreneurs still in the planning stage of their businesses. And the cash flow template is perfect for identifying and plugging cash flow leaks.
Annual Business Budget in Google Sheets
Do you love all things Google? You can create a comprehensive budget for your small business right from Google Sheets. Simply navigate to your Sheets and then click on Template Gallery. Our friends at Intuit QuickBooks have created an annual business budget you can use for free.
To fully appreciate the power of the template, review the Summary tab after you have entered your budget figures. The tables and graphs on this tab offer a visual representation of your income and expenses, making it easy to see where you stand at a glance.
Microsoft Office Template
This beautiful template from Microsoft Office focuses exclusively on expenses, but it does that job exceptionally well. There are tabs for planned and actual expenses, a tab for automatically calculated variances between the two and an expense analysis tab complete with pie charts.
While not a free template per se, you likely have a powerful budgeting tool available right inside your business accounting software. Though not as flexible as a separate template, there are many advantages to using the budgeting feature of your accounting software.
The budgeting feature in your accounting software will coincide with your chart of accounts. Depending on the software you use, you can create a budget to actual comparison reports with the click of a button, making analysis a cinch.
Some software programs even let you set multiple budget scenarios and have "cloning" features, which simplify the budgeting process after the first year.
Bookkeeping and accounting software

Sage 50 Accounting $48.17 per month (when paid annually) and up.

Wave Financial Free (add-ons available).

Xero $13 per month and up.

Zoho Books $0 per month and up.
Now that you've chosen your business budget template, it's time to start designing your budget. This is where many small-business owners procrastinate because people typically see budgeting as restrictive or punishing.
It's time to shift your perspective on budgeting. Most people start with income and tinker with their expense amounts until they arrive at a balanced or surplus budget. This method usually leads to unrealistic projections and ends in frustration.
Instead of a top-down approach, consider "reverse engineering" your budget by following these four simple steps:
Form your income projections and write those down outside of your budget template. Put this paper or spreadsheet away until after you have completed the next step.

Enter your expenses into your budget template. Be very honest in your entries and include everything. Going through several months' or even a year's worth of accounting data or bank and credit card statements will ensure you capture all your spending. This is not the step where you want to try to eliminate expenses. Record everything, only excluding expenses you have already eliminated from your monthly or annual spending.

Enter your income from the projections you formed in step 1.

Review your budget. If your budget shows a projected loss, analyze your expenses and identify areas where you can reduce spending.
This approach makes sure you avoid the temptation of forcing your budget to balance. While you do want your budget to balance — or better, to show a cash surplus — having unrealistic income or expense numbers will lead to frustration and resistance during the budgeting process.
Monthly or quarterly, compare your actual income and expense numbers to your budgeted numbers. Regular tracking helps identify financial pitfalls before they become unmanageable.
Frequently asked questions
How do I make a budget template?
You can create a small-business budget template from scratch by using free software like Microsoft Excel or Google Sheets. However, it's often more efficient to download a template (see our list above). A template with built-in tables and formulas makes plugging in your revenue and expenses and calculating your profit or loss quick and straightforward.
What is included in a small-business budget?
Your small-business budget will include your revenue, expenses and your profit or loss. Each section will be broken into subcategories. For example, under revenue, you might have sales and income from sponsorships. Expenses might be broken down into rent, employee salaries and marketing. After you tally your revenue and expenses, you can then calculate your profit and loss statement.
How much should a small-business budget be?
A budget will vary by your business and industry. For example, you can potentially start a social media consulting business for less than $5,000. But a food truck business may necessitate a budget of at least $50,000. You must tailor your small-business budget to your unique needs.
Best Accounting Software for Small Businesses
Product

Starting at

Promotion

Learn more

QuickBooks Online

$30/month

 

Additional pricing tiers (per month): $60, $90, $200.

50% off

 

for first three months or free 30-day trial.

Xero

$15/month

 

Additional pricing tiers (per month): $42, $78.

30-day free trial

 

or monthly discount (terms vary).

Zoho Books

$0

 

Additional pricing tiers (per month): $20, $50, $70, $150, $275.

14-day free trial